Benefits of Outsourced Marketing for Small Business
Running a small business is a challenging task. One needs to keep up with a lot of tasks and processes while resources are often limited. Surely, it is crucial to focus on the core of the business and develop new products and services. However, marketing is what can make or break the deal.
The outsourcing marketing department can take a huge part of the workload from the business and provide excellent results. It offers access to senior-level expertise and new strategies to help a company grow and extend its reach.
A lot of small businesses choose marketing outsourcing services because it is convenient, effective, and more budget-friendly.
So what does outsourced marketing for small business mean? Such services may include a variety of tasks from strategy analysis to branding and email campaigns.
The importance of marketing is hard to underestimate. Here are just some statistics that illustrate the internet marketing outsourcing potential:
And outsourcing marketing for small business is a cost-effective solution, which helps to significantly reduce the investment without compromising on results.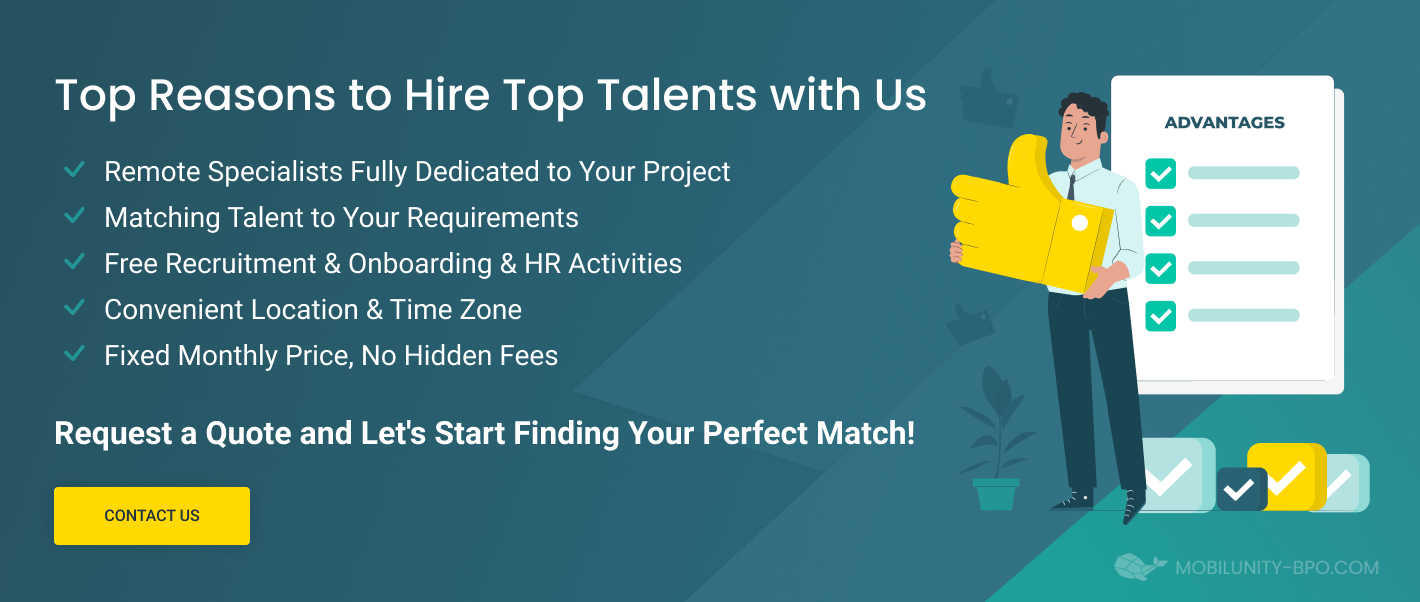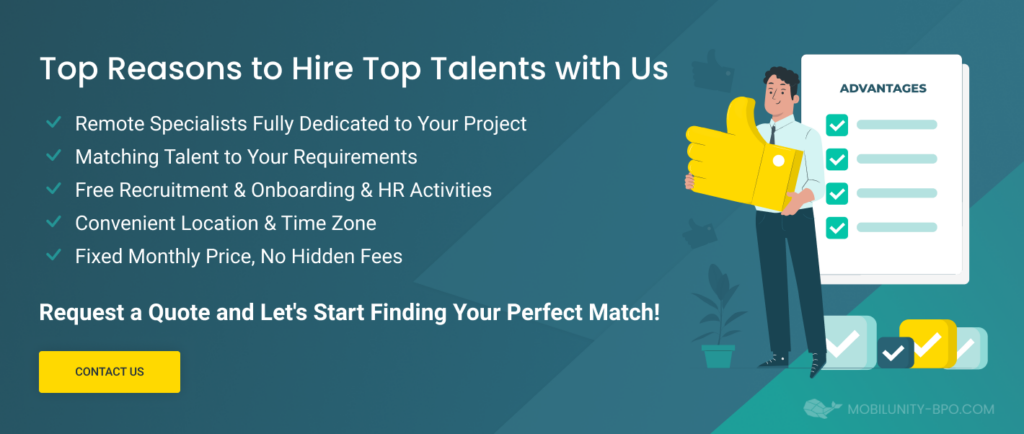 Reasons to Outsource Marketing and Sales
There are several reasons and situations when a business should consider outsourcing specific sets of tasks. Here are the 7 most common reasons for hiring an outsourced marketing department:
You Need to Save Finance
You do not have enough resources to afford a full in-house marketing team. It is not a secret that expert labor costs a pretty penny that a lot of small businesses do not have. While working in a project-based or timely-based manner is much more accessible. Another way an outsourced marketing function helps to save costs is the difference between salaries in various countries. You can get the same level of skill much cheaper in Eastern Europe than in the US, for example.
You Lack Talent
Maybe you have a marketing team onboard, but they lack specific skills. For instance, you have a social media manager, but they are not an expert in email or PPC campaigns management, so you may need to hire remote ppc specialist, who could perform the tasks. Or you might need a copywriter that provides SEO-friendly content for the company's blog. Content marketing outsourcing is one of the popular services offered to all types of companies. Constantly pumping out high-quality, targeted, and optimized content requires expertise and advanced skills that a content marketer for hire can provide.
Outsourcing gives access to a wide talent pool that otherwise might not be available locally.
You Require Outside Opinion
Another reason for online marketing outsourcing is to get an expert opinion from the outside. Maybe you do not know where to start with the overall strategy. Or maybe you've tried several things and they didn't work as expected. So getting advice and guidance from an experienced professional is a valuable option. Sometimes it is important to get a third-party view on things to notice something you might have missed.
You Have a New Project
Maybe a company needs extra help and resources to launch a new project. It can be a specific paid campaign, work with an online presence, or release of a new product. Such projects often take more resources than a business has internally. And if it is something completely new for your company, you might benefit from cooperation with experts.
Your Strategy Has Failed
It can happen to anyone. Maybe you have some mistakes in the past you want to eliminate. Or your marketing strategy didn't work at all. In this case, an outsourced marketing manager for small business can evaluate past mistakes, and performance metrics, and suggest improvements.
You Enter a New Market
If you are going global or opening a business in a new country, outsourcing marketing to local providers is a great idea. They know all the intricacies here and help to avoid many mistakes. For example, brand names and logos that might not work in this region. They have expertise that might not be present in your in-house team. So it is always a benefit to go local to make your market presence effective.
You Want to Save Time
Time is essential for gaining a competitive edge in all industries. Whether you do not have time to do all the processes in-house or want to speed them up significantly, online marketing outsourcing is a perfect choice. So, for instance, your employees can work on the content and branding while outsourcing providers take care of web design and site optimization.

Marketing Activities You Can Outsource
Small business marketing outsourcing consultants offer a wide range of services that cover all types of needs. The main ones that entrepreneurs choose are
Strategy analysis. A comprehensive look into your strategy, proposed tools, and metrics. Suggestions on how to make them more effective and how to achieve specific goals, whether you are interested in the increase of sales, audience growth, higher ranking, or conversions. You may hire a

part time remote cmo

 to work on such tasks part-time.
Work on slogans and taglines. Although those might seem like little detail, they are crucial for branding and success. A suitable slogan can make a campaign or product go viral or vice versa. The creation of such details requires creative skills, experience in the field, and senior expertise.
Branding and naming of products. While your business focuses on the core of the product and its performance, outsourced marketing operations marketing consulting takes care of branding, visual elements, name, and packaging. It is also essential for successful release and professionals know exactly how to achieve that. No matter how good the product is, if the presentation is terrible, it won't become a success.
Organization and running of email campaigns. Email marketing might seem a bit old for some, but it is extremely effective in building loyal customer relationships, so it could be a good idea to outsource email marketing services. It is a very useful strategy particularly for small businesses as it ensures a client-oriented approach, audience segmentation, and an increase in sales.
Blogging and copywriting. It is not a secret that content is the key to digital marketing and online presence. It has to be unique, high-quality, and regular. That's why it is very helpful to outsource this set of tasks to professional writers and marketers. They know all about optimization, performance, search intent, and attracting readers. So if you plan on building a strong online presence for your brand, it is a valid choice.
Creation of electronic newsletters. It can be helpful to update clients on new products, sales, or releases. Companies can also use them to increase brand awareness.
Creation of ebooks. This is a great tool to establish industry presence and expertise. It can be also used to create an email list and build trust with the audience. But writing a book is an advanced task that should be done by a specialist who knows exactly what to do. In project-based cooperation, outsourcing is cost-efficient.
Social media management. Social media marketing outsourcing is one of the widely used services worldwide. Usually, small business owners do not have time to update social media, come up with fresh content, and respond to comments and messages. Yet, it is incredibly important for growing the audience, expanding reach, and providing better customer service.
Creative photo, video, or audio content. This service allows releasing high-quality professional content without distracting your team from the core of the business. Visual and audio content performs great online and helps to reach potential customers.
Search engine optimization. SEO is another widely-outsourced set of tasks. It drives organic traffic and online presence in general. Yet, it requires precision, a specific set of tools, knowledge of technical aspects, and particular metrics so hiring seo expert could be a really good idea as SEO professionals follow all the trends and know the intricacies of how to make a website rank higher and attract more people.
Pros and Cons of Outsourcing Marketing for Small Businesses
Outsourced marketing for small business has its advantages and disadvantages as any other type of delegating operations like outsourced HR services small business can opt for. Disadvantages describe the risks one can eliminate, yet they are still important to mention. Let's start with the good things your business can get from such collaboration.
The pros of marketing outsourcing:
Access to senior-level experts for your company;
High-quality results and effective strategies as well as innovative technologies;
Cutting costs and getting the best without breaking the budget;
Less management with more output;
More objective outside perspective on operations and strategies;
Collaboration and diversification of the team;
Ability to overcome knowledge gap;
Opportunity to save time and gain a competitive advantage in the market;
More time to focus on the core of the business;
Provision of better customer experience;
Smooth business growth.
The cons of such a decision are:
There is always a risk to hire incompetent people, the same as with in-house recruitment;
The outsiders might not be as motivated and involved in your business;
If you work with unprofessional marketers, your company's reputation might suffer as well as sales;
There might be some delays if there is a huge time difference between in-house and remote teams.
Overall, these cons can be overcome. One just needs to be precise with the recruitment process and expectations.
The Costs of Hiring Marketing Managers in Different Countries
To illustrate the budget benefits outsourcing offers, here is a table of average monthly salary rates for marketing managers in five different countries.
Ways to Hire Marketing Professionals Remotely
If you are interested in delegating marketing tasks as a whole or partially, there are several ways to establish this collaboration. Let's get into the details of that.
Hiring Locally
This option is less budget-friendly as the salary rates will not be much different. However, it is more convenient in terms of time zones and direct communication. Also, you might be able to conduct interviews offline and have more time to communicate with professionals.
The main advantage here is the control you get offer the workload and management of the project.
Outsourcing to an Agency
Some businesses choose to work with agencies that offer a variety of services. It is comfortable as you do not have to do recruiting yourself. They have a team that can handle the majority of the work. However, working with an agency might also be not as budget-friendly as one would wish. The rates depend on each provider particularly.
And you do not get much control over the experts working on your project.
Hiring a Dedicated Expert through a BPO Company
This model combines the best of the previous two. You get to benefit from lower rates in another country. And you also do not do recruitment yourself. Business Process Outsourcing providers gather your requirements and find the best suitable candidates for your specific needs. At the same time, you get control over who to hire and their workload. So it is an optimal option for many businesses.
It is quick, efficient, budget-friendly, and convenient.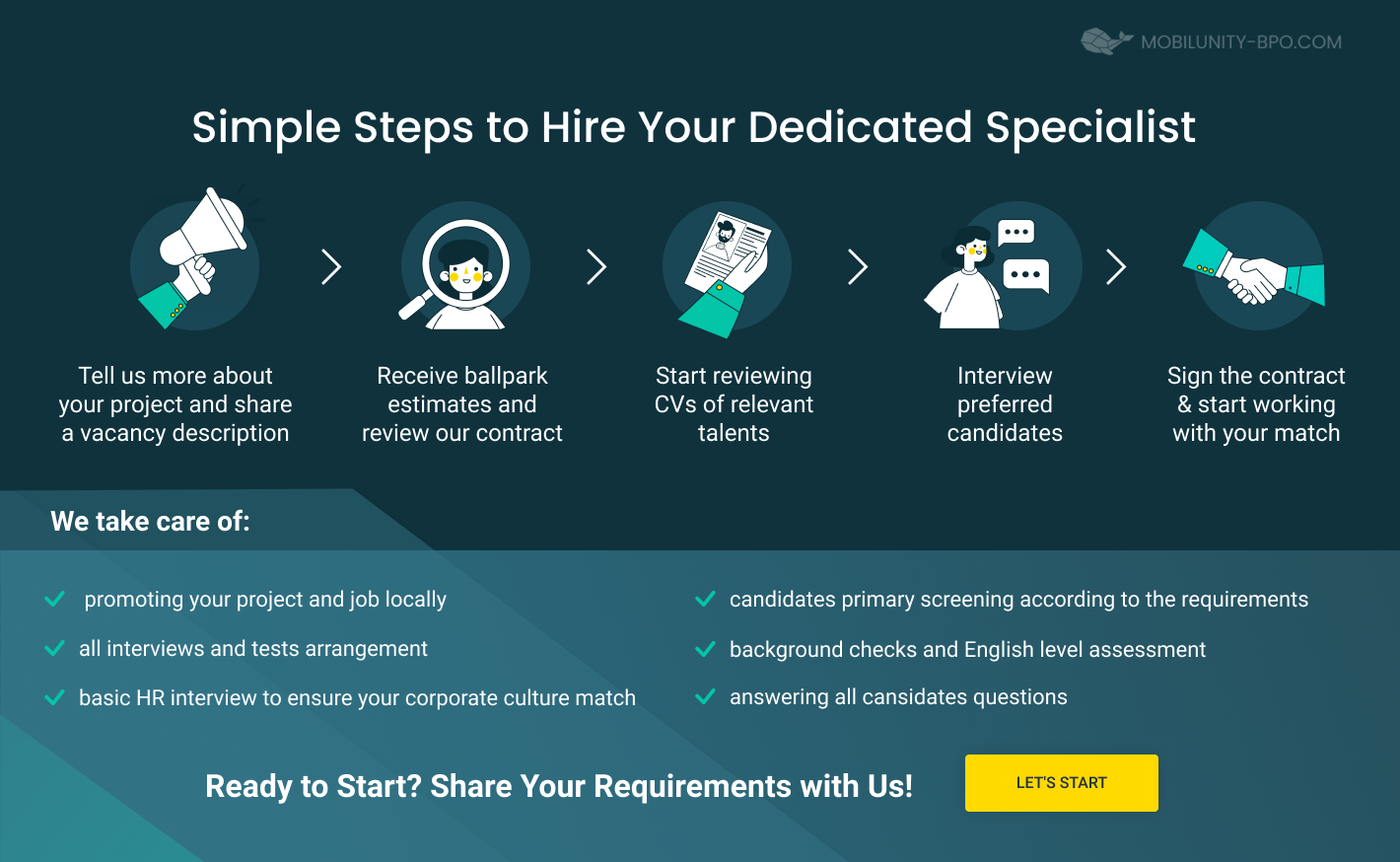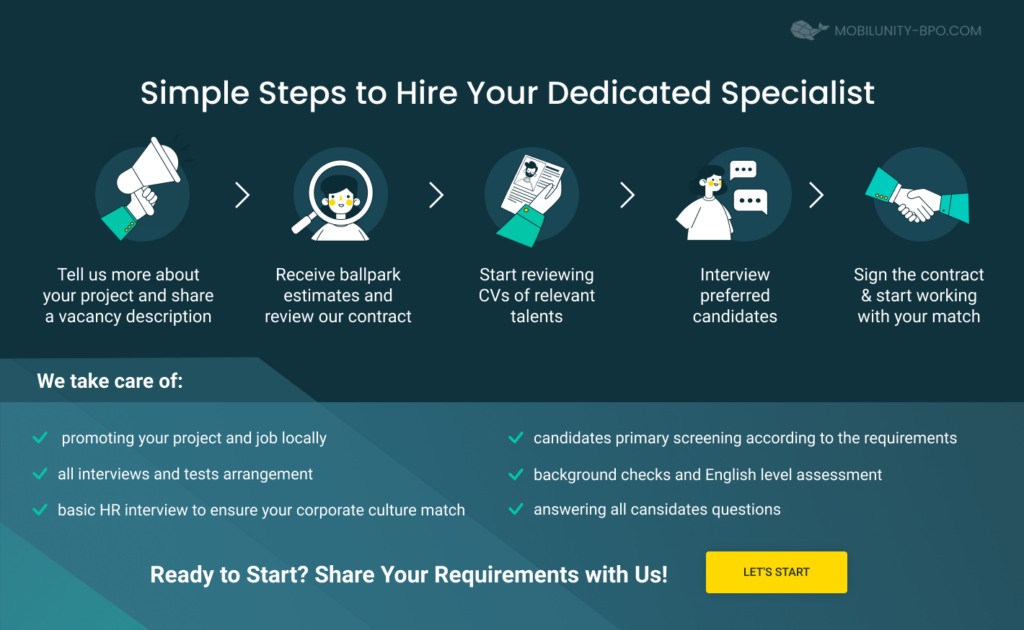 Work with Mobilunity-BPO
Mobilunity-BPO is a Ukrainian company that provides dedicated remote marketing managers with expertise in various aspects and industries. We've been helping businesses all over the world achieve their goals for more than 10 years.
Our team focuses on finding and recruiting the best dedicated teams and experts for each client and their specific requirements. You get access to a wide talent pool and senior marketers with a proven track record of successful cases.
We have worked in many industries, such as IT, Entertainment, Social Media, Travel and Hospitality, Trading, Logistics, InsurTech, Media Management, eCommerce, and others.
Tell us what experts you are looking for and we will find the top candidates to meet the requirements. Our team will prove their expertise and skills, and you can hire the best marketing manager for your business.
If you are looking for effective outsourced marketing for small business, contact our representatives today!