How to Hire a Content Marketer to Work Remotely
For online businesses, content has become a very important aspect. Not only does content help businesses build trust and connect with target audiences, but it also acts as fuel for other marketing techniques. It's the base upon which businesses can promote their brands online. In fact, worldwide revenue for content marketing is expected to reach up to 137 billion in 2026. Considering this, it's important to give it the attention it merits. Content includes all the information, such as text, images and videos shared by a business to its audience on websites, social media, and other digital platforms. 
But simply creating content is not enough for businesses to get the most benefit from it. It's also important for them to invest in content marketing. Content marketing is a strategic marketing method focused on developing and distributing relevant, valuable and consistent content to draw and retain customers. Content marketing involves putting together carefully considered marketing strategies using the right tools.
But many businesses do not have the resources to handle online content marketing services in-house. In fact, only 35% of businesses have a dedicated person that works on content marketing on a full-time basis. For these businesses, a valuable solution is hiring a content manager. Content managers have the task of building a company's content strategy, developing targeted and relevant content, and distributing marketing communications to online audiences.
Content marketers go by many different names. But no matter under which name they are hired, they all have the same responsibility: To enhance business content to attract more customers and, ultimately, increase sales.
Possible Content Marketer Positions
Often, content marketing professional positions are advertised by businesses under many different names. Professionals in content marketing positions may also advertise their services under a variety of names. Let's now explore some of these names: 
Content Strategist 
Content Creator 
Content Specialist 
Content Marketing Specialist 
Content Marketing Manager 
Content Consultant 
Content Marketing Coordinator 
Content Writer 
Although some of these positions may have slightly different tasks, their main objectives are always the same: To create a variety of media, including videos, blog posts, podcasts, landing pages, newsletters and more. And to ensure this media reaches the right audiences. 
The Skills and Responsibilities to Consider When Your Hire a Content Marketer
Content managers are typically tasked with creating a brand identity and online presence for businesses through the development and dissemination of a variety of content online. This usually involves developing content strategies, growing an online community, managing a content team, and successfully tracking online audiences' growth, among a variety of other duties. Content marketing service providers often work for businesses close to the marketing, sales or advertising departments.
Some of the main responsibilities that must be listed in a content marketing specialist job description include:
Managing content teams consisting of writers, graphic designers, etc.
Researching content for the company's website
Writing and editing written content
Targeting specific keywords for all articles written and published
Liaising with content writers to ensure brand consistency
Optimizing content according to SEO
Monitoring competitors' online activities
Manage content distribution processes to online channels and a variety of social media platforms
Using content management systems to evaluate and analyze website traffic
Maintaining a content marketing calendar that is used to schedule all aspects of content creation and delivery throughout the year
Staying up-to-date with developments in businesses and generating new ideas to draw audiences' attention
Staying abreast of current best practices in the marketing industry
Content managers must familiarize themselves with all aspects of a business, including its web and social media presence, to create relevant and appropriate targeted creative pieces that support desired outcomes and help establish an engaging strategy on how best these intentions will be achieved across different platforms.
Preparing a Content Marketing Manager Job Description – Skills to Look For
To complete the above-mentioned tasks successfully, content managers need to have certain soft and hard skills. These skills can be learned during a content manager's educational career or developed over time in different work situations. Some of these skills that must be listed in a content marketing manager job description include: 
The internet was designed to share information with audiences, and its importance as a digital communication solution remains high even though numerous alternatives have been developed over the years. The capacity to write well is one of a content manager's greatest assets. Well-drafted text draws a visitor's attention to content and enables a web content manager to easily connect with target audiences. Something as straightforward as a strong headline can lead visitors into engaging more with a business' content and brand. The core of a content manager's job is constructing professionally written content and this skill must include strong proofreading and editing skills. 
Creating content involves having innovative ideas that make businesses stand out among competitors. For this, digital content marketing specialist candidates require strong creative skills. They should be able to develop new concepts and execute them successfully. They should also have the ability to bring storytelling into every new piece of content in strategic ways. 
Excellent planning skills
Attaining success with content marketing involves good planning. Unlike many other forms of marketing, content marketing needs time and consistency before seeing tangible results. This means content marketers need to create pieces of content that fit carefully into a strategy. To create effective strategies, marketers have to fully understand their audiences' needs and how their content will meet them. Also, they need to be able to create a strong editorial calendar that helps to publish content at the right time and consistently. 
Good understanding of UI and UX design
Content marketers use their understanding of the internet and how websites work to make recommendations to IT teams regarding website use. Content managers crawl websites' pages more often than other persons and, therefore, can easily pick up possible usability issues. Having a strong understanding of what website elements are user-friendly is a highly valuable resource.
Search engines are the major source of valuable traffic to businesses' websites. To increase organic traffic, content marketers must optimize their content specifically for search engines. More importantly, they must optimize their content for strong keywords that potential customers are likely to search for. Considering this, content marketers need good SEO skills, especially because content marketing and SEO are so closely interwoven. These skills include the ability to carry out keyword research and placement, on-page SEO and competitor analysis. 
Ability to interpret analytics
Content marketers bring great value to businesses' websites by developing and presenting information that interested potential customers are searching for across the globe. By fully understanding website analytics and the insights it offers, content managers can use information sourced from the data to enhance the way they target, reach and serve their audience. 
Great understanding of sales funnels
Just like most other marketing channels, the greatest aim of content marketing is to convert website visitors to leads and leads into customers. To achieve this, content marketers must be able to use sales funnels that consist of different stages of the buyer journey. At different stages of the funnel, there are different audience needs. Content marketers need training on how the sales funnels work and how content fits into every stage. When content marketers have this valuable skill, they can successfully construct pieces of content that will turn visitors into customers.
To succeed in the current technological age, content marketers require excellent technical skills. Because creating content and promoting it effectively requires some essential tech tools. For example, content marketers may need to upload content using a content management system such as WordPress. Also, they need to draw insights from advanced tools such as Google Analytics. Furthermore, some businesses use personalization tools to customize content for their visitors. For this, marketers need to learn how to use those tools. 
Content marketing involves managing content creation and promotion projects, big and small. Content marketers must be able to successfully lead projects from start to finish. This may involve good scheduling and time management abilities, as well as the ability to effectively delegate tasks. 
Excellent communication skills 
Content marketers typically work with a variety of teams within a business and often have to involve important stakeholders in reports and essential marketing decisions. To do this successfully, marketers need strong verbal and written communication skills. They should have the ability to convey information fast and effectively. Ideally, content marketers should be familiar with a variety of communication platforms and be able to respond swiftly to queries. 

Ideal Tools Content Marketers Should Be Familiar With 
There's a strong technical side to content marketing, especially if marketers want their content to rank high in search engines. Here are some of the most important tools professional content marketers should use to research, optimize and launch their content.
This is a free tool offered by Google that helps you manage and research search performance. The tool is designed to help webmasters and content creators learn about websites' performance in Google. It can also help to manage websites' appearances on SERPs, troubleshoot responsiveness issues, improve SEO, submit XML sitemaps and find backlinks information for pages.
HubSpot is a comprehensive sales, inbound marketing and CRM suite that offers content marketers all the resources they require to develop actionable content that drives leads and generates sales. The tool specifically provides resources that enable marketers to construct content, optimize it, and ensure it reaches the right audiences. HubSpot can also be used to analyze marketing strategies in terms of sales and general performance.
This is a free tool offered by Google that helps marketers understand website traffic and user behaviors. Google Analytics gives marketers a range of data about the activity happening on websites, for example where visitors come from, how many visitors they have, and information such as demographics, geography, device types, etc. Google Analytics may also help marketers track user behavior on websites.
WordPress is one of the more established CMS available for website building. It allows content marketer specialists to choose from a large library of free and paid templates, as well as plugins and widgets for every function. 
Content marketers should always be creating sales funnels if they want to attract customers. Sales funnels show the journey that takes interested visitors and turns them into leads and sales. These funnels can be used to increase businesses' average order value. Marketers could spend hours making funnels from scratch or they can use ClickFunnels. This is an easy-to-use drag-and-drop platform that marketers can use to create sales funnels that convert in just a few minutes.
Ahrefs is a popular all-in-one content and SEO tool known for its keyword and backlink data precision. It provides content marketers with a comprehensive estimate of the number of backlinks their content has received and can observe keyword ranking changes over time. The tool also allows marketers to see competitors' SEO health and perform accurate content gap analyses.
To achieve success, content marketers need to ensure their content is optimized for the SERPs. This is where SEMrush comes in very handy. SEMrush is a valuable digital marketing tool created specifically for SEO/SEM professionals. Marketers are provided with a set of engagement data to help them rank higher in different search engines. The SEMrush tool has a massive SERP database of more than 106 million keywords and over 70 million domains.
Google Optimize uses the power of analytics and statistical tools to help marketers find what their site visitors engage with the most and discover areas that require improvement. It does this by enabling marketers to test variants of websites and pages and see how they perform against a specified objective. Google Optimize then monitors the results of the experiment and tells marketers which variant is the leader. This free tool can fulfill most needs for website optimization because it runs almost every type of experiment a website may need. 
When businesses don't want to invest in expensive content creation tools, Canva is a great option for creating unique images, videos, presentations, documents and other valuable visual content that can be shared on a variety of platforms. This graphic design tool is free to use with some paid features. The great thing about Canva is that no specific graphic design skills are required.  
Hootsuite is a social relationship tool that helps content marketers use a variety of social platforms to manage and execute marketing campaigns. The biggest benefit of HootSuite is that it enables marketers to manage all social media platforms from one reliable and user-intuitive dashboard. The tool offers social intelligence by tracking mentions of brands and products on social media.
Moz is an effective tool that helps content marketers monitor their site rankings for keywords that are of importance. Some of the other important features that Moz provides include competitive analysis, on-page optimization and a keyword-difficulty tool.
Wordable is a handy content creation tool when writing in Google Docs and publishing content directly to Medium, WordPress or Hubspot. The tool can be used to cleanse doc files of unnecessary line breaks, font tags, spaces, etc., making them more publish-ready. The tool not only works with words but with images and tables as well. Wordable auto-generates compatible tables, compresses images, helps set alt texts and featured images, embeds links for videos, and can basically function as a comprehensive publishing assistant.
This tool does exactly what it is named after. When used correctly, marketers can use it to get leads and sales, among many other things. It is a powerful tool used to create pages, send emails and automate marketing. With GetResponse, content marketers can get their business online with a suite of free marketing tools designed to power it with a stream of fresh new and organic leads. Marketers can also grow their audience by finding new customers and creating email lists with strong lead generation tools that turn contacts into loyal groups.
When choosing content marketing tools, it's important to consider the size of a business and what aspects of marketing the tools are for. Different content marketing tools can help with sales and marketing, content management and social media advertising. It may be useful to try out a few tools to confirm which ones are most effective before implementing them. 
Tips on Hiring a Professional Content Manager for Your Business
In today's digital age, content marketing is a crucial component of any successful marketing strategy. It involves creating and distributing valuable and relevant content to attract and engage your target audience. However, managing and executing a content marketing strategy can be time-consuming and challenging, especially for businesses with limited resources. 
If you're unsure of how to hire a content manager, it's important to define your content marketing goals and needs, evaluate relevant experience and expertise, and assess communication and collaboration skills to find the right fit for your business. Hiring a professional content manager can help you streamline your content marketing efforts and achieve better results. In this article, we will discuss tips on how to hire content marketer for your business.
Define Your Content Marketing Goals and Needs
Knowing how to hire a content marketing manager can be a daunting task, but with some key considerations and steps, you can find the right candidate to help you achieve your content marketing goals. Before you start your search for a professional content manager, it's important to define your content marketing goals and needs. What do you want to achieve with your content marketing strategy, and what are your pain points? This will help you narrow down your search and find a content manager that aligns with your needs and expectations.
Look for Relevant Experience and Expertise
When hiring a professional content manager, it's important to look for relevant experience and expertise. Look for candidates who have experience working with businesses in your industry and who have a proven track record of success. They should be familiar with the latest content marketing trends and techniques and be able to provide references or case studies to back up their claims.
Consider Hiring a Freelance Content Marketer
One option for hiring a professional content manager is to hire a freelance content marketer. Freelancers can provide you with the same level of expertise and quality as an in-house content manager, without the cost and commitment of a full-time employee. They can work remotely and provide you with flexibility and cost savings. To ensure the success of your content marketing strategy, it's crucial to hire a professional content marketer who has the skills and experience to create and execute a comprehensive plan.
Evaluate Communication and Collaboration Skills
If you're looking for a professional and experienced online content marketer for hire, there are several steps you can take to find the right candidate for your business. Effective communication and collaboration skills are crucial when working with a professional content manager. They should be able to understand your brand's voice and tone, and create content that aligns with your business goals and objectives. Look for candidates who are responsive, transparent, and easy to work with.
Consider Working with an Inbound Marketing BPO
Another option for hiring a professional content manager is to work with an inbound marketing business process outsourcing (BPO) provider. Inbound marketing BPO providers can provide you with a dedicated team of content marketing experts who can create and execute a content marketing strategy that aligns with your business goals and objectives. They can also provide you with scalability, cost savings, and access to the latest technology and tools.
In conclusion, hiring a professional content manager can help you achieve your content marketing goals and streamline your marketing efforts. By following these tips and taking the time to hire content marketers, you can create and execute a content marketing strategy that engages your target audience and drives results for your business.
Interview Questions for Content Marketer Candidates 
When deciding to hire a content marketer, it's important to determine if a candidate's experiences, skills and personality match a specific job's requirements. One of the most effective ways of doing this is by putting candidates through one or more interview questions. Interview processes provide businesses with an opportunity to assist you in choosing the right candidates to take to the next stage of the hiring process.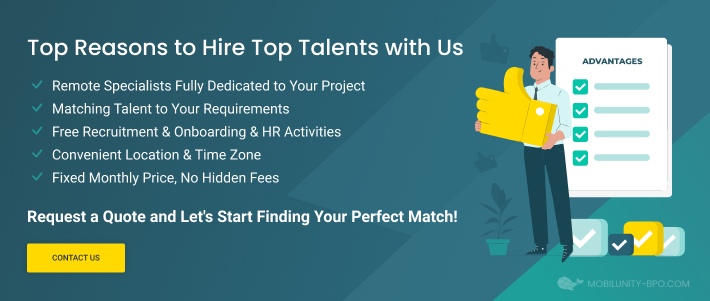 Deciding what type of interview questions to ask can be challenging. Here are some examples of effective content marketing manager interview questions:
Q: Tell us about your career up to now.
This is a great question to ask candidates to break the ice and get to know them. Here, it is important to listen out for similar positions candidates have had in the past, the type of companies they have worked for, and the tasks they have had to complete. 
Q: What is your current process of creating content?
Content marketers have to know exactly how to create a variety of content, including text, images and videos. Candidates should ideally mention the tools and platforms they use to create content and how they launch it to audiences. 
Q: What process do you follow to determine the tone of a piece of content?
Candidates must be able to describe their thought processes when creating and distributing content. They should explain the factors they consider, such as marketing goals, target audience, chosen platforms, etc. 
Q: After you publish content, how do you promote it?
Here, candidates must show that they can think beyond writing and come up with a solid plan for promoting content. The ideal candidates will lay out a carefully considered marketing plan, including sharing it on different social media platforms, repurposing it in outgoing emails and newsletters, and finding innovative ways to link back to it.
Q: Can you tell us about some of your most successful marketing campaigns and strategies?
Here, content marketing specialist candidates have to talk about previous projects and their results. It's essential to find out how candidates measure results and the type of tools they use to analyze the success of projects. It can also be useful to ask candidates to bring along their portfolios if they have a collection of work ready. 
Q: How much do you know about SEO?
SEO is very important during the content marketing process because it makes websites and other online platforms more visible, which means more traffic and more opportunities to turn prospects into customers. Potential certified content marketer candidates must be able to explain how they implement SEO best practices with all their content projects.
Q: Have you worked with other teams? And how do you collaborate successfully?
Content marketers often work with content creation, marketing, sales and even web design teams. Here, digital content marketing manager candidates must be able to explain how they work with other teams on content marketing projects and implement important skills such as creativity, organization, communication, etc. 
Q: For you, what makes content successful?
Digital content marketer candidates should define what "success" means when it comes to generating content. Ideally, they should use words such as "repeat visitors," "Traffic," "search engine ranking" and "engagement" to show their understanding. Taking it a step further, they can provide details about their own successes in any of those areas.
Q: Tell us about how you handle feedback?
Content marketing projects often get a lot of feedback from clients. Ideally, freelance social content marketing specialist candidates should have a positive attitude to all feedback and be able to implement valuable suggestions.
Q: How do you track the success of content pieces?
Here, content marketing manager candidates must explain exactly how they track the performance of content pieces. They can mention tools such as Google Analytics that provide statistics and basic analytical tools for SEO and marketing purposes. 
These are just some of the content marketing specialist interview questions that can be asked to get a good idea if someone will be a good content marketing candidate for a specific position. Together with browsing their resume, the right candidates can be hired effectively. 
Average Monthly Net Salaries of Content Marketing Managers
Another important factor to consider when hiring candidates is the content marketing manager salary involved. Understanding the average salary of content marketing managers can help businesses budget better. The monthly salaries of these specialists vary largely between countries, as well as the level of experience of candidates. 
For example, the average monthly salary of a junior content marketing expert will be lower compared to a senior content marketing manager. Let's now explore some of the average monthly content marketing specialist salary rates of marketers in five different countries: 
Monthly net salaries of Content Marketing Specialists by seniority levels in different countries
From this, it is clear that hiring from some countries can be much more affordable compared to others. As a result, outsourcing has become a very popular hiring model. Hiring from a different country doesn't mean that candidates have lesser skills or a lower level of experience. Rather, many countries have lower costs of living, allowing specialists to have lower average salaries. 
Possible Ways to Hire a Content Marketer to Work Remotely
Recruiting top marketing candidates takes a combination of creativity and diligence. Luckily, there are many hiring models businesses can choose from, especially when considering hiring remotely. 
Remote work has become increasingly popular because it gives employers access to a larger talent pool, reduces costs for employees and can even improve productivity and employee retention. But what are the most common models for hiring employees remotely? Let's explore: 
Hiring a Content Manager Locally
Hiring locally involves businesses hiring candidates in the same location where the business is based. 
Pros of hiring locally 
Candidates match workplace culture 
No language barriers 
Same time zone 
No communication obstacles 
Can easily meet up 
Cons of hiring locally 
Can be expensive 
Small talent pool to hire from
May have a lack of experience working on large projects 
Finding a Content Marketing Freelancer 
With all the freelancing platforms available today, it's easy for businesses to find suitable candidates that work remotely on a freelance basis. 
Pros of hiring a freelancer 
Access to a large talent pool 
Average salaries are low 
Cons of hiring a freelancer 
May be difficult to prove skills and experience 
There may be language barriers
Problems with different time zones 
Communication problems may arise
May lack loyalty on projects  
Hiring through a BPO Company with Experience in Content Marketing
BPO companies often specialize in offering highly skilled candidates to businesses around the world through digital marketing services bpo. This is known as outsourcing candidates through a third-party vendor. 
Pros of hiring through a BPO company
Access to a large talent pool 
BPO company takes care of all contracts and HR tasks 
Can be matched with the right skills
Increased flexibility and potential to scale 
Lower risks when projects fail
Cons of hiring through a BPO company 
Candidates may not match the workplace culture
Time zone differences 
From this, it's evident that plenty of research needs to be done to identify which hiring model is the right one for a business's specific needs to hire a content marketer candidate. Some of the things to consider before choosing a remote hiring model include:
Budget available to spend 
Skills and experience required 
Size of the project 
Plans to scale in the future 
Ability to handle HR tasks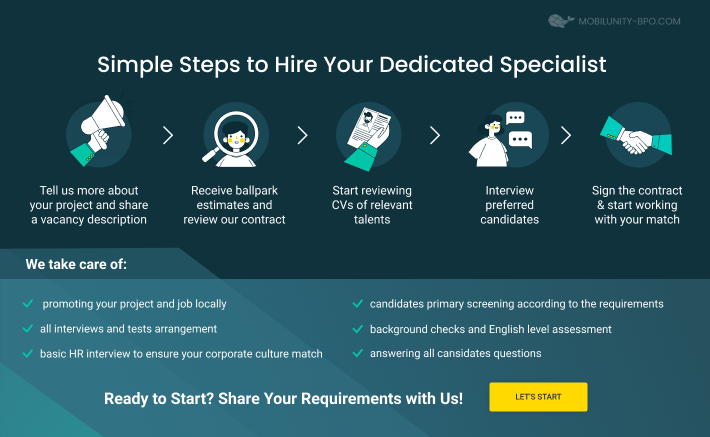 Mobilunity-BPO Provides Dedicated Remote Content Marketers for Hire
For 10+ years, Mobilunity-BPO has been specializing in helping clients around the world support their everyday operations. Our team is skilled at sourcing and hiring the right candidates for businesses. 
We have access to a large talent pool of content marketers ready to work with businesses, big and small. Our candidates are highly skilled and experienced in creating and promoting content on a variety of popular online platforms. 
So, what sets Mobilunity-BPO apart from other outsourcing companies? Our clients choose us because our process is simple but so effective. It involves the following steps: 
We find out exactly what our clients' requirements are. 
We assist them with finding the most suitable candidates and put them through effective testing and vetting processes. 
We help with the onboarding processes and ensure both our clients and candidates collaborate smoothly throughout the partnership. 
Mobilunity-BPO works with clients in a variety of industries, including communication, consulting, hospitality, information technology, and more. We don't mind how big or small a company is, we work hand-in-hand with our clients to ensure their every need is met, and often exceeded. 
If you're ready to hire a content marketer for your next marketing project, talk to the team at Mobilunity-BPO. We will help you find the perfect candidate, stress-free.