How to Find a Trusted SEO Expert for Hire
Any brand before hitting the market has to develop an immensely strong marketing strategy so that its target audience can learn about it at its best benefit. No matter how great the product is, it will not make much of a profit if people have no practical possibility to reach it.
Even the grandest brands presenting a new creation to the world engage in their most powerful tactics to promote the product or service, making sure regulars are aware and the new audience is alerted as well.


One of the key roles to catch the attention of potential and already existing buyers belongs to proper content marketing. Google is the first one people turn to if they need to learn about a certain concept, cure their consumer pains, and order balloons for granny's birthday. 
That's when there is a high time to manifest a strong SEO algorithm that will locate the product on the business atlas and attract plenty of "explorers" to it. When the entrepreneur plans to hire an SEO expert he/she already contributes to the thriving era of their brand. Doing a successful business requires a solid online presence. Hiring an SEO expert is exactly the way to enhance that presence by moving it to the first page of the search engine.
An SEO with strong expertise is a true wizard when it comes to pushing search engines to fancy the content you offer and reveal it to the users right from the initial page. 
Hiring an SEO Expert Is Essential for Marketing Department
Businesses start with the purpose of helping people to solve their particular problems in particular areas. However, except for pursuing the grand mission of giving help and providing solutions whilst adding value to people's lives, businesses intend on making profits and making creators and employees rich. Naturally, any product developed intends on bringing revenues pushing the production to maximize in order to continue this enriching cycle.
Clients are majorly responsible for the life within that circle. Therefore, it is critical to help them discover the brand and make them believe it is the only option for their life improvement. SEO content marketing services are on the watch for delivering an organic supply of those willing to interact with what your brand has to offer.
Notwithstanding the size of the business, it is crucial to hire an SEO expert or a team of such, because of their contribution to the scope of the awareness of the product by bringing organic traffic as naturally as it seems. Without a clear-cut search engine optimization action plan all the money, time, and energy invested in content creation are simply a waste. To take chances with Google, hoping that it will, by the means of a miracle, show your content to users, is a perfect case for disaster. Let's take a look at the following stats:
75% of website users hardly ever go further than the first page of search results
First-page position in Google delivers a CTR of 34.36%
91% of all pages will go organic traffic-free from Google because of not having backlinks
55.24% of all pages of the website have not a single backlink 
Ranking of a website by Google is impossible without delivering high-quality ( read SEO-friendly) content and link building
57% of entrepreneurs state that on-page content creation is proven to be the most efficient SEO tactic
Google organic searches generate 43% of eCommerce traffic
Search engine optimization is 5 times more effective than PPC advertising
70% of clicks come from organic results and 30% only stem from Google Ads when the search is done
Organic SEO delivers 70% of clicks
80% of visitors ignore Google Ads
67% of mobile users appreciate dealing with apps or mobile web versions
All these numbers one way or another convert into the success of the business. The measurement metric for that success is the number of conversions it produces. SEO specialists provide a smart online presence. No matter whether the companies hire remote SEO specialists, or the job is performed by a local SEO expert on the office premises, the strategy must be developed and properly implemented. 
SEO expertise is a broad concept composed of various essential particles (e.g. keywords and keyphrases choice, link-building, etc.) designed to determine specific business needs on the website and what to implement so that to send the exact signals to Google and rank the visibility on top.
SEO Manager: Job Description
Search Engine Optimization manager is an SEO expert for hire that guarantees SEO well-honed algorithm for the website to be implemented the way it reaches its organic traffic goal boosting conversions and enhancing the clientele base. 
SEO manager handles it all from a thorough analysis of the business needs and straight to the analysis of the performance of the strategies implemented. 
Coordinating all the SEO efforts, the SEO manager makes sure that all the means of the offsite and onsite optimization are employed exactly according to the requirements set as well as whether the keyword situation is played right the way it satisfies the search engine trust. Being both tech and business-oriented professional, an SEO manager assures an SEO experience that does demonstrate whopping results in the short term. 
Let's bring more structure to what the SEO managers' job specifics are:
Planning, development, and SEO strategy implementation
Enhancing organic search optimization
Maximizing of ROI
Performance of an exact keywords research for content teams guidance
Key SEO KPI identification
Constant monitoring of users' activity (redirects, click rates, etc.)
Target audience identification through thorough buyer persona analysis
Issues identification and solution implementations in real-time
Collaboration with the marketing and development team
Constant upgrade of skills with the latest best SEO practices
Collaboration with PPC and Social Media teams for campaigns optimization
Developing performance reports
To make sure that these job responsibilities are filled with flying colors and the expectations of SEO expert hire policies are met, a potential SEO manager must operate a rich skill set.
The required skills are as follows:
Proven experience in the SEO realm
Knowledge of the latest tendencies in SEO
SEO reporting comprehension
HTML/CSS practical understanding and operation
Knowledge of relevant web analytics tools 
Degree in marketing or business field
Excellent tech expertise (just enough to unfold the SEO principles)
Brilliant communication skills
Strong team management craft
Bringing an SEO manager to the marketing team yields success in promoting the brand and increasing its online visibility the way it easily conquers competitors in a similar niche. Choosing the right expert that can manage a process delivering the best results will place the product to the level of uniqueness making Google always present it first.
When Should Your Business Hire an SEO Expert?
Search engine optimization (SEO) is an essential aspect of modern marketing, but it can be challenging for businesses to implement effectively. This is where an SEO expert comes in, with their in-depth knowledge of search algorithms and proven strategies to boost your online presence. If you're wondering how to hire an SEO expert, there are several steps you can take to find and hire the right candidate for your business. Here are some key reasons to consider:
You're Struggling to Rank Well in Search Results
If you're not appearing on the first page of search results for relevant keywords, then it's time to bring in an SEO expert. They can analyze your website and identify areas for improvement, such as optimizing content and fixing technical issues. With their expertise, they can help you climb the ranks and attract more organic traffic.
You Need a Comprehensive SEO Strategy
SEO is more than just using keywords and meta tags. It requires a comprehensive strategy that takes into account your website's structure, content, backlinks, and more. An SEO expert can create a tailored plan that addresses all of these factors and sets you up for long-term success.
You Want to Stay Ahead of the Competition
In today's digital age, competition is fierce, and every business is vying for attention online. Knowing how to find an SEO expert is crucial for businesses looking to improve their online presence and drive more traffic to their website. Hiring SEO experts can give you an edge over your competitors by ensuring that your website is optimized for search engines and your content is relevant and engaging for your target audience.
You're Ready to Invest in Your Online Presence
SEO is a long-term investment, and it requires ongoing effort and resources to achieve results. If you're ready to commit to improving your online presence, then hiring an SEO expert is a smart move. They can provide SEO expert advice and guidance on how to allocate your budget and resources for maximum impact.
Reasons to Hire an SEO Expert
Understanding how to hire a SEO expert can be challenging, but by following some key steps and considerations, you can find the right candidate to help you achieve your business goals. As a business owner, you may have considered handling your SEO in-house or with a general marketing team. However, hiring an SEO expert can provide you with several benefits, including expertise, resources, and a higher ROI. We will discuss the top reasons to hire SEO consultant, and provide tips on how to find and hire SEO manager for your business.
Expertise and Specialization
SEO is a specialized field that requires a deep understanding of search engine algorithms, website optimization, and digital marketing. SEO experts have the knowledge and experience to create and implement effective strategies to improve your website's visibility, traffic, and rankings. By hiring an SEO expert, you can tap into their expertise and knowledge, and benefit from their specialized skills.
Implementing an effective SEO strategy requires time, effort, and resources. By hiring a remote SEO consultant, you can save time and resources that would otherwise be spent on training, research, and trial and error. To improve your website's visibility and attract more qualified leads, it's important to hire SEO expert who can create and implement an effective SEO strategy.
Higher ROI and Business Growth
Learning how to hire SEO expert requires careful research, analysis of candidate qualifications, and effective communication to ensure a successful partnership. An effective SEO strategy can lead to a higher return on investment (ROI) and business growth. By improving your website's visibility, traffic, and rankings, you can attract more qualified leads, customers, and revenue. SEO experts can provide you with data-driven insights and recommendations that can help you achieve your business goals and grow your bottom line.
Access to Advanced Tools and Techniques
SEO experts have access to advanced tools and techniques that can help them optimize your website and track your performance. These tools can provide insights into your website's rankings, traffic, backlinks, and competitors, and help you make data-driven decisions. By hiring an SEO expert, you can benefit from these advanced tools and techniques, and stay ahead of the competition.
How to Hire an Excellent SEO Specialist
It gets more and more persuasive that businesses need SEO specialists on the marketing team exactly as the flower needs the sun and water. As a result of such a crucial need, the SEO experts market grows exponentially and every other person proudly calls him/herself an SEO wizard, be it a remote SEO specialist, an SEO freelancer, etc. 
How to make sure that the organic seo specialist the company considers to hire and trust a huge bulk of a marketing campaign is exactly a high-quality pro in search engine optimization? Surely, as an entrepreneur, you are not really expected to be an expert in every single aspect. Yet there is an expectation for you to be quick with embarking on the opportunities for growth, thriving, and getting the chance to land the most qualified remote SEO manager, or in-house organic SEO consultant who will help your business spin in the whirl of success. For that, it is essential to have a basic grasp of what must be looked for thoroughly, expertise-wise, when it comes to welcoming a hire to the position.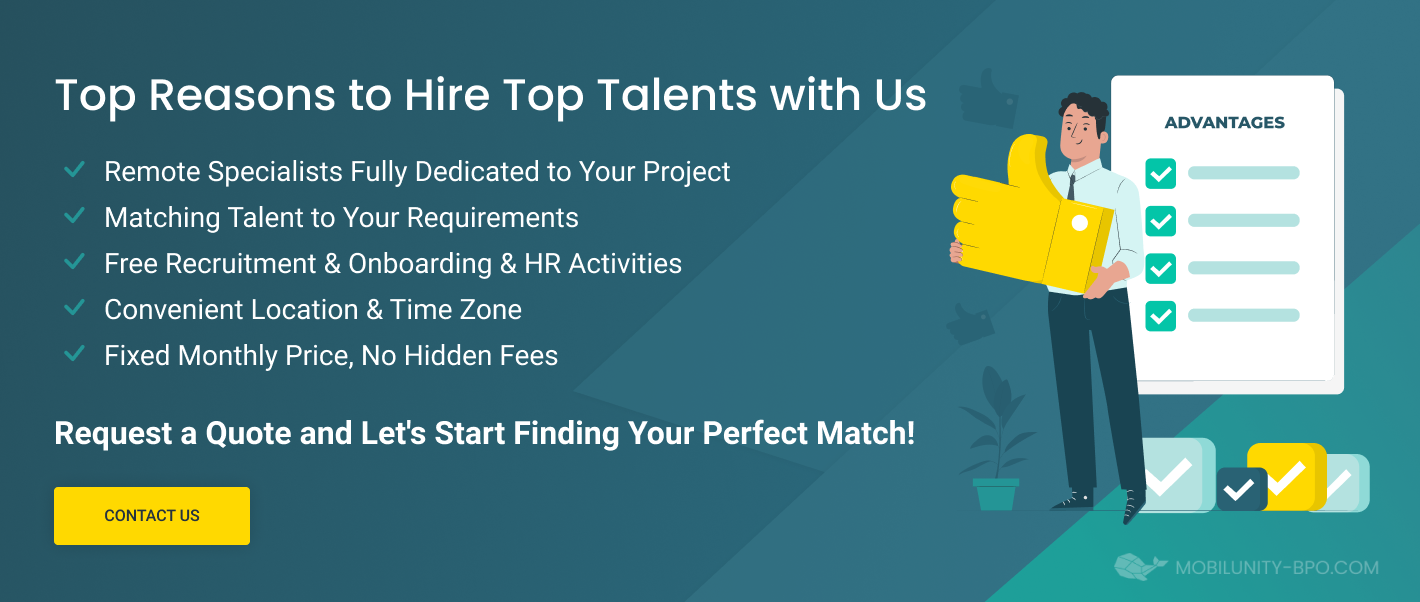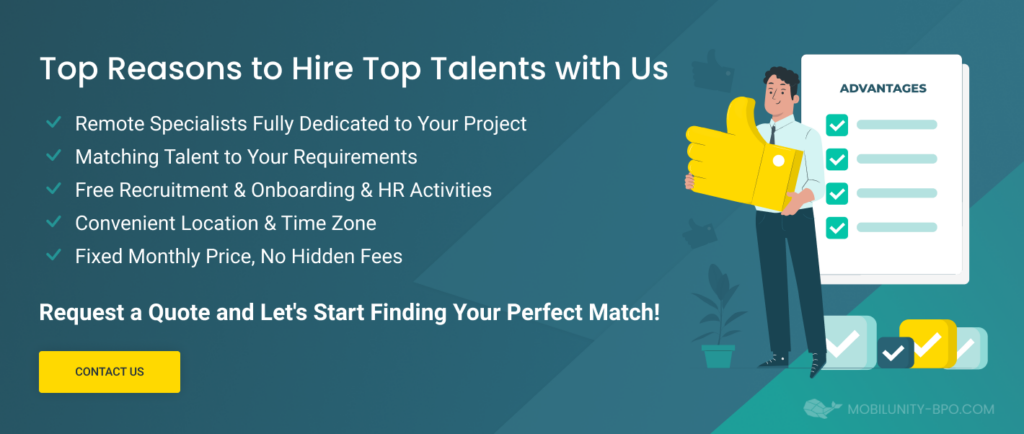 Also, there are some odds that the creator of the brand might consider mastering the SEO prophecy, yet it is time, energy, and money that can be allocated way more logically. To yield solid expertise requires time and then even more time. Will the brand afford to wait? Absolutely, no. Your niche, whatever it is, will not be stable for long and requires a constant upgrade. This is why everyone on the team has to be engaged in what his best capability can tackle to maximize the marketing campaign.
Moreover, it is quite important to hire seo expert outside of your business. Getting too attached to the brand influences the choices made for its promotion. A fresh eye (or eyes) from the outside may (and will) help to judge objectively what might work specifically for the given case. 
Let's have a look at what makes an excellent fit and how to release it to enhance brand visibility the way the ideal customer will definitely be able to reach it when only just a thought about Google has entered his/her mind.
Grasp the SEO value. With all being said above it might seem quite a strange idea to put this point here. Just having a general idea of the importance of search engine optimization is not enough. One should be able to easily enumerate the list of benefits such specialists add to the brand promotion online. Fully comprehending the impact and the outcomes gives a perspective on what questions might be asked and what answers are highly desired. Consider this as finding a common language to speak. If it appears, congratulations, you are in for a good start.
Go through the cases. Experience matters for sure. Yet sometimes quality is not about quantity. Anything that has to do with online experience is never still water. Therefore, there is no point in being in business for ten years, yet mastering the latest SEO trend for the last half of the year and still not progressing at all with deliverability. Successful cases that compose an SEO portfolio are the key to shaping the opinion about the level of professionalism and whether it fits what the company needs.
Consider discovery calls. No, you are not asking for free advice, you are digging the potential up. If you get to one – perfect. If not – keep digging. The idea here is not only to witness the expertise but whether this expertise can satisfy the needs of the unique company of yours. Discovery calls represent a pure and practical collaboration of both parties providing a more or less clear picture of what one needs and what another is capable of.
Allow no mess in the budgeting. This part is very sensitive since the business must stay within the budget. The money discussion must not be avoided, since the company has to know whether the finances it operates can cover the deliverables. SEO specialist salary should not shake the brand foundation. Yet at the same time, it is not a department to go thrifty on. 
Communicate expectations. An SEO expert who worships his/her professional image will never promise a far-fetched outcome (always on top, always the first one on the first page). An SEO strategy will be developed in accordance with the brand peculiarity for the greatest success possible. However, this success will depend on so many factors that no SEO specialist in the world can predict. Those experienced and honest under-advertise what they can do and then impress with the overachievement. A search engine optimization talent will hear your expectations and negotiate some of those bringing them closer to how things are done in reality.
SEO is much more than just keywords, ranks, and traffic generated. An SEO action plan is about the whole approach to brand marketing, built around naturally increased visibility and enticing ways to make people be willing to interact with a product or service under promotion.
SEO Expert Hire. Interview Questions to Ask
Intending to hire an SEO manager, whether it is going to happen with the help of SEO outsourcing service or freelance platforms, there are certain things to query and quite expected answers to get. So that not to get lost floating in the deep ocean of specialists, there is a list of possible questions to ask and quite decent answers to achieve that will approve the candidate for the position.
1. Why should we pick you? 
As abstract as it might sound, no interviewer should underestimate the potential of this question. It gives a solid hint on the depth of how far the SEO knowledge expands. 
At its initial stage of responding it is possible to spot the passion for the job or its total absence. Hearing straight from the candidate about the values he/she might add to the business will equip you with an idea of how much of his/her professional soul is going to be contributed to the project.
In terms of hard skills, the prospect must pinpoint that not only rankings and keywords matter, but the individual approach to the audience's needs. Describing their content optimization and link-building practices will reveal how progressive their experience with the latest optimization tendencies. 
Listening carefully to the information delivered must create a feeling that you are looking at results-oriented SEO experts who do not offer top results in the shortest terms. Since sometimes an SEO action plan might take more than a month to be developed.
2. What tools are used to develop and maintain SEO campaigns?
An SEO specialist has access to a broad set of tools to check through your website's performance, backlinking activities, competitors' behavior, etc. The choice of the right tools will have a positive influence on the overall marketing strategy. 
Before asking about the tools, make sure to be aware of what is used in the current search engine optimization situation. Yet if we talk about the vendor offering remote search engine optimization services might have their own software equipment. This impacts the strategy positively, usually guaranteeing an individual approach.
3. What are the ways to measure your progress?
The way an SEO specialist sees the website progress in performance and metrics that are used for that gives an understanding of whether there is enough competence to run and maintain the campaign. Here the interviewer wants to hear some familiar concepts that are associated with proven benefits to the business: key performance indicators, ranking on the first SERP, Google Analytics, KPIs combo, and more. If these things are mentioned the interview might go on.
4. Would you care to show your case studies and recommendations?
It's been described before. The list of case studies will demonstrate the qualitative side of the SEO specialist's experience. Reviews, recommendations, and references are also strong tools to provide insights into the candidate's expertise and how far he/she can stretch their professional potential. 
5. Do you find any issues with our website performance?
Here is the moment where the previously mentioned theoretical answers can be transmitted in practical implementation. An audit for the website is crucial for things to be improved, altered, and gotten rid of. Any website will have a space for perfection and the top-talent SEO will place flaws and suggest ways to improve them. There is no need to expect an entire audit, since, if done professionally it takes a lot of time and software to do that. Yet the first-glance insights will be useful to plaster the drawbacks.
6. What do you charge for your services?
An SEO manager salary expectation should never be ignored when the job interview is happening. The company is on budget and must be clear about what it can afford in terms of covering for top-notch SEO services. Don't be swayed by cheap prices (usually, it is a bad sign), also make sure not to get lured into paying more, when there is a possibility to hire the same great professional at a lower price (geographically speaking).
These are some examples for making the conversation flow. Given the experience the brand has lived through, one might add more personalized things to be revealed so that to make sure the prospect is highly qualified for the position in this company. 
SEO Manager Salary Around the Globe
Allocating resources for brand marketing includes salaries for the specialists. No matter how interesting the campaign might seem, money will still be quite a motivation to perform professionally best. Usually, when an SEO expert is highly coveted, growing numbers in the reward promised is a proven way to beat the competition up and get the specialist on board.
Sometimes the budget potential may not really align with the SEO guru's salary vision. This should not be a precedent for great stress. A local SEO expert is no longer the only option to run an excellent SEO campaign. With access to global pools of marketing talents, makes it possible to hire a first-class specialist that might cost a pleasantly good amount of something the company is ready to pay, so the cost to hire social media manager or any other specialist is no longer a problem.
Some third-party vendors provide excellent staffing services having access to specialists from around the globe, and it is not just the figure of speech. Depending on the various factors, such agencies can connect your brand with a dedicated seo manager that has legends made of his/her craft, and at the same, the price to pay for the legendary prophecy might be far from whooping and quite affordable, sometimes even with a profit.
Let's see what is paid now to the mentioned specialist (SEO Manager) in different countries per month. By the look of that one might come up with the decision which employment market might play a good part in promoting the brand, and enhancing its visibility.
| | | | | | |
| --- | --- | --- | --- | --- | --- |
|   | USA | UK | Germany | Poland | Ukraine |
| Junior | 7,325 USD | 5,483 USD | 3,047 USD | 1,313 USD | 615 USD |
| Middle | 11,667 USD | 11,205 USD | 5,490 USD | 2,317 USD | 1,162 USD |
| Senior | 13,500 USD | 12,793 USD | 6,485 USD | 2,692 USD | 1,347 USD |
Net salaries of SEO Managers in different countries
Looking at the data in the chart makes it quite clear that it would be sensible to cooperate with the specialists from the countries in Eastern Europe. Their skills are proven by so many positive reviews and successful cases. Eastern European specialists may charge much less for their services, however, by no means does it say less about the high professional level of their accomplishments and high-profile skills base. 
Ways to Hire a Remote SEO Specialist
A remote way of working is no longer something doubtful or questionable in the matter of having business done successfully. Not only does it not degrade the quality of the job done, but does surely bring certain relief to the budget. In the passage above there's been some comparative visual that proves the point of financial benefits when the business decides to go with a remote specialist provided by a staffing agency, or simply find a freelancer. 
Here is the list of 3 major  ways to find a top talent the way it indeed fits the needs of your SEO needs.
1. Local hiring. Hiring a local remote SEO manager works well in terms of cooperating with an employee (in most cases) that shares a common mentality, common language, and mutual understanding of how the business runs in the area. Also, the feeling of having the specialist in the vicinity of the closest reach provides more peace and less stress of "I can't control somebody or something". 
On the other hand, local hires might possess a bit limited skill volume and knowledge of handling the latest novelties. Moreover, the salary requirement might hit the line of "not affordable". 
2. Recruiting a freelancer. Addressing freelance markets to get a specialist on board is a positively proven practice. It is possible to find a real gem with an extraordinary portfolio case that does not charge all the money in the world. Freelancers love getting tasks, especially challenging and creative ones (so that to grow that portfolio by times). 
Freelance markets are vast and rich in a variety of specialists. It is critical to form a detailed request so that you can search through the skills and experience you are in need of. Though it's quite time-consuming, which may be an unaffordable luxury, depending on what stage the project situation is at. Also, sometimes it is indeed hard to verify credentials and reviews.
3. Hiring through a BPO company. Collaborating with a BPO company opens a lot of positive opportunities to maximize the staffing potential. Having great access to the talent pool and cutting-edge technology solutions, BPO companies provide various and, most importantly, proven models of staff refreshments for your team. 
The level of trust is high, and the time frames for filling your position needs are record short, which enables the process to launch faster and start to bring revenues faster. You pay money with the guarantee that the agency that has been around the block in these matters will assign the most fitting SEO manager for your website. A major bonus is that all the recruitment processes and their derivatives are covered by the agency itself, sparing the company of extra load of stress and energy exhaustion.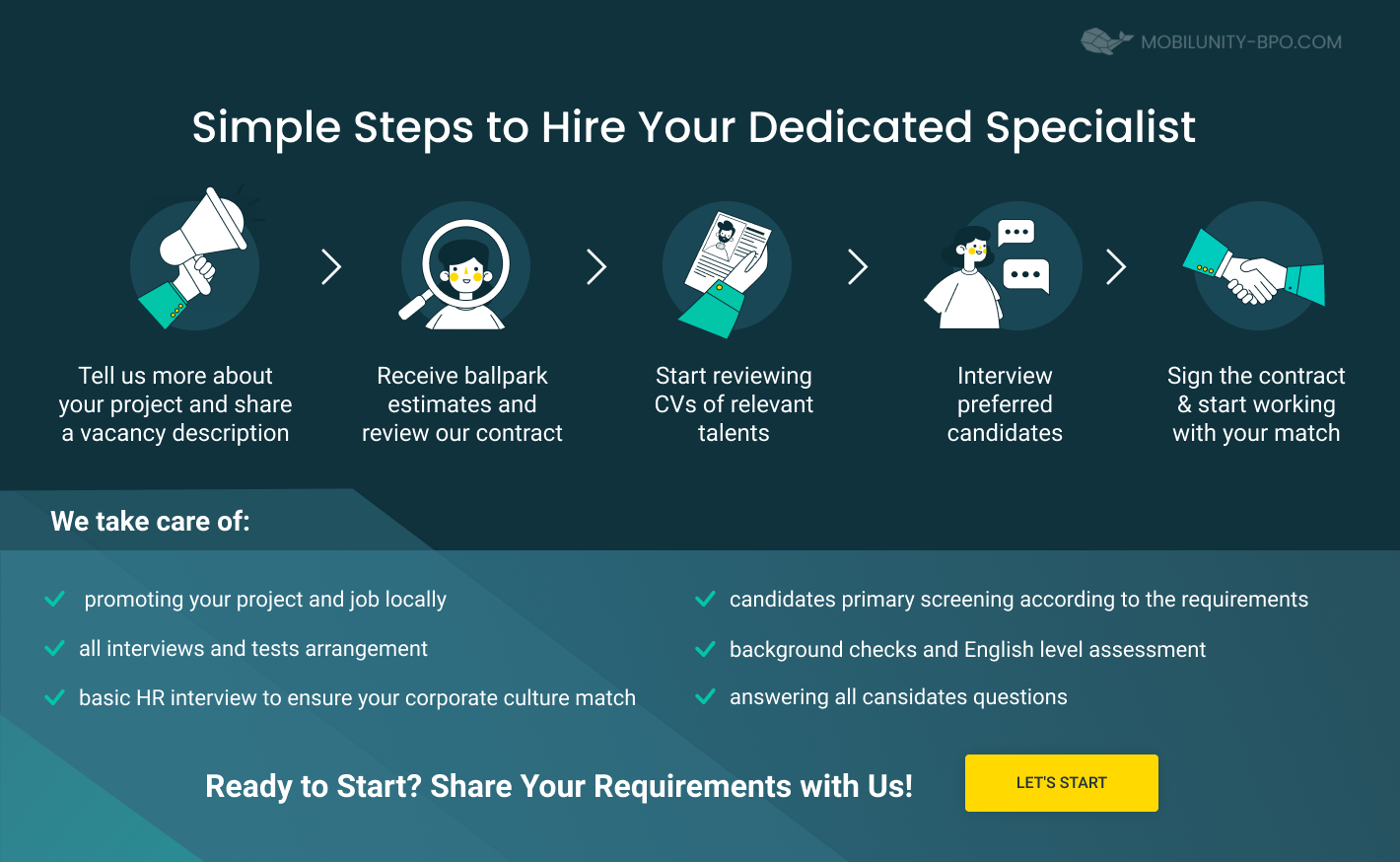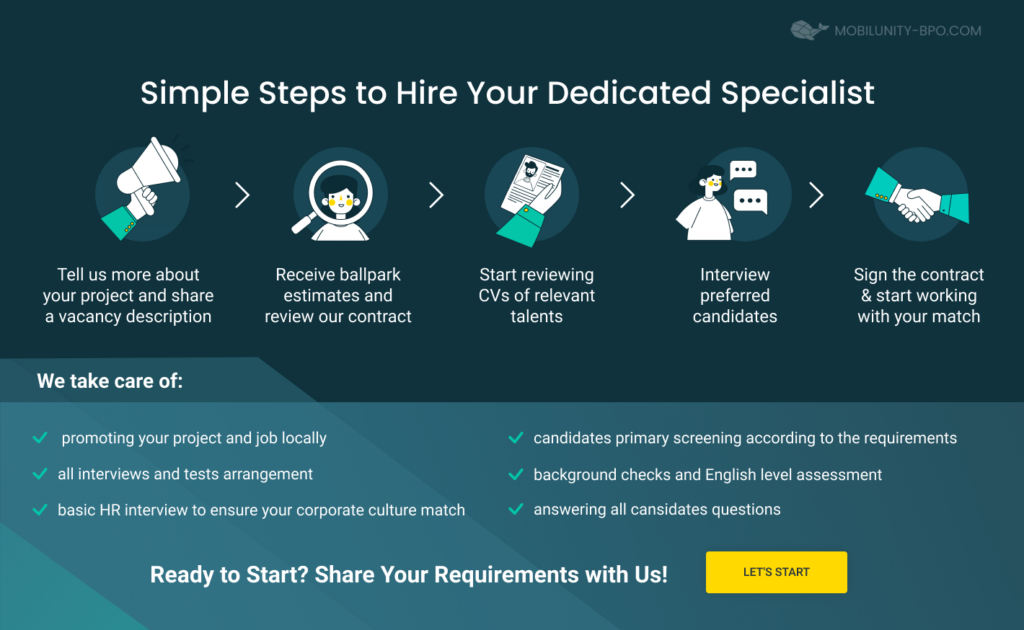 Yet, when opting for a BPO services solution, one must be sensible with what the payment covers, so as not to deal with hidden costs afterward. Not that they are hidden on purpose, just the contract must cover the finances in a crystal clear and detailed manner. The feeling of not having enough control might be an issue for the entrepreneur. However, the level of control might be negotiated as well. Some might bump into communication obstacles (and this part of doing business is crucial). Usually, high-profile BPO companies have great strategies that work towards the elimination of such.
To land a great SEO manager is possible through various options. The task for the business runners is to define which one would fit the environment at the given stage of the product marketing.
FAQs on Hiring a SEO Specialist
While reading through, there might be some questions popping up in your head. Let's spare some time (time is indeed the greatest asset) and get through some of the general concerns.
How can I hire an SEO expert?
Learn the website needs, choose the most convenient model for enhancing the SEO department, pile up the list of requirements, and have your budget clarified for you and the specialist you are going to get dealing with.
What skills should an SEO expert have?
Hiring an SEO expert one should be seeking for solid expertise and masterful usage of optimization platforms (Ahrefs, SEMrush, Google Analytics, etc.), knowledge of the latest SEO tendencies alongside Google updates tactics.
How much does it cost to hire an SEO expert in 2022?
Depending on the area and what the SEO manager is capable of, the prices will vary from $1,000 and higher per month. 
Should I hire an SEO freelancer?
Hiring an SEO freelancer is an option as long as thorough vetting is being done and the time permits.
Outsourcing SEO services might be a beneficial solution to the SEO department augmentation, offering access to high-profile candidates and novelty ways to deal with the website issue.
Mobilunity-BPO Is a Reliable SEO Specialists Provide
Since 2010 Mobilunity-BPO has started gaining momentum in the business of providing specialists who meet the business requirements, bring a new perspective on things being done, and consolidate the existing workflow. Initially performing as a marketing agency, it moved to offering services in providing dedicated specialists with strong expertise in adding valuable solutions for business growth. Since 2010, Mobilunity-BPO has earned strong credit for finding experts for the following areas:
SEO outsourcing
recruiting and HR
telemarketing
online research
database management
SMM
MS Office outsourcing
data entry
Mobilunity-BPO is based on the principle of the highest human appreciation, understanding that business is done for people and by people. Equally cherishing both the clients and employees results in:
 experience (10 years +)
completed projects (1000+)
customers worldwide (40+)
highly-qualified employees (200+)
To get more specific, Mobilunity-BPO guarantees that the customer will get the following services:
flawless employment process
budget-friendly prices
the vast range of options
round-the-clock customer support
high-profile expertise 
Mobilunity-BPO is sure to provide companies with a highly-qualified SEO outsourcing service to improve their online visibility and performance, letting the business concentrate on the urgent sides of marketing.
Conclusion
To survive in the world of placing the brand online is impossible without knowing how to engage the audience to interact with it. SEO services enhance visibility, improve website performance, and push Google to indulge in showing the results the way visitors see them at once. Having these services outsourced, or getting a freelancer on the project will serve the brand promotion as long as the candidates chosen comply with what is expected from the top-notch SEO manager expertise.  
Thinking of hiring an SEO expert to add quality to your online presence and attract a larger target audience? Contact us!