How to Find and Hire a Part-Time Remote CMO
The uncertain state of the world economy has hit various industries and businesses. Despite this, it looks like the marketing niche is rising like a phoenix from the ashes.
Marketing funds increased by almost 12% compared with the overall companies' budgets. Marketing expenses, in turn, have exceeded 10% for the first time in the last ten years and don't plan to stop there.
Today's situation in this niche also shows us significant marketing job growth. In 2022, the number of positions increased by 12% compared to the previous year.
Nevertheless, small businesses aren't rushing to add executive marketers to their workforce. Only 4% of companies with less than 50 employees hire CMO. It's logical as the Chief Marketing Officer is a highly paid specialist typically employed by large businesses with over 10,000 workers.
But what if you do need such an expert? We suggest you hire a part time remote CMO. With this specialist, you will not only optimize your budget but, at the same time, get many other benefits. The main ones are a powerful marketing strategy and a fresh look at your business.
Today, we'll talk about a part time remote Chief Marketing Officer and the core duties of this expert. We'll also discuss the different types of CMO hiring approaches and provide a brief overview of CMO salaries in various countries.


CMO Skills and Responsibilities
A CMO takes on many responsibilities, one of which is managing your company's marketing department. Yet, his role in your business does not end there.
The Chief Marketing Officer is one of the leading members of your company. Therefore, this specialist is responsible for increasing your business's profits. Such an expert will brainstorm marketing efforts that can help attract more customers and boost your sales.
The CMO works closely with other business executives to ensure that your company's goals are properly implemented. 
This expert also supervises your organization's marketing specialists, such as a conversion rate optimisation consultant, SEO manager, SMM manager, and more. All this to ensure the marketing department indeed benefits your company.
To describe the CMO's skillset briefly, such an employee must know everything related to marketing and your brand. If we specify his skills a little, then they will be as follows:
Profound understanding of brand development
Deep knowledge of sales management
Product or service management abilities
Customer service skills
In sum, such an expert will develop your brand, influence pricing, manage advertising, conduct market research, handle marketing communications and public relations, and manage your projects.
Thus, the core responsibilities of a Chief Marketing Officer are as follows:
Marketing. Of course, it is the CMO's primary duty to your company. This expert usually does not develop marketing strategies independently but with the marketing team. The bottom line is that the CMO is responsible for all the actions of his workers in the marketing department.
Company growth. The Chief Marketing Officer will also be responsible for stimulating your business's development. This expert will make critical strategic decisions affecting your company's growth.
Attracting loyal customers. Thinking through your brand's marketing strategy to appeal to the largest audience feasible is another duty of the CMO. This specialist will care about each customer and ensure their smooth interaction with your business.
Creative efforts. In addition to developing your business, the CMO is responsible for bringing creative ideas to your company. This expert will drive innovations in marketing and motivate his team to new achievements.
When we said that the Chief Marketing Officer knows and does everything for your company, we were not exaggerating. This specialist performs many functions for which he uses his comprehensive expertise.
Part Time Remote CMO and Other Alternative Titles
What is the difference between a marketing director and a CMO? Is the head of marketing a direct alternative to the Chief Marketing Officer or not? There can be serious confusion with these terms.
CMO has many alternative namings. Let's discuss the most popular of them and point out the difference, if any.
Marketing Director. There are some distinctions between this job position and a CMO. First, the Chief Marketing Officer can assume the role of the marketing director, but not vice versa. A marketing director is a specialist responsible for managing and implementing advertising campaigns, while a CMO is an executive-level employee.
Head of Marketing. This title is a direct alternative to the CMO. It is a management-level specialist who works on marketing and overall business development.
VP of Marketing. Depending on the size of your company, this employee may be the head of the business's marketing efforts or may report to the CMO if the latter is included in your staff.
Head of Digital Marketing. This expert is responsible for the digital marketing team that handles your company's online marketing efforts. The main difference between this specialist and the CMO is that the latter considers your company's overall marketing processes.
Reasons to Hire a Part-Time Remote CMO for Your Business
As a business owner, you know that marketing is essential for the growth and success of your company. However, not all businesses have the resources or need for a full-time Chief Marketing Officer (CMO). This is where a part-time remote CMO can come in handy. In this article, we will discuss the top reasons to hire a part-time remote CMO and provide tips on how to find and hire the right one for your business.
One of the main benefits of CMO for hire is cost savings. By hiring a part time CMO, you can save on salary, benefits, and overhead costs associated with a full-time employee. A part-time CMO can provide you with the same level of expertise and strategic guidance as a full-time CMO, without the high cost.
Hiring a part-time remote CMO provides you with flexibility to scale up or down as needed. You can hire a part time CMO on a project basis, or for a set number of hours per month. This allows you to tailor your marketing efforts to your budget and business needs.
A part-time chief marketing officer brings a wealth of expertise and experience to your business. They have worked with various businesses and industries, and can provide you with a fresh perspective and insights. They can also help you stay on top of the latest marketing trends and techniques.
Focus on Core Competencies
By hiring a part-time remote CMO, you can focus on your core competencies and leave the marketing strategy and implementation to the experts. This allows you to save time and resources, and focus on growing your business.
How to Hire a Part-Time Remote CMO
Here are some tips on how to hire a CMO:
Define Your Goals and Needs
Before you start your search, it's important to define your marketing goals and needs. What do you want to achieve with your marketing efforts, and what are your pain points? By defining your goals and needs, you can narrow down your search and find a part time CMO that aligns with your needs and expectations.
Look for Relevant Experience and Expertise
When looking for a part time chief marketing officer, it's important to look for relevant experience and expertise. Look for candidates who have experience working with businesses in your industry, and who have a proven track record of success. They should be familiar with the latest marketing trends and techniques, and be able to provide references or case studies to back up their claims.
Evaluate Communication Skills
Effective communication is crucial when working with a part-time remote CMO. They should be able to explain complex concepts in simple terms, and provide regular updates on their progress. Look for candidates who are responsive, transparent, and easy to work with.
If you're not sure if you need a part-time remote CMO, you can rent a CMO. Renting a CMO is a flexible and cost-effective solution that allows you to access the expertise and experience of a CMO on an as-needed basis.
Hiring a part-time remote CMO can provide your business with cost savings, flexibility, expertise, and the ability to focus on your core competencies. By following these tips and taking the time to find the right candidate, you can achieve your marketing goals and grow your business.
Common Ways to Hire a Remote Chief Marketing Officer
If your goal is to attract a part time remote CMO, you should first find out what hiring approaches are. We'll tell you about the three main ones and their advantages and disadvantages.
Hiring Your Head of Marketing Locally
In this case, you can either locate a remote CMO in another city in your country or hire such an employee to your office.
If your option is remote hiring but within your country, the following advantages and disadvantages await you:
Pros:
One language of communication and no cultural barriers
The possibility of choosing an employee from a city with lower rates
The opportunity of holding regular face-to-face meetings
Faster resolution of work issues because of the same time zone and geographical proximity
Cons:
It may still be too expensive
Finding top-notch talent can be difficult
Now let's discuss in-house CMO hiring.
Pros:
Constant face-to-face interaction with the employee
A better acquaintance of the employee with your business
Long-term commitment
One language of communication and no cultural barriers
Better reputation with investors because you have executives in your staff
Cons:
In-house CMO may be costly
Additional costs for maintaining a workplace, training an employee, etc.
It can be challenging to find a qualified worker locally
Finding the Right CMO Abroad Yourself
In other words, it is outsourcing or finding an online remote Chief Marketing Officer. Let's look at the main advantages and disadvantages of this approach.
Pros:
Online remote CMO is cost-effective
Ability to find qualified talent anywhere in the world
Great for both short-term and long-term cooperation
Cons:
Potential cultural and language barriers
The potential difference in time zones and no possibility of face-to-face meetings
Less control over the CMO
The possibility that the employee's skills won't meet your expectations
Potential security risks and confidential data leakage
Hiring a Dedicated CMO Specialist Through a BPO Company
This approach involves hiring a fractional remote Chief Marketing Officer through a reliable third-party company. The advantages and disadvantages will be as follows:
Pros:
Hiring a remote employee through a BPO company is cost-effective
Access to an extensive talent pool
A guarantee of employee loyalty to your business
Long-term commitment
Confidence in the remote CMO's top qualification
Full control over the employee
Cons:
Cultural and language barriers are possible
Rarely suitable for short-term projects
It may take some time to recruit the right candidate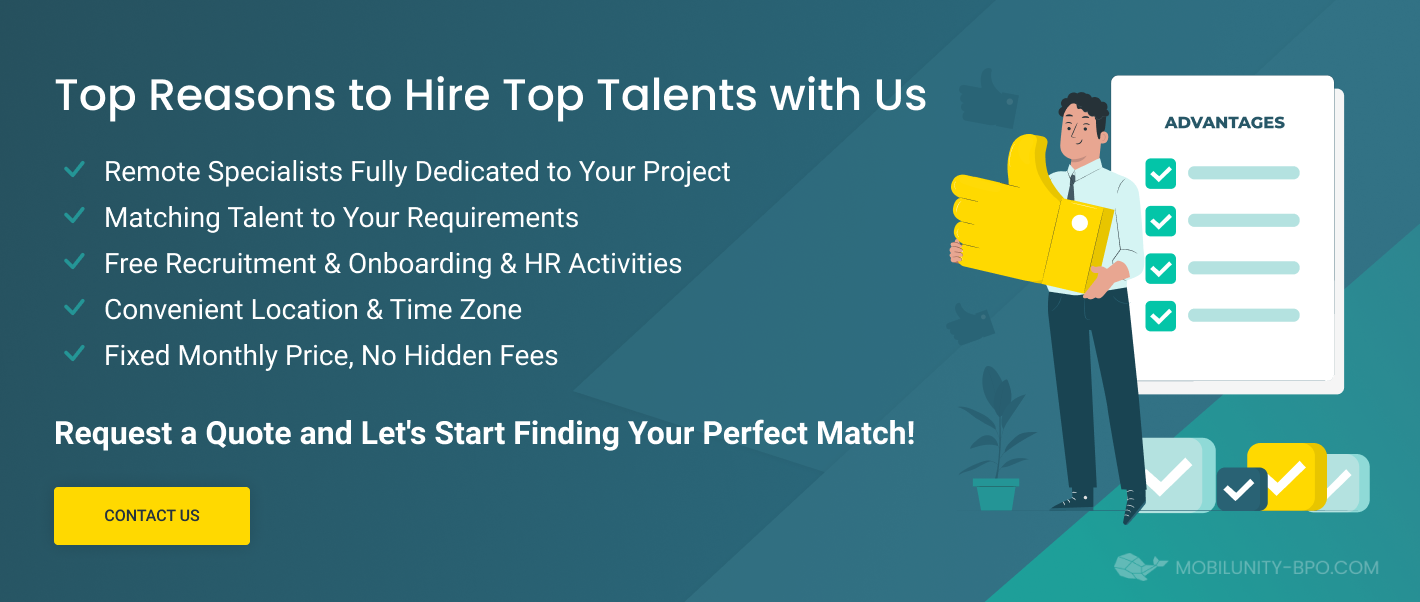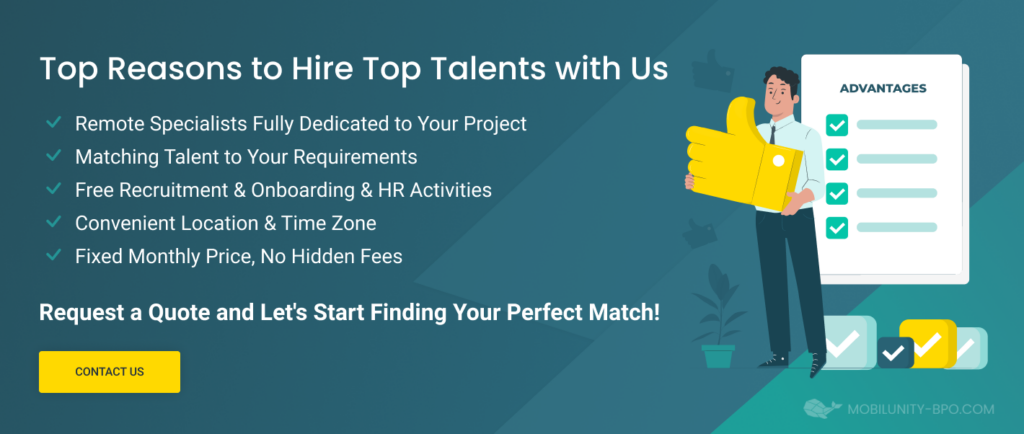 Top 7 Benefits of Hiring a Virtual CMO for Your Business
Let's see what your company will get from hiring a fractional remote CMO. Here are the main advantages:
Cost-Effectiveness An in-house Chief Marketing Officer may cost you a fortune. A remote worker, in turn, is a more profitable solution, plus you can choose the rate that corresponds to your financial capabilities.
Extensive Talent Pool Because you're not limited by geographic location when searching for a CMO, you can select the most experienced candidate for your firm. Locating a remote SEO manager, marketing director, or other related specialists has never been easier.
Better than Marketing Consultant A CMO is a versatile specialist who can perform various duties. Adding to that, if you hire a remote expert, you can leverage his niche expertise.
Fresh Look Hiring a remote marketing director gives you an outside view of your business. It can be beneficial for the overall development of your company.
Comprehensive Approach A remote CMO takes responsibility for your entire marketing department. You don't need to communicate with individual marketing specialists to solve issues. You will have one responsible person for this.
Flexibility As a rule, remote workers are more flexible compared to in-house ones. You can set up a mode of cooperation that suits you best.
Focus on Core Business Tasks Since you are hiring an executive who will be fully involved in marketing procedures, you can focus on more critical tasks. And the CMO will do his part.
CMO Salaries Worldwide
As promised, we're sharing the salaries of CMOs in different countries. Check them out in the table below.
As you can see, Eastern European countries offer significantly lower rates than the US or the UK.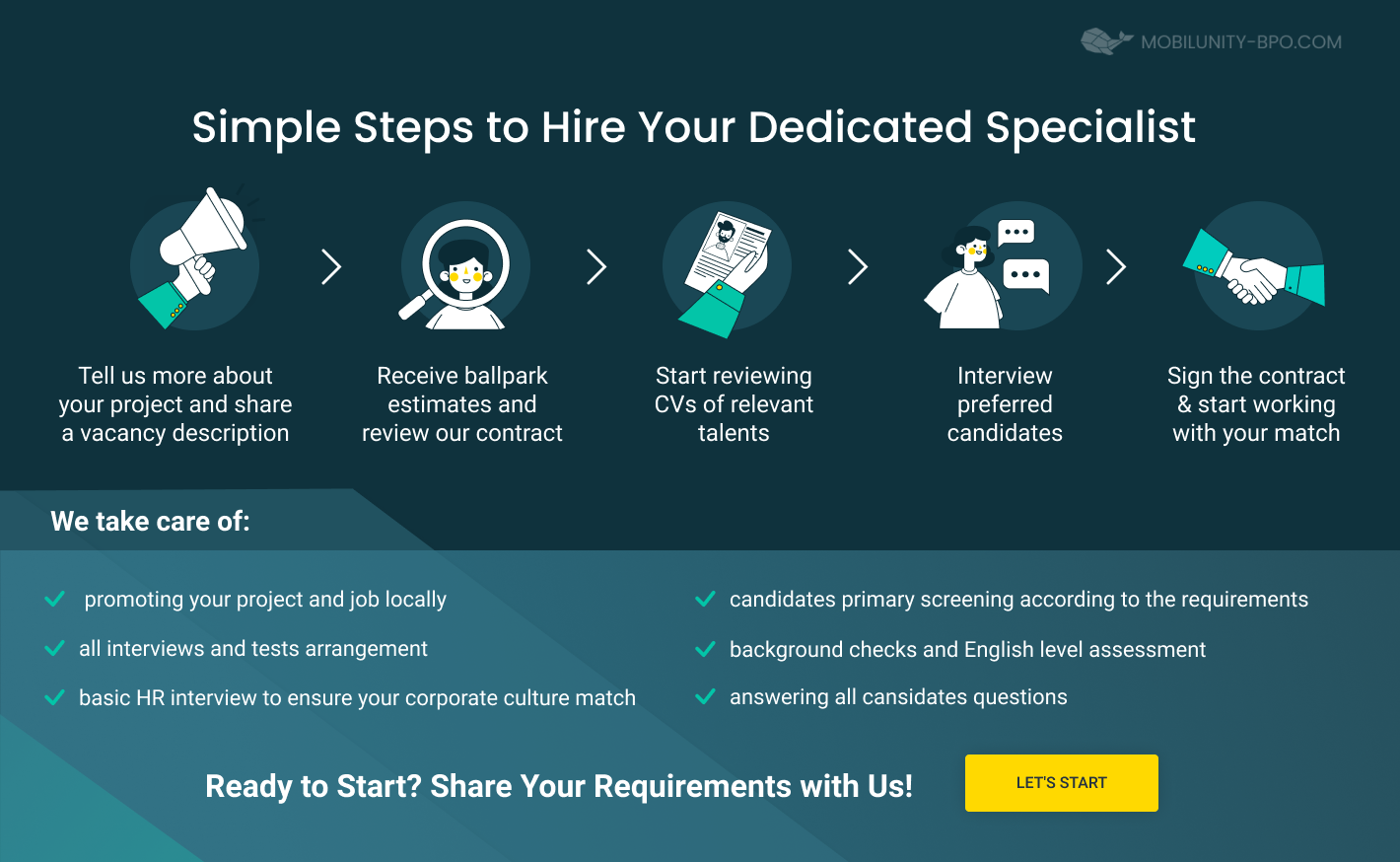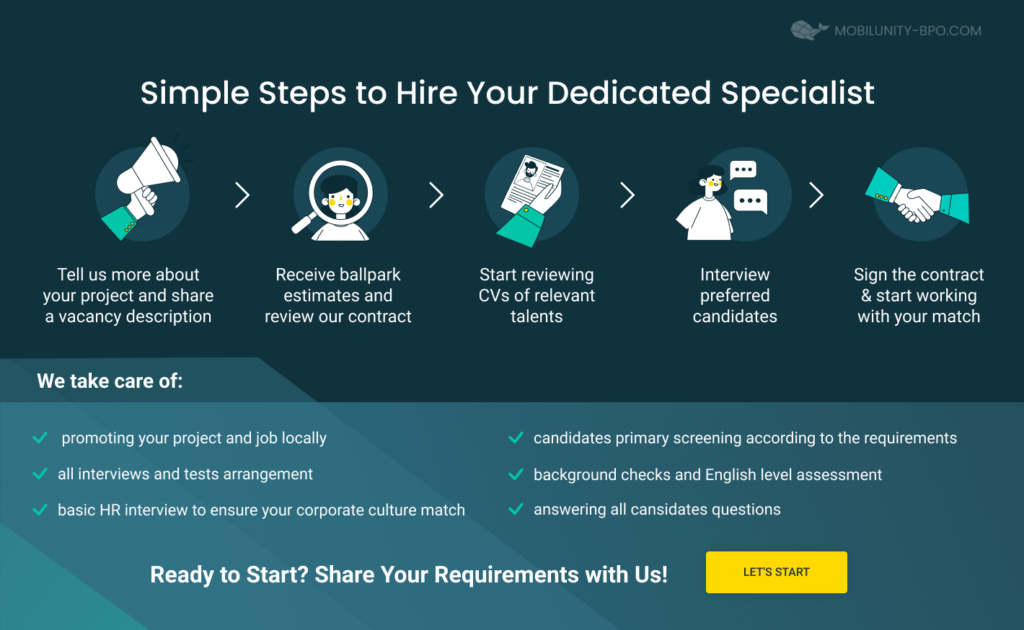 Mobilunity-BPO Is Your Reliable Vendor Providing Remote CMOs
Do you want to contract a remote marketing director or CMO? With Mobilunity-BPO, you can easily do this. We have been in the business process outsourcing market for more than ten years. During this time, our company has provided clients from all over the world with various dedicated experts. With us, you can hire PPC specialist, we also offer a social media manager for hire and, of course, part-time remote CMOs. To engage the expert you need, get in touch with us through the contact form. From the moment you reach us, we'll study all your requirements and select the ideal candidate for the CMO position.
Need an online remote Chief Marketing Officer? Contact Mobilunity-BPO!