How Outsourced Marketing and Sales Function Works
If the business does not outsource it might be similar to not existing at all. With present-day rapid changes in the market, today there is one strategy that the business may use to leapfrog the competition, and tomorrow it will be a long-gone if not forgotten at all history. It is virtually impossible to keep up with that pace relying only on in-house teams and their constant extension, training, and equipment upgrades. 
Not that the professional improvement for the teams is not important, it is just sometimes the market requirements allow no time, resources, and money to achieve that fast and right on time to hit the decent spot in that very market. For example, one of the top reasons for outsourcing (70%) is cost reduction, which proves its resourceful benefits. 
Therefore, outsourcing has become an inevitable part of advancing business potential. Nowadays, any processes and functions can be successfully outsourced, delivering results that beat expectations. Sales and marketing outsourcing are some of the most popular to outsource to a third-party vendor. In 2019 the global market for outsourcing was worth $92.5 billion. Also, the world IT outsourcing market is expected to be worth $425.19 billion in 2022.
Outsourced marketing and sales is not about relinquishing control, owning no ability to monitor, and just hoping that things will turn out great. It is about enhancing product awareness, increasing sales, and boosting ROI levels which will be delivered by a company that has solid expertise on how to make it right, saving money, and time, and sparing the stress, while offering a golden chance to concentrate on the core business needs. Outsourcing serves both small and big businesses. 37% of small businesses utilize outsourcing to cover at least one of their business processes. 
The flexibility of outsourcing makes it even more appealing for businesses, since it is possible, for instance, to have only one outsourced marketing function. A good example will be digital marketing outsourcing. The business might be coping well with marketing aspects offline, and the digital presence requires a certain augmentation of both staff and tech tools that could be easily covered by the dedicated outsourcing agency. 
Let's dig deeper to see why companies outsource and how beneficial the effect of such cooperation is. 
7 Reasons Why to Outsource Marketing and Sales to Professional Agencies
It's been briefly mentioned that an outsourced marketing team alongside sales team outsourcing are worthy to be contracted to augment business processes and bring more value to the table in terms of introducing the product to the world, targeting the right audience, and making more people wanna buy or order from your business.


Here is a broader list of reasons why outsourcing demonstrates such a powerful beneficial effect on business processes and their successful implementation.  
1. Access to outsourced marketing consultants who can deliver effective guidance and quick planning.
When the company opts for outsourcing services and contracts a reliable provider, the first thing that is available for it is instant communication with a consulting team that knows the market and how the audience behaves there. Having already grasped the idea of what your business's gist is, the specialists will assist in crafting a solid plan for particular business needs and a particular budget. The planning is based on access to thorough research performed by cutting-edge research tools, and a deep understanding of the latest trends in marketing and sales.
2. Access to the most professional and compatible specialists in both marketing and sales
Outsourced marketing consulting, outsourced marketing management, and outsourced marketing support will be delivered by dedicated talents from outbound sales agency that are focused only on certain aspects without dispersing that focus on multiple tasks from not-related areas. Whether we talk about an outsourced marketing director, outsourced marketing manager, outsourced content creator, inbound specialists, or an outbound sales team, they all will be assigned an exact task to deliver prominent results.
3. Decreased risks and increased cost-effectiveness
Contracting a reliable outsourcing vendor means hiring proven specialists, who have a skill set that will exactly fit your marketing and sales requirements. The experts are already profoundly trained and involved in a constant upgrade of their expertise, which is why the risk of failing a company's marketing campaign is close to zero. Hiring an expert from the first time saves a big deal of money, plus cuts all the expenditures on in-house employment (salaries, bonuses, physical space arrangements, position perks, etc.).
4. Reduced time-to-market
The marketing outsourcing team is already a harmoniously developed unit of specialists that get along well together and complement each other on the tasks. When there is a perfectly synced collaboration within the team then there are much higher chances for the product to reach the market faster and start bringing impressive revenues.
5. Cutting-edge tools
Outsourcing agencies offer not only highly-skilled professionals but also cutting-edge tools, equipment, programs, and well-developed IT infrastructure (automation tools, CRM, databases) required to ensure competitive marketing and sales services. 
6. Workflow efficiency
Outsourced marketing management alongside profound tech support contributes to flawless operations performance, where a smooth accomplishment of every team member transforms into a wholesome delivery of productive outcomes. Outsourced marketing managers provide a management level that is automatically programmed to deliver success due to meaningful experience in dealing with projects of various complexity and purpose. 
7. Reliability
High-profile outsourcing vendors provide employees that do not compete with each other but work as a collective unit to provide services that will add a competitive edge to the product. Their professional images depend on it as well as a general company's image, therefore there will always be one common goal (assisting the client to seal as many deals as possible and a bit more) for the team, and the focus is tightly set on achieving it. Also, outsourcing a dedicated team means getting specialists who solely work on the tasks of one client, without multitasking and project confusion. 
All these reasons in the final countdown can make any client say "I have things covered, my outsourced marketing team can take it from here". Confidence in success is a precious gem among the rocks of stress and constant worry. As much fun as a business can give to the entrepreneur, it still causes lots of damaged nerve cells. When such huge aspects as marketing and sales are backed up by trustworthy talents, then there is less stress and more joy in concentrating on other core angles where outside involvement is not possible.  
10 Functions to Outsource to Sales and Marketing Agencies
Sales and marketing outsourcing are very broad and complex concepts even though they all turn around two main goals: to promote and to sell. 
First, let's have a look at the five Marketing functions that might benefit and thrive when outsourced:
1. Outsourced Marketing Director Services
Depending on what the company holds the balance of, sometimes the company, especially in its young years, needs an expert who will be able to outline a long-term strategy. Marketing directors can be hired on a part-time mode for as long as the company will be establishing marketing vectors and learning how to upgrade exponentially to the new tendencies in the market. 
2. Content Marketing Function
Experienced content writers will have their ways to attract the attention of the target audience and convert them into potential buyers. Content creators own enough information on what the products' values are and who the users are who might benefit from interacting with the services or products, thus how to hire a content marketer can be a really useful question to ask.
Based on the data (age, location, interests, occupation, pains provoking the search for the solutions that the business might offer, the intrinsic linguistics to apply to the category of potential users, etc.) the writers and outsourced content marketing manager will find the right words to get through those who were previously in doubt. 
Well-organized structure of the content-generating and high-quality delivery (engagement, relevance, optimization, regularity) will generate organic traffic to the website and yield revenues. 
3. Social Media Marketing
Where is everybody? Right, everybody is on social media. This is why it is crucial to have a strong social media marketing strategy to reach a huge volume of potential clients and naturally convert them into potential buyers. Social media offers a bounty of possibilities to market a product or a service, and the whole world uses this brilliant opportunity. A top-pro social media marketing specialist is required to leave the competition behind and to catch the user faster than the competitor in a similar niche will do. 
4. SEO 
On and offsite SEO for marketing can be compared to Golden Goose. With properly established SEO strategies, it is possible to attract an audience naturally (organically) and convert those who are interested into clients ready to seal the deal, without spending extra budget on paid advertising. SEO is everywhere. It goes way beyond keywords and top pages in Google (though the last one is quite crucial). Unless you have an in-house top-notch SEO team, it is highly recommended to outsource this function or use seo expert hire option, because without these services it is even not possible to write a caption under the photo, to say the least. Proper optimization is an air to breathe for the marketing strategy. It will wither without the chance to grow and harvest profits.
5. Brand Identity 
Brand identity is the answer for businesses on how not to get lost among similar brands and make the potential client choose you. Brand identity creation is a marketing strategy for raising awareness of the product and making it stuck in the clients' minds by the means of certain visual, textual, and animated effects. The idea must be one of a kind and align with the brand value strongly. 
Here comes the list of five Sales functions that would be better if outsourced:
1. Lead Generation
This function is one of the most commonly outsourced. If you are a young company then it is vital to have specialists to identify and pre-qualify real buyer personas, define the best ways to approach them, and guide them through the marketing funnel, nurturing towards closing the sale deal. If the company is fast-growing and expanding with an excellent lead generation strategy, it also needs an expanded team to follow each lead and get them to buy, order, and stay. Outsourced team augmentation and leadgen bpo work perfectly here.
2. Live Chatting
Chatting has become a game-changer in business-client communication, having earned a trophy of becoming much more convenient over calls. Having the communication aspect backed up by the chatting feature increases potential client retention and further product or service interaction. So you may consider opting for outsourced bpo live chat services or hiring a dedicated Live Chat agent.
3. Social Selling
Nowadays people love being able to order or buy something in a very convenient mode, let's say while in line to get a takeaway order, meaning that it should be available with a one-button click. When online presence is strong and smoothly entices the user in the interaction with the company, offering easy ways to try the quality, it makes the users bring revenues.
4. Omnichannel Sales
This function is complex and requires respective approaches. The outsourced sales team is sure to provide a seamless infrastructure of all the possible current channels to reach target clientele alongside optimizing means of reaching relevant to each specific sales channel.
5. Prospect List Building
This function is outsourced to enhance in-house sales reps functioning. The outsourced team digs for data for building a database matching the ideal client portrait, letting the in-house specialists connect with the already-on-the-list ones.
The functions that the business might want to outsource depend on the particular business needs, resources, and goals to reach. Outsourcing marketing consulting and profound sales analytics might come in handy when comprehending real business needs.
In-house Marketing & Sales Professional vs Outsourced Manager
There is no perfect formula for shaping the right decision when it comes to doing a successful business. Everything has its advantages and disadvantages, yet knowing the business situation at the time given, will help to choose the one that will fit perfectly with all pros and cons.
 
In-house Marketing & Sales Professional
Outsourced Manager
Advantages
Allows more monitoring over the operations performance
Direct and fast communication
Security of the internal data is at the lesser risk level
Clear corporate culture and common values
Cost-effective (overhead expenditures saving)
Much broader skill set and profound experience 
Starts fast being properly trained and with access to greatly-developed tools infrastructure
Spares the time for other employees to focus on the core creatives
Disadvantages
May lack skills required for the increased project complexity
May be reluctant in regards to innovations, "having his/her proven ways of delivering things"
In-house specialists cost more given all the employment expenditures
The lack of resources or similar project activity might result in burnout, slowing down the processes. 
Bigger risk of data breach
Communication issues (if the outsourced manager comes from a different time zone, major language differences, mentality implications, etc.)
Too much relinquished control may cause extra stress
Little personal attachment to the product and company's philosophy in general.
Analyzing thoroughly and defining what might bring the most comfort in terms of an outsourcing manager vs in-house professional hiring decisions will provide the outcomes that promote growth and increase revenues.
7 Questions to Ask When Considering Working with a Sales Outsourcing Company
Sales and marketing are critical functions for any business, but managing these activities in-house can be resource-intensive and time-consuming. Outsourcing sales and marketing services to a specialized company can be a viable solution, especially for small businesses that lack the resources or expertise to build and manage a dedicated sales team. Working with outsourced direct sales and marketing providers can help companies grow their customer base, boost revenues, and streamline operations. To ensure that you choose the right partner, here are seven questions to ask when considering working with a sales outsourcing company.
What is your experience and expertise in my industry?
Experience and expertise are crucial factors when selecting a sales and marketing outsourcing company. A provider with a proven track record of success in your industry will be more likely to understand your unique challenges and requirements. When evaluating potential partners, inquire about their experience with businesses similar to yours and assess their knowledge of your specific market segment. A company that has a deep understanding of your industry will be better equipped to develop and execute effective sales strategies tailored to your needs.
What services do you offer?
Outsourced sales and marketing companies may offer a wide range of services, from lead generation and appointment setting to account management and customer retention. Understanding the full scope of outsourced marketing and sales services offered by a potential partner can help you determine whether they can meet your specific sales and marketing needs. When discussing your requirements, consider whether you need a comprehensive solution, such as outsourcing marketing for small businesses, or if you're looking for specialized services like outsourced advertising sales or an.
How do you measure and report on performance?
To ensure the success of your outsourced sales and marketing efforts, it's essential to have a clear understanding of how the provider measures and reports on performance. Ask about the key performance indicators (KPIs) they use to track success, such as the number of leads generated, conversion rates, and revenue growth. Additionally, inquire about their reporting processes and how frequently they provide updates on progress. A transparent and data-driven approach to performance measurement can help you make informed decisions about your sales and marketing strategies and identify areas for improvement.
What is your pricing structure?
Understanding the pricing structure of sales and marketing outsourcing companies is essential to ensure that their services align with your budget. Ask about the various pricing models they offer, such as fixed fees, commission-based pricing, or a combination of both. It's important to choose a provider with a transparent and competitive pricing structure that offers value for money without compromising on quality.
How do you ensure the quality of your sales representatives?
The success of your outsourced sales and marketing efforts largely depends on the quality of the sales representatives working on your behalf. Ask potential partners about their recruitment and training processes to ensure they have a team of skilled and knowledgeable sales professionals. Additionally, inquire about their strategies for retaining top talent and ensuring that their sales representatives remain motivated and engaged.
Can you provide references or case studies?
To gain a better understanding of a sales outsourcing company's capabilities and track record, ask for references or case studies from previous clients. This can provide valuable insights into the company's approach to sales and marketing and the results they have achieved for businesses similar to yours. Speak with these references to learn more about their experience working with the provider and whether they would recommend their services.
How will you ensure a smooth transition and ongoing communication?
Effective communication and a seamless transition are critical to the success of any outsourced sales and marketing partnership. Ask potential partners about their onboarding processes and how they plan to integrate their services with your existing sales and marketing efforts. Additionally, inquire about their communication strategies and whether they provide a dedicated outsourced sales manager.
The Costs of Hiring a Marketing and Sales Manager in Different Countries
Outsourcing marketing and sales specialists have already proven themselves to be way more cost-friendly in comparison with in-house specialists. The next step, in respect of saving the budget assets, is to outsource the high-profile specialist from the right region, meaning getting real talent at a fair, affordable, and transparent cost.
Here are the salaries paid to the marketing and sales managers in different parts of the world.
| | | | | | |
| --- | --- | --- | --- | --- | --- |
|   | USA | UK | Germany | Poland | Ukraine |
| Marketing Manager | 14,100 USD | 12,980 USD | 6,858 USD | 1,791 USD | 1,116 USD |
| Sales Manager | 13,700 USD | 12,178 USD | 6,580 USD | 2,535 USD | 1,061 USD |
The table above is hinting that businesses must have a closer look at the countries in Eastern Europe (Ukraine in particular) due to the affordable cost to pay for the high-quality services that the eastern European pool of marketing and sales talents provides. 
Possible Ways to Hire a Marketing & Sales Specialist to Work Remotely
With the world offering almost limitless possibilities to cooperate with specialists from any part of it, the situation bakes the question "What hiring model will work the best in the given stage my business is in?"
There are three major models of getting specialists to enhance positive outcomes within the marketing and sales department.
1. Hiring locally. Local hiring models allow employing an expert who is familiar with how the business functions in the geographical area under consideration. This specialist gets along with the team much faster due to sharing the same language, respecting and maintaining personal and professional values, and connecting with each other in the out-of-work environment. The issue with local hiring may arise in terms of expertise that might lose it in front of the specialist from the parts with a rapidly evolving IT field that might offer more skilled specialists when it comes to increased project complexity.
2. Hiring from a freelance market. Employing a freelancer is quite a proactive practice for businesses to augment their staffing potential. Freelancers are proven to demonstrate great skills, profound expertise, and willingness to enhance their profile, and develop a solid professional image. 
The freelance market does not only apply to beginners in their craft. So many high-class professionals with impressive experience have chosen to leave the corporate world and pursue a freelance career for more freedom and to choose the tasks that spark their professional souls.
A major concern in dealing with freelance employees is a shortage of reliability and legal monitoring since no strict contracts are expected in such a mode of employment. Data protection is also a questionable moment in the given matter.
3. Hiring via BPO company. BPO companies have yielded a respectful reputation in terms of finding the right people to perform excellent services and delivering outcomes that trigger business maximization and enrichment. 
Outsourcing companies cooperate with talented and thoroughly vetted specialists who have access to modern technology and tools to keep up with the newest trends on the market. Outsourcing vendors provide teams of specialists or single working experts who oblige to a transparent contract and follow all the terms (security is the biggest concern).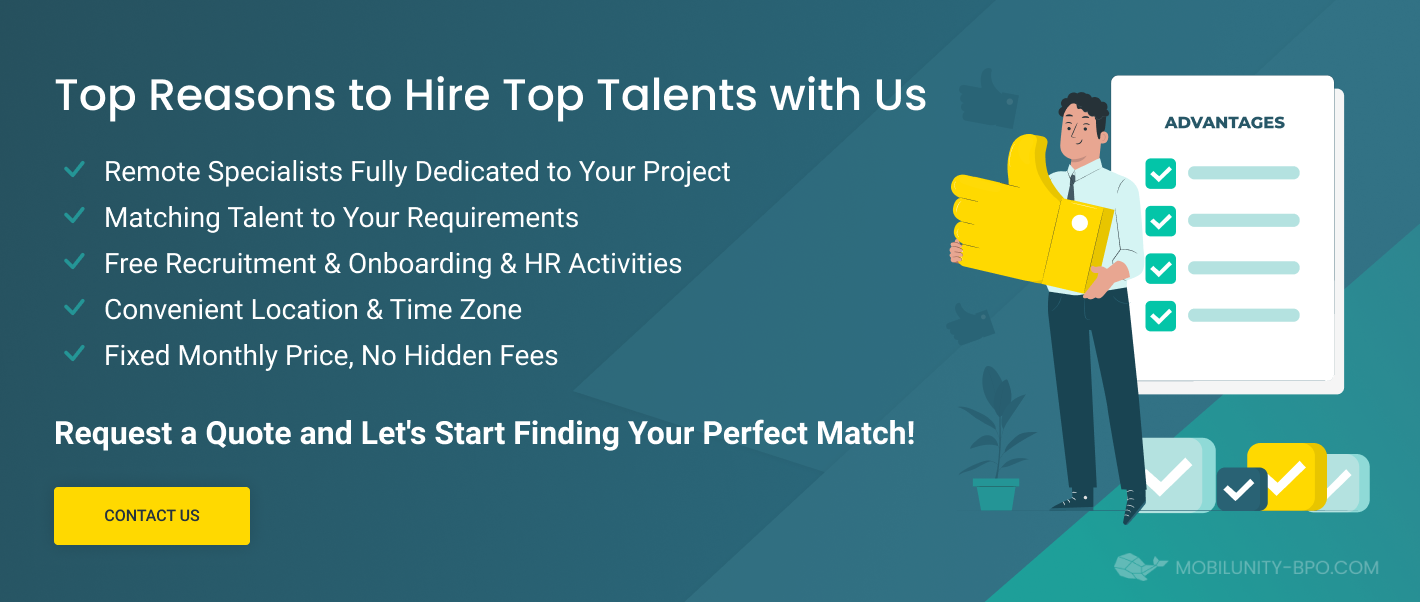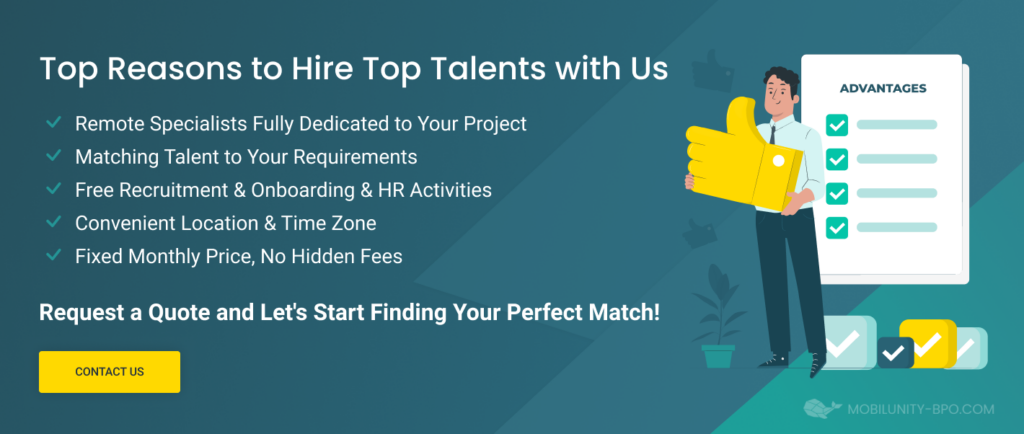 Flexibility in both work delivered and payments (different models of payment are possible for the client's convenience) attracts more and more businesses to outsource processes and enhance staffing aspects.
To achieve positive outcomes from cooperating with BPO companies it is essential to communicate crystal clear requirements and expectations as well as have a transparent conversation upon prices for any service delivered.
Mobilunity-BPO Is a Reliable Dedicated Marketing and Sales Managers Provider
Since 2010, Mobilunity-BPO has gained a reputation as a reliable provider of dedicated experts who possess deep expertise in the major business principles, who are familiar with the newest tendencies in the market, and who have a solid grasp of the cutting-edge technology implementation to deliver prominent results for the customers.
Mobilunity started as a marketing organization, therefore as of now, it can excellently provide dedicated remote Marketing and Sales managers who own a proven track of record leading online marketing projects successfully. 
For more than 10 years, Mobilunity, a Ukraine-based company, has been improving the staffing experience for clients around the globe. i-doit, XPLG, Zenchef, Paidy, Camptocamp, BYG-E, ICUC are the names of satisfied customers who keep on their fruitful cooperation with the company.
Business industries that Mobilunity-BPO successfully delivers specialists for:
Marketing and sales
SEO outsourcing
telemarketing
HR services
data entry
SMM
database management
online research
Mobilunity-BPO offers transparent and convenient costs alongside flexibility in hiring models exactly as the freelance market might suggest. However, the security and reliability of the services are on the level of a grand BPO provider level. 
200,000+ highly professional specialists and more than 1000 accomplished projects speak wonderfully well and loudly for the high proficiency of this Ukrainian company that has earned popularity on the international level around the world.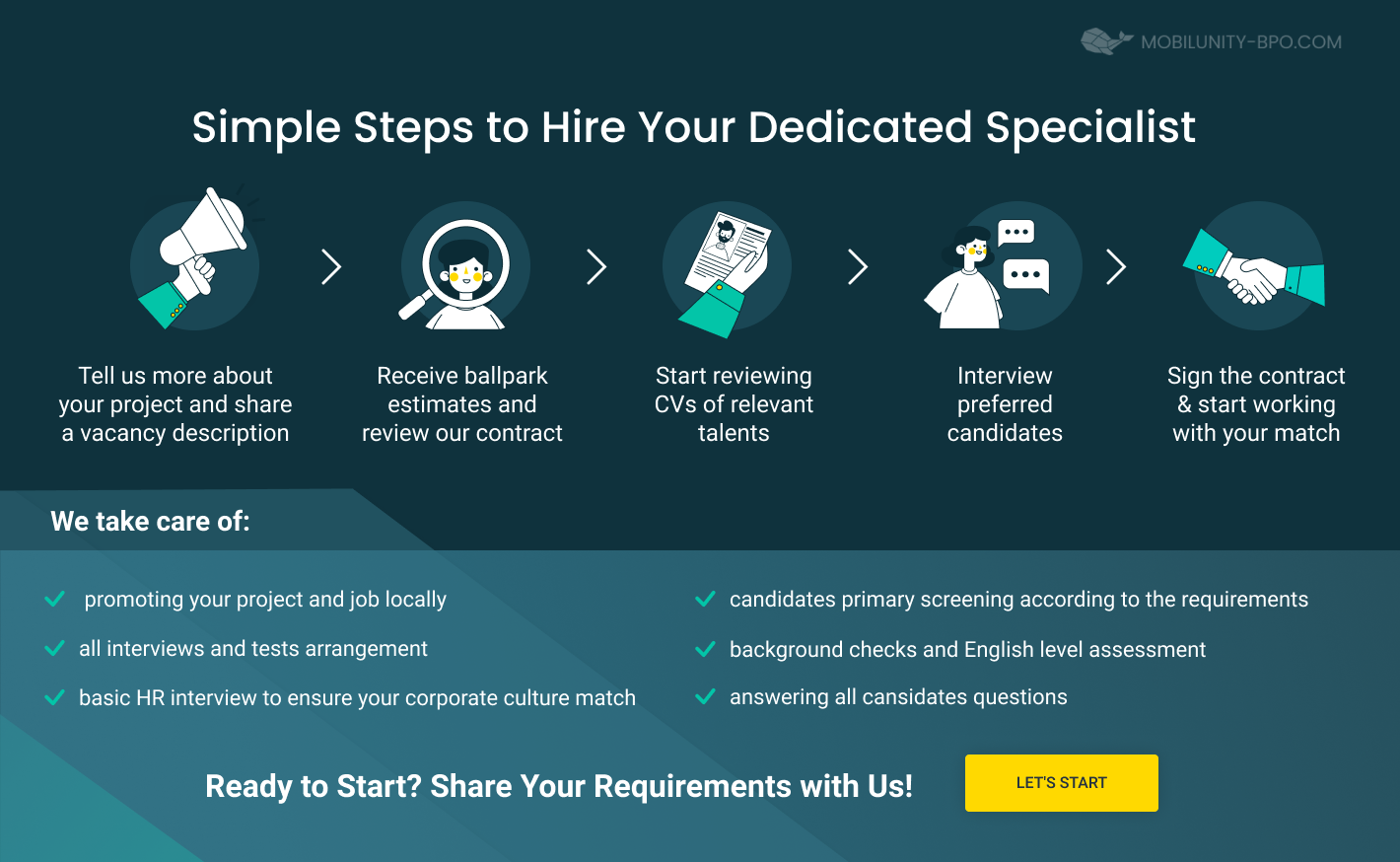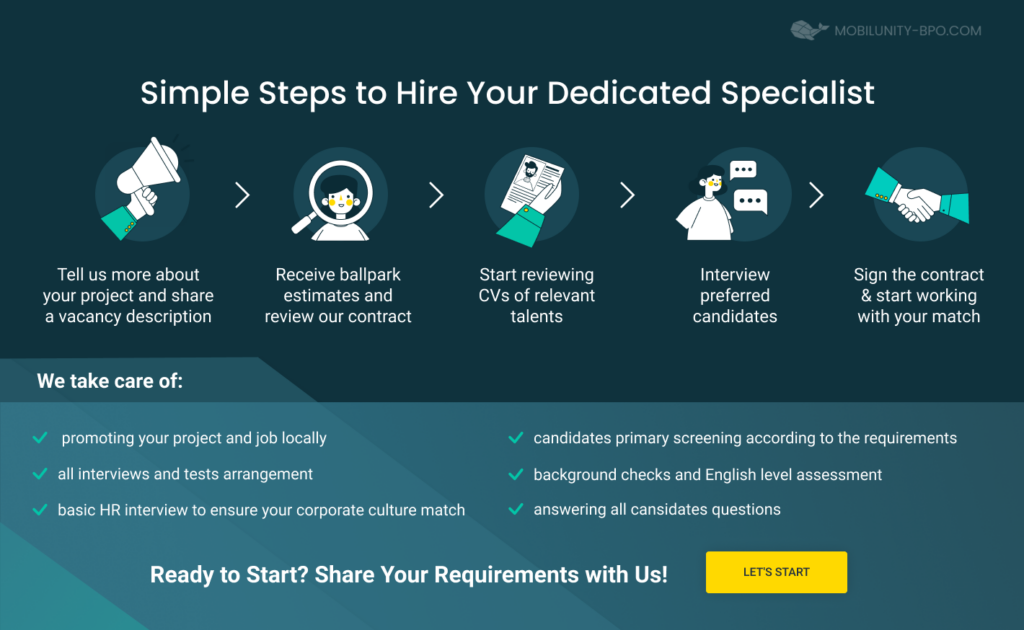 Conclusion
The marketing and sales department is an essential area to apply extra efforts to when planning to run a successful and highly profitable business. If for some reason in-house expertise does not quite qualify for assuring marketing and sales functions, then there is an excellent solution for the issue: the company might consider outsourcing those functions to a reliable BPO provider, with a high-profile reputation and cost-effective compensation. 
Outsourcing to the companies in Ukraine will grant top talents and lower expenses. Outsourcing to Mobilunity-BPO provider will assure mentioned benefits plus guarantee an excellent experience of dealing with the company that is western-values oriented and recognized around the globe.
Outsourced marketing function is a prerequisite to boosting brand awareness and increasing revenues. Feel like learning more? Contact us!