How Much Does It Cost to Hire a Social Media Manager Remotely?
Since the beginning of the pandemic and until today, there have been many radical changes in the field of marketing. The total lockdown has forced companies to adjust their product development strategies forever completely. People have become more and more dependent on technology, changing their lifestyles and habits. 
These days, for a company to be successful and grow, it needs to be visible online. This is not possible without the right marketing strategies in various social networks. The result of these changes is brand development and a focus on personal customer experience. 
According to Statista, social media advertising spending worldwide grew from 130 mln dollars in 2020 to 182 mln dollars in 2021, and it is not going to stop. The predictions are that in 2026 it will be 300 mln dollars for mobile advertising and 60 mln for desktop advertising. 
Social networks have become not only a source of new ideas and entertainment, but they have also taken Internet marketing to a whole new level. The development of social networks has influenced the buying behavior of customers and opened new ways for promotion.  


Why Is It Essential to Hire Social Media Manager 
An SMM specialist is hired by companies that want to remain relevant in the market and be closer to their customers, regardless of what this company does. Those can be electronic cables, clothes, or food. In any case, social media nowadays are more of a necessity than a voluntary choice.
If you hire a social media manager, the benefits do not depend on where it is located. It can be a freelance social media manager, remote social media manager, part-time social media manager, etc. 
The main reasons why hire a social media manager are: 
Social media are continually changing. The main characteristic of a social media manager is resilience and a growth mindset. This specialist is always open to new developments, and it instantly adapts strategies to the changes taking place in the market. All this happens with the help of special technologies and platforms. Experienced SMM managers can predict in advance what changes may occur in the future and what scenarios the company should be prepared for.
Build trustworthy relationships with customers. No one should ever wonder why it is important to be transparent with customers and take care of them. People don't want to use the services of a brand that does not care about its users. A social media manager is a link that connects customers and the brand, making them closer to each other. Nevertheless, social media helps not only to advance things but also to gather additional information, which in turn helps on many levels of promotional campaigns. Through accepting the feedback, in its various manifestations, managers show customers how much they care about them and want everything to be wonderful and comfortable. It also helps boost ratings.
Expand the market and target audience. According to the research held in the US, more than 50%of respondents stated that social media ads directly influence their decision-making. Therefore, social media is a great way to find a new target audience. Expanding the market can be hard and tedious. However, SMM specialists are professionals that can help you with that. 
Create strategies based on actual data. When you hire a social media manager, you hire a person who constantly analyzes and makes decisions based on real data. The information collected by these specialists helps not only to build strategies and conduct research but also to measure success and conduct risk management. So, social media managers are not the people who do random stuff but great strategists who constantly generate new ideas.  
Roles and Responsibilities of SMM Manager 
Before looking for a social media manager for hire, you should know what their main responsibilities are to make sure that all your needs are covered. Those are the people that think strategically and globally.
The main responsibilities of SMM managers are:  
Create a content plan with scheduled posts.
Monitor the activity of social media, customer engagement, and brand standards implementation. If any of this goes wrong, the social media manager should fix it in a timely manner. 
Communicate with other brands and cooperate with them.
Create engaging content or assist team members in that. 
Follow the main trends activities and use them to interact with customers.
Analyze and report performance results.
Check if the strategy is still relevant. As a result, improve one or keep it as it was. 
Cooperate with writers and copywriters to create relevant content. 
Come up with the strategy for the month/quarter/year. 
Keep everything on the social media pages up-to-date.
How to Hire Social Media Manager
Before you hire a social media manager, you should consider lots of factors. The first one is if you want to hire locally, a freelance SMM specialist, or maybe you think of taking BPO services from the agency. All of these ways are reasonable and deserve your consideration. 
There are a few factors that might influence your choice: the size of the company, your budget, and your final goals. 
Hiring Locally
An in-house SMM manager brings lots of benefits to the company that wants to be engaged with its customers day and night. It provides constant support and is totally absorbed into the company's processes. However, sometimes it may play a cruel joke. A person that works in one company for a long time is an easy target for "burnout" and has a great possibility of staying in their comfort zone forever. 
On the other hand, the in-house social media manager is totally under your control. You will be able to hire a team member full-time for a full working week. At the same time, the company has a lot of material for creating content.
Hiring Freelance Social Media Manager
If you want to hire a social media manager for a small business, go with the freelancers. In this case, social media manager costs are extremely lower than hiring a full-time employee. This is a good choice if you have a short-term project or a low budget. Freelancers are easy to find on Upwork, LinkedIn, or other platforms. 
However, a freelancer usually works in a small niche that can't cover all the needs, for example, only designing Stories or maintaining a page without a target. They may have a lack of expertise in the field or similar projects as yours. In this case, just double-check and ask for a portfolio or legitimate proof. 
Some of those specialists cannot be reliable; they may disappear or have trouble with deadlines, and you can't do anything about it.  
Hiring through a BPO company 
If you want to outsource social media marketing services or hire outsourced marketing support, BPO companies can be a great solution. Medium-sized, large companies, and state institutions use social media outsourcing. Although for small companies, outsourced marketing and sales can be more expensive than hiring a freelance worker, it is definitely safer and reliable. Experience and cases in a certain niche are important here.  
When you work with BPO agencies, you don't have to worry about how to hire a social media manager; the company is going to take care of it. They also offer comfortable long-term cooperation, a sense of security (the company works according to all legalities), a wide pool of specialists (with different backgrounds and experience in various fields), and transparency in reports.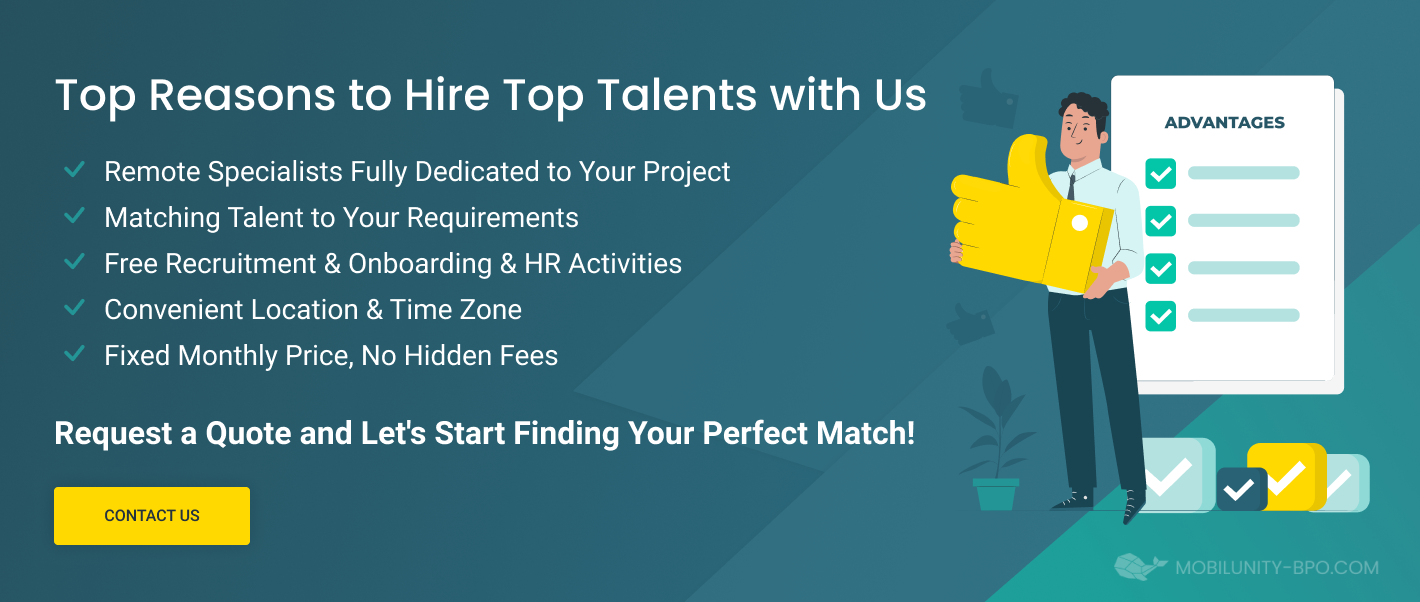 At Mobilunity-BPO, we focus on hiring specialists that will be integrated into your company's culture and will be fully dedicated to you if it is necessary. We make sure that hiring a social media manager remote will be as beneficial as working with offline staff. 
Cost of Social Media Manager and Different Pricing Models
The pricing model and the cost of a social media manager always depend on the experience of the employee, skills, and workplace (online or offline). Also, you should consider that some specialists can charge per hour and some per project. We are here to help you to see all the possible solutions for cooperation and choose the best cost of hiring a social media manager for your company. 
Per Hour 
It is reasonable to have hourly rates when you have small projects with defined tasks and goals when you are sure that there are as few as possible risks on the plate and you have already worked on the same projects. Because imagine if something goes wrong or you don't like the final result, you'll have to pay even more than you have planned.  
Usually, such SMM specialists charge from $5-50 per hour. It all depends on the experience and geographical location of a professional. 
You may also hire a social media manager part-time or for a small task. For example, creating logos, illustrations, promotion campaigns, etc.  
Hiring a social media manager part-time remote is a good solution for companies that are not sure about their actions. What does that mean? A trial period. Hire a social media manager to establish the processes, see how much workload the in-house specialist is going to have, etc.  
Per Project
You may use this pricing model, for example, to expand your team or department while working on an important project. SMM managers can do various types of tasks, so if you are overloaded, it may help you to focus on the main priority tasks while covering the small ones or vice versa. You may sign a social media manager contract to define all the agreements; it is often even a necessity if we are talking about the projects.
Companies work with the social media manager contractor when they want to cover some specific services, such as writing articles or posts. Price per SMM project or campaign may be $300-1,000 per month, depending on the scope of a project, length, and complexity. 
Fixed Monthly Fee 
Loads of social media managers and companies go with fixed monthly prices. It is more comfortable for both sides. If you want someone who is going to work for you as a regular staff member, then it is the best choice. The specialist is going to do everyday tasks, analyze and create strategies on demand.  
In this case, you should define and discuss all the responsibilities of a contract social media manager. Those can be providing promoting content every month or analyzing the engagement or strategies updating; you name it.  
And finally, before pricing, ask yourself this: 
Are you a small or large business?
Is your project simple or complex? What is the length? 
Where to hire a social media manager? 
What kind of professional do you need? Can it be a newbie, or do you want an experienced one? 
As a rule, monthly pricing for SMM services ranges from $600 to $3,000 and depends on the project size and required involvement of the SMM specialist.
The Annual Average Salary for an SMM Specialist
The social media manager salary varies and differs from the part-time social media manager salary. The main factor that influences the salary of a manager is the location/country. Our company has specialists in social media bpo all over the world, and we also have connections with recruiting services that give the most skilled employees. We prefer to work with Ukrainian or eastern European specialists because they are affordable, have a great experience, and focus on learning to stay competitive in the market. However, if you have other preferences and needs related to digital marketing bpo, we will be happy to find a perfect candidate for you. 
The salary in various countries is due to different living conditions. For example, the average cost of living in the US is $40,000 per year; for Poland, it is $7,000. The difference is visible for sure. It is obvious that outsourced digital marketing for small business has its financial benefits, especially when you just start. 
Average Social media manager salaries in different countries are the following: 
Questions to Ask When Hiring Social Media Manager
When hiring an SMM specialist, you always expect a return from him in the form of expertise, competence, and professionalism. You want it to perform its work efficiently and on time to increase the conversions on your pages or other parameters. But how to determine that this particular SMM specialist is really a specialist? 
First of all, pay attention to the portfolio. Check if it is real, how the specialist solves the tasks, main achievements, and competency in the field. Secondly, give them a test task. The written test task is more relevant for a full-time SMM specialist. You need to check its expertise, professionalism, how he analyzes, what his train of thought is, and whether his vision of promotion in social networks coincides with yours. If you hire a specialist for outsourcing, it is better to conduct the test task in the format of an interview.
And the last one is to ask for the client's feedback. Recommendations and reviews are valued by many companies much more than all kinds of cases.  
Interview questions for social media managers should be diverse. What does that mean? You should check the person's soft skills as well as hard skills. If you want to hire a long-term specialist, make sure that it lives the values of the company, is motivated to work in this field, and is passionate about the responsibilities. 
The first set of questions is general questions to make the candidate feel comfortable: 
Tell me about yourself. 
What do you like the most about social media? 
How do you stay on the same page with trends? 
What social media platform do you prefer? 
What would your friends/employees say about you? 
Why are you interested in this position/our company? 
After, you can move on to the skillset and amount of experience the candidate has: 
What tools do you prefer to use in your work? 
What social media platforms do you use the most and have experience working with? 
How do you measure performance and results? 
How do you analyze data? 
How do you build strategies? 
The last set of questions can be about the specifics of your company, product, or field. Focus on problems you want to solve and what you want to improve. Compare your and the candidate's answers and see if you like them or not. If you do not ask all these questions and do not agree at the beginning, you can face serious problems in communication in the future.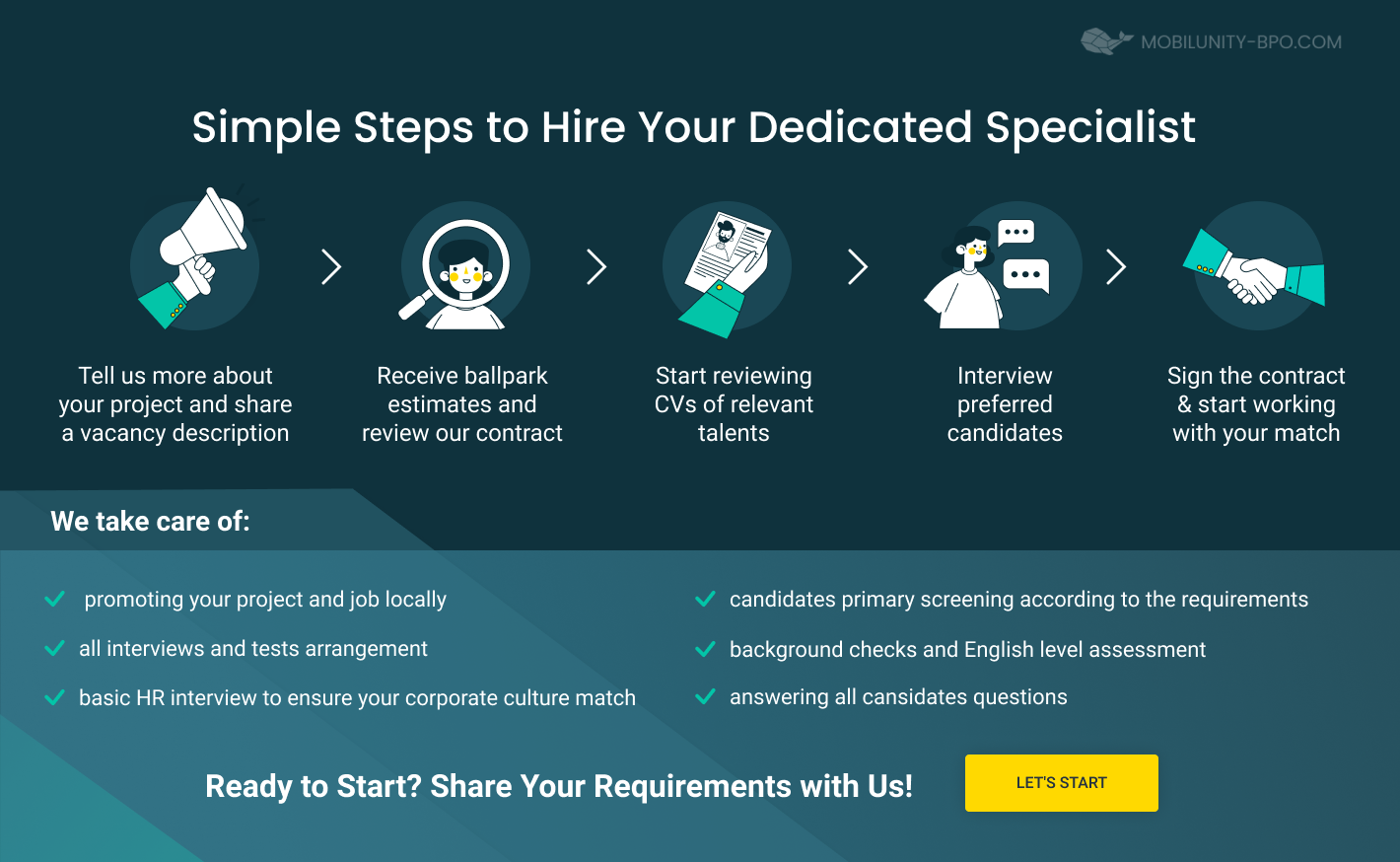 Mobilunity-BPO as the Best Choice for Hiring Social Media Managers 
Mobilunity-BPO is a Ukrainian outstaffing company with 10+ years of expertise in providing dedicated teams for businesses in diverse countries. Our company is globally recognized by various resources and awarded for our exceptional HR and B2B services.
We provide companies with dedicated remote SMM managers and have a proven record of leading marketing projects successfully. Our journey began with marketing, so we have loads of experience and know how to stay competitive in this field.  
Our partners choose to work with us because they get a personalized experience, recruiting services as per requirements, fully covered HR services (we make sure that employees are fully integrated into the company's culture and feel comfortable there), and cover the basic needs of employees. 
During the long years of our existence, we helped clients achieve their goals. Minedia, Codename, 360Living, Chip In, and Vayomar are among our many satisfied clients. 
We value transparency in communication; that is why we offer flexible hiring and paying models that we mentioned previously in the article. We also take care of security at every stage of work.   
If you want to increase the engagement of your customers and hire a social media manager contractor, Mobilunity-BPO is always ready to help. Contact us and get professional help immediately!