Aerial Data Annotation Solutions
UAVs, or unmanned aerial vehicles, are on the rise. These remote control flight devices are revolutionizing various industries by providing imagery data for deriving valuable insights.
In 2022, the global drone market revenue reached $33 billion. And there's more to come in the following years. By 2026, this market will surpass $40 billion, following Statista's predictions.
Drone data collection has numerous applications. Insider Intelligence states that enterprise drones have the most potential, especially for such segments as agriculture, media and telecommunications, law enforcement, construction, and mining.
But how exactly can companies use drone imagery for their benefit? And what types of data can they collect? Read on to discover the answers in today's article.
Main Use Cases of UAV Data
As already stated, drone data has an extensive application across various industries. When combined with AI technology, it provides even more opportunities for companies. So here's where you can use autonomous driving annotation data:
Real estate. Companies can use drone photos for real estate for better real estate marketing, demonstrate the accurate location of buildings, and reveal more buildings' characteristics.
Media. Media applications of drones include photography and videography for events or news broadcasting.
Military. Images of military drones are typically used for intelligence, surveillance, and target identification.
Agriculture. Companies can capture drones images to estimate yields, identify plant pests or diseases, monitor crops and livestock, and manage irrigation and fertilization.
Forestry and plant protection. Environmental initiatives are another use of drones. Owing to aerial imagery, it's possible to detect illegal deforestation or forest fires, monitor the plant population and pollination, etc.
Construction and mining. Companies in these industries use images from drones to monitor construction processes, identify threats and violations of worker safety, track the pace and scale of mineral extraction, and monitor supplies and materials on the construction site.
Transportation and logistics. These industries have broad applications for drone data, especially when combined with AI. Companies can use drones to identify and track vehicles, plan routes efficiently, monitor traffic conditions, etc.
Law enforcement. Law enforcement agencies can use drones to track suspects or criminals, find stolen vehicles and missing people, or investigate terrorist threats.
Urban planning and smart cities. Companies can use UAV imagery as they may need

geospatial data as a service bpo

for more ergonomic city planning, recognition and reduction of traffic jams, optimization of public transport routes, etc.


As you can see, the number of drone imagery applications is staggering. Many businesses can gain significant competitive advantages and improve their processes by analyzing the data collected by UAVs.
Aerial Data Collection: Core Types
Aerial imagery is a key to successful drone data analysis and further insights implementation. Typically, you can collect the following types of data:
Standard JPEG images. These are aerial photos in formats like .jpg, .jpeg, .jfif, .pjpeg, .pjp, etc.
3D images. Drones can also be used to capture three-dimensional photos and subsequently use them in 3D drone mapping or photogrammetry.
LiDAR drone images. LiDAR, an acronym for Light Detection and Ranging, is a technology that involves sending laser light from a source (drone) to reflect from objects in the scene. It allows the creation of distance maps of the objects in a picture.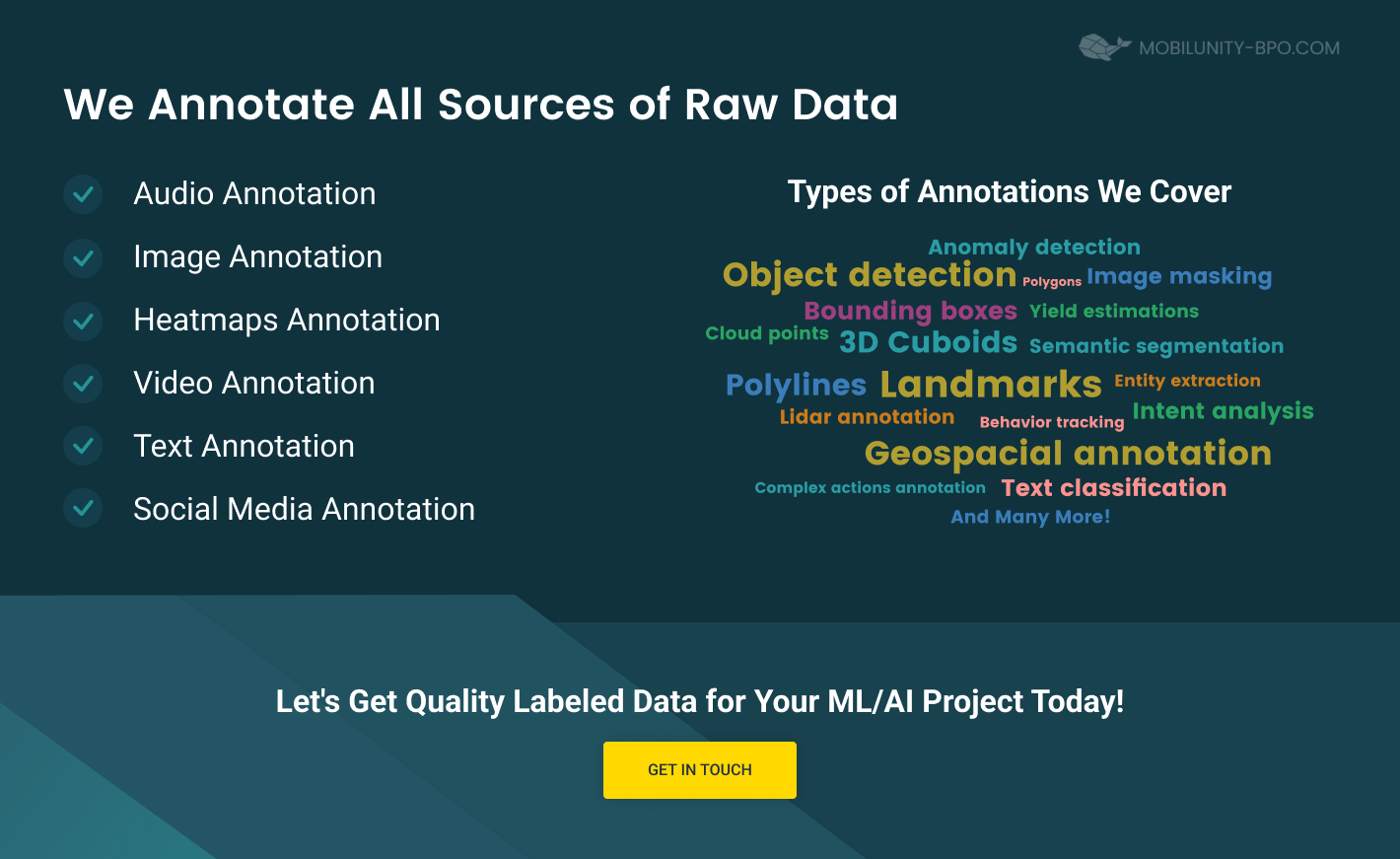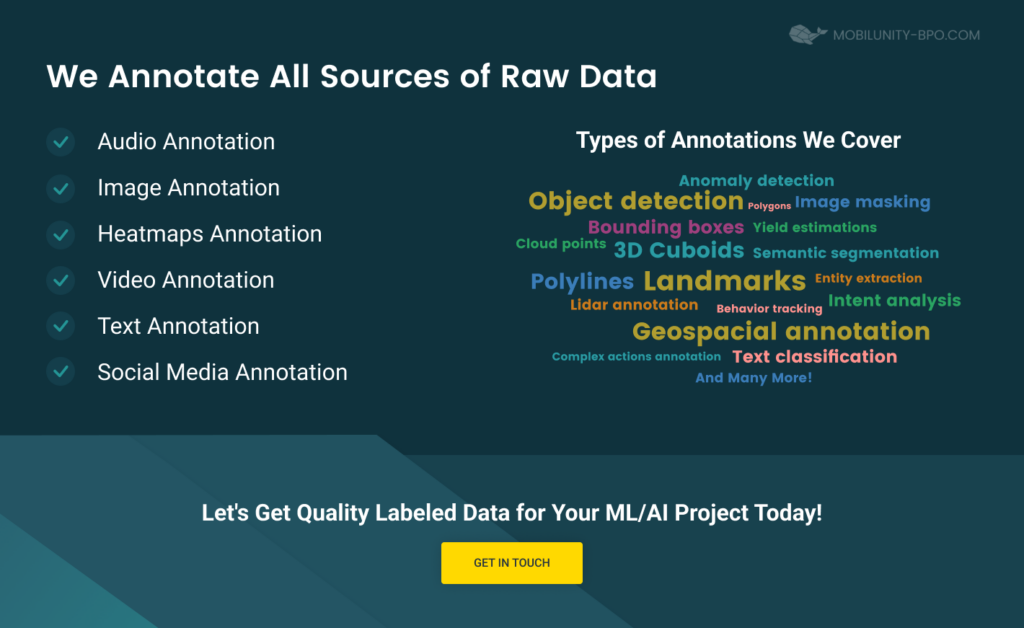 Types of Data Annotations for Aerial Imagery
You can use 3D imaging drone photos, JPEG pictures, and LiDAR data for further annotation and machine learning algorithms training. It is especially relevant for businesses that need means for automatic UAV mapping, object detection, localization, and tracking.
Here are the most common drone annotation types:
Key point annotation. This annotation type involves marking key points on objects and connecting their edges. It is suitable for monitoring object changes, for example, motion tracking.
Line and arrow annotation. This annotation type involves marking straight or curved objects using lines and polylines. This technique is well-suited for labeling lanes and boundaries.
Polygon annotation. This annotation type includes manual data labeling and highly precise outlining of objects. This method is especially relevant for marking objects of unusual shapes.
Bounding boxes. This type of annotation involves marking objects by enclosing them in rectangular boxes. It is suitable for determining objects' location, height, and depth. It's also possible to use 3D bounding box annotation.
Rotated bounding boxes. This annotation type is similar to bounding boxes, but it involves tilted rectangular boxes.
Segmentation. This annotation type involves marking various objects on UAV images according to a defined classification.
By applying the mentioned types of drone image annotations, you can obtain high-quality datasets for training machine learning and computer vision algorithms.
Most Common Data Annotation Formats
If you opt for annotation services for machine learning and computer vision technologies, then you should learn about the annotation formats that you can apply. Here are the main ones:
COCO annotation. COCO is suitable for object detection, key point annotation, segmentation, and image captioning. You can store annotations in this format thanks to JSON.
YOLO annotation. The YOLO annotation format involves creating a .txt file for each labeled image. It is suitable for describing the object's coordinates, width, height, and class.
Pascal VOC annotation. Pascal VOC stores all image annotations in an XML file. It is suitable for object detection.
Annotation ArcGIS. Annotation in ArcGIS involves storing text for particular placement on maps. It is suitable for annotating individual objects or adding general information to the map.
Picture masks. You can also save aerial image annotation data as layering masks.
Data labeling specialists use one or several annotation formats in their work.
And while these are the most common formats, an inevitable question arises regarding the tools or software essential for these tasks. To gain a better understanding of the technology behind these annotation formats, watch this video. 
To sum it up, these formats, accompanied by the right tools, are foundational in ensuring accurate and effective aerial data annotation.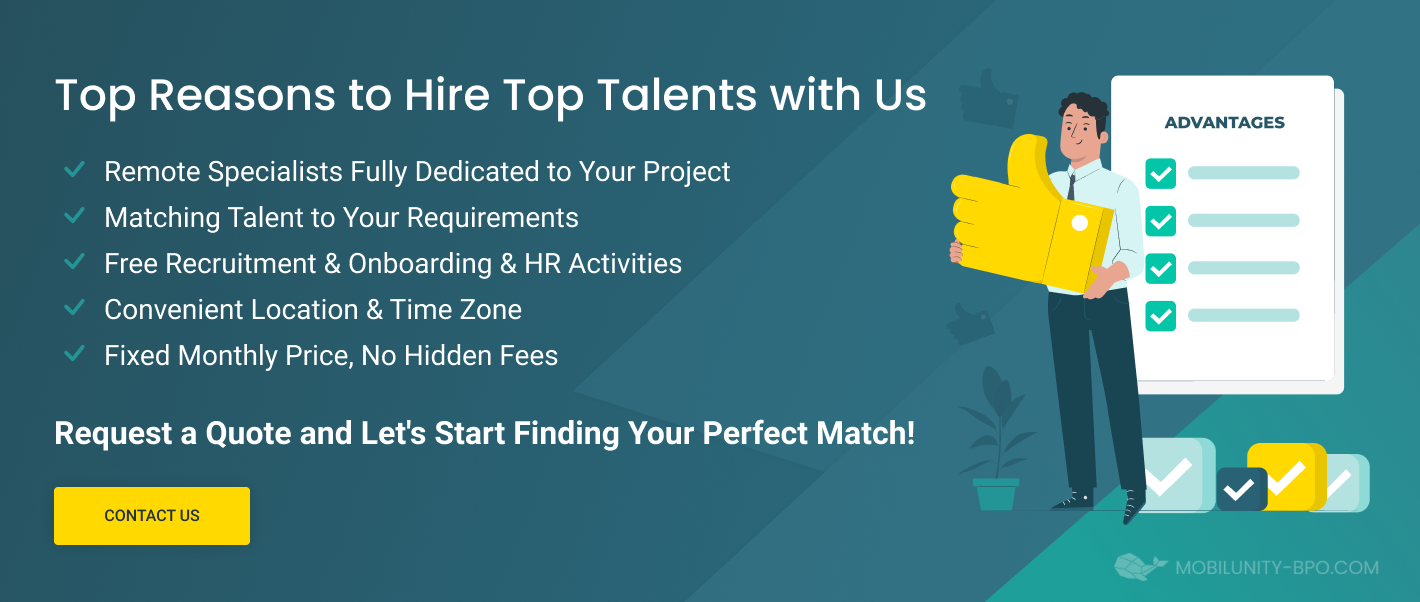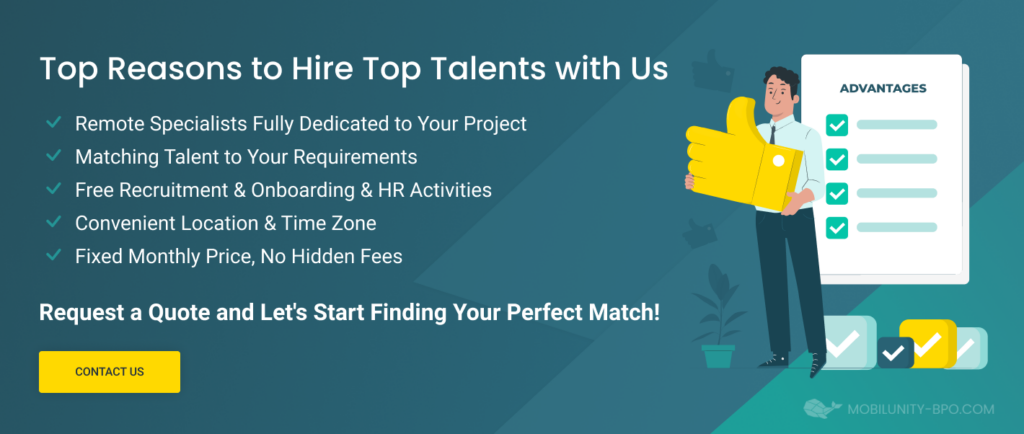 Benefits of Outsourcing Aerial Data Annotation
The most efficient way to handle UAV image annotation is to outsource such services to a reliable vendor. Here are some of the benefits you will get from this:
Save time on developing your ML, AI, or computer vision product. When you choose an outsourcing approach, you significantly speed up the annotation process of your drone image dataset. You do not need to assemble and train an in-house team because you can immediately delegate the labeling task to a third-party service provider.
Save costs on UAV dataset annotation. Outsourcing companies typically offer favorable prices for their services, and you can choose the rates that suit you best. On top of that, you don't need to spend money on retaining and training in-house employees and worry about other administrative expenses.
Boost your internal employees' productivity. Your employees must be busy working with machine learning and other advanced technologies. Why load them with image data labeling tasks? Outsource these responsibilities and let your in-house staff focus on core operations.
Expand your team as needed. Outsourcing drone dataset annotation is the best option for scaling your business. You can quickly and easily hire new labeling staff when needed and just as swiftly terminate the contract when the need for services disappears.
Get access to profound skills and knowledge. Outsourced aerial data annotation companies most likely have years of experience in the industry. By cooperating with them, you can get top-notch expertise to drive your business.
Use cutting-edge tools and technologies. By working with an outsourcing company, you can be sure that your vendor will use the latest innovations in aerial data annotation. In particular, this is the possibility of image labeling in numerous formats, such as YOLO or GIS annotation.
Get a fresh look at your aerial datasets. Outsourcing is a significant opportunity to get an unbiased view of your processes from a third-party service provider. By cooperating with an outsourcing company, you can get fresh ideas and suggestions for improving drone data analytics and labeling.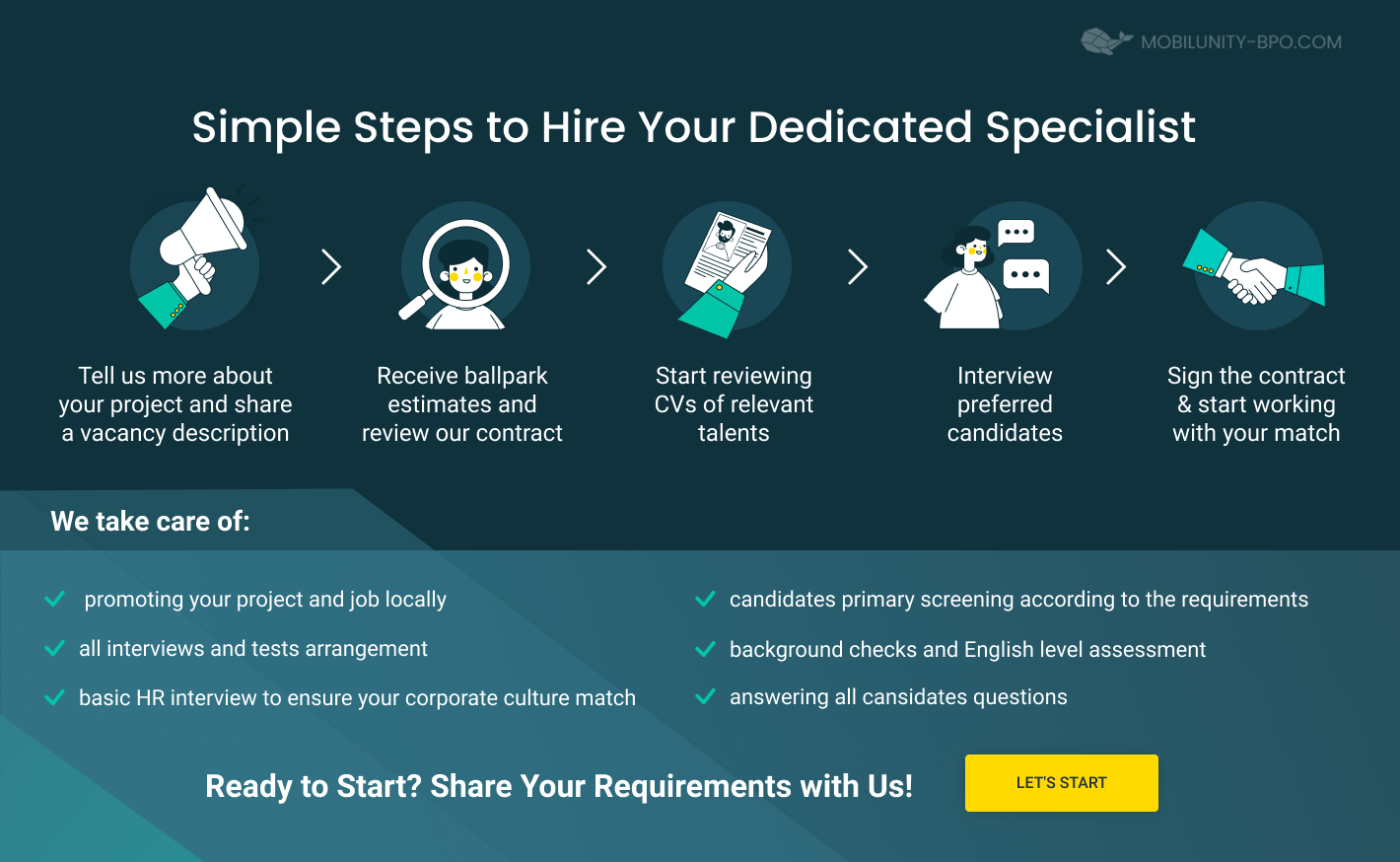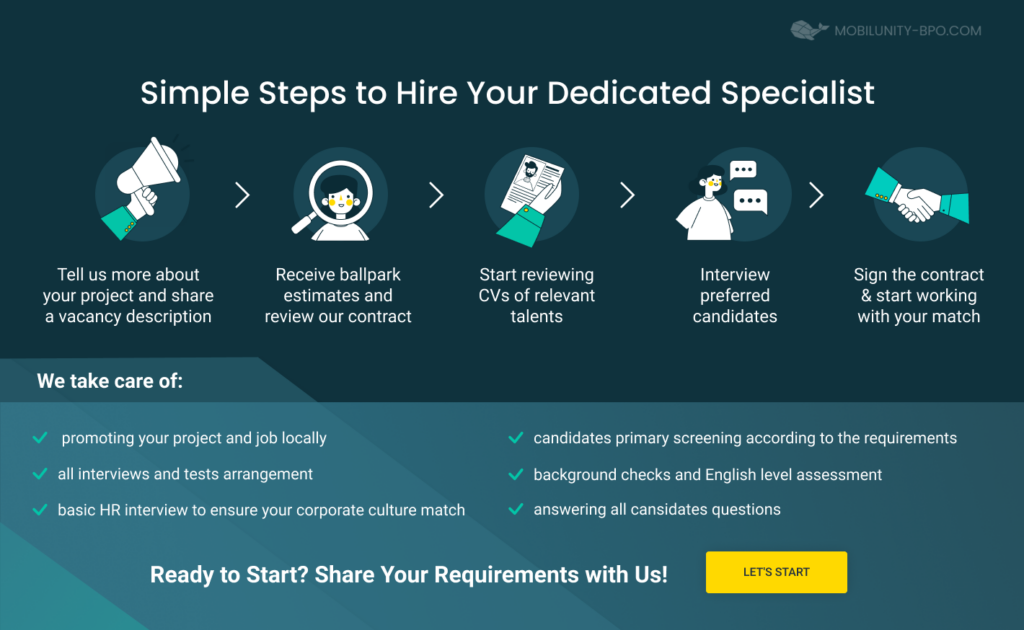 Why Choose Mobilunity-BPO for UAV Data Processing and Annotation?
If you are considering outsourcing the annotation of UAV photos to a third-party provider, then Mobilunity-BPO is your best option. Why? Here are a few reasons.
Our company has been providing data annotation services for over ten years. During this time, we gathered a large team of dedicated specialists and collaborated with clients from different parts of the world. To put that in numbers, we have:
Over 200 experts
Over 40 clients in more than 15 countries
Over 1,000 completed projects
We are experts in aerial imagery annotation, in particular, the labeling of images captured by drones. By working with our outsourcing company, you can access our top-notch polyline, polygon, semantic, bounding boxes, and key point annotation services. Our expertise enables us to annotate drone images at night, LiDAR photos, and 3D images effortlessly.
On top of that, we have experience annotating for various industries. With us, you can label agricultural, transportation and logistics, real estate, construction and mining, and military drone images.
Need more reasons to cooperate with us? Feel free to contact our team and discuss your aerial data annotation project in greater detail.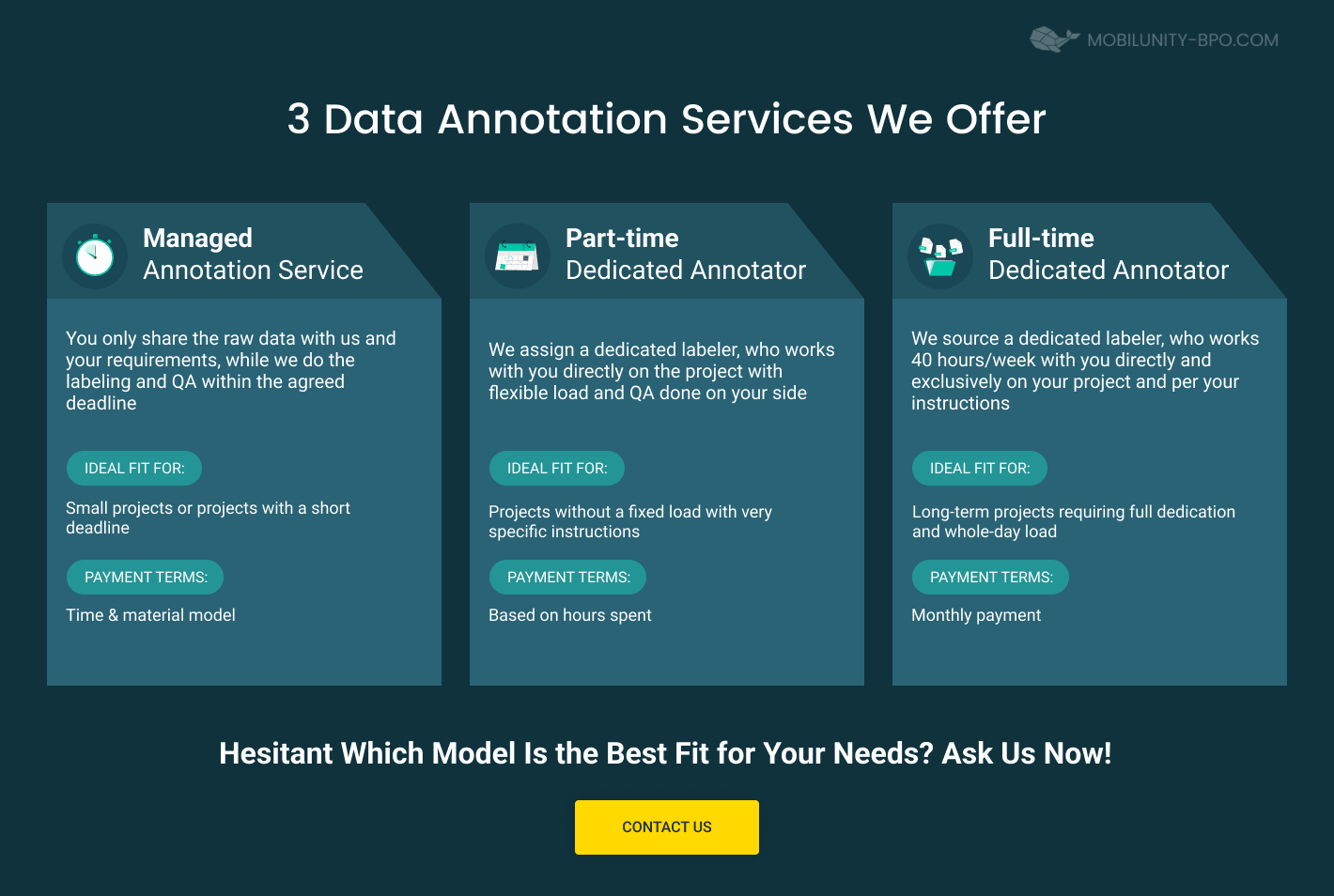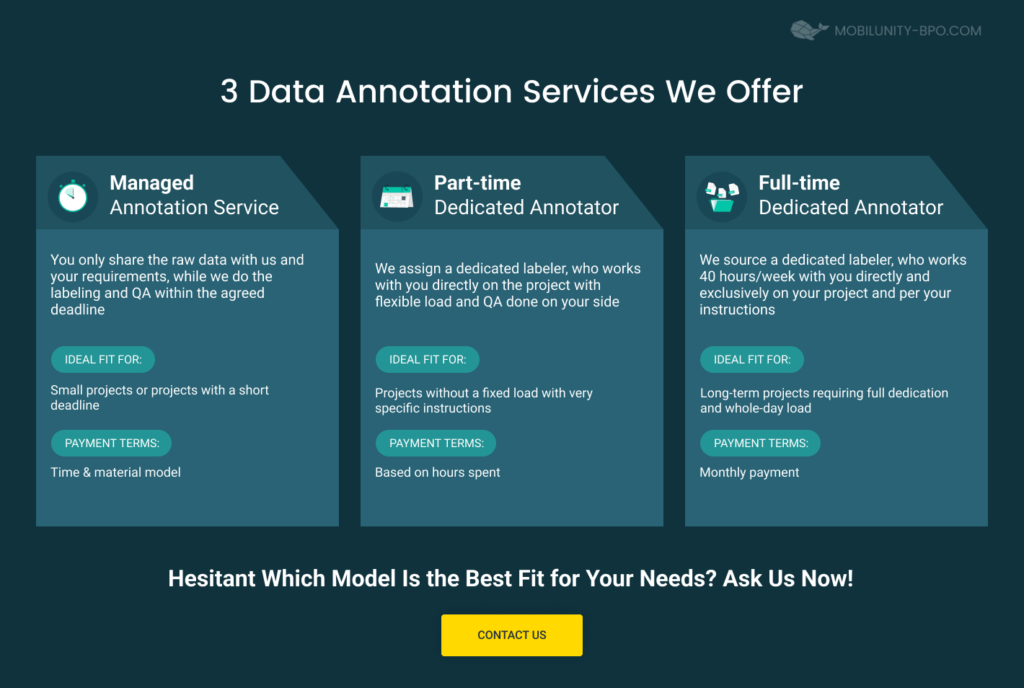 Cooperation Models That We Offer
When it comes to choosing the cooperation model, Mobilunity-BPO offers maximum flexibility. You can pick one of the following options that best suits your project and requirements:
Hiring a full-time dedicated labeler. This cooperation model is perfect for lasting projects, where our specialist will learn your ML model and annotation requirements better and become a reliable part of your team.
Hiring a part-time dedicated labeler. This cooperation model is best for short-term projects with a flexible workload without clear requirements.
Choosing a managed annotation service. This cooperation model is perfect for short-term projects with a fixed load and tight deadlines, or when the need for labeling is not stable from month to month.
Feel free to choose the option that works best for your business, and let's collaborate.
Are you looking for high-quality UAV images annotation services? Get in touch with Mobilunity-BPO's experts!