Outsource Geospatial Data Annotation and Data Entry
Geospatial technology is steadily increasing, particularly when integrated with AI and machine learning. So does the geospatial analytics market. By 2025, it will surpass $96 billion, constituting an almost 13% annual growth.
With these recent advances, geospatial machine learning is in its prime time. Numerous businesses are already using it, and so can you. But where can you apply this tech, and how does geospatial annotation come in handy?
Keep reading this post to discover more about geospatial data, its use cases, and annotation for AI and ML. Plus, find out why you should outsource data entry in our article.


What Is Geospatial Data, and How Do AI and ML Algorithms Use It?
Geospatial data is information that describes the features of the earth's surface. It includes data about specific locations and objects, events, or phenomena in a certain period.
Geospatial data can characterize static and dynamic locations. In the first case, it can be the location of a particular building or a moving vehicle in the second.
Such type of data uses large sets of spatial data from various sources. It might include information about the weather, population census, satellite images, etc. All of it can be helpful if analyzed well.
One of the best ways to study geospatial data is by using machine learning and artificial intelligence capabilities. You can train ML and AI algorithms to look for patterns, anomalies, and other matters in the geospatial datasets relevant to your tasks.
Thus, geospatial machine learning leverages spatial, location, satellite, and other data to derive valuable insights and structured info for further application.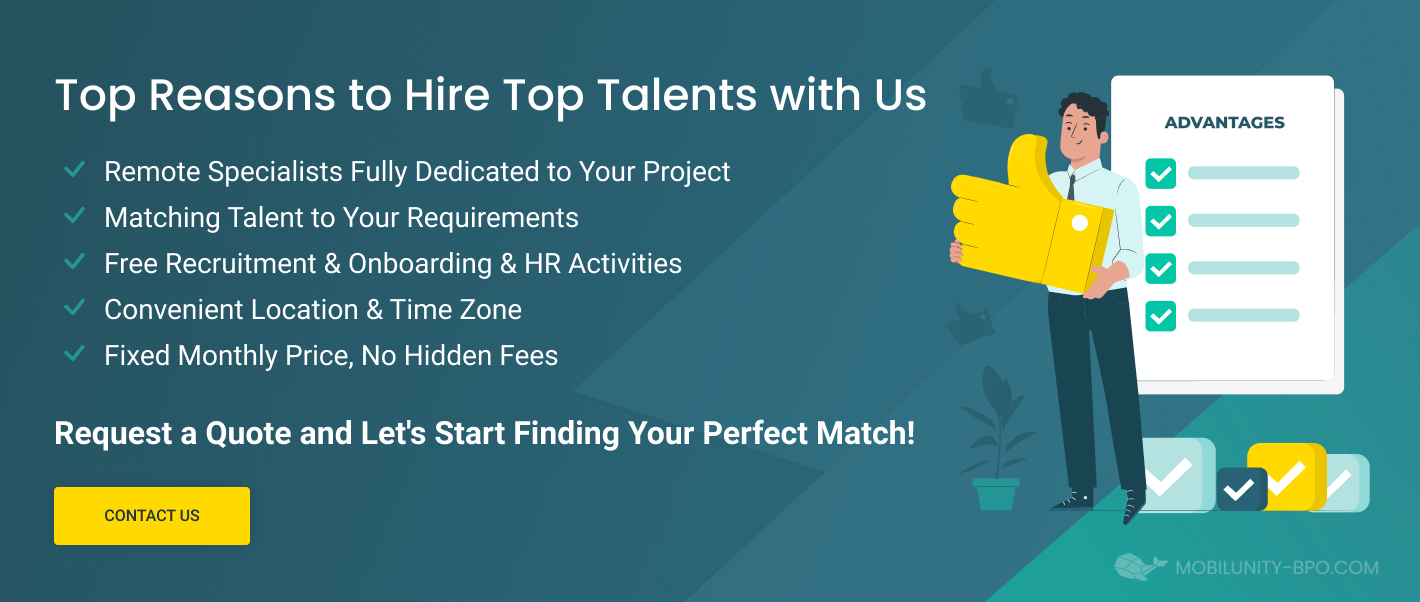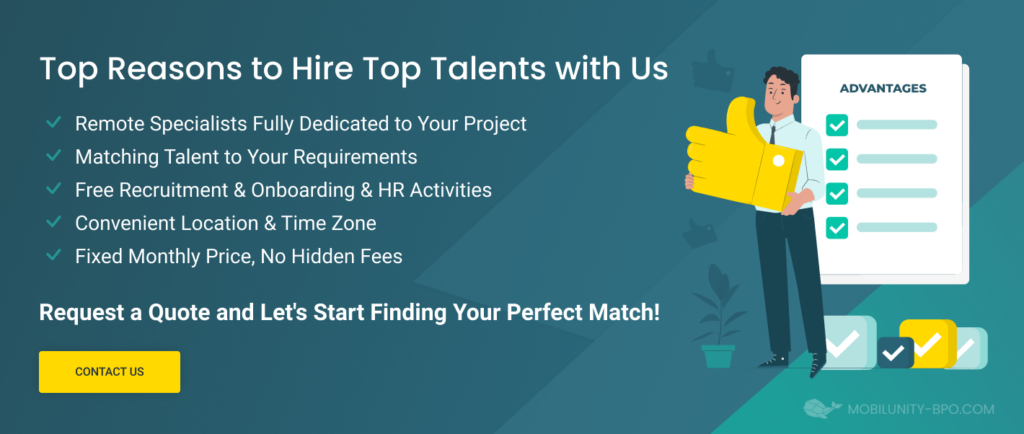 Geospatial Data Entry and Annotation Use Cases
Generally, you require large volumes of geospatial data to train machine learning and AI algorithms. And for this training to be as accurate as possible, you need previously prepared and cleaned datasets. You can make it happen by annotating and labeling data.
Here are some industries where you may apply geospatial data annotation:
Construction and mining. Companies are using annotation and AI to improve the efficiency of construction and mining processes. These innovations significantly help in the planning and monitoring of all operations.
Urban area management. Geospatial annotation and machine learning assist urban planning, development, and management.
Field and forest analysis. Geospatial machine learning helps oversee fields and forests, for example, by detecting illegal logging.
Disaster management. Artificial intelligence can use geospatial data to predict natural disasters and reduce their negative consequences.
Logistics and transportation. With GIS annotation, companies can plan routes or determine traffic volumes efficiently.
Data Sources for Geospatial Machine Learning
As already mentioned, geospatial data includes sets of information from various sources. Look at the typical sources you can retrieve data from:
Drones. Use these devices to obtain aerial images, further drone annotation, and computer vision training by computer vision data annotation.
Landmark contours. Use landmark point annotation services to mark objects in specific locations.
Sensors. Use remote sensors to create geographic models.
Satellite images. Use satellite annotation to accurately identify buildings, roads, bodies of water, etc.
Infrared images. Use infrared images to train AI and better detect objects in complex environments.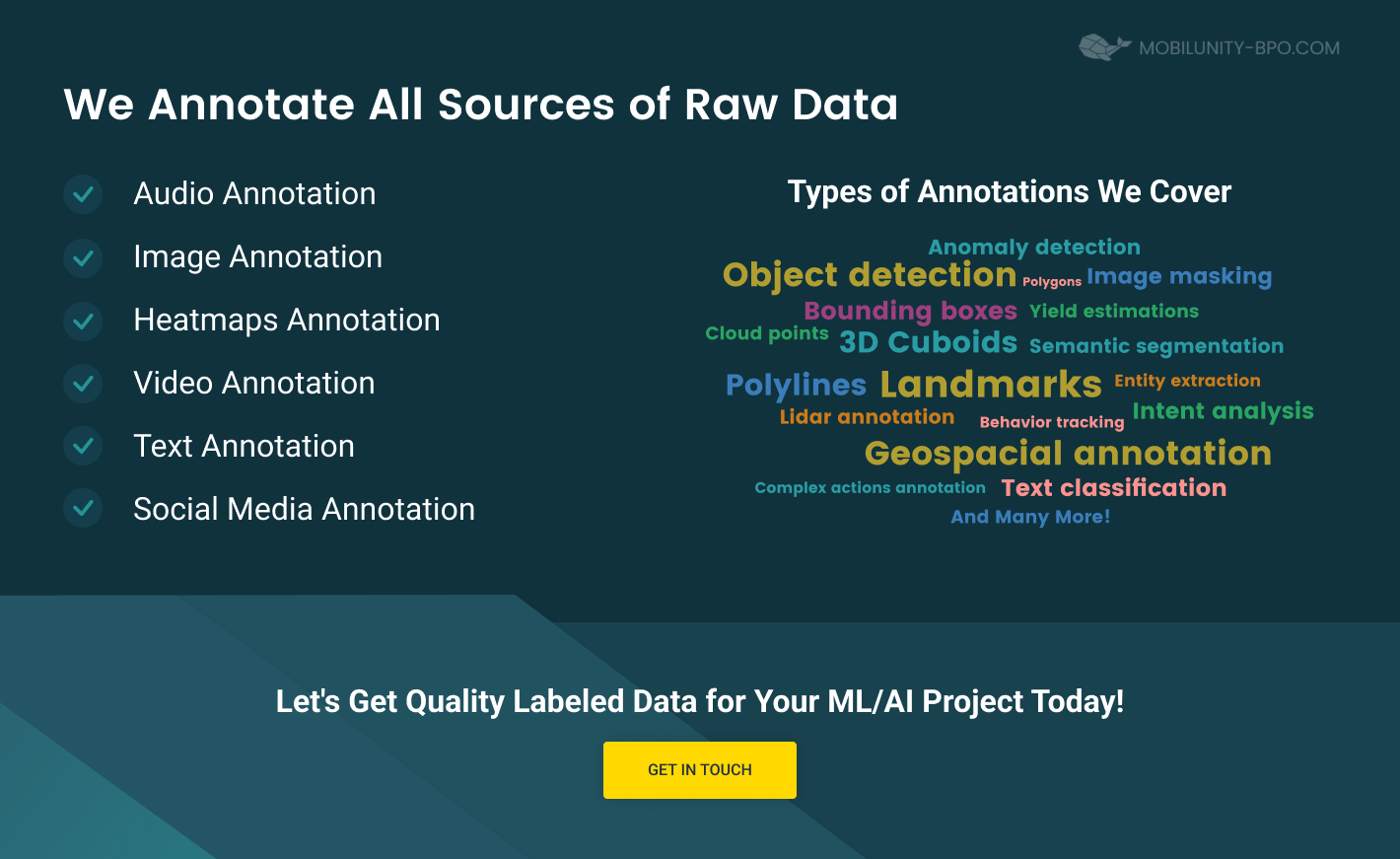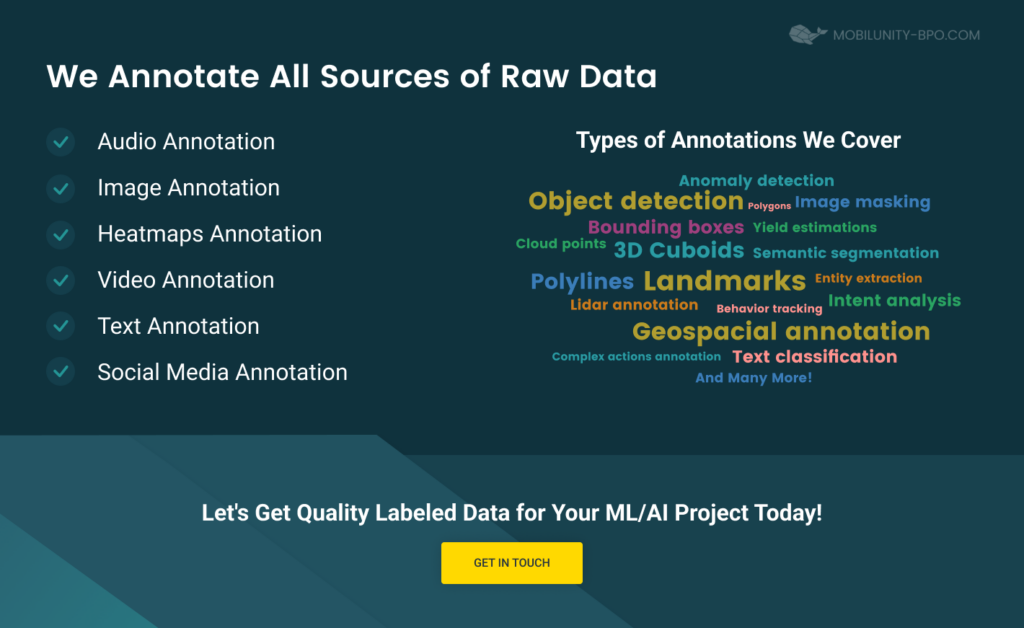 Types of Annotations in Geospatial Data Labeling
You already know where you can get data for annotation. Now, let's look at the geospatial image labeling types. Here are the main ones:
Polygon annotation. This annotation type involves plotting points on the object's edges regardless of shape.
Point annotation. This type of annotation involves drawing points on specific parts of objects for further quick identification of the object's components.
Lidar annotation. This method involves labeling data taken from 360-degree images or videos.
Image classification. This type of data labeling involves classifying images, such as forests, fields, buildings, etc.
Instance or semantic segmentation. This method involves dividing images into components and further annotating the segmented parts. For example, experts can mark the objects you need: buildings, cars, etc.
Object tracking. This technique is suitable for processing dynamic geospatial data. That is, it is a geospatial annotation from 2D images video, which allows you to track the movement of cars, pedestrians, etc.
Point of interest marking. This technique involves collecting data from locations with seasonal or temporal variations.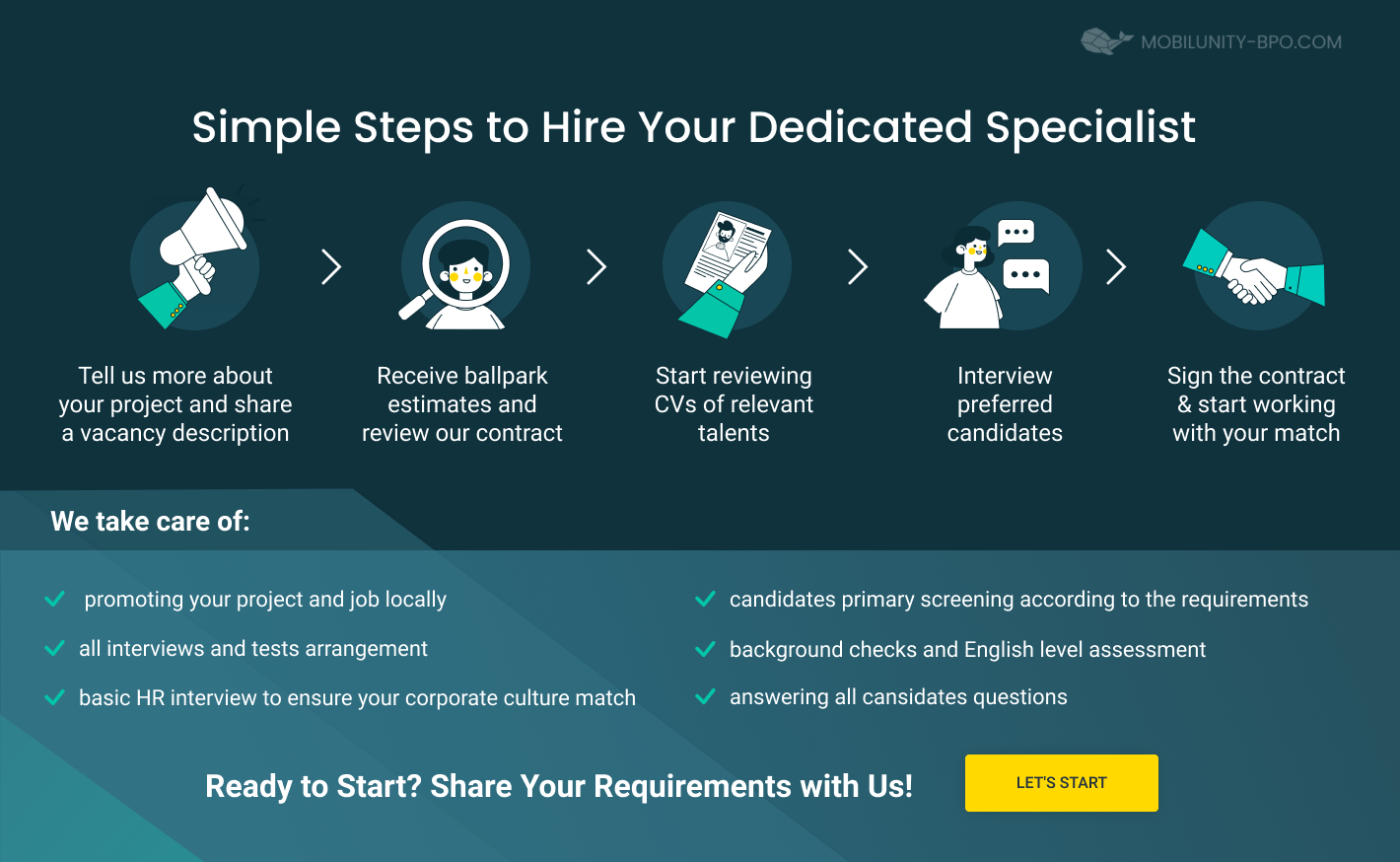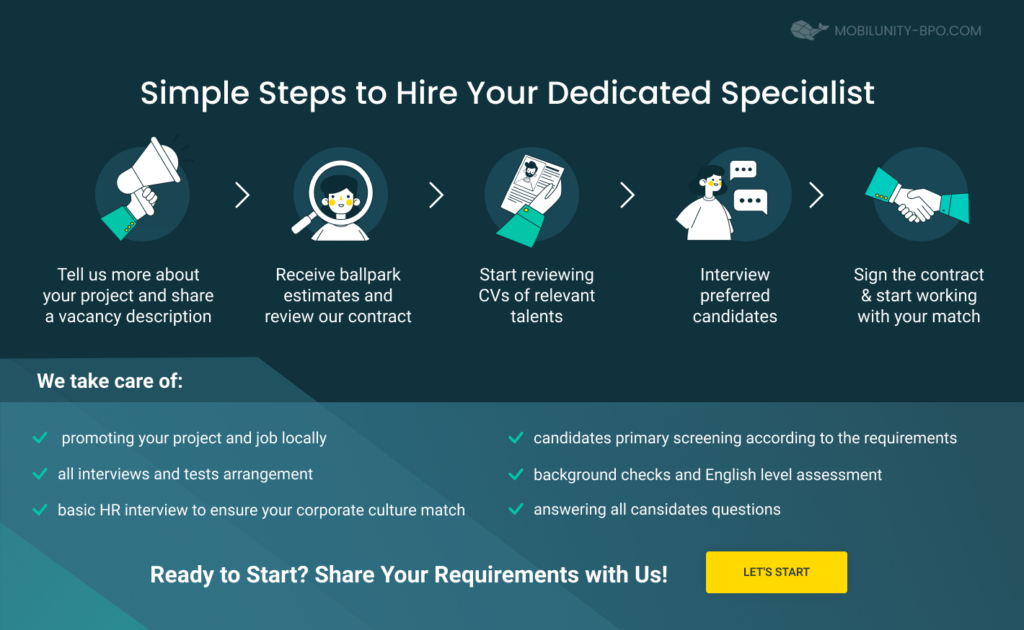 Core Benefits of Outsourcing Geospatial Annotation to Professionals
There are numerous types of geospatial annotation from 2D images. Moreover, you probably also need to handle GIS annotation of text and other matters. Why not make your life easier and leave these tasks on geospatial services bpo to the experts?
Here are some benefits of outsourcing geospatial data annotation:
Optimize your budget. Thanks to hiring remote workers, you can choose a company with suitable rates. As a rule, outsourcing is the cheapest cooperation model among all others.
Save time and boost your in-house employees' productivity. Outsource the task of standard geographic labeling to remote workers. It will allow you to save time and deal with the main business tasks while outsourced experts do everything for you. Your in-house employees, in turn, will also not be distracted by data annotation tasks.
Scale your team quickly. If you urgently need data annotation workers, outsourcing is your best option. You can quickly expand your team when needed.
Access extensive expertise. By hiring outsourced annotation specialists, you can be sure that the remote workers already have a significant background in data labeling. You also don't need to train your in-house employees to do the same.
Use the latest tools and techniques. Again, you can use the newest data annotation tools and methods by working with outsourced specialists. It is possible because remote workers have considerable experience in

geospatial data as a service bpo

.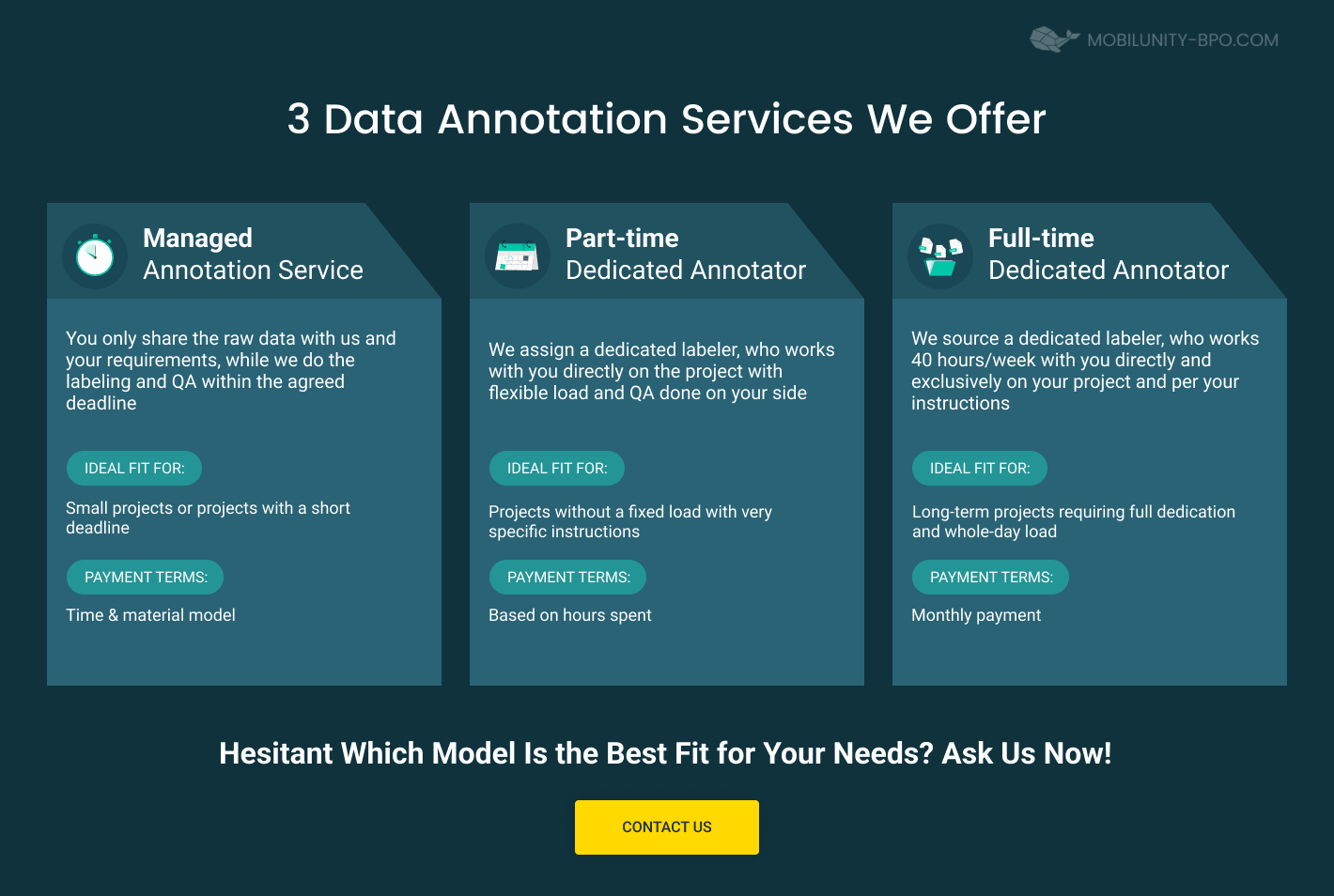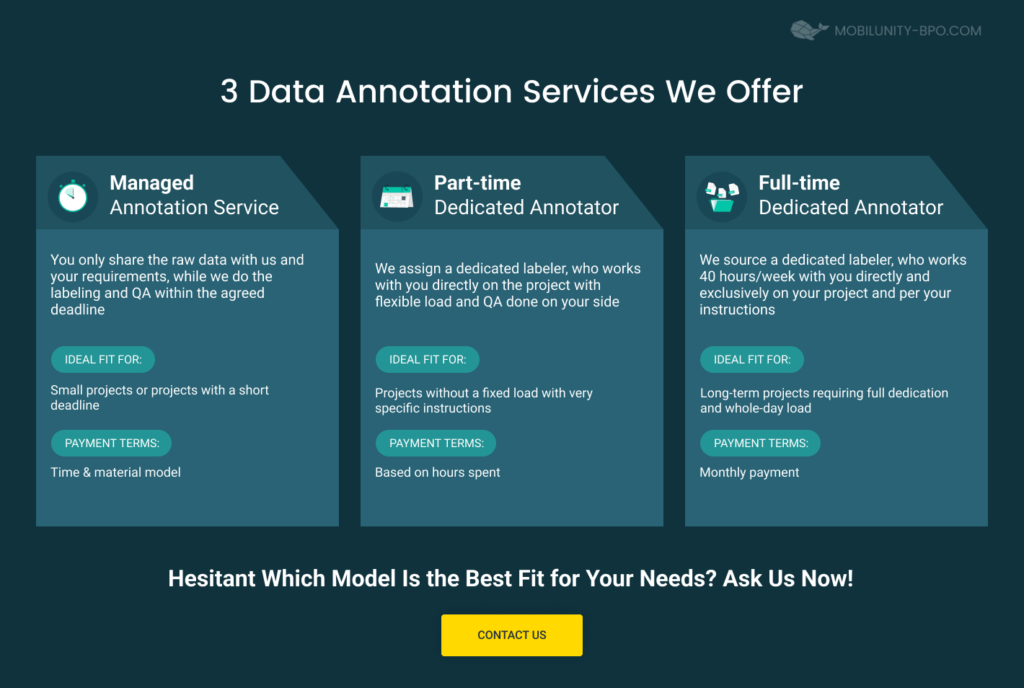 Why Outsource Your Geospatial Annotation and Data Entry to Mobilunity-BPO?
Mobilunity-BPO has engaged in data annotation since 2010. Our experts have significant experience in cooperation with companies in various industries.
In particular, our organization can help you with geospatial data annotation and entry as well as outsource text annotation using various techniques. We are skilled in polygon and point annotation, object tracking, image classification, and more. Besides, we have already managed to work with GIS clients.
If you choose to cooperate with us, you will have three options to do so. Pick the most convenient collaboration model and tackle geospatial annotation tasks with us. Here's what we offer:
Managed annotation service. In this collaboration model, you provide us with the raw data, and our experts label it according to the established deadlines. This service is ideal for short-term projects, and payment terms here are based on the time & material model.
Part-time dedicated annotator. In this cooperation model, you get a remote data labeler who will adhere to your deadlines and work part-time. This kind of collaboration is great for hourly-paid, fixed-load projects.
Full-time dedicated annotator. In this collaboration model, you get a labeler who will work as part of your team 40 hours a week. This kind of cooperation involves monthly payments and is perfect for long-term projects requiring full commitment.
Regardless of the cooperation model you choose, be sure that Mobilunity-BPO experts will do their best. Our employees are dedicated to our clients and help them deliver projects quickly and efficiently.
Are you looking for high-quality geospatial annotation services? Mobilunity-BPO specialists are here to help!