Checklist on Choosing the Top BPO Companies
An idea is a premium fuel for the business engine in terms of growth and success. However, when the big idea comes to action, it might (and usually does) require more resources, more cutting-edge technology, and more people to be puzzling the tiniest pieces together for the smooth workflow and successfully reaching the target market. 
Notwithstanding the size and the field of expertise, the companies' solutions to the resource extension will be addressing a reliable BPO (Business process outsourcing), which is meant to fill in for what is missing, operations-wise. To appreciate the potential of the following institution, one might have a brighter picture of how such a service provider is defined. 

BPO Companies and the Business Value They Carry
Imagine you moved into a new neighborhood. You want to host a party for your neighbors. First, it seems like a good idea to mingle and get to know the community. Then you realize that the idea, in theory, is a gem, yet the practical side is a bit overwhelming. 
First of all, you do not have enough hands to cook, not enough time to coordinate the delivery, are a bit short on cash for catering, and oh so many other aspects that a good party requires. What should you do? 
The scenario will be the following:
Your mom will come to coordinate the delivery of extra chairs. Your granny will send the desserts since your oven can't bake well. Kids will decorate the house and make sure the house has enough cutlery. Neighbors are asked to bring their favorite dish. Finally, you have the entertaining program to be prepared alongside all the things needed for that to happen. 
This will be a classical scheme of business process outsourcing services. There is an idea, yet not enough resource base to bring it to life. The solution – turning for help to those who can make things go smoothly and at reasonable wallet usage.
BPO service providers are the third-party companies that offer assistance in administering business functions for the client-company, which lacks either certain expertise or resources. Hiring a third-party vendor to have distinguished processes carried out is a widely practiced experience to ensure the job to be done on all levels.
Two main areas that usually require BPOs assistance are represented by back-office operations and front-office ones. 
Back-office operations:
IT services
Finances
HR
Quality assurance
Payroll business
Front-office operations:
Customer support service
Marketing
Sales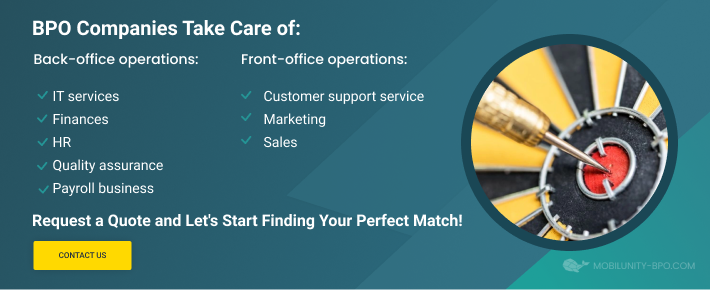 The client company can hire the BPO provider to cover the area fully, or simply perform some action within it, covering for one or several functions. BPOs are very flexible and adjustable therefore they are highly appreciated by the business. It is quite convenient when the lack of resources can be complemented by high-quality support at reasonable prices.
Startups, huge corporate sharks, solidly-established institutions, and those making their first steps towards growth and worldwide recognition benefit from employing outsourcing companies. 
Startups are rich in presenting the idea, yet possess limited tools for its realization. High-profile companies may due to thorough research and analysis see more profit from hiring business outsourcing services. Also, small businesses, paving their way through, need assistance in the areas where they lack certain expertise.
As it's been mentioned before not all the operations are subject to BPO outsourcing, since it is possible to employ the service just for a piece to be accomplished rather than the whole function to be carried out. Expert research and analysis of the collected data will define exact needs and ways to satisfy those.
According to Grand view's research business process outsourcing companies' market volume was estimated at 232.32 billion USD in 2020. From 2021 to 2028 the yearly growth is expected to be around 8.5%. This is only a tiny part of a big positive picture for outsourcing success. 
Seemingly, it is connected with the fact that monopoly and business distancing are no longer the principles companies are living by now. Accepting the fact that an outsourcing company has more potential in aspects under the question and being open to letting it accomplish the tasks that are in need of more expertise than the client company possesses, will become a guarantee for long-lasting success and continued improvement.
Reasons to Go for BPO Business Process Outsourcing
Businesses address outsourcing companies for a plethora of reasons. Given all the speedy evolution in technology (workflow automation, machine learning, AI implementation), excessive social media presence, big data processing alongside businesses moving to cloud-based infrastructure, BPO business becomes an inevitable item on the list of the business development and success. 
Sometimes it is simply hard to catch up with all the market requirements in order to maintain quite a competitive image. Adopting BPaaS (business process as a service) has become a new norm for excellent integration with the trends and directions for leading the company in the right way.
Let's have a closer look at the major beneficial aspects of BPOs:
Budget-friendly situation: Business process outsourcing is aimed at providing the client-company with excellent service at quite reasonable prices. Especially in terms of considering offshore outsourcing, when the client gets access to a pool of talents that assure high-quality work and ask for less money in comparison with local experts.
High expertise guarantees: Experienced professionals will be focusing on the task that they are actually at completing and performing the functions that are in the defined area of their expertise. The company will not need to hire somebody who they will need to teach the basics of the processes, they will cooperate with a company that has a perfectly-trained specialist, knowing what they do and how to do it with the most anticipated outcome.
Entrée to the state-of-art technologies and innovations: BPO providers indeed can equip their clients with the missing technological background. This part will connect to the financial benefits mentioned above, since it indeed may be more financially reasonable to outsource technological processes rather than invest all the budget into adopting new technologies and hiring people to harness them. 
Follow-the sun business strategy: Outsource providers have it in their service description around-the-clock support. It is always a great relief to know that your business ( definite side of it) is always under control, and the moment an issue comes up it gets resolved any of the 24/7 time-frame.
Enhanced competitiveness: BPO companies are centered around their field of expertise, which means the level of their performance is on top, expert-wise. Therefore if the employees get down to business they assure the result that will enable a competitive position among similar businesses. 
Businesses being influenced by the following get the chance to grow long-lasting demand among the target clientele.
BPO Business Risks
No need to remind, that there are always two sides to the story. Meaning, that going for BPO services one must know of the potential risks it poses:
Miscommunication (when dealing with offshore or nearshore outsourcing one might bump into some misunderstanding given a different culture, geography, and language).
Unexpected pay-raise (this part also derives from miscommunicated performance requirements, or BPO company simply underestimates the workload).
Security issues (outsourcing sensitive data to a third-party vendor is usually a potentially dangerous situation, so every single detail of data protection must be thoroughly discussed and regulated officially).
Lack of responsibility (not meeting deadlines, not communicating the truthful state of resources both human and technological, slightly exaggerated expertise that turn into disaster along the way).
These aspects by no means should scare a company's management from utilizing a promising potential of business outsourcing services. A trustworthy BPO company is transparent in its work, meaning it has everything arranged the way the client gets the service of top quality without being worried about any aspect mentioned above. The main idea is to make sure to learn well through the profile of the company that is under consideration.
Further down the line, there will be some tips provided for choosing the most reliable third-party outsourcing vendor.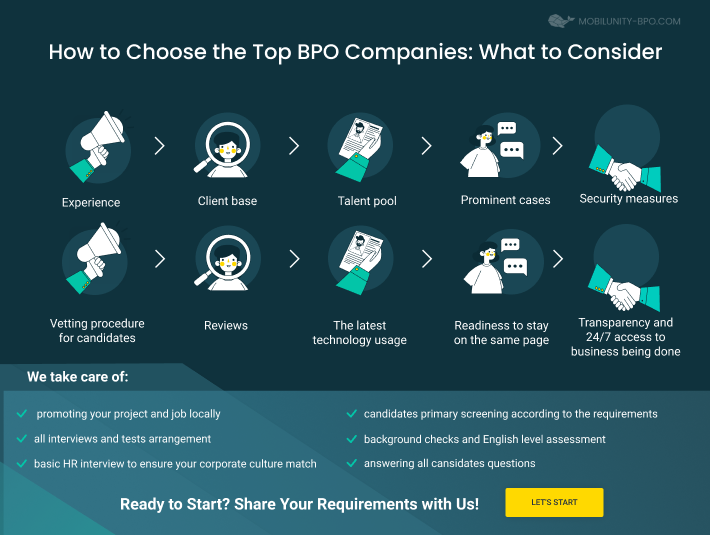 How to Choose the Top BPO Companies
Previously above there were some hints towards the BPO company profile that the seeker might wanna watch for. Let's structure a bit for a more convenient mental picture.
Experience
Even if it is quite a unique experience to hire a fresh, young, and extremely enthusiastic company that has just started showing solid perspectives, the experience still has its way of making up final decisions. Like it or not, yet years of proven efficient work assure more confidence in things being done right.
 Client base
When researching your potential BPO provider, make sure the client base is thoroughly investigated as well. That way you will know what companies they deal with and then see for yourself whether you like how those companies function on the market. 
Talent pool
Companies' employees are the key to the successful performance of your business processes. Of course, how the whole workflow is set up matters, yet the human factor will define a lot. Therefore, employees' profiles must be investigated thoroughly to see whether their skills will definitely satisfy the company's needs.
Prominent cases
Cases portfolio is also crucial for the company to show what it is made of. See the percentage data of improvement, cost reduction, efficiency added for the company in the area the specialists applied their mastery.
Security measures
Sensitive information is going to be shared no matter how hard one is trying to protect it therefore make sure to double (or triple) check security regulations and what is the algorithm for assuring data safety on all levels.
Vetting procedure for candidates
To know how the professionals are hired and what skills are required for a job offer makes sense for building smooth cooperation. Outsourcing does not go without any communication among the parties, therefore soft skills equal hard skills in their importance. 
Reviews
What people say about the experience they had with the BPO company matters for you to be solid about your decision. Objective reasoning equips you with an understanding of things that might unfold for your exact case.
The latest technology usage
This one does not require much explanation. You do need a high-profile technology-savvy company, no matter what part of the project you need to outsource.
Readiness to stay on the same page
At the initial stages of the negotiation process, it should be clearly stated what requirements the client company has and how well they are comprehended by the third-party vendor. Since miscommunication may hit the system hard.
Transparency and 24/7 access to business being done
When the company is ready to report 24/7 what is happening right now ( given that you appreciate what's being reported) with your inbound or outbound calls, data migration to the cloud, payment processing, or whatever else you have employed the company for, then the company is worth considering for your business expansion.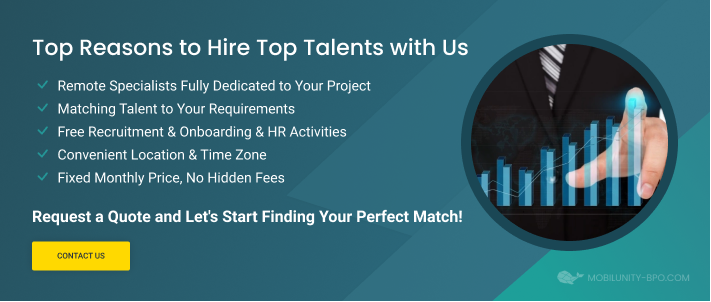 How to Successfully Communicate With a BPO Company
Outsourcing has become an essential aspect of business operations, particularly in the technology sector. BPO service providers have made it possible for businesses to access the skills and resources they need without having to invest heavily in infrastructure and personnel. However, with numerous BPO services providers available in the market, it is essential to choose the best BPO companies that can meet your specific business needs. This article provides a checklist on how to select the top BPO firms.
Determine your business needs
The first step in selecting the right BPO service provider is to determine your business needs. What are your objectives, and what do you hope to achieve by outsourcing? Once you have identified your goals, it will be easier to select a BPO solution provider that has the experience and capabilities to meet your expectations. For instance, if you want to outsource your software development tasks, then you need to look for IT BPO companies that specialize in software development.
Research potential BPO service providers
Once you have identified your business needs, the next step is to research potential BPO service providers. You can start by looking at the best BPO companies, which have a reputation for providing high-quality services. You can also seek recommendations from industry colleagues or search for reviews online. Look for BPO top companies that have experience working with businesses similar to yours.
When selecting a BPO services provider, experience is critical. You want to work with a top BPO company that has a proven track record of delivering quality services. Look for BPO services providers that have been in the industry for an extended period and have experience in providing services to clients in your industry. Check the BPO solution provider's portfolio to see the types of projects they have worked on in the past.
Check their technology and infrastructure
The technology and infrastructure used by the BPO company are crucial factors to consider. You want to work with the best BPO provider that has the latest technology and infrastructure to ensure that your project is completed efficiently and effectively. Check the BPO company's technology capabilities, such as the hardware and software used, the security measures implemented, and the backup and recovery systems in place.
The workforce of the BPO company is also an essential consideration when selecting a BPO solution provider. Look for a BPO services provider that has a highly skilled and experienced workforce. Check the qualifications and experience of the employees to ensure that they have the expertise required to complete your project successfully.
Check their pricing model
The pricing model of the BPO company is another factor to consider. You want to work with a BPO service provider that offers a competitive pricing model that aligns with your budget. Check whether the BPO company offers flexible pricing options, such as hourly rates or fixed project costs, and ensure that there are no hidden charges.
Check their communication skills
Effective communication is essential for the success of any outsourcing project. Look for a BPO company that has excellent communication skills, both verbal and written. Check the BPO service provider's communication channels, such as email, phone, and chat, and ensure that they are available during your business hours.
Check their cultural compatibility
When outsourcing to a foreign country, cultural compatibility is crucial. Look for a BPO service provider that has a cultural understanding of your business and is familiar with your culture. This will ensure that the BPO company can deliver services that align with your business values and objectives.
Check their security measures
Data security is critical when outsourcing. You want to work with a BPO company that has robust security measures in place to protect your confidential information. Check whether the BPO company has implemented security protocols such as access controls, data encryption, and regular security audits.
Mobilunity-BPO Is Your Next Bpo Provider
Mobilunity-BPO has started its successful outsourcing journey in 2010, providing experts from Ukraine to meet business needs and scale the existing processes within the industry. The company started as a marketing agency and eventually evolved into an outsourcing agency, earning a solid reputation. In 2017 Mobilunity-BPO took a shift and directed their activity towards hiring dedicated teams for providing the most up to date solutions for business in the most proficient mode:
helpdesk support
telemarketing
online research
database management
social media management
SEO outsourcing
recruiting and HR
data entry
MS Office outsourcing
Mobilunity-BPO's approach to doing business is simple yet so effective: the company simply appreciates people at its highest level possible. Satisfied clients along with satisfied employees yield success and rave reviews for the company.
More than 10 years of experience
More than 1,000 projects completed
More than 40 customers worldwide
More than 200 employees,
The infinity of constant growth and upgrade experiences. 

To Sum Up
Pretty much everything is on, thus when choosing a BPO service the information is either right in front of you, or you are equipped with the necessary tools for finding out. Make sure that the company that is on your wish list gets an adequate idea of how your business or industry is organized, what is the capacity potential to meet the requirements and scale if needed for further growth, and keeps everything that has to do with you safe and private.
Choosing among the BPO companies to hire the one that you can actually trust? Contact us!