8 Reasons You Need Own Dedicated Support Team
Customer service is critical to every company's success since gaining clients is only half the battle. It's also crucial to keep your customers and provide them with an exceptional product interaction experience. You can reach incredible heights through efficient and fast customer support services.
In this article, we'll explain the differences between shared and dedicated customer support, as well as the reasons to choose the latter.

Shared and Dedicated Support: Significance of Its Outsourcing
New technologies alter customer behavior and preferences day by day. Now, clients are eager to communicate with support representatives via the same channels they use in their private conversations. It leaves companies with the option to adapt to emerging changes or focus on core business operations and outsource customer service to a partner who can guide them through advanced tools.
Outsourcing customer service also helps organizations gain a competitive advantage in the market. Well-trained specialists will promptly process requests from customers, leaving them satisfied. It, in turn, will encourage your clients to return to you again and again. The outsourced support team will also ensure a high level of quality, as these are experts aware of the highest standards in customer care.
For example, if you manage an online store with a considerable number of items and, as a result, receive a high volume of client inquiries, ecommerce customer service outsourcing can help your business significantly.
If you are thinking about outsourcing customer care services, we advise you to consider two main models: hiring a shared or dedicated support team. Let's talk about these two approaches in more detail.
Shared customer service. In this partnership model, the service provider works with various accounts and businesses, including yours. In other words, the provider "shares" his team of specialists with several other organizations. Call center shared services process requests from all customers of the companies they serve. This kind of cooperation is typically more financially advantageous because you set an hourly rate and don't have to hire and train a team on your own.
Dedicated support services. In contrast to the shared model, the service provider's specialists devote 100% of their efforts to your business and customers in this partnership model. It means that the team working on building your reputation is, in fact, a full member of your company. There is usually a set hourly rate in this form of collaboration.
The Difference Between Shared and Dedicated Customer Support
To understand which cooperation model is right for your business, you should pay attention to the following significant aspects: the volume of calls/emails and your company's overall orientation. That is, you need to analyze the reporting data on customer requests, determine the number of such inquiries, the main reasons for calling/emailing you, at what time, through which communication channel, and so on.
Let's get acquainted with the main differences between shared and dedicated support services to determine which model is best for you.
| | | |
| --- | --- | --- |
|   | Shared Customer Support Team | Dedicated Customer Support Team |
| Resources Availability | Since the team works on several businesses simultaneously, the shared model involves many available resources | The dedicated model provides fewer resources, but your staff is highly knowledgeable in your industry |
| Ease of Scalability | Shared support teams are usually large since they serve many customers, and therefore it is easier to scale them. You also save time by not training employees, allowing you to expand fast | Dedicated support is more challenging to scale than a shared one because such specialists must first learn the ins and outs of your business |
| Understanding of Your Service and Product | Shared support teams don't undergo training tailored to your company's unique needs, and because they work for several organizations simultaneously, they only have a primary awareness of your business | A dedicated agent goes through extensive training and becomes the face of your organization, responsible for communicating your company's ideas and values to clients |
| Pricing Structure | Shared support is best for more limited budgets, as businesses pay only for every minute worked | Dedicated support is more costly, but in the long term, the benefits of such personnel outweigh the costs. These specialists usually work on an hourly basis |
| Best for | Startups and small companies with inconsistent daily load from clients | Companies with a consistent daily load on a customer support team |
How Do I Choose from Shared Customer Service and Dedicated One?
After understanding the contrast between the two models, one may choose which approach is appropriate for a particular company.
Businesses with limited customer service budgets, an irregular flow of consumers, and a lower volume of calls and emails typically choose a shared customer support team. This model allows you to track key performance indicators (KPIs) like the average response speed or customer satisfaction. However, in a dedicated approach, a company gets more flexibility and control in improving those performance metrics. Shared support is ideal for companies with a seasonal influx of customers, small businesses, or startups.
Companies that deal with a steady influx of customer inquiries benefit from having a dedicated agent or sole representative. Such specialists can help when a firm doesn't have enough time to reply swiftly to client requests, its mailbox is overloaded, the phone is blowing up, and social media, if any, is flooded with requests. Dedicated experts in customer support and live chat outsourcing dedicated agents frequently take an omnichannel approach to work, which means they use a variety of communication channels and tools to interact with customers, allowing for the most personalized experience possible. That is, you may employ the services of a dedicated agent in call center or respond to emails, inquiries on social networks, creating a seamless client experience.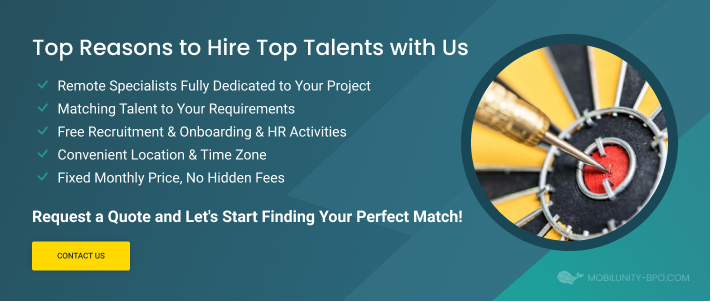 Solving Business Challenges with a Dedicated Customer Support Team: Enhancing Service and Driving Growth
Customer service plays a crucial role in building brand loyalty and driving business growth. A dedicated customer service team can significantly impact your organization by addressing various challenges and ensuring a seamless customer experience. This article explores the problems that a dedicated customer service team can solve and the benefits they bring to your business.
Problem 1: Inconsistent Customer Support Quality
Inconsistent customer support can lead to dissatisfied customers and ultimately harm your brand reputation. A dedicated customer service team ensures that support quality remains consistent across various channels and interactions.
Solution: Implementing a dedicated call center with well-trained and motivated agents can help maintain consistent support quality. Regular monitoring and evaluation of their performance ensure they continuously meet and exceed customer expectations.
Problem 2: Overwhelmed In-House Teams
In-house customer support teams can quickly become overwhelmed during peak periods, resulting in longer response times and decreased customer satisfaction.
Solution: Dedicated database support services can efficiently manage fluctuations in support volume, allowing your in-house team to focus on core business tasks. Dedicated outsource support can be scaled up or down as needed, ensuring that customer queries are handled promptly and efficiently.
Problem 3: Limited Technical Expertise
Certain customer issues may require specialized technical knowledge that your in-house team might not possess.
Solution: Dedicated customer service teams can provide specialized expertise in various domains, ensuring that technical issues are resolved quickly and effectively. This specialized support can significantly improve customer satisfaction and reduce the time and resources spent on resolving complex problems.
Problem 4: Inadequate Coverage Across Channels
Today's customers expect support through multiple channels, such as email, phone, and live chat. Providing adequate coverage across all these channels can be challenging for businesses with limited resources.
Solution: Helpdesk services and dedicated live chat management can help your business offer comprehensive support across various channels. By providing customers with multiple contact options, you can enhance their experience and increase satisfaction.
Problem 5: Lack of Personalized Customer Support
Personalized customer support can significantly impact customer satisfaction and brand loyalty. However, providing personalized service can be challenging, especially for businesses with a large customer base.
Solution: Dedicated customer support teams outsourcing allows for better tracking and management of customer interactions, ensuring that each customer receives personalized support tailored to their needs. Agents can access customer history and preferences, enabling them to offer customized solutions and recommendations.
Problem 6: Insufficient Focus on Customer Retention
Customer retention is critical for business growth, and dedicated customer care teams can play a significant role in retaining customers and increasing their lifetime value.
Solution: A dedicated customer service team can proactively reach out to customers, gather feedback, and address any concerns or issues they may have. This proactive approach helps improve customer satisfaction and encourages repeat business.
A dedicated customer service team can address various challenges faced by businesses, ultimately improving customer satisfaction and driving growth. By implementing dedicated support services, companies can provide consistent, personalized, and comprehensive support that meets and exceeds customer expectations. Investing in a dedicated customer support team can significantly enhance your organization's customer experience and foster long-term loyalty.
8 Reasons to Choose a Dedicated Customer Support Team
Dedicated support services, rather than shared ones, are becoming increasingly popular among businesses nowadays. All this is due to several advantages of this approach, which have a significant positive impact on the company's development. Here are the main reasons why organizations prefer dedicated customer services.
More Flexible and Cost-effective than Employing an In-house Team
It is always less costly to outsource some processes to a contractor than hiring full-time employees. The same applies to dedicated customer support. Although this model is more expensive than shared support, it is still more cost-effective than hiring in-house staff, which requires workplace maintenance, training and education, tax payment, and other expenses. At the same time, a dedicated team will address all of your concerns without delay, 24 hours a day, seven days a week.
Working with a Team with Extensive Experience
By hiring a dedicated team, you will get the assistance of top professionals, such as a dedicated client support analyst, a project manager, and a group of customer support staff. These workers will already have experience communicating with clients, so you'll only need to introduce them to your company's operations. Furthermore, you avoid the loss of experienced talent, as is the case when an in-house employee decides to resign.
Business Consulting and Leading Technologies
A dedicated crew, while outsourced, functions as a complete part of your company. Such experts have a thorough awareness of your organization's internal and external processes. As a result, support staff can analyze customer feedback and identify areas of your business that need improvement.
In terms of tech, its implementation is inextricably linked to your company's performance evaluation. Support workers discover vulnerabilities such as server overload, spam, and other issues, provide solutions, and communicate this information to management and developers.
Increase Productivity and Configure Database
A dedicated support team can help boost your company's efficiency significantly. Part of the reason for this is database optimization. It will allow you to access information on business performance, current and addressed issues, and more in a clear and easy-to-understand format.
Prevent Costly Disruptions  
A dedicated support team will do its best to ensure uninterrupted delivery of quality customer service. A staff like this works around the clock and can quickly navigate failures and respond to them instantly. Dedicated specialists will monitor your infrastructure and be able to provide maximum support. Any delay in the firm is a financial loss, and if the team reacts fast, the losses will significantly reduce.
Customer Support Tailored to Your Needs
Since a dedicated staff is committed to your organization, you have complete control over how your customer assistance is delivered. You determine the type of tasks and the amount of work for the team, choose the working method, etc. It is especially relevant if you have high customer service requirements and need a personalized approach.
Management of Various Operations
Keep in mind that dedicated support staff consists of professionals experienced in various industries. As a result, these individuals can assist your company in resolving issues not just linked to your product or service. A dedicated team, for example, may manage account transfers, upgrades, license renewals, capacity planning, and many other tasks.
Support for Multiple Channels 
As we have already mentioned, a dedicated team usually consists of various specialists who dedicate their time only to your company. Employees may effortlessly use several communication channels to fulfill client requests and give the highest quality service this way. Here are the main channels for interaction with customers: phone, email, chat, social networks, etc.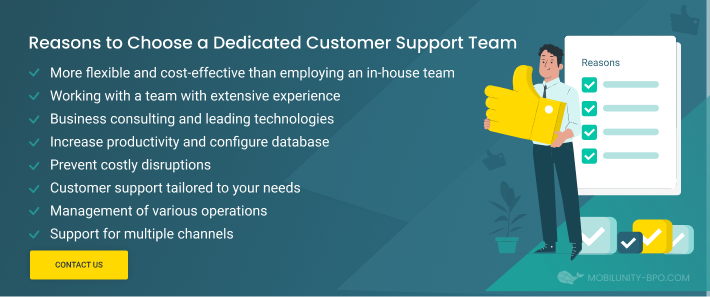 Find Your Best Dedicated Support Team on Mobilunity-BPO
Mobilunity-BPO is a customer service outsourcing company. Since 2010, our organization has provided businesses from more than 15 countries with excellent dedicated teams.
In 2017, we began hiring employees for various businesses, ranging from startups to large companies. Our work also included the selection of dedicated customer support teams. Starting with us is as easy as possible: you state your candidate specifications, and we discover and pick the people you require.
Our dedicated customer support teams have experience in various fields. The main areas include software development and IT, retail and eCommerce, social media management, travel and transportation, FinTech, and even more. You can be confident in the experience of our specialists since we have completed more than a thousand projects during our work. So do not hesitate to contact us!
Decided to use dedicated support services? Please do not hesitate to contact Mobilunity experts for immediate professional assistance!