How Do HR Outsourcing Companies Work
HR outsourcing companies are third-party providers of all types of HR functions for businesses. It is possible to outsource either all of the HR-related tasks or some of them to professional HR outsourcing firms all over the world. They help with payroll, talent acquisition, employee benefits, and many other functions.
Outsourcing is not a new practice nowadays. The global outsourcing market reached $92.5 billion before the COVID-19 pandemic. And this trend hasn't slowed down after.
So how popular are outsourced HR solutions globally? According to the 2020 study, the market for Human Resource Outsourcing (HRO) was about $32.8 billion that year. The same report predicts that it will reach $45.8 billion by 2027.
Another interesting statistic on HR and payroll outsourcing companies is given by the Clutch report. It stated that 37% of small businesses outsource at least one type of business process. Among the respondent representatives of small businesses, 24% outsource HR services specifically.

Benefits of Using Services of HR Outsourcing Firms
It is safe to say that outsourced HR services are pretty common, especially among small and mid-sized organizations.
The main reasons for that are as follows:
It allows companies that do not have enough HR in-house staff to balance their related tasks;
It ensures that the organization focuses on the core of the business while all the HR is taken care of by an HR outsourcing company;
It is a flexible type of cooperation that can be either long-term or short-term. A company can choose what tasks and when to outsource;
Outsourcing is more cost-efficient compared to recruiting and training a full in-house team;
It saves a lot of time as well as outsourced HR companies are ready to work from day one;
It helps to ensure higher employee retention and better employee benefits management;
This type of cooperation is great when looking for remote teams and professionals as local HR outsourcing providers know all ins and outs of the market;
It allows the elimination of liability and taxation risks in the realm of employment.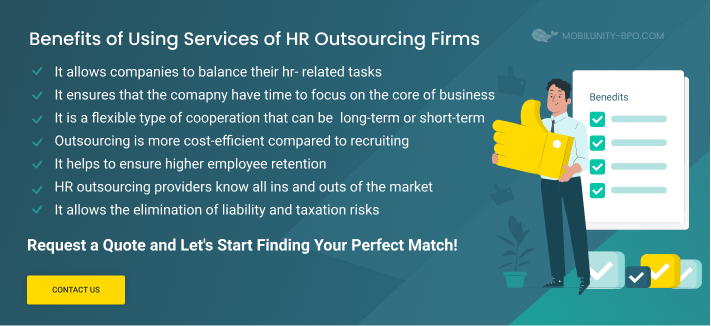 Pros of Outsourced HR Companies for Small Business
Small and mid-sized businesses do not have the same resources as large corporations. They might not afford to have a full-fledged in-house HR team that will cover all the tasks. Or they can delegate those tasks to employees from other departments, which is usually ineffective.
That's why payroll and HR outsourcing companies are a great solution to these problems. They help to save time, money, and effort while ensuring top performance in regard to human resources.
After all, employees are what make a foundation for any business. And it is important to take care of all the HR-related issues professionally. Startups and small businesses often do not have resources for that, which can lead to lower employee retention, work overloads, and the inability to hire talent.
Professional HR outsourcing providers offer high-quality assistance in outsourced retail HR support at the fraction of the time and price one would have to invest in recruiting, training, and maintaining a full HR team in-house.
HR Outsourcing Models
Although there are many ways to classify those services, mainly the categories depend on the features you get and the exclusivity of the team.
BPO HR means that outsourced HR providers manage all the activities of the company in this field. This type of cooperation can be also called hiring a dedicated HR team that works only on your organization and covers all the existing needs.
Shared service outsourcing means that only some features are delegated to a provider, like recruiting, transaction, or administration of some sort. For example, if you are looking to recruit a remote development team, you can partner with an HR provider on this particular project.
Application HR outsourcing covers the technological maintenance of HR-related software and infrastructure of a company.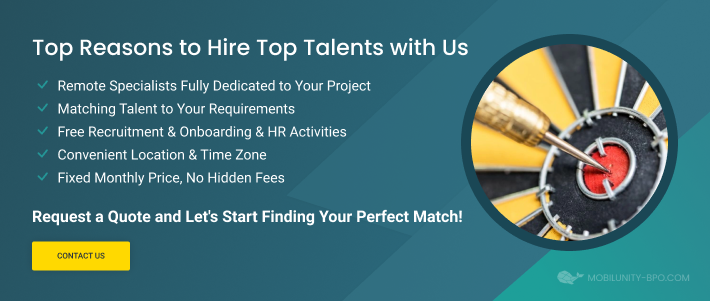 What Functions Do Top HR Outsourcing Companies Offer?
The easy answer is that the best of the best can do anything related to human resources, from on-boarding to drug testing. However, when a business decides to outsource human resources companies, it is crucial to know exactly what features they can expect.  
Here is the list of tasks that HR outsourcing associates can provide.
Payroll Processing
One of the most popular services of outsourcing HR companies is taking care of all things payroll-related. It includes calculations, withholds, and paychecks. This service usually covers wage garnishments as well and eliminates any possible risks and mistakes with numbers.
Benefits Administration
Another essential task a professional HR outsourcing firm can tackle is employee benefits administration. It is a crucial feature as it ensures employee satisfaction and retention. A provider here can research and find the best plans and programs to increase benefits. It also will manage compliance with these programs.
All of that gives a company better chances of acquiring talent.
Legal Compliance
The best HR outsourcing companies take care of complying with the law in regard to employment (taxes, local and international legislation). This is even more important for businesses that hire remote professionals in other countries. In such a case, it makes sense to work with a local HR outsourcing agency as they are proficient in local laws and compliance policies.
Employee Relations
This set of tasks covers all possible miscommunications or conflicts within the company. A business might not have time to resolve that or create company policies on how to do that.
Outsourced HR providers will mediate all those situations and can create internal communication and business culture policies for the future.
Performance Management
This set of functions covers all things related to managing employee performance, from salary negotiations to yearly reviews. Even if you want to perform such reviews internally, you might lack the resources to prepare the data and reports for such conversations. And an outsourced HR solution comes to help with it.
Performance management is vital not only for the employer who wants to be sure that the team does its best. It is also relevant for employees that want to know that their contribution is seen and valued by the employer.
Talent Acquisition
It is one of the most popular reasons to partner with HR outsourcing service providers for businesses. If you need to recruit one specific professional or a whole team, it is better to work with professionals. Not only do they usually have databases of the best experts in the field, but also can recruit faster.
Screening and Checks
Doing background checks is a great practice when looking for a new member of the team. It might be more or less crucial depending on the industry and position. But it is always better to have the heads up.
HR outsourcing providers can do throughout checks and screenings as well as reference checks. They can even do drug testing if it is something your company is concerned with.
Management of Risks
HR payroll outsourcing companies make sure that the relationship between the company and employees is healthy and poses no risks in terms of regulations. For example, they oversee anti-discrimination policies and reduce/eliminate the worst scenarios of cooperation gone wrong.
Counseling
It is a rather new service, but it gains attention already. It covers employee counseling as an opportunity for them to care for their mental health. Providers can find relevant programs and specialists. All of that contributes to a healthy environment, employee satisfaction, and productivity.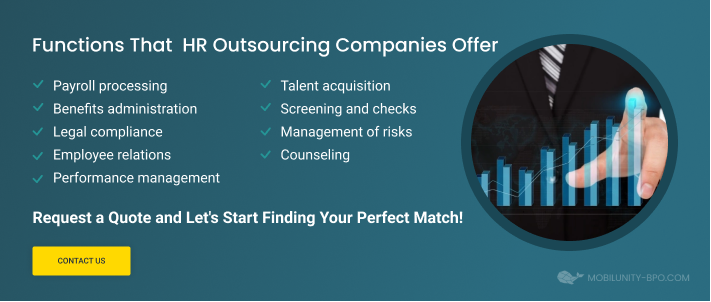 How Do Outsourcing HR Companies Work?
Before you are ready to create an HR outsourcing companies list to consider for your business, it is good to know how such cooperation is built. Usually, all the providers operate with the same simple steps:
Step 1. Receive the request. You reach out to the provider and describe the needs of the company. They conduct an interview and assess all the processes and tasks needed. They also gather all requirements to fulfill them later.
Step 2. Finding the right HR expert or a team to fulfill this particular request.
Step 3. Create a plan. This depends on the exact requirements you have. For example, if you are in need of recruitment, the provider creates a plan for that. It usually includes creating an ideal candidate profile with skills and qualifications needed, posting the job opening online, gathering resumes and scanning them, conducting interviews, evaluating skills, and onboarding.
Step 4. Execution of the plan. Here the provider finds a perfect candidate for you to approve. Or they find and offer a great employee benefits program. Or they write an internal communication policy for the company – it depends on the request.
Step 5. You vet it. As a client, you are in full control of processes. A provider can find several amazing candidates but you are to choose who to employ. And the same goes for other tasks.
Step 6. If it is one-time cooperation, the partnership is over for now. If it is continuous cooperation, the work goes as planned before.
Mobilunity-BPO – Top Ukrainian HR Outsourcing Company
Mobilunity-BPO is a professional BPO company that has more than 10 years of experience in providing the best hr outsourcing services. Our team has helped a multitude of international businesses with outstaffing, talent acquisition, and the provision of dedicated teams.
Mobilunity-BPO provides assistance with the recruitment of all types of teams and professionals in Ukraine, from software developers up to customer support and HR. We also help with onboarding, setting up processes, and administrative management. Of course, full coverage of HR tasks and employee retention.
Our team of experts is ready for any specific requirements. No matter how unique your business needs are, we can meet them in time.
We've partnered with businesses in such industries as IT, Finance, Insurance, Entertainment, Sports, Tourism and Hospitality, and many more.
If you are looking for HR outsourcing firms in Ukraine, contact us today!
How to find the best HR outsourcing companies?
First of all, you need to start with requirements and the budget you are willing to spend on hr bpo services. Then you can do a research and evaluate companies according to such criteria as: ease of cooperation, services offered, long-term/short-term contracts, customer reviews and testimonials, 100% process transparency, past accomplishments and reputation. Get in touch with the candidates and preferably talk face-to-face. An online meeting counts as well. If the conversation is fruitful and generally positive, it is a good sign. Such companies can be found online on websites like Clutch or GoodFirms. Getting a recommendation from previous or existing clients is an advantage too.
What do HR outsourcing companies do?
HR outsourcing companies offer a full range of features related to human resources. They can take care of all of them or only a fraction. Those features include payroll processing, employee benefits management, recruitment, training, background screening, conflict management, and legal compliance.
Is outsourcing HR cost-effective?
The exact cost of the services depends on what features your company needs. But overall, it is more cost-effective than hiring and maintaining a full in-house HR team. Only the recruiting, orientation and training can take a significant amount of time and money. On the contrary, a professional HR outsourcing firm has an already established team of experts ready to do the job. Also, you only pay hr bpo companies for the services you need.
Which HR functions are commonly outsourced?
The most commonly outsourced features are payroll processing, talent acquisition, training, and onboarding. Also, a lot of businesses outsource risks and performance management as well as law compliance.