7 Signs of Successful eCommerce Customer Support Outsourcing
In the COVID-19 times, eCommerce customer support has become a crucial factor in terms of importance for retention and customer acquisition for businesses. It's not news that customer service is the variable that determines the credibility and reliability of a company. Customers are looking for a positive user experience, from the initial questions about the product to resolving problems with delivery.
In this article, we discuss what makes great customer service, why customer support service outsourcing became such a popular option, and how to determine if you are doing it right.
Why Is Efficient Customer Service a Key Factor of Ecommerce Business Success?
To start with some numbers, the Statista research estimates eCommerce revenues to grow to $5.42 trillion by 2022, up 85.27% from the $3.35 trillion recorded in 2019. Therefore, one of the key tasks for an eCommerce business is to build an operating system that will allow resolving users' issues quickly and dispelling their doubts regarding purchasing goods or services. And a large chunk of these tasks can be resolved by a well-structured, efficient customer support eCommerce service.
Due to the impulsive nature of online shopping, it is crucial to notice and resolve any possible inconvenience that customers may have. The customer should be provided with various ways to contact the business and have feedback to feel trust and reliability to finish the purchase.
Good eCommerce customer support can nurture new customers by instilling confidence in the service and can ensure old customers stay with your store. On average, it costs a business five times more to attract new customers than to maintain a regular customer base, and existing customers spend much more than new ones. According to the Harvard Business School, between 25% to 95% of gross revenue across niches comes from repeated sales.
Besides, customers expect to contact the company from various digital channels and receive a personalized interaction. As per Salesforce, 71% of the customers complete a purchase based on experience quality, and 91% return after a positive customer experience.
To sum up, high-quality customer service can be regarded as a basis of eCommerce. However, many businesses still fail to satisfy customers' demands and make rookie mistakes in organizing their support channels, both when having an in-house team and outsourcing support services. The same is valid and relevant for outsourcing SEO services and hiring remote ecommerce seo specialist.

Top 7 Ecommerce Customer Support Platforms to Use Right Now
Ecommerce platforms help manage content, manage online store operations, and simplify site organization and content. Among the most popular eCommerce platforms, a company needs to choose the one that objectively provides the best toolkit for your tasks. 
When choosing a platform, you need to focus on ease of optimization, functionality, and design responsiveness. Equally important is the ease of setup and integration with other programs and plugins (for payments, analytics, etc.). 
Here are the most popular eCommerce platforms and their advantages and disadvantages for running an online store on them:
WooCommerce is the ultimate tool for building online stores. The system is open-source and can transform a WordPress website into an online store. It's easy to set up and is free for the most part.
It also provides customization of many plugins that add various valuable functions to both the backend and the online store interface. Plugins will help automate sales and marketing, make it easier for buyers to find and view products, both from desktop and mobile, and optimize the shopping process. Many handy tools for WordPress eCommerce support, such as online chat, display of recent orders, currency converter widget are already integrated into the service. 
The platform can be customized, but it is not particularly suitable for large projects. It is more tailored for SMBs. Although plugins are free, professional tools are expensive, and there is also no internal analytics.
Magento is well-known globally as an open-source solution, available in stand-alone and cloud versions. It is a good platform for those who have priority in order control, easy change of order statuses, transactions management, and makes it easy to build strong Magento eCommerce support services. 
The platform provides reliable functionality for sales analytics, including hits of sales, the average amount of orders and new customers, as well as the ability to connect plugins. However, the installation can be complex and may require hiring a specialist who knows the structure of Magento. Also, many integrations are paid, and technical support is provided on the Enterprise Edition only.
It is one of the most famous CMSs for online stores, suitable for small and medium-sized businesses. There is also a Shopify Plus option for large projects. This platform provides a wide range of choices for managing your customer base, including sales statistics, email templates, and inventory.
There are free themes, the ability to customize the template, and the platform is relatively easy to learn. At the same time, this platform will quickly help integrate your store with Amazon, Google, Facebook.
The main disadvantages include the collection of a commission on sales, the inability to synchronize with all payment systems, delivery services out of the box, and no access to many internal files necessary for the site's SEO.
BigCommerce is a service for medium to large businesses that is often compared to Shopify, but this website builder offers a little more functionality. This platform allows you to manage inventory, shipping, and returns. It also automatically divides clients by prices, access to products, and promotions. 
There is an Analytics Dashboard for collecting analytics on orders, customers, marketing, and built-in integration with ShipperHQ to calculate cross-border shipping costs accurately. It can also be adapted for mobile devices. However, with BigCommerce, you get limited control over the store and a few SEO modules only.
This cloud platform with a monthly subscription is suitable for small and medium-sized businesses. It allows you to see full information on each order, including incomplete orders, divide customers into groups, create a blog, and upload an unlimited number of photos and videos of the product. This platform is pretty easy to use, as it has unlimited product listings and fast loading times. You can also get a free domain name registration on it.
On the flip side, 3DCart provides an outdated template design and is not convenient for dropshipping. At the same time, not many specialists are working on this platform.
It's another highly usable SaaS-based platform for its visuals. At the same time, it is convenient not only for website design but also for eCommerce. Squarespace Commerce version has stylish templates, a lightweight dashboard for opening a store, and functionality to manage it. 
It is also easy to integrate the store with social networks, payment systems, although the payment options are pretty limited. At the same time, there is no restriction on listings, so it is suitable for a business of any size. However, this platform is quite expensive compared to competitors.
PrestaShop has a similar toolset and functionality to other eCommerce platforms. It's a self-hosted SaaS solution with a user-friendly interface. However, the customization of the templates is pretty hard. The engine is free and easy to use, but all themes and add-ons are paid, so it is not the most popular choice.
Volusion is a cloud-based eCommerce platform that provides about 300 templates that can be customized, allows generating your barcodes, setting up warehouses and shipping calculations, and also works as a CRM. It is easy to integrate with Google, Amazon, eBay. 
The main disadvantages include the increase in the cost of the tariff plan when the allocated bandwidth is exceeded and the need for a specialist with programming knowledge to manage the site.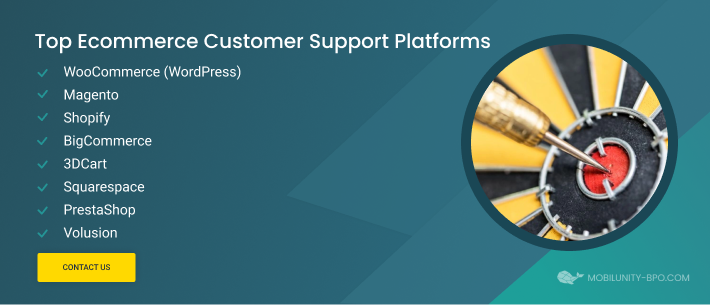 Top Challenges in Ecommerce Customer Support Platforms
As the ecommerce industry continues to grow rapidly, delivering top-notch customer support has become increasingly important for online retailers. Ecommerce customer service outsourcing can be an effective solution for businesses looking to enhance their support capabilities while minimizing costs. However, there are challenges associated with implementing an ecommerce support outsourcing platform. 
Challenge 1: Maintaining Consistency and Quality
Ensuring consistent and high-quality customer support is crucial for building customer trust and loyalty. WIth outsource ecommerce customer support & services, businesses must ensure that their service providers maintain the same level of quality and consistency as their in-house teams.
Solution: Partner with a reputable ecommerce support outsourcing company that has a proven track record in delivering excellent customer service. Provide clear guidelines and expectations, and regularly monitor and evaluate their performance to maintain quality standards.
Challenge 2: Data Security and Privacy
Data security and privacy are critical concerns for any ecommerce business. When outsourcing ecommerce customer service, companies must ensure that their service providers have robust data security measures in place to protect sensitive customer information.
Solution: Thoroughly vet ecommerce BPO services providers to ensure they have strong data security protocols and infrastructure. Establish clear guidelines on data handling and storage, and ensure all parties involved in the support process adhere to these guidelines.
Challenge 3: Language and Cultural Barriers
Ecommerce businesses often serve customers from diverse backgrounds and locations, making language and cultural barriers a potential challenge when outsourcing customer support.
Solution: Choose an ecommerce BPO with a team of multilingual agents who can cater to your target market's language preferences. Additionally, provide cultural training to the outsourcing team to ensure they can effectively communicate and empathize with your customers.
Challenge 4: Integration with Existing Systems
To provide seamless customer support, ecommerce companies must integrate their outsourced customer service teams with their existing systems, such as CRM, inventory management, and order tracking.
Solution: Select an outsourcing ecommerce customer service provider with experience in integrating their services with various platforms and systems. Establish a clear communication channel to ensure smooth collaboration between your in-house team and the outsource customer support for ecommerce companies.
Challenge 5: Managing Scalability and Flexibility
Ecommerce businesses often experience fluctuations in customer support demand, such as during seasonal sales or product launches. Outsourced customer support teams must be able to scale their operations to accommodate these fluctuations.
Solution: Partner with an ecommerce BPO services provider that offers scalable and flexible support solutions. Discuss your business's unique needs and requirements, and ensure the provider can adapt to changing support volumes as needed.
Challenge 6: Identifying the Best Customer Service Outsourcing Company
With numerous customer service outsourcing companies available, finding the best customer service outsourcing companies for ecommerce store can be challenging.
Solution: Research various outsourcing providers and evaluate their expertise, reputation, pricing, and the quality of their services. Look for case studies or testimonials from similar ecommerce companies to gauge their suitability for your business.
Most Common Channels of Communication of eCommerce Business and Customer Support 
For eCommerce, each communication channel requires understanding what works for a target audience and what does not. For instance, what works in email can fail on Facebook. On Instagram, one can fail with what works via email. 
It would help if you considered the audience's expectations on each channel when building a communication strategy, and at the same time, businesses need to communicate with the client through as many communication channels as possible. By organizing multiple options for clients to get help or answers to their questions, a company can ensure their trust in the business. The most popular means of communication are:
The most effective online communication tool is email marketing. Through emails, you can provide extensive responses, inform about changes, sales, and personalize the message. However, emails tend to be slower responses and may get trapped in a Spam folder.
HelpDesk systems help to organize the flow of requests from emails and other channels to solve clients' problems. A CRM can help to control and see the number of requests, response speed, and create a database of quick responses.
Ecommerce live chat support can help customers to understand your product faster and get an instant good user experience. Due to its quick nature and helpfulness, online chats are arguably the most preferred option for customers nowadays.
This type of support is falling in popularity compared to instant messengers but is still effective for confirming order details and dealing with complex cases that require a human touch.
Messengers / social media
Many customers prefer notifications in messengers or via text mode. It makes sense for an eCommerce business to be active on Facebook or Instagram, especially since these web platforms allow you to place orders and make purchases without switching to third-party resources.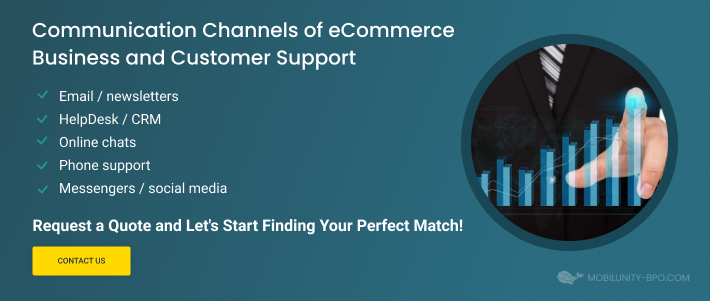 What CRMs Are Commonly Used for Omnichannel Support?
In order to be successful on the market, an online store needs to use several channels for communication, often referred to as omnichannel support. The more channels a business uses to interact with customers, the higher the likelihood that customers will make purchases in this particular online store. 
There are some popular CRMs to organize omnichannel technical support and customer service for eCommerce platforms, and here are some of them:
Zendesk. It is a rich web service that simplifies customer support processes and improves customer and visitor experience. By using Zendesk tools, support agents can quickly process support tickets, organize them, and respond with the necessary info. Zendesk supports inquiries that come via email, social media, support chat, and other channels.
Freshdesk is online software that allows you to support customers via email, phone, chat, and social media, including Twitter or the company's Facebook page. With Freshdesk, there is nothing to download and install, so you don't have to worry about server updates/patches, and your agents can support clients from anywhere.
Zoho CRM has several tools for automating the work of sales, marketing, and support departments, which include lead management, deal management, contact management, and workflow automation. Lead management allows you to capture and find potential customers using forms, calls, identify them, create contacts, and direct managers for further interaction.
Intercom is a communication platform for working with clients. It includes a set of integrated products for each team, including sales, marketing, products, and support. Intercom mechanisms allow you to set up targeted communication with customers on the website, through mobile applications, as well as via email.
HubSpot CRM is integrated with the Hubspot marketing platform. Thanks to HubSpot, it is possible to collect information about a contact from social networks and mail. There is integration with Google Apps and an extension for Chrome, Gmail, and Outlook. Using the SideKick connection, you can track customer relationships in the mailbox, review customer data and profiles, chat history, and other notifications.
Salesforce for eCommerce primarily implies using Salesforce Cloud. It has built-in objects (Lead, Contact, Account, Opportunity, Order, Quote, etc.) for working with clients and ready-made business tools (Lead Conversion, Lead Assignment, Forecasting, etc.). Salesforce for eCommerce allows you to build a pipeline and has various reporting toolkits. Moreover, the Sales Console UI allows you to work with multiple records simultaneously.
Reasons Why Businesses Outsource eCommerce Customer Support
Considering the importance of support services for business, the demand for outsourced call centers and dedicated support teams for eCommerce is constantly on the rise. Outsourcing SaaS customer support allows you to reduce the cost of maintaining the support department and gain several other benefits with the help of dedicated live chat outsource. So here are some of the beneficial reasons why companies outsource customer service:
Recruiting speed. Outsourcing allows you to access a broader talent pool and hire qualified agents quicker compared to building an in-house department. Thus, it's possible to establish live remote support eCommerce teams for a considerably faster time and smaller costs.
Training costs are reduced. The advantages of outsourcing support services are that outsourcing companies already have established staff training processes due to the great demand for this area.
Experienced support teams. Outsourcing gives access to a large number of agents who already have experience in this area and will be able to provide high-quality service from the very beginning.
Providing support 24/7. It is crucial for a business to have 24/7 support ready to solve customer problems in real time. Outsourcing helps to provide teams that will work in shifts 24/7.
7 Signs Your Outsourced Customer Support for Ecommerce is Working Right 
To ensure that your outsourced customer service truly helps customers on their shopping journey, rather than confusing them and complicating things, you need to make sure your support agents use the right guidelines and approaches. For the success of an eCommerce business, the best eCommerce customer support team should follow only the best practices, including the following:
You Have Things Organized Within the Support Department
The outsourced support department's efficiency is marked by how well-tuned the process of handling customer requests is. No matter how many professionals are there in your team, but if they do not know the correct sequence of work with the client and your business structure, it is difficult for them to be helpful. 
Ideally, you need to have a customized platform with access to all communication channels and analytics. The outsourced team needs to have an eCommerce support analyst who will evaluate the team's productivity, have access to tools for checking statistics, tracking orders, and be responsible for delineating responsibilities within the team. Having well-defined processes for handling current orders, shipments, returns, and other transactions is the best way to have successful customer service.
You Meet Your Customers Halfway Instead of Waiting for Them to Come
A business can stand out among competitors if it knows how to value its customers and their tastes and purchasing patterns. Don't make the client look for a way to get in touch with you. Provide all possible options to stay one click away from your support.
Let your client have a choice between a call, a live chat, or messaging through a social network. Your outsourced support team should be ready to be where most customers are looking for it, even if it's a reply on Twitter or a comment under an Instagram post. 
You Empower Clients with Self-Service
You shouldn't control every step of your client. Businesses often underestimate how many customers choose to resolve their inquiries by themselves and prefer self-service.
At the same time, this relieves the burden on the support department, so it is worth taking care of the FAQ section or knowledge base where customers can get answers to the most popular questions without having to contact an eCommerce support engineer. Also, by integrating a bot in a live chat, you can also provide immediate answers for the most popular customers' queries.
You Show that You Care About Your Customers
In addition to basic questions and processes, there are many cases when a client needs a specific service or has an unusual request that requires advice and human assistance. By developing a system for a personalized approach in such situations and having an eCommerce support specialist for each channel, you can create a strong positive image for your business. 
Offer your customers personalized advice on product selection, share product care tips, and guide them during and after the purchase to show that you care in every way you can. This way, you can ensure the best and most memorable customer experience and enhance the reputation of your business. Retain your clients and attract new ones by being outstanding. 
You Treat Customer Testimonials as Gifts for Your Business
In recent years, more and more customers are choosing to make an informed choice based on online reviews and reviews when buying online. Customers love to read, watch, and share reviews. In addition, customers can point out your weaknesses, and by paying attention to feedback and reviews, you can improve your services and make your customers even more satisfied with your goods and attitude.
You Don't Keep Your Client Waiting
A delay in response can lead your prospect to go to a faster competitor to respond. That is why it is worth adjusting the speed of interactions with the client. As per Statista, in second place after the ineffectiveness of communication with the support service (27%), clients are often frustrated by a long wait for help (12%). Make sure your support team is not only easily accessible but also responsive.
You Strive for Continuous Improvement
There is no perfect recipe that will work for years when it comes to eCommerce. The web is very flexible and rapidly changing, so your business must constantly be open to change and be flexible as well. A quality outsourced support service can not only focus on current performance, but also monitor and identify its weaknesses, and continually strive to improve and optimize the quality of the provided services.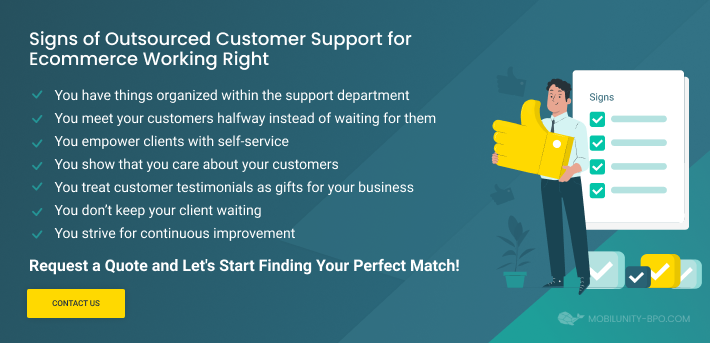 Mobilunity-BPO – Your Reliable Partner for Ecommerce Customer Support Outsourcing 
If you want to make sure that your outsourcing support services are working at their total capacity and bring quality and quantity results to your eCommerce business, make sure that you partner with a trustworthy vendor. Mobilunity is a Ukraine-based outstaffing agency with 10+ years of experience in providing top-level specialists and dedicated teams for projects of all sizes in diverse countries. Our HR experts have developed our own time-tested methodology for hiring the right talents for a business, whether it's for financial, marketing, accounting, or any other industry.
Whether you are looking for an experienced eCommerce customer support manager or for a dedicated support team for your eCommerce business, you can find the right specialists at Mobilunity-BPO. Get in touch with our representatives today, and let us help you build a great eCommerce customer support solution working round the clock.
Looking for efficient eCommerce customer support outsourcing options? Contact Mobilunity-BPO and get a dedicated support team!