7 Benefits of Hiring a Dedicated IT Support Agent
Do you try to figure out if outsourced IT customer support can strengthen your business? Are you tired of considering all the pros and cons of live chat outsourcing dedicated, especially when clients judge companies by customer service? 
In this article, you'll find the answers and learn how to hire a dedicated IT support team.  

Outsourcing Technical Support: Two Options
Dedicated IT Support 
A dedicated support team of tech agents delivers customer support services exclusively to your company. So you can customize your customer care and rely on your support professionals 100% of their working hours. You can either hire technical support agents full-time or even arrange 24/7 support and leverage their skills and experience as if they were your employees. 
Shared IT Support 
The shared cooperation model assumes that several companies share IT support services of the same dedicated agent. Though you don't get complete control over a shared team, this option is more cost-effective. That's because companies pay per minute of shared tech support reps and can save on training, building, and keeping a dedicated team.
Comparing the Two Models 
To help you distinguish the two formats, we accumulated brief characteristics of each remote cooperation model. So, let's see which will work best for you. 
| | | |
| --- | --- | --- |
|   | Shared IT Support Team | Dedicated IT Support Team |
| Resources Availability | New shared agents are always available if you decide to grow your team.  | Getting a new dedicated IT support professional is possible but depends on the job market supply.  |
| Ease of Scalability | Shared customer service is almost immediately scalable as assigning new IT support agents is what such companies specialize in.  | Finding and hiring an additional dedicated team member can take several weeks, making this solution less flexible.  |
| Understanding of Your Service and Product | Tech agents that support several brands or products can't get deep knowledge about your product. | Since dedicated IT customer care specialists work exclusively with your product or service, they know all of its features. And thus, they can resolve complex queries. |
| Pricing Structure | You usually pay for every minute of these specialists' work.   | Dedicated agents can get paid based on their hourly or monthly rates.  |
| Best for | Startups and small companies with varying daily loads.  | Companies with consistent call and customer queries volume. |
So, a shared model is beneficial for businesses that only start their operation or small companies because they have irregular or modest call volumes. A dedicated team will better fit seasoned organizations and large corporations because their customers constantly need tech assistance, and most queries require deep product knowledge. 
7 Benefits of Hiring a Dedicated Technical Support Specialist
If you still are unsure whether hiring a dedicated team is advantageous for your business, check out the list of benefits that outsourced technical support services have.
You Save on Salaries
The outsourcing model gives you access to technical specialists from different countries. And this offers plenty of cost-effective solutions for your business. For example, you can equip your company with a larger IT customer care team for the same money or find top-level agents for affordable prices. And the "secret" is in their location.
Often, the cost of living and, consequently, average salaries in non-EU and non-US countries are significantly lower. For example, the payroll of an IT support agent from Eastern Europe can be 15-20% less than his US colleague's wage, provided they both have the same skills and experience. 
You Pay Less for Software, Equipment, and Office Premises
Since outsourcing assumes your team works remotely, you won't need to arrange their working places, pay rentals, or buy equipment. Your outsourcing provider does this for you. Here we don't mean that you won't need to cover these costs at all, but you won't have to spend your time on these tasks. 
And another good point is that you'll also save on these expenditures. This is possible for the same reason: your dedicated customer support team members will most probably be based in countries with lower prices for specialized equipment, software, renting office premises, and utilities. 
You Stay Focused on Business
You don't need to spend your time searching, pre-screening, preliminary interviewing, recruiting, or resolving administrative issues for your tech support team. That's because your outsourcing provider covers all IT customer service team activities. Outsourcing companies do it all, from drafting the job description for candidates to onboarding new team members. 
And you can benefit from staying focused solely on professional tasks and keeping your customers happy. For example, if an agent needs to get a one-week vacation, your only worry will be how to cover his or her tasks. You won't have to prepare the official documents, calculate and do the payout, and submit related reports. 
You Can Hire Certified Professionals 
One of the most valuable benefits of the outsourcing model is getting access to a pool of talents. For instance, you couldn't afford to hire a dedicated customer care agent in your city. Or no specialists possessed the skills required for your project. Once you shift your perception of remote cooperation, many opportunities open their doors for you.
Do you need a specialist with 3+ years of experience in the SaaS industry? Or do you want to boast a tech customer care team with International Certificates? Or is it some specific combination of hard and soft skills that you fail to find in local candidates? Outsourcing is the right solution for each of these cases.
You Get Your Team Assembled Quickly
Finding the right people takes time. And sometimes, you have to take this time from other projects that actually need to be prioritized. Or, your HR department can be highly professional, but it can never work as quickly and effectively as a whole team of top recruiters who know all about the IT support industry.
So, cooperation with an outsourcing provider, especially when there are signs of that, is a win-win deal for your company. That's because you get your new team ready within only several weeks, and rest assured that every candidate is the perfect fit for your brand. Client-oriented and motivated professionals that perfectly fit your environment can start assisting your customers in 3-5 weeks.
Your Tech Support Can Speak Many Languages
For effective customer support dedicated IT English-speaking agents aren't always enough. If your product is aimed at users from various parts of the world, they'd love to hear native languages. And having multilingual technical customer service has at least three practical goals. First, it helps your clients better explain the issue and, thus, get their tickets solved faster. 
Second, it gives you more technical details that can help you improve your product and eliminate such cases in the future. Third, it makes your clients feel valued and happy, increasing your chances of getting new customers. That's because people usually recommend good products with excellent customer care. 
You Can Offer 24/7 Support
Remote technical support services can help you embrace the business hours of your clients around the world. For example, companies have days off on Fridays and Saturdays in the Middle East, but they work on Sundays. Or, if you're located in Europe, your US clients will start their business day when yours already finishes. 
So, ensuring that your core audience can access top-level customer support during their business hours is vital. And it's totally bearable with the shift system offered by outsourcing companies. Many of them have optimized solutions in tech support outsource to deliver round-the-clock dedicated IT support to your customers from any part of the world.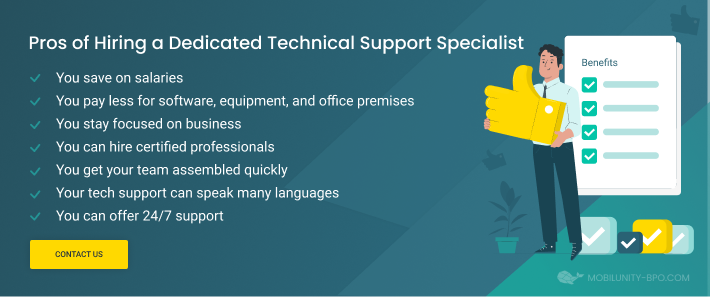 Your Dedicated Support Services Provider 
For more than 10 years, we've been delighted to offer outsourcing services and help businesses grow. Mobilunity-BPO is a Ukraine-based company that leverages its location and access to one of the best job markets in Europe. We boast 40+ clients who run successful companies in more than 15 countries worldwide. And there are several "secret ingredients" that help us stay so effective:
Professionalism. We help you hire dedicated people with the right combination of hard and soft skills. 
Flexibility. You benefit from our versatility as we find solutions for companies of all types and sizes.
Speed. Sometimes you may get the first candidates and start cooperation within a couple of weeks.
Confidentiality. If you need to search for candidates anonymously, we keep sensitive information secure. 
How You Get a Dedicated IT Support Team 
Our cooperation process is quite straightforward, and we're glad to share it with you. Here's how you get your team ready:
You complete the contact form, and we call you back to discuss all the peculiarities for the position or requirements for the team.
In 3-5 weeks, you get the list of CVs. Our recruiters search for candidates, pre-screening, and send you several resumes with relevant notes. 
After you choose the candidates, we send them job offers and sign the cooperation agreement. Then we start the hiring and onboarding processes. 
Your team is ready for work! Your tech support team can accept their first calls within several days of training and getting to know the corporate workflow. 
Hire a dedicated support services tech team and increase your customer satisfaction!