Customer Service Outsourcing: 7 Benefits for Your Business
Customer service outsourcing means hiring a third-party company to provide support services on your behalf to your clients. It is one of the popular BPO practices that focus on customer success and increase customer satisfaction. This article will cover the customer service outsourcing market, its trends, main destinations, benefits, prices, and options.

Outsourcing Customer Service: Market Overview
The success of any company depends not only on the number of buyers but also on their retention and building meaningful relationships. It contributes to brand image and reputation as well as sales revenue. And in the modern market, there is plenty of competition for any industry. Lots of companies offer similar products and services. That's why customer service should be one of the top priorities for any business. It is exactly what makes them stand out from the competition.
That's where customer care services come in handy for a multitude of small and medium-sized companies all over the world.
Customer service outsourcing companies are a natural response to the market's demand for new ways of increasing customer success.
Customer care BPO market size has reached $20.67 billion in 2021 and is expected to grow up to $30.4 billion by 2027. Here are just some of the key stats that illustrate why companies choose to outsource customer service:
Customer support outsourcing service is a great and cost-effective solution to this matter.
Customer Service Outsourcing Trends
Several trends are prevailing in the customer service outsource industry right now. All of them have to do with the objective to bring more value to the customer while making the process easier for a provider. Here are the main trends for 2021.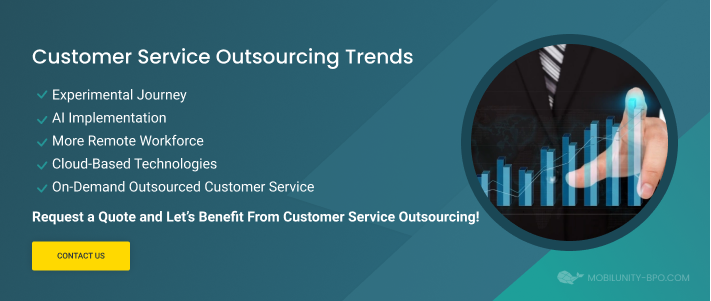 Experimental Journey
Due to high expectations and dense competition, the focus shifts from transactional to experiential journey with emphasis on personalization. CX (customer experience) is crucial for any company's success. Every single interaction with a client becomes a part of CX as a whole.
AI Implementation
Customer service outsourcing companies use the newest technologies to enhance their performance. AI is not going to replace human representatives but will be an augmentation to them.
More Remote Workforce
The global trend to remote work and stay-at-home professionals influence customer support service outsourcing as well. It is a much more flexible model with benefits for both employees and employers.
Cloud-Based Technologies
Here the outsourced customer service market follows global technological trends as well. Cloud-based solutions are accessible to companies of all sizes, they are cost-effective and allow higher efficiency. They are also scalable and flexible
On-Demand Outsourced Customer Service
This one is especially important for eCommerce that experienced highs and lows in demand based on different periods. For example, a holiday season always comes with greater demand, so it is easier to partially outsource customer service to live chat outsourcing dedicated specialists during that time than hire and let go of employees seasonally.
Reasons to Work with a Customer Service Outsourcing Company
Although the exact reasoning depends on each company's situation and business goals, there are several common situations when outsourcing customer care makes a lot of sense, namely:
A company cannot provide full support in-house due to lack of resources;
A tight budget for operational costs;
Desire to expand globally and open new markets;
Lack of proper training programs for the in-house team;
Lack of local professionals with specific skills, for example, knowledge of the foreign language;
Easy scaling up or a growing business;
Access to better technology and additional resources;
Take repetitive tasks from the in-house team and let them focus on the core of the business.
Overall, outsourced customer service cost is lower than having a full in-house call center. It is one of the crucial reasons for the majority of companies worldwide.

Countries for Outsourcing Customer Service
The exact destination one lands with depends on their requirements and needs. Those can be particular languages, time zones, market coverage, prices, etc. One should also not forget about cultural similarity and business fit.
However, there are globally popular destinations when it comes to customer support service outsourcing.
The Philippines
The Philippines is one of the top picks when it comes to remote call centers. It is attractive due to lower labor costs and an educated workforce. Other benefits include decently developed infrastructure and an omnichannel BPM service model. The English proficiency is high here (18th place worldwide).
India
India was at the forefront of outsourcing in general. And it remains an important hub today. The country is known also for software development and IT industry outsourcing. The main advantages are low prices and a huge talent pool. Yet, it takes time to find a reliable partner as there is a risk of low-quality work.
Ukraine
When it comes to Eastern Europe, Ukraine is one of the top destinations because of the great talent pool, developed IT infrastructure, affordable labor costs, and cultural similarity to European countries. It is conveniently located in Europe and local professionals are educated and known for the quality of work. Lots of international companies opened offices or R&D here, and Business Insider named Ukraine among the top 5 outsourcing countries.
Mexico
Mexico gained a lot of traction because it is located in proximity to the US, which makes it a desirable destination. There is a huge talent pool of educated professionals and rates are significantly lower than in the US. But the English proficiency is also not the best (92d worldwide). Yet, the IT infrastructure is developing quickly and there is significant governmental support of the IT industry.
Brazil
Brazil is another attractive destination for the US and Latin America. It has a huge talent pool, developed IT infrastructure, and lower labor costs. There is a decent international presence when it comes to technology companies (IBM and HP opened call centers here for example). The downside is that the time difference with European clients is quite significant.
Poland
Poland is quite known for IT software development outsourcing but it is also beneficial in terms of the outsourced customer service cost. It is located in Europe, has a decent amount of specialists, and offers competitive salary rates. Professionals here have decent English proficiency and the country is one of the first to implement FinTech innovations.
These countries have something in common when it comes to customer support service outsourcing, namely: population density and literacy levels, decent English knowledge, developed IT infrastructure and governmental support, and low cost of labor.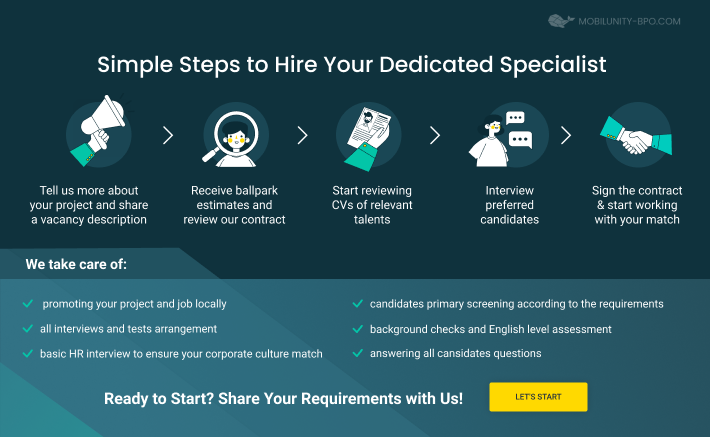 Types of Tasks for Customer Service Outsourcing Companies
Let's be honest – any process that can be delegated to the third-party provider can be delegated. The reason being is that a separate provider can do it better. By "better" we consider faster, for lower cost, with more efficiency, or more coverage.
When it comes to customer service outsourcing, the most popular tasks delegated are:
Pre-sale support – all tasks considering CX before the purchase. It includes following the buyer's funnel and ensuring customer success;
Live chat assistance – live chats are extremely popular as they allow asking questions 24/7 and without the necessity to call. It is much better to have a representative answer the inquiries instead of a bot.
Email replies – Remote professionals can take over email replies as such responses are not expected to be immediate. It gives specialists time for research when needed. Also, remote employees can take over work after the office hours of an in-house team.
CRM management – usage of CRM systems allows significantly increasing CX. Customer support service outsourcing ensures that the remote team can manage the system, analyze data, and provide essential reports.
Helpdesk tickets updates – such tasks cover administrative support when it comes to customer inquiries. All issues should be assigned to professionals and monitored.
Phone support – outsourcing allows setting remote call centers with multilingual professionals available 24/7.
Social media communication – lots of times it is easier and faster for a client to ask questions via social media. Accordingly, brands invest more into social media management and often reach out proactively by name search to answer any reviews or comments. It helps to build reputation and brand awareness.
Customer service outsourcing can provide full-cycle multichannel support or take care of one of the functions.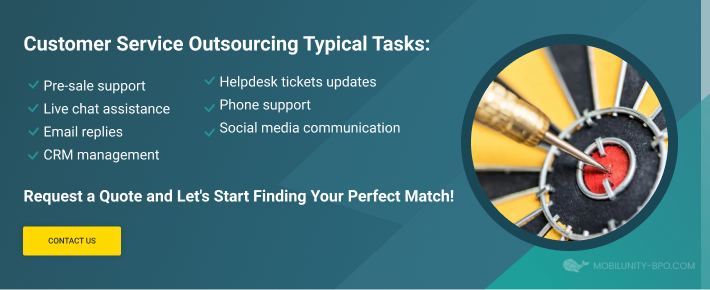 7 Benefits of Customer Service Outsourcing
Customer service outsource practice has 7 major advantages we'll go over.
Reduce workload for an in-house team
This one is incredibly important for startups, small businesses, and even medium-sized companies. They often experience a lack of specialists and employees have to do a multitude of tasks that might go over their direct responsibilities. Delegating some of those to a remote team is a perfect way to free in-house resources. It also allows focusing on core business activity.
Save costs
Customer support outsourcing service is also beneficial in terms of cutting disbursements while enjoying the great performance. First of all, there is no need to pay for employee benefits and fixed salaries. Customer service outsourcing companies usually charge per hour of work. Also, one will cut hiring and training costs as well as office necessities such as desks, laptops, headsets, etc. And salary rates in main outsourcing destinations usually are significantly lower than in the USA, UK, Canada, or EU.
24/7 coverage
A customer service outsourcing company can provide service after your office hours so that clients can have an excellent experience at any time. Full-time coverage is a great competitive advantage for all types of businesses.
Multilingual professionals
Many organizations pick outsourcing customer service to expand their reach and access new markets. One of the helpful features would be to provide support on language native for clients. For example, if you are opening shipping to China or Brazil, it is better to have representatives speaking Chinese or Portuguese respectively. Hiring a remote team allows doing just that.
Scale up with little time
When it comes to saving time there is almost nothing like outsourcing. When a company experiences rapid growth, there is a necessity to expand fast.  Otherwise one might lose momentum and high demand. Or some might even decide to scale down because they are unable to hire in-house professionals so fast. Customer service outsourcing ensures fast and easy scaling up.
Highly-trained talent
Developing your own support team has its perks, but it is costly and takes lots of time. Also, professionals of specific expertise or knowledge might not be available locally. Or they might not want to relocate. Working with professional CX outsourcing providers gives access to a highly-trained and skilled workforce that knows exactly how to do the job. And a business doesn't have to spend time and money on training.
Better technology
By working with a reliable outsourcer, you'll have access to the newest technology in the field, whether it is an AI algorithm, cloud-based CRM, or excellent networking hardware.  Such technology might not be available to a company otherwise as it requires implementation and significant budgeting. But here you'll get high-level support with excellent infrastructure and software maintenance.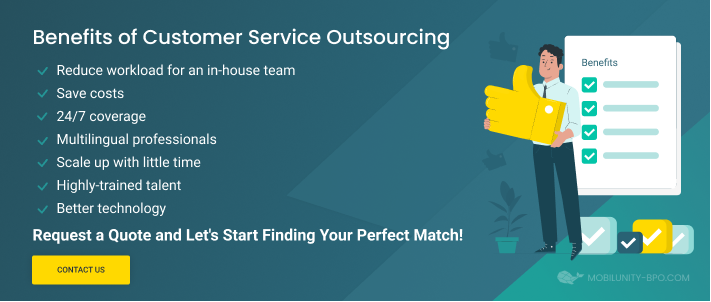 7 Challenges of Customer Service Outsourcing: How to Overcome Them
Outsourcing customer support services is a popular option for businesses looking to reduce costs and improve efficiency. However, there are several challenges that companies may face when outsourcing customer service. In this article, we will discuss seven common challenges of customer service outsourcing and how businesses can overcome them.
Language and Cultural Barriers
One of the most significant challenges of customer service outsourcing is language and cultural barriers. Customers expect to be able to communicate clearly with customer support representatives, and language barriers can lead to miscommunication and frustration. Additionally, cultural differences can affect how customer support representatives interact with customers.
To overcome this challenge, businesses should choose a customer care outsourcing company that employs customer support representatives who are fluent in the required language and familiar with the target culture. Companies should also provide comprehensive training to ensure that customer support representatives understand the company's values, products, and outsourcing customer services.
When outsourcing customer service, businesses may feel that they are losing control over their customer interactions. This can be a significant concern, as customer service is an essential aspect of a business's reputation.
To address this challenge, businesses should work with an outsourcing customer support company that provides regular reports and updates on customer interactions. Additionally, businesses should establish clear communication channels and protocols to ensure that customer support representatives are following company policies and procedures.
Working with top customer service outsourcing companies can provide businesses with significant benefits, but it also presents several challenges. The quality of customer service is critical for businesses, and outsourcing customer service can raise concerns about the quality of service provided. Customers expect high-quality service, and any deficiencies can lead to a negative impression of the company.
To ensure the quality of customer support outsourcing services, businesses should select the best customer service outsourcing companies that have a track record of providing excellent service. Additionally, businesses should establish clear performance metrics and standards to measure the quality of service provided by customer support representatives.
Outsourcing customer service may involve sharing sensitive customer data, raising concerns about data security. Businesses must ensure that customer data is protected and that outsourcing customer service does not compromise data security.
To address this challenge, businesses should work with outsourced customer support services providers that have robust data security protocols and adhere to industry standards and regulations. Additionally, businesses should establish clear data security policies and procedures and ensure that customer support representatives are trained on these policies.
One of the primary reasons businesses outsource customer service is to reduce costs. However, outsourcing customer service can be expensive, and businesses must carefully consider the cost-benefit ratio.
To overcome this challenge, businesses should evaluate the cost of outsourcing customer service and compare it to the cost of providing in-house customer service. Additionally, businesses should consider the long-term benefits of outsourcing customer service, such as improved efficiency and scalability.
Customer satisfaction is essential for businesses, and outsourcing customer service can affect customer satisfaction levels. Customers expect high-quality service, and any deficiencies can lead to a negative impression of the company.
To ensure customer satisfaction, businesses should work with customer care outsourcing companies that have a proven track record of providing excellent customer service. Additionally, businesses should establish clear customer service standards and monitor customer satisfaction levels regularly.
Integration with E-Commerce Platforms
For businesses that outsource ecommerce customer service, integration with e-commerce platforms can be a significant challenge. Customer support representatives must be familiar with the company's e-commerce platform and have access to customer data.
To overcome this challenge, businesses should work with customer support outsourcing companies that have experience integrating with e-commerce platforms. Additionally, businesses should provide comprehensive training and access to e-commerce platform data to ensure that customer support representatives can effectively handle customer inquiries.
Customer Service Outsourcing Cost
Outsourcing customer service cost depends on several factors, such as:
Type of task, for example,

outsource technical support

, CRM management, or call center will go for separate prices as each requires a specific skill set.  Also, whether you need a full-cycle CX or just one feature to be taken care of.
Quality of service, meaning human resources, technology, and equipment.
Language, whether you need one, two, or even more.
Channel – email, phone, social media, etc.
Labor costs differ from country to country due to economic factors.
For example, let's compare monthly salaries for customer support representatives in 5 countries
USA – $3,442 per month
Netherlands – $3,390 per month
Germany – $4,517 per month
Switzerland– $6,371 per month
Ukraine– $1000* per month
*as per the data provided by our internal Recruiting Team.
With this data, it is pretty understandable why lots of businesses choose to outsource.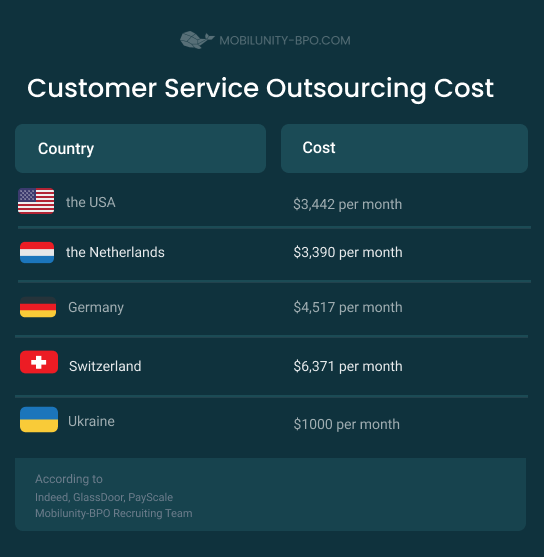 Mobilunity-BPO – Your Trusted Partner in Ukraine
Mobilunity-BPO is a Ukrainian outstaffing company with 10+ years of experience. We've been providing dedicated development teams for international businesses for more than a decade and are happy to help you out. We have already partnered with 40+ businesses from more than 15 different countries.
Mobilunity-BPO also offers customer service outsourcing with access to high-level talent and reasonable pricing. We will find suitable employees for your customer support, back office support, or marketing team. From helpdesk support and social media management up to recruiting and HR – our team can do it all.
Ready for outsourcing customer service in Ukraine? Get in touch with us!