Types of HR Outsourcing: Full List of Activities
In recent years, human resource outsourcing has become a widespread practice in small and large businesses. Its global market, estimated at $32.8 billion in 2020, has the potential to rise to $45.8 billion by 2027. It is a 4.9% CAGR during the period from 2020 to 2027.
What are the reasons for such growing popularity of outsourced HR services among businesses?
Two main ones include lowering the expenses associated with in-house human resource personnel and allowing HR specialists to focus on core business objectives. The pandemic has also played its part in an active transition of companies to HR outsourcing.
If you also opt for HR outsourcing, keep reading our post. Today, we will talk about the functions of human resources that you can shift to remote mode and give five examples of HR outsourcing services.

Everything You Need to Know About Outsourcing HR Activities
Business owners often face the reality that they cannot handle administrative work themselves or keep up with the latest human resource tendencies. It's when outsourcing of HR activities, such as outsourced hospitality HR support, comes in handy.
The outsourcing HR function entails acquiring human resource services from outside the company. Such services are usually provided by specialized firms that can take on many tasks for your business. Payroll processing or the establishment of improved policies for administrative work are examples of these services.
Human resource outsourcing involves the conclusion of a contract between the business and the contractor, where the business owner delegates some of the HR-related duties to a third party. Agreements between the parties might vary, so we suggest you read about the main ones below.
The Main Types of HR Outsourcing
If you've decided to delegate human resource tasks to a third party, you have several options available to do so.
Professional employer organizations (PEO). This approach suggests that the employer retains management authority over employee work and that the PEO is legally responsible for benefits, taxes, and payroll.
Human resource outsourcing (HRO). This type of organization of HR processes, unlike PEO, implies that you, as an employer, have full legal responsibility for remote HR staff.
Software-as-a-service (SaaS). It is a model of software delivery by a remote vendor. In the HR field, this approach helps expand organizational capacity while saving money. For example, you can use affordable talent management software or payroll tools. In addition, you may also consider hiring SaaS customer support team.
HR business process outsourcing (BPO). This model involves the transfer of one specific task to a third party. It could be, for example, talent acquisition.
Single-source outsourcing. This type of HR outsourcing is a universal solution, where the service provider takes all duties that fall within the scope of responsibility of human resource staff.
Two Approaches to HR Outsourcing: Shared and Dedicated
When it comes to HR department outsourcing, you have two options. It implies the process of selecting a shared or dedicated human resource representative.
The shared approach suggests that the HR service provider already handles similar activities for other businesses. Employees of such human resource organizations typically provide their services part-time or at specific time frames. This approach is ideal for businesses with a minor/seasonal workload or a limited budget for HR services.
Unlike the shared method, the dedicated approach implies that remote HR employees will work solely for your company. This way, you'll obtain workers that will devote their entire time to your business and are well-versed in its peculiarities and requirements. This approach is perfect for companies with heavy workloads that require HR personnel to have a thorough understanding of the business and its fundamental operations.
Some of the HR Outsourcing Trends
As we have already mentioned, the HR outsourcing industry continues to grow. It is also seen in PrismHR's Human Resources Outsourcing (HRO) Trends Report.
Although HR service providers and their customers are concerned about the pandemic, COVID-19 has become a factor in identifying top HR outsourcing companies. It especially applies to the accrual of pandemic-related employee benefits. According to the survey, 69% of HR providers delivered significant assistance to their customers under the CARES Act, and 54% provided the FFCRA support.
The survey has also revealed the top five services by human resource outsourcing companies:
HR consulting
Benefits management
Time tracking
Insurance services
Performance management
Recruiting remains a challenging task, and the main difficulties faced by HR outsourcing companies are as follows:
Employee retainment
Offering competitive advantages
Tax administration
Search for affordable and quality health insurance
Regarding the benefits of outsourcing HR administration for businesses, the survey showed that the main ones are:
Significant savings on human resource services
Lower costs for employee health insurance
The ability to solve more HR-related tasks
Since we've already mentioned some HR outsourcing advantages, let's delve deeper into this topic.
Main Advantages of HR Outsourcing
Let's discuss some other benefits of HR outsourcing aside from its cost-effectiveness.
If you are a business owner who handles the recruiting process on your own, it is time to make a change. By outsourcing HR management, you will not only make your life simpler, but also eliminate the risks associated with salary calculation, benefits administration, and more.
Experienced outsourcing firms are well-versed in all aspects of employment. By delegating HR responsibilities to a third party, you ensure full compliance with the law and all requirements in the personnel management operations.
The HR field involves working with the personal data of employees. You can ensure your firm's data security by using the services of a trustworthy outsourcing provider.
Employee retention is a significant indicator of success for HR administration outsourcing companies. That is why such firms do everything to keep workers with you for as long as possible.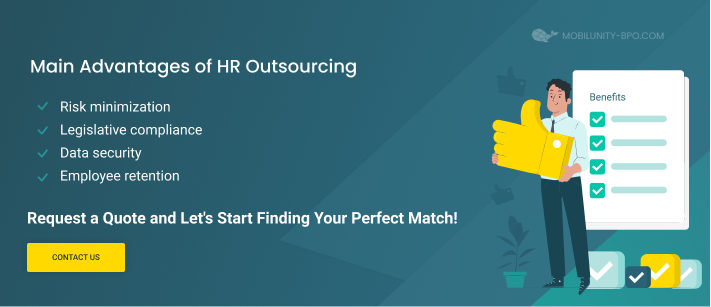 Top HR Outsourcing Functions
Before outsourcing human resources responsibilities, you need to know which ones can be done remotely. We have prepared a list of the most common functions for you.
Payroll administration is perhaps the most typical HR function that you can outsource. By doing this, you will be able to focus on the main goals of your business, while the HR management outsourcing company will deal with the complex procedure of payroll services.
Employee benefits administration is a challenging task. Finding the finest alternatives for health insurance or retirement plans, as well as a number of employee support programs, are all part of it. Outsourcing such a procedure is advantageous since the service provider will handle the benefits management for you.
Imagine that your company needs a new employee, or maybe several employees. Finding, selecting candidates, and conducting interviews is a time-consuming process. That's why you may seek the support of an HR provider who will take on all these responsibilities.
Employment law compliance
Employment involves more than simply calculating salary and perks. It is the obligation to comply with numerous legislations, like the Equal Employment Opportunity Act. Since HR outsourcing providers are required to have a thorough awareness of employment and labor regulations, your company will follow all relevant laws.
Employee relations management
Forming a friendly team is the same job as paying a salary. It takes time to regulate employee relations, handle various conflicts, and satisfy worker requests. An HR offshoring provider may perform this duty easily.
HR professionals may do more than just manage employee relations. Ensuring a safe working environment is also one of the functions that such experts can perform. Human resource specialists will also do all possible to keep your organization out of the worst-case circumstances like lawsuits.
This function of the HR outsourcing company suggests working on developing an effective team of employees. Employee performance audits, personnel records, salary negotiations, and staff training are examples of the duties HR specialists will perform. With an outsourcing company, you can also set goals to increase the efficiency of your company.
Employee background screening
Employee background screening is another essential task that needs to be done before hiring someone. It takes time to check a person's information and references from previous employers. That is why you will benefit from HR outsourcing services.
Another important function provided by outsourcing HR companies is human resource consulting services. It includes the analysis of market information about the work processes of other companies and conclusions based on it. Such data provides an opportunity to consider your commercial prospects in the market.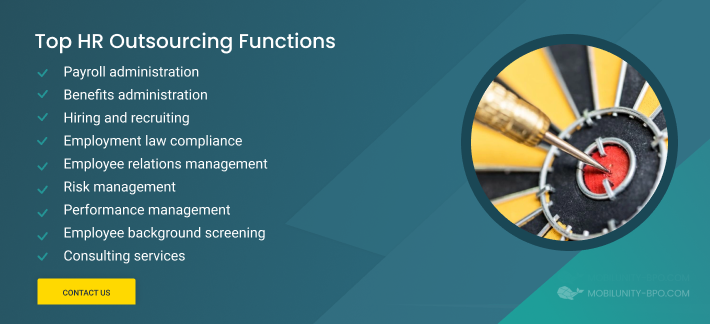 Five Successful HR Outsourcing Examples
Now you know about all the main features, the latest trends, and the major benefits of HR outsourcing. Therefore, if you decide to seek the services of a third party, consider the following points:
What software does the vendor use for HR process management? 
What software and tools for employees are offered by the HR service provider?
How do you like communicating with an HR outsourcing company?
Customer feedback on the company that provides HR services.
Now let's take a look at the top five HR solution examples.
TriNet is an excellent choice for small and medium-sized businesses. It is a cloud-based organization that manages payroll and benefits and consults on labor law compliance. This company also demonstrates superior risk management. TriNet allows you to effortlessly grow your business because this service provider offers flexible options for it.
Oasis by Paychex is a top professional employer organization choice if you own a relatively new business. This service provider offers outstanding HR outsourcing opportunities and supplies leading cloud software for this purpose.
ADP company is known for its impeccable customer service. Therefore, if customers are your firm's priority, you can consider this service provider. ADP is a global supplier of cloud-based human resource management systems covering payroll, taxes and benefits, and employee administration.
Insperity is the best solution for small businesses. This company's personnel and administrative services offer flexible contracts, tariff plans for each employee, and numerous online training tools.
Bambee is another HR outsourcing service that finds the top human resource specialist for you. This company is excellent for small-sized firms since it offers affordable prices and professionals who know their business.
Decoding the Process: How to Choose a Reliable HR Outsourcing Partner
As businesses strive for operational excellence, many are turning to HR outsourcing to optimize their human resource management processes. By partnering with a reliable HR outsourcing provider, organizations can streamline HR operations, enhance efficiency, and access specialized expertise. However, choosing the right HR outsourcing partner is crucial for a successful partnership. 
Outsourcing HRM functions to specialized service providers allows organizations to leverage external expertise and resources, leading to enhanced operational efficiency and strategic HR management. We will guide you through the process of selecting a reliable HR outsourcing partner. From understanding HR BPO services to evaluating service providers, we will provide valuable insights to help you make an informed decision.
HR BPO Services: Understanding the Landscape
Human resources BPO services encompass a range of HR functions, including payroll management, benefits administration, recruitment, training, performance management, and compliance. Understanding the landscape of HR BPO services is essential to identify the specific areas where your organization requires support and expertise.
Human Resource Management Outsourcing: A Strategic Move
Human resource management outsourcing involves delegating HR responsibilities to external service providers who specialize in HR processes. By leveraging their expertise, businesses can benefit from streamlined HR operations, cost savings, and access to advanced HR technology. It is crucial to recognize the strategic advantages that HR outsourcing can bring to your organization.
Evaluating HR Process Outsourcing Services
When choosing an HR outsourcing partner, it is essential to evaluate their HR process outsourcing services. Look for providers who offer comprehensive solutions tailored to your organization's unique needs. Consider aspects such as payroll processing, benefits administration, compliance management, HRIS (Human Resource Information System) implementation, and HR analytics capabilities.
Assessing Outsourcing Human Resource Expertise
The expertise of the HR outsourcing provider is a critical factor in ensuring a successful partnership. Evaluate the provider's track record, industry experience, and domain knowledge. Look for HR service providers who understand your industry-specific HR challenges and can offer innovative solutions to address them effectively.
HR Service Providers: Reputation and Reliability
Reputation and reliability are vital considerations when selecting an HR outsourcing partner. Research the provider's reputation in the market, read client testimonials, and gather references. Assess their financial stability and ability to scale with your organization's growth. A reliable HR service provider will have a proven track record of delivering quality services and maintaining strong client relationships.
Understanding How HR Outsourcing Works
To make an informed decision, it is crucial to understand how does HR outsourcing works. Familiarize yourself with the process of transitioning HR functions to an external provider. Clarify the roles and responsibilities of both parties, establish clear communication channels, and define service level agreements (SLAs) to ensure smooth operations and desired outcomes.
Collaboration and Cultural Fit
Successful HR outsourcing partnerships thrive on collaboration and cultural fit. Assess the cultural compatibility between your organization and the HR outsourcing provider. Consider factors such as communication style, values, and work ethics to ensure a harmonious and productive working relationship.
Data Security and Compliance
Data security and compliance are paramount when outsourcing HR processes. Evaluate the provider's data security measures, including data encryption, access controls, and compliance with data protection regulations. Ensure the provider has robust processes in place to handle sensitive employee information securely.
Choosing a reliable HR outsourcing partner is a strategic decision that can significantly impact your organization's HR operations and overall success. By understanding HR BPO services, evaluating HR process outsourcing capabilities, and assessing the expertise and reputation of HR service providers, you can make an informed choice. Remember to consider factors such as cultural fit, data security, and collaboration to foster a fruitful partnership. With the right HR outsourcing partner by your side, you can optimize HR operations, streamline processes, and drive organizational growth.
Mobilunity-BPO: Your Reliable Partner in HR Outsourcing
We are a company with a decade of experience finding talented professionals from Ukraine. During this period, we have provided more than 40 clients with excellent teams of dedicated specialists. You can also become one of these clients.
Who can we hire for you? The choice is extensive: software engineers, customer support specialists, marketing and business development professionals, data annotation experts, and even back-office support.
Our company already has more than 200 employees, and we consider them to be our most valuable asset. Our advantage is that we can establish long-term relationships with our workers, allowing us to assure excellent staff retention.
To start working with our HR outsourcing department, just submit an application with the qualifications of the required personnel. For our part, we will do everything we can to discover the best professionals for you.
We may also remark on being able to hire people fast and efficiently. So, a week after you apply, we'll provide you with the first applicants for the job.
Thinking about outsourcing HR function? Mobilunity-BPO has got you covered! Feel free to contact our team right now!