Speech and Voice Annotation for NLP Algorithms
When considering the popularity of products such as voice-assisted speakers and on-road GPS navigation, it is clear that speech-activated devices are gaining more importance in today's digital world.
For any system to understand voice or human speech, it requires artificial intelligence (AI), and more specifically, machine learning (ML). These processes are programmed to understand voice to produce intelligent results. This is done through the use of audio or speech annotation solutions. 
Effectively, audio or speech annotation allows machines to understand spoken words, as well as human emotions and intentions. And just like other types of annotations for media such as image and video, audio, sound and part of speech tagging annotation needs manual human effort where data labeling experts tag or label parts of audio or speech clips used for AI and ML.


Data That Are Commonly Required to Be Annotated in AI Working With Audio Files
Voice AI systems are based on understanding human language and interpreting it to offer suitable results. To do this, AI systems have to be programmed with specific data when working with audio files. Some of these include: 
Speech recognition. With speech recognition programming, words are spoken aloud and converted into readable text for AI systems. This allows the systems to recognise words from other sounds. 
Tone of voice. The tone of voice someone uses to speak with can translate a lot of meaning. In fact, it can change the meaning of a message completely. Voice AI systems are programmed with tone analysis to provide the best rational answers.
Syntactic and semantic meanings. Using syntactic, semantic and parts of speech tagging techniques, AI systems get a better understanding of any context under consideration when it comes to analyzing audio. With parts of speech labeling sentences identification, AI systems know how to use speech correctly.
Neural processing. Voice AI is constructed on neural networks that mimic the neurons in the brain. The data that enters the system is further separated to identify the best match. It then attempts to evaluate the meaning of text and match it with the best outcomes by analyzing every letter of the message. 
Acoustic data. This type of data is used to categorize audio signals or sounds into predefined groups based on the environment in which it was recorded.
Filtering out ambient sounds. In addition to words spoken, some ambient sound is often picked up by AI systems. Being sensitive to these sounds can separate the message from any noise with the help of a strong neural network.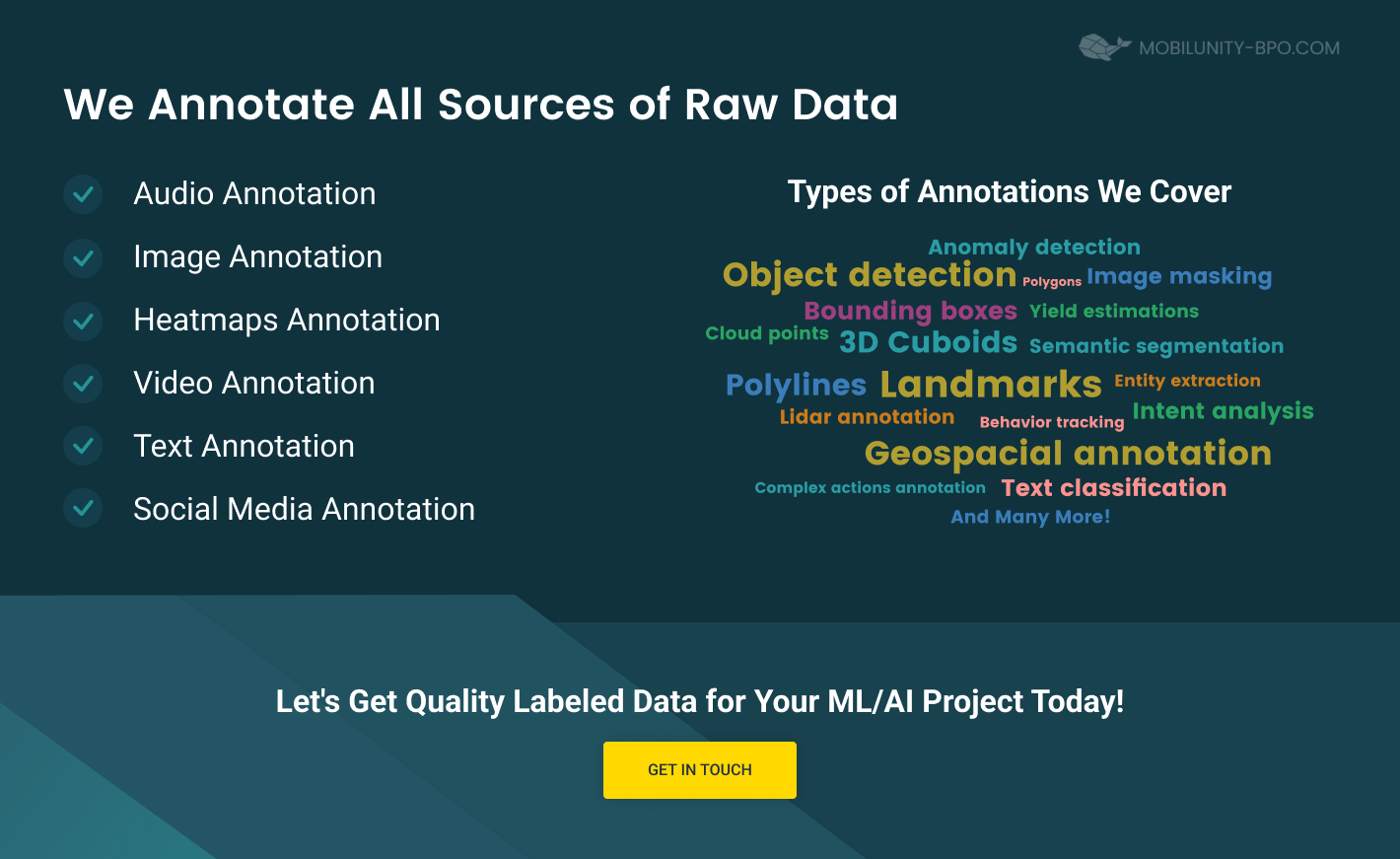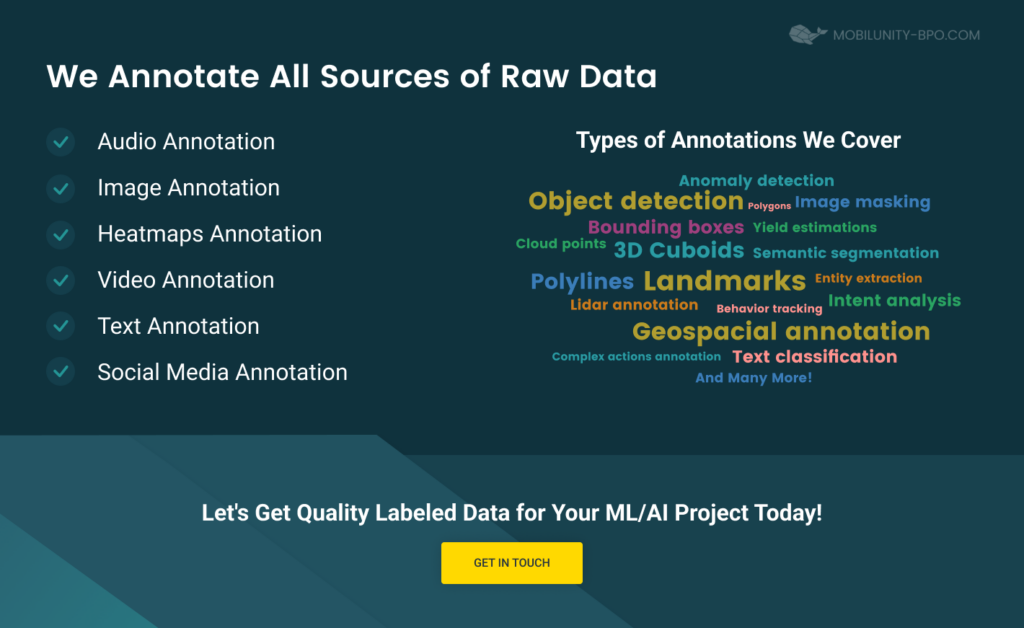 Use Cases of Audio Annotation in Different Industries
With the rise of AI in business, it's important to know that a large range of AI use cases can be completed using data annotation. Some of these include: 
Virtual assistants. While virtual assistants aren't a new concept, they are increasingly becoming more human. With voice AI, virtual assistance can now help with more detailed tasks and provide answers to key queries. 
Biometrics. Voice AI can now be used to create highly accurate voiceprints that effectively serve as a touchless option to automate certain activities such as entering a room or starting a financial transaction. 
Voice-enabled mobile apps. Retailers that use apps make it easier for users to navigate menus, offer faster search functions, increased accessibility and improved accuracy.
IoT. Custom voice systems can improve the overall user experience for IoT devices and systems. In turn, this improves smart home technology and ensures more accurate outcomes. 
Websites. Voice-enabled websites can benefit from effective filtering capabilities and use voice for enhanced customer service experiences that are available with accurate real-time responses, 24/7.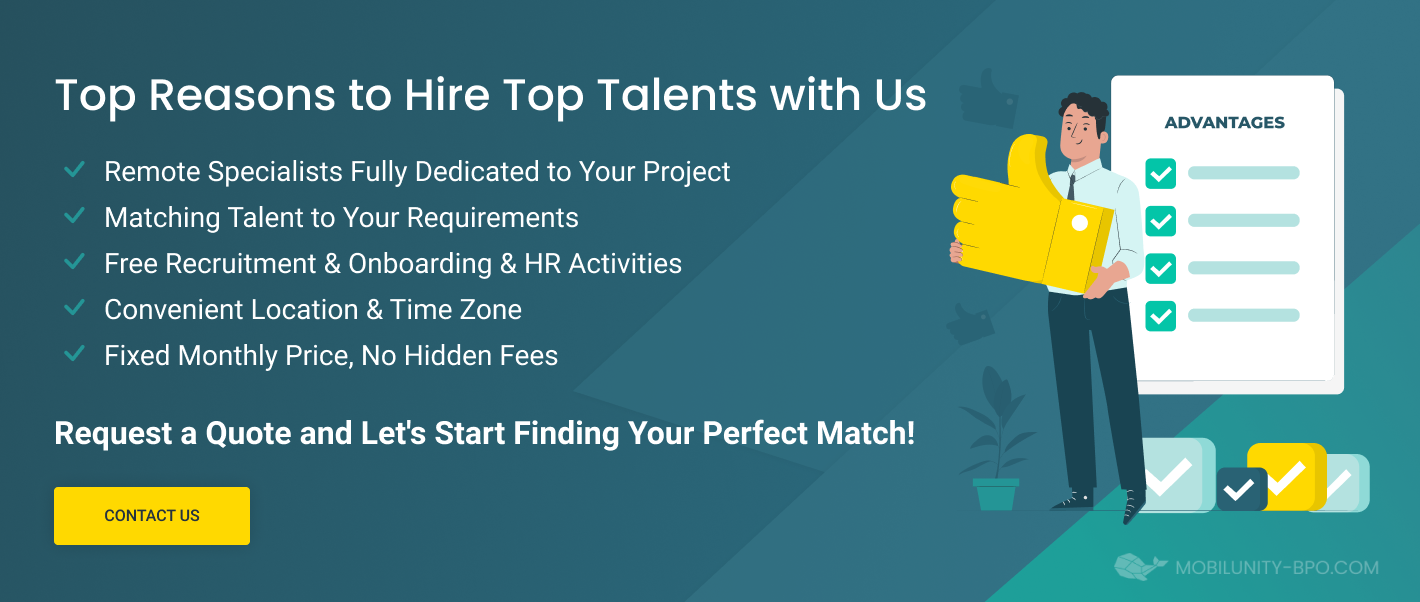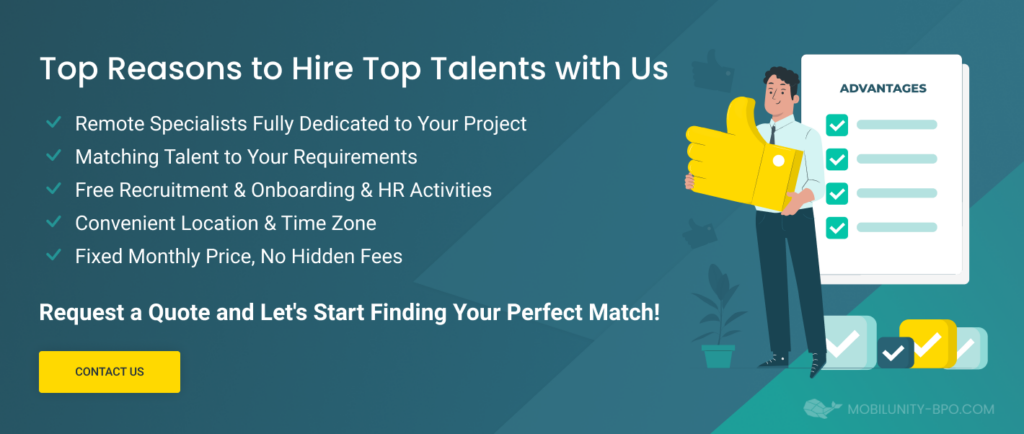 Audio Annotation Services That Are Required for Various AI Algorithms
The following services are typically required for different AI algorithms during the process of natural language annotation for machine learning:
Audio Classification. The process of audio classification is used to organize audio based on dialect, language, semantics, and many other features. Audio classification is used in many different natural language processing applications to provide

natural language annotation services

including automatic speech recognition, chatbots, text-to-speech, and more. 
Audio Transcription. Audio transcription is the method of translating spoken language into written language. This method is needed to accurately program AI systems to understand human language. 
Audio Translation. Audio translation uses large batches of content and translates it into multiple languages for an application. Translation can help you to attract the attention of different prospective clients, launch an internationally recognized product, and turn potential customers into preachers for your brand.
Audio Data Collection. Audio data collection is the process of gathering audio data from a variety of different sources. For automatic speech recognition systems and virtual assistants to recognize human speech, they need to be exposed to big quantities of quality audio data and use part-of-speech labeling services.
The Top Speech Annotation Tools
For successful voice annotation projects, the right tools have to be implemented. Here are some of the top voice and speech annotation tool resources to consider: 
Scale. Scale is a voice annotation online tool specializing specifically in audio annotation and speech annotation aimed at natural language processing. This audio annotation services tool is integrated with machine learning, so all you need to do for getting

audio linguistic annotation services

is send your data to Scale's API and it will do all the work for you.
Annotation Pro. This is one of the great tools for speech annotation of audio and text files, and for NLP part of speech tagging. With the tool, you can build many time-aligned annotation layers and it is easy to select a variety of fragments of recordings.
Prodigy. Prodigy is a scriptable annotation and tone tagging tool that brings together state-of-the-art insights from user experiences and machine learning. With Prodigy you can adopt a more agile approach to data collection and take full advantage of modern machine learning.
Benefits of Outsourcing Speech and Voice Annotation to Professionals
When it comes to investing in speech and voice annotation, NLP tagging, nlp annotation services, ai image tagging and part of speech labeling services for your business or a new project, you have to consider which type of hiring model is best for your organization. 
Many businesses opt to outsource these services because they are so specialized. Here are some of the reasons to outsource annotation services to professionals in audio data annotation: 
Lower costs. Outsourcing annotation services comes with the freedom to choose a suitable pricing plan for your needs without having to compromise on quality and accuracy.
Higher accuracy. The quality of annotated data can decide your project's success. A big advantage of outsourcing annotation is that professional teams feature skilled and experienced professionals who may work faster and more accurately than some internally resourced teams.
Enhanced efficiency. Outsourcing your voice annotation project to a highly trained and dedicated team can mean that your project is completed fast and efficiently, saving you valuable time.
Freeing up valuable time. Outsourcing companies employ key workers with years of expertise who can manage the task effortlessly. This frees up valuable time for other workers to focus on core tasks. 
More room to scale. You can optimize their resources when there is an input surge and pay only for that. In simple terms, you can expand the team when the input is high and downsize if there is no requirement. 
Most outsourcing companies employ highly skilled and experienced speech labeling and voice annotation workers, have access to the latest tools, and perform a robust quality control process that offers nothing but quality output.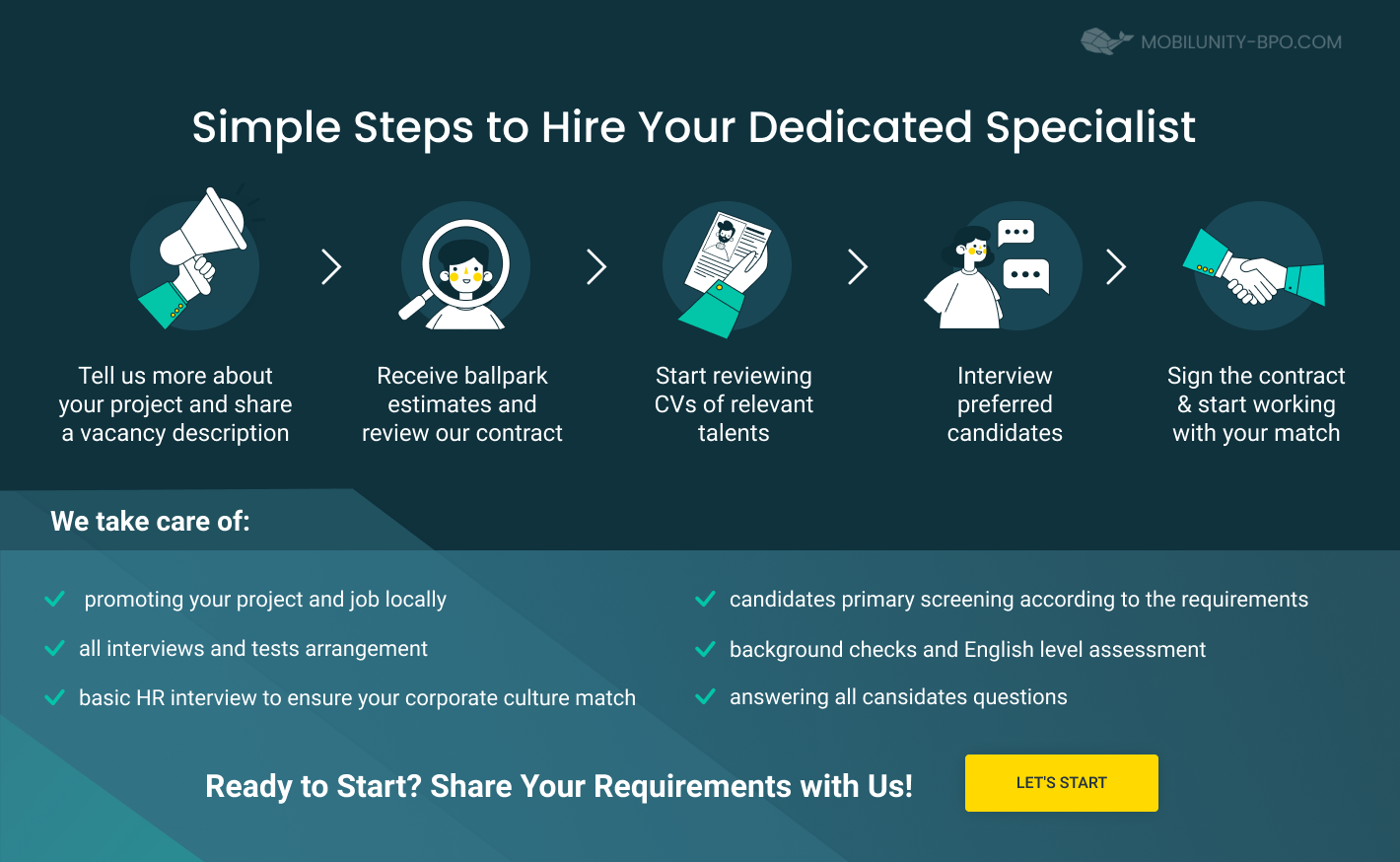 Mobilunity-BPO.com: a Trusted Partner for Speech and Voice Annotation Services
With over ten years of experience, Mobilunity-BPO.com is a leading choice for outsourcing data annotation, transcription, tone annotation, audio and speech annotation, advanced parts of speech labeling and other services. Based in Ukraine, we take pride in having access to a large pool of highly skilled talent that has worked with businesses, big and small on a variety of projects. 
So, what sets Mobilunity-BPO.com apart from other outsourcing companies? It's simple: Our clients choose us because our hiring and onboarding process is simple but effective. It includes the following steps: 
We work with you to find out exactly what your requirements are. 
We assist you in finding the most suitable prospects and put them through sufficient testing and vetting processes. 
We assist with the onboarding process and ensure both you and your candidates collaborate well throughout the partnership. 
Because of the benefits of working with us, we have partnered with businesses around the globe in many different industries, including communications, data management, hospitality and more. 
Our Voice Annotation Services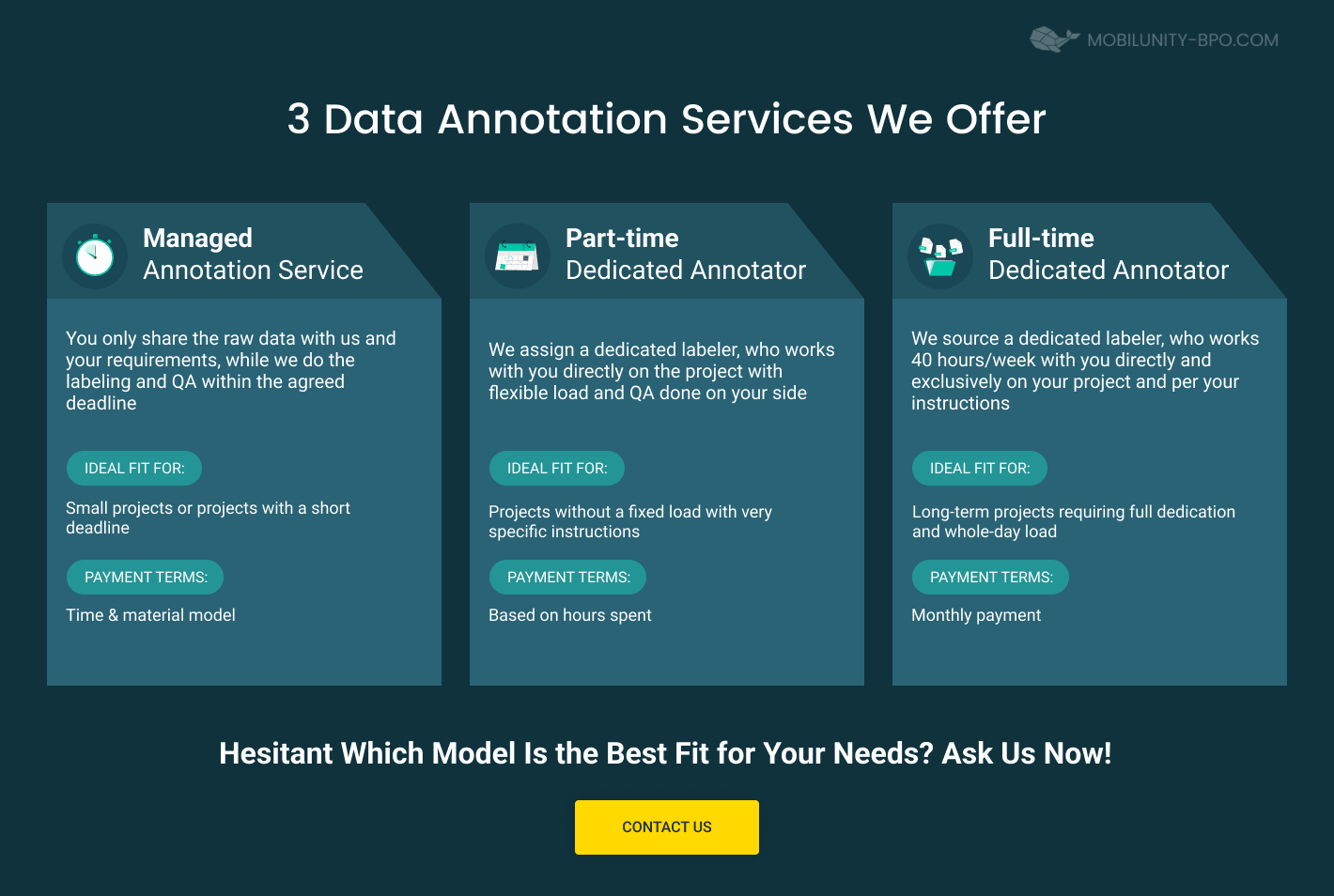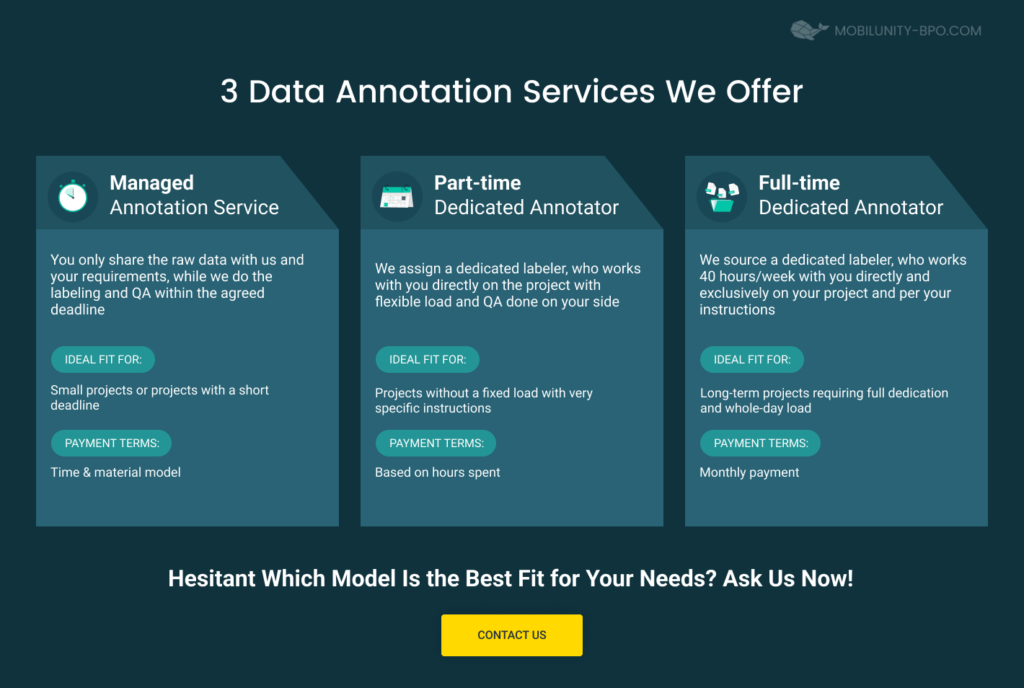 Managed Speech Annotation Services 
This service involves you sharing your data and requirements with us, and we complete your annotation tasks within the set deadline.
Part-Time Dedicated Voice Annotator 
You get access to a dedicated annotator who works with you on your project exclusively until all tasks are completed. 
Full-Time Dedicated Tone Annotation Specialist 
You get access to a dedicated annotator who works with you for up to 40 hours a week. They work exclusively on your project and per your instructions. 
If you need voice annotation services for your business or new project, talk to the experts at Mobilunity-BPO.com. Let's help you source the best talent hassle-free!