Signing Up for Offshore BPO Service: Pros & Cons
Have you heard about Business Process Outsourcing before also known as BPO? This is a type of practice done by organizations so essential tasks can be done by people who are outsourced from diverse places.
Offshore BPO started in the manufacturing industry. Companies used to hire third-party vendors so parts of the supply chain can be completed properly. Third-party vendors are more skilled to do their tasks effectively. The costs will be lower as compared to having an in-house team. Companies started to see the advantages and they have looked into outsourcing too.

Industries and Businesses Where Offshoring Can Be an Advantage
Do you realize that today's most competitive companies rely on offshore BPO services? Outsourcing allows employees to become efficient. They can focus on their strengths and get paid the way they want. The costs will also be greatly reduced for companies as they are hiring people from diverse countries.
Companies get to focus on the core business activities to improve the enterprise. The outsourced workers from an offshore BPO company will be working on their specific tasks. These are the industries and businesses that can benefit a lot from offshoring:
Accounting and Finance – Those who are still part of SMEs can attest to this. It can be hard for people to learn the ropes of the industry without proper knowledge. By outsourcing professionals from offshore BPO who know more business owners can focus on the other aspects of the business.
Customer Support – Offshore businesses always need to take good care of their customers. The more that customers feel that they are being given attention, the more they will feel closer to the organization. Having the right outsourced employees can provide the best solution.
Marketing – This industry can benefit a lot from offshore outsourcing. Marketing can be done from different parts of the world. Employees do not have to be in-house to do their jobs well. They can coordinate with other remote employees from different places as long as they would agree on a specific time to meet. People can do their work on their own time and still get their tasks done.
Learn more about the importance of outsourcing when you check here.
Types of Outsourcing Models for Offshoring
Getting offshoring outsourcing is one of the ways by which businesses can save some money. It is only natural for them to come up with some business models that will be effective in improving their services without making the costs higher.
1. Global Shared Services
This is a type of outsourcing model that is more collaborative. Some of the business functions companies would need to do will be done by another business center. There are also instances when more than two businesses would collaborate so products can be created.
For example, a business that creates alcohol atomizers can collaborate with another business that does sticker customizations. The services can be outsourced and shared which means that these two collaborative businesses will be able to save more money in the long run.
2. Multi-sourcing Model
This means that a corporation will have a contract with different existing vendors regarding the services needed by the business. Instead of having a whole full house of facilities that would require a lot of money to do, they would invest in having people make those services for them instead.
The great thing about this is there is no need to have a full dependency on just one supplier. All of the tasks will be done properly. The quality of the services will also be consistent because the various vendors only need to focus on their specific tasks.
3. Global Delivery Model
This is more common for businesses that are working in the IT industry. There are a lot of IT professionals from different parts of the world who are into working on different IT projects. These complex projects can be done from a remote site. Once submitted to the business, it will still work. This can be effective in providing customized work depending on the client's requirements.
There are still other types of available business models. For instance, the BOT model or Build-Operate-Transfer model allows setting up different operation units. The offshored employees can work on what they are assigned to do. The Hybrid Model is another popular business model. This means that all those that can be outsourced will be outsourced or offshored. It would all depend on the offshore BPO service that the business requires.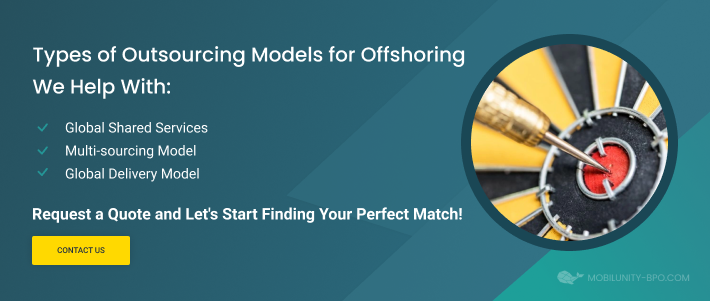 Offshore BPO Advantages
There are a lot of outsourcing advantages that companies can get. The number of companies that are doing outsourcing now has increased. This says a lot about the demand for outsourcing. These are the advantages of outsourcing that you should expect to get:
Cost reductions – You need to take some time to understand your business and goals. You can now have the time to focus on how you are going to refine your business while the other tasks and services are being done by professionals. This can reduce the costs that you have to spend in the long run.
Productivity will increase – Some people can work better remotely. Plus, they do not have to be paid as high as in-house employees. Offshore employees will have excellent work ethics that are vital for your company.
Cater to the changing demands of customers – You have to anticipate that there are things that they would want immediately. Through offshoring, you can have employees who will offer flexible and scalable services so that you can correctly adjust the needs of your company.
Scalability is improved – You do not have to hire an in-house team. You will have all of the resources to focus on the core of your company.
Ability to create remote workforces in different destinations – It can be appealing to have workforces coming from different parts of the world. This is beneficial for start-ups.
Offshore BPO Disadvantages
It is only natural for companies to think about things that will be more profitable for their business in the long run. While there are a lot of advantages, you should know more about the disadvantages of BPO offshore outsourcing too:
Security Risks – You are required to provide some business information to other companies or other people. You need to fully trust them before you can give them confidential information.
Time Zone Differences – People who are working remotely will come from different countries. Coming up with the best schedule can be infuriating.
Hidden Costs to Watch Out – Beware of some hidden costs when you are trying to operate from a different country. Be vigilant and familiar of the rules and regulations before you can push through.
To summarize, check this table: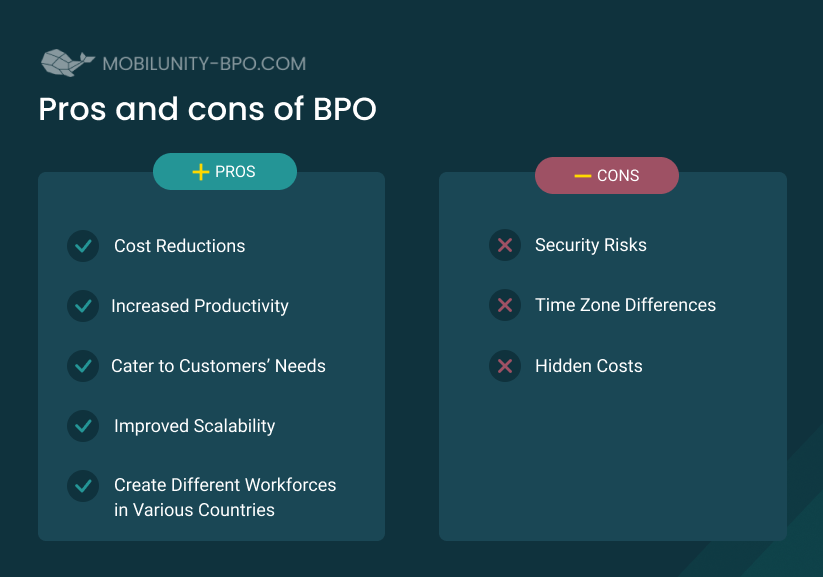 Checking out BPO Mobilunity-BPO
Different business outsourcing companies are available. You want to work with the best. You need to work with a company that will provide you with dedicated remote employees by providing offshoring outsourcing. This will ensure that the operations will be done well. They can focus on their expertise while you can focus on the core of your business.
Our Ukrainian-based company started in the year 2010 and we have managed to provide clients with help for their operations. We know how important it is to perform tasks that will keep customers happy. Your company deserves to become noticed. We have a list of capable outsourced employees from different countries.
We focus on providing the following:
Customer Support – We can help you create dedicated customer support teams to help your startup or your large company.
Back Office Support – We can help you in recruitment so that you can find the right people for your company for different industries.
Data Annotation – We can give you the services that you need for the requirements needed for your project.
BizDev and Marketing – We have different professionals who have expert knowledge in marketing, lead generation, and SEO.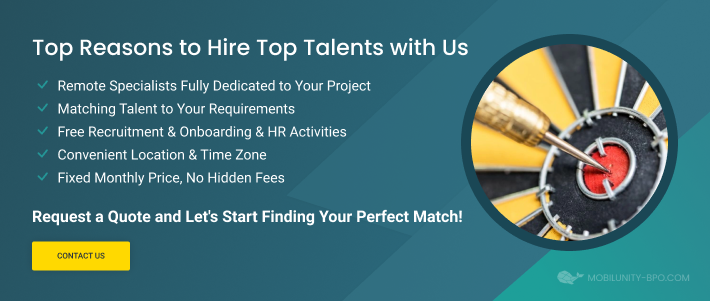 We follow a process to ensure that you will get what you deserve. The key steps to be followed are the following:
Submit the request that will come with the requirements for the tasks to be done.
Call our sales manager to finalize all the details.
You should look over the agreement and sign it if you agree.
Start reviewing the different candidates that will be shown to you depending on what you need.
Sign the contract and start working with the perfect candidate for the job you are offering.
We make sure to provide the offshore BPO service you are searching for. Get in touch with us soon for more details.
Conclusion
If you are looking to expand your business without the added costs, then getting offshore outsourcing services can be the best option. Be sure to weigh the pros and cons so that you can find the best solution for your business. Contact us at Mobilunity-BPO for your questions and inquiries.