Polygon Annotation Services Benefits
The key feature of machine learning is the word "learning," the ability of the system to analyze its work and improve it without outside interference. Data annotation and data labeling are the things that support machine learning in that goal. 
Data annotations are inevitable because AI and machine learning models must be consistently trained to achieve desired results more efficiently and effectively. In supervised learning, the process becomes even more important because the more annotated data fed into the model, the faster it learns offline learning.
For example, if we need to talk about self-driving cars that rely entirely on data obtained from various technical components such as computer vision, NLP, sensors, and more, data annotations are what pushes algorithms to make accurate decisions, driving every second. 
What Is Polygon Annotation, and What Is It Used for? 
In real life, we encounter objects of various shapes, but most are incorrect. This complicates the whole process of recognizing things.
Polygonal annotations solve the problem described above. They cover more lines and angles than other data annotations, help understand an object's real shape better, and facilitate image segmentation for better image processing. 
So, as you now know, image annotation is vital for modules involving face recognition, computer vision, robot vision, and more. When AI experts train such models, they add captions, identifiers, and keywords as attributes to their images. The algorithms then identify and understand these parameters and learn autonomously.  

Practical Cases of Polygon Annotation Usage 
With the help of more accurate systems, polygon annotation tools increase the efficiency of learning and obtaining results. Here are some examples of how they are used in practice: 
Polygon detects irregular shapes for computer vision 
Polygon helps in recognizing irregularly shaped objects: road signs, logos, football players in various unusual poses, everything that is important for data analytics in any sphere of life. 
Polygon for aerial view images 
Polygon annotation services provided by our specialists will help drones and satellites precisely detect objects like houses, parking, parks, cars, etc.
Polygon for Asymmetrical Semantic Segmentation 
Semantic annotation is when objects, products, and services are made more relevant with appropriate tagging and keyword identification options. 
In this case, polygon labeling is used in machines that work autonomously or in robotics. Polygon labeling tools help the computer to see and partially understand what is happening around it. 
Which Industries Use Polygon Annotation Services?
Polygon annotation is used in various industries: 
Robotics: its main advantage is 3d labeling which makes it possible for machines to keep away from moving objects, including alive objects. 
Automotive: used for both vehicles that ride and fly. L

abelbox image segmentation

 allows cars to avoid critical situations, and drones fly freely and accomplish tasks that were set for them. 
Healthcare: label polygons can be used for robots that conduct surgeries or to work with DNA, and in general, to make the work of tools in healthcare facilities more efficient. 
Retail: Polygon annotation can be used for marking the products in customers' storage. 
Agriculture: bounding box annotations are used to follow the growing process and detect unusual changes in it.  
Top 10 Polygon Annotation Tools 
In Mobilunity-BPO, we make sure we use the best annotation and labeling tools. Here are the top 10 polygon annotation tools for performing annotation services bpo preferred by our clients:
Label Studio. It is a tool that was created by Hartex Inc. Label Studio works with various types of data: image, text, audio, etc. 
Dataturks. Dataturks is an open-source platform. It is available for free for different types of annotations and related services, including

video annotation services for computer vision

.  
Diffgram. Diffgrams differ from the other tools by providing annotation services and various dataset and workflow management capabilities.  
COCO Annotator. It has many features, such as labeling the image segment and tracking object instances by safely storing them. 
Labellmg. It is suitable for different operating systems, such as Linux, Windows, mac, and others. This tool is the good one if you just start working.  
Make Sense. It uses AI technologies to make the work more productive; you also don't have to worry about data protection because they don't store the images you upload.   
VIA. It was founded by VGG enthusiasts from Oxford University and is very efficient to use. 
CVAT (Computer Mission Annotation Tool). It is a free source with diverse functions.  
Image Tagger. Image Tagger was initially made to cover the needs of the Robot World Cup.
LabelMe. Most of the people that use LabelMe call it the most usable. It works both online and offline. It suggests polygons, circles, lines, etc.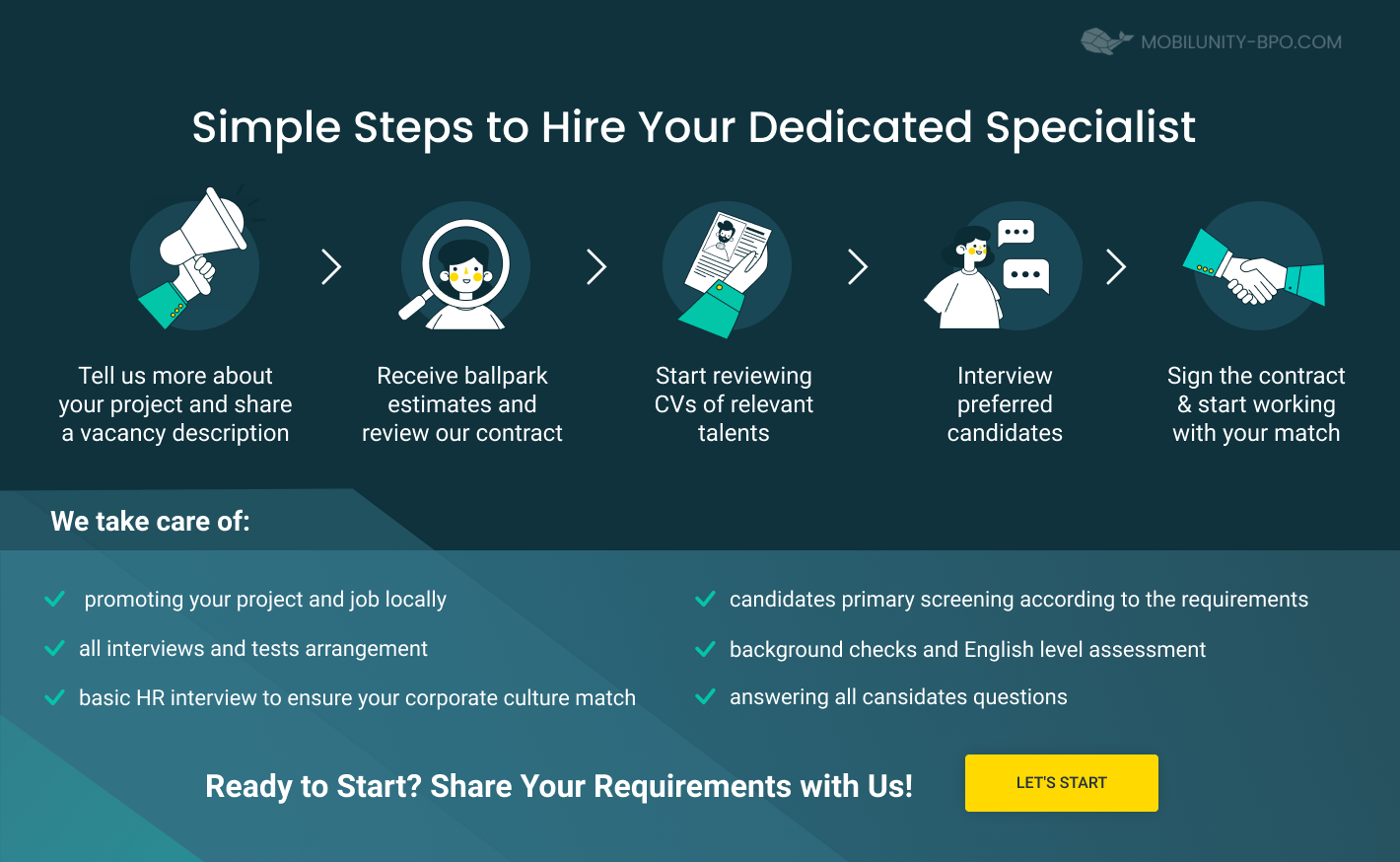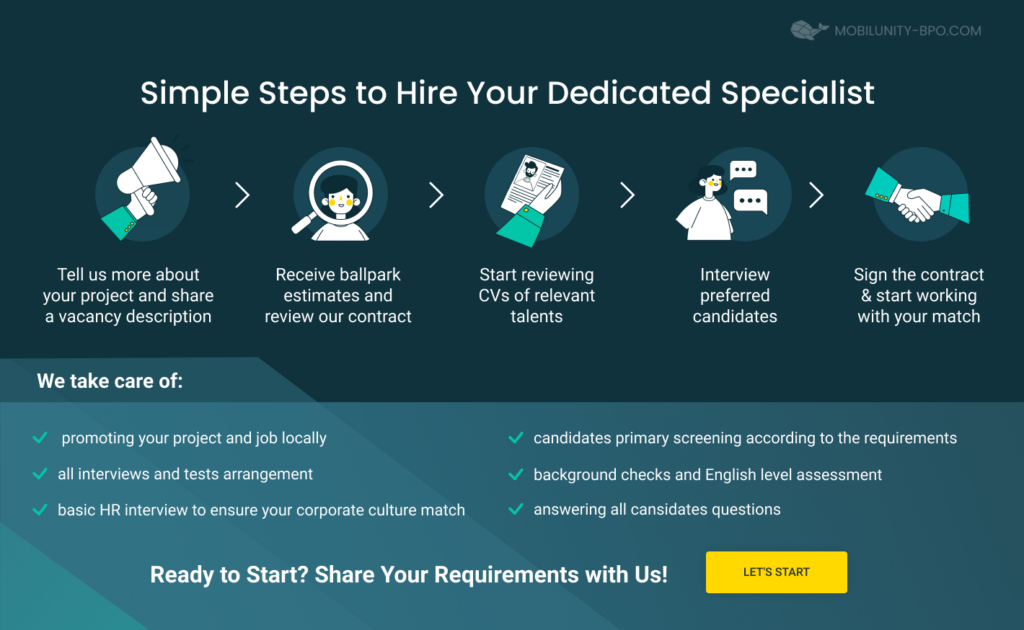 Why Choose Outsourcing Bounding Boxes Annotation 
Outsourcing annotation, including 3d cuboid annotation services, and manual data entry jobs may be a perfect solution for many companies looking to optimize costs and get annotation of large volumes of data fast. The main benefits of outsourcing polygon data labeling include:
High quality-price ratio. If you have a limited amount of resources and can"t afford to hire a full team or even a member of the company, outsourcing is a great solution. 
Secure and protected processes. Companies that provide outsourcing services always take care of the data and have experience in protecting it in different ways.
Scalable services. The outsourced team knows all the software that is relevant to their operations. They know how to track statistics, build a site or conduct quality control. They already have important techniques and tools. 
A wider pool of talents. Especially if you don't have the right person on your team, outsourcing will play into your hands. It's not magic, but it helps conserve various resources, not just time and people. You don't need to expand the project – just outsource what you need. 
Great experience in the needed industry. Having a company requires the use of many novelties that arise every day. People who work in the same field mostly monitor trends and know how to solve tasks on

bpo annotation services

more productively. As a result, you will provide your company with novelties that keep up with the times or even go ahead of them.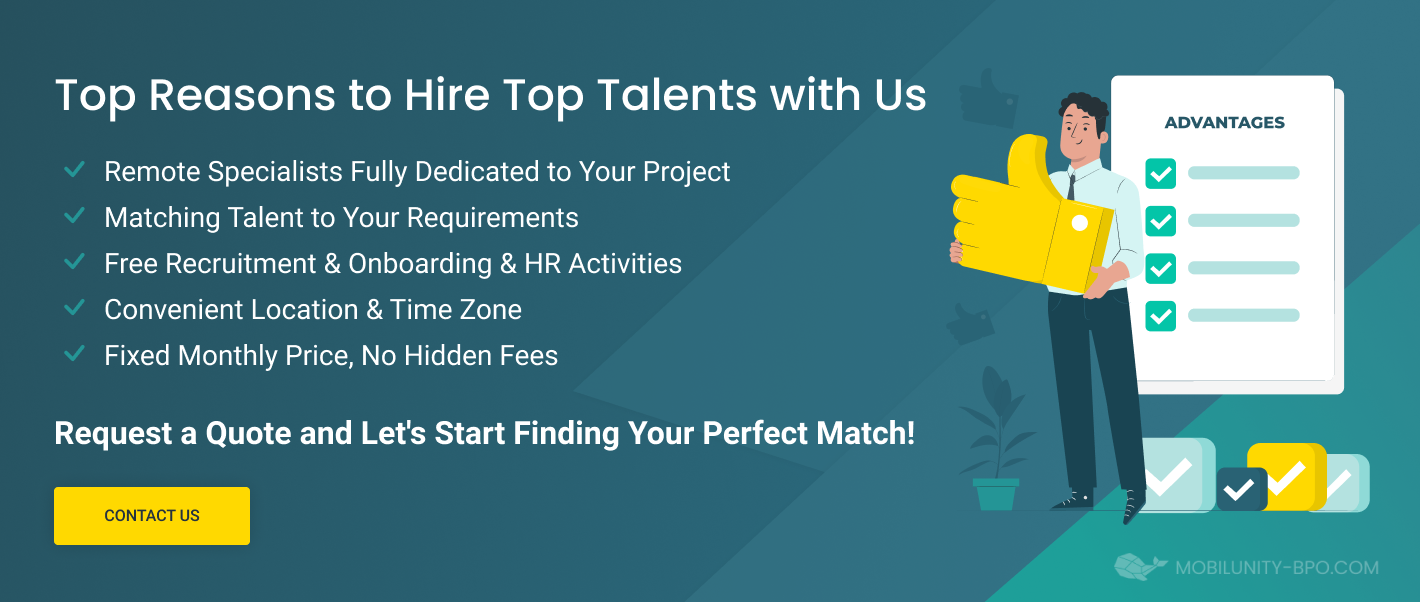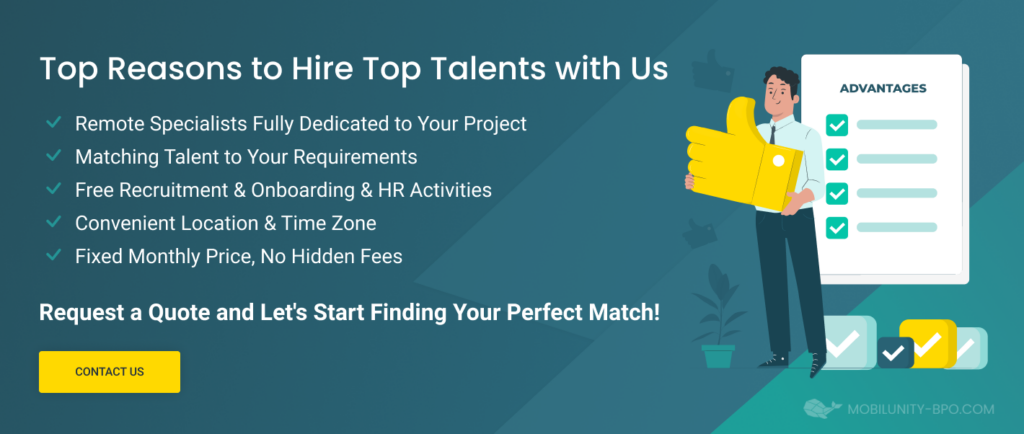 Reasons to Choose Mobilunity-BPO for Polygons Annotation
Mobilunity-BPO is a Ukrainian company with a 12-year of experience in the market. We have started our long and successful journey from being a marketing agency and then started to provide outsourced services. We also specialize in hiring dedicated teams for various projects in Retail, Healthcare, Automotive, Education, etc. 
We provide various possibilities for hiring labelers. You can hire a dedicated team/specialist (which will be good for long-lasting projects; the labeler would be able to learn your AI better and become part of a team) or choose a managed service (you hire a team of part-time labelers working on your project simultaneously. It is good for a short-term project where only a specific dataset should be labeled, or the need for labeling is not stable from month to month).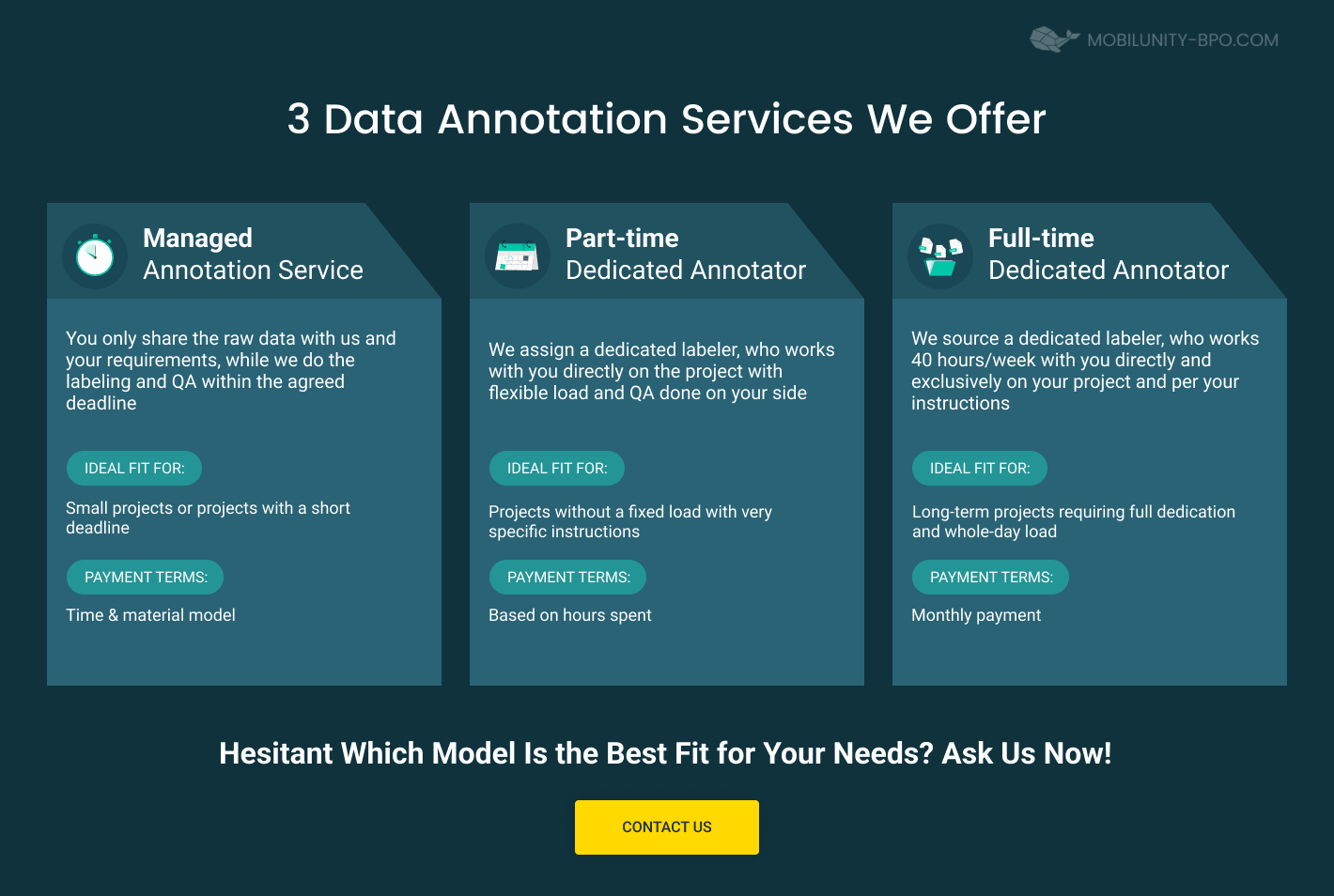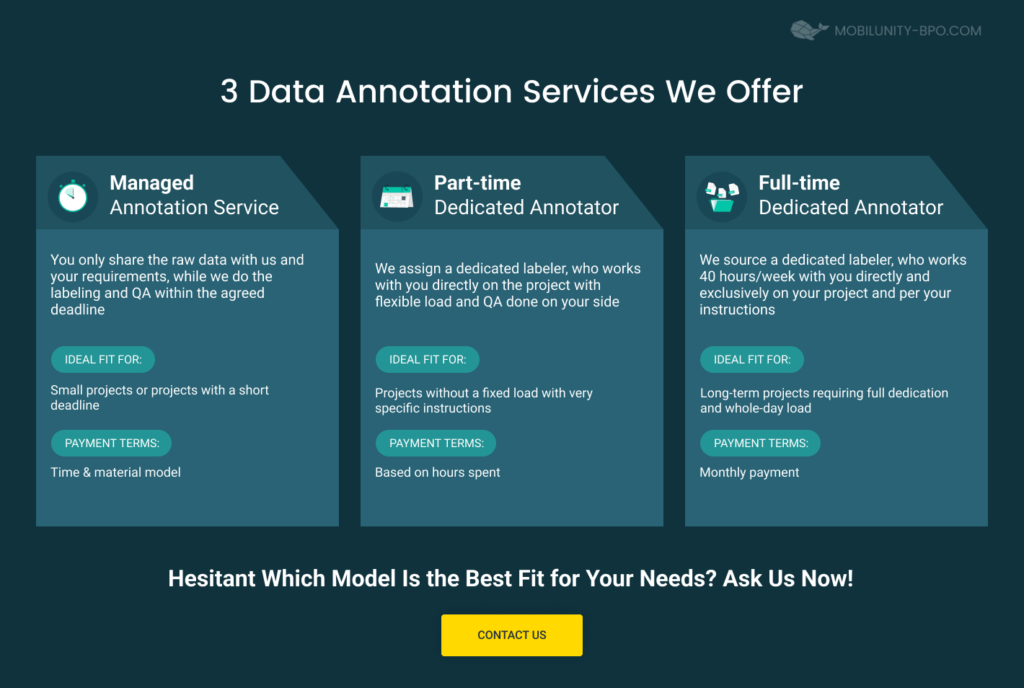 Our processes are established and checked with years of experience. We make it as comfortable as possible for our clients.
If you're looking for polygon annotation services, the Mobilunity-BPO team is always ready to help. Get experienced help right now!