Background Removal and Image Masking Services for AI
If you've ever dealt with image editing, you probably understand that it isn't always a simple task. That is especially true for photo masking.
Fortunately, some specialized image masking services use AI to minimize manual work. Still, the algorithm responsible for this must undergo a significant development path to perform top-quality image background removal.
Wondering what those AI-driven tools for masking photos are? Or maybe you want to create your own? Learn everything about an image masking service in today's post.
What Is Photo Masking Process and Why Use It in AI and Computer Vision?
Image masking involves processing photos using particular Photoshop-type software to cut out the background or highlight a specific object on the picture.
The process of masking pictures typically helps with the following tasks:
Concealing or revealing the objects
Deleting or replacing the backgrounds
Adjusting the image spacing
But why use background removal services in artificial intelligence and computer vision?
You've probably seen plenty of mobile, web, or desktop apps that leverage AI to remove backgrounds on pictures. Though these applications may work as convenient tools for end users, their development process might not be so straightforward.
For algorithms to correctly distinguish objects and cut them out, they must first be trained to do so. For this purpose, computer vision image annotation specialists manually perform photo masking. As a result, they train the neural networks to extract or blur backgrounds, highlight objects, etc.
Image Masking Annotation: Use Cases in Different Industries
Professional image masking services will be helpful to companies in various industries and for different purposes.
The primary purposes are as follows:
First of all, masking can be used for background removal. It allows you to separate even the most complex background from the object, leaving all the details in place.
Photo masking lets you cut out the exact object you need.
Masking photos make it possible to create transparency in the background without compromising the clarity of the main object.
You can use masking to create photo collages, ads, and other designs.
Masking images allows you to change the background for selected objects, making the photo more attractive.
Like complete background replacement, masking allows you to change the background color.
All industries dealing with visual content and image editing can benefit from photo masking services or video annotation services. Here are some fields that will get the most advantages from bpo photo services:
eCommerce businesses can use photo masking to highlight their offered products better. 
The design industry can use AI background removal for faster photo editing.
The marketing field can use photo masking to create unique advertising photo content.
The media industry can use image masking for their visual content.
These are just a few fields that we have provided as an example. Although object masking will be handy for any industry that deals with visual content. These can be even such specific niches as face recognition video surveillance.


Popular Image Editing Tools That Use Artificial Intelligence Picture Masking
As already mentioned, some tools use the neural network for image masking. If you need such software or want to see how these applications work, continue reading our article.
Let's now look at the most popular picture masking tools that use AI:
Although these popular tools deliver good photo masking results, you may still want to develop a solution that will be more accurate. You'll require manual AI image tagging and image masking services for this. The better you train the neural network, the more accurately your app will remove the background.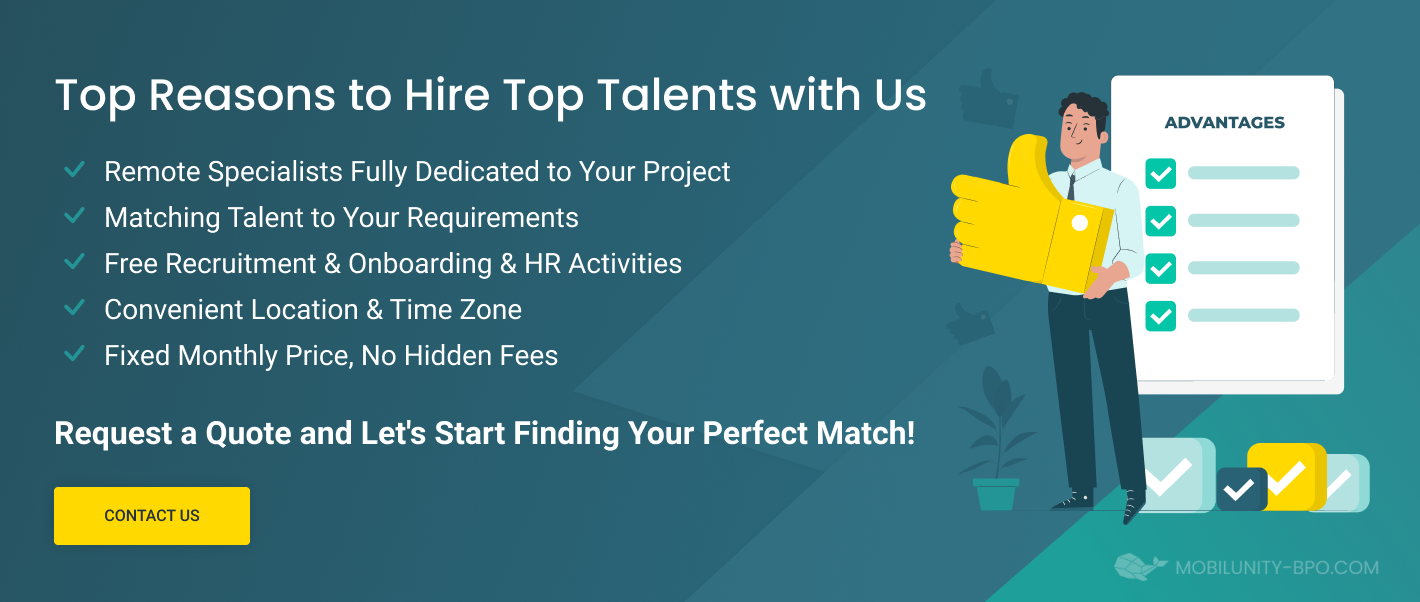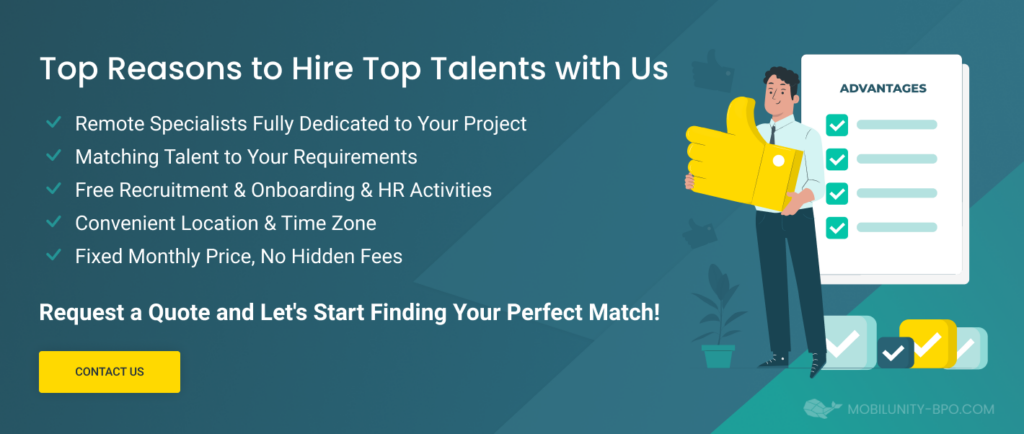 Various Image Masking Services You Can Use
If you aim to build your photo editing AI-driven tool that enables swift image masking and background removal, consider the following services:
Layer masking. You can opt for masking an image layer. The specialists can manually do this through such photo editing tools as Photoshop. They select the layer and put the mask on it. As a result, you'll get a highlighted object layer that can exist without context.
Alpha channel masking. Some images may need a distinct masking approach. It's especially true for photos containing fur, feathers, hair, and smoke, i.e., objects hard to cut out. This method uses channel tools instead of selection tools for a more precise background removal service.
Clipping mask. You can also create a single mask for a group of layers, called a clipping mask. Here, the bottom layer will define the edges of the whole group.
Transparent object masking. You may require such a service for cutting out transparent objects like glasses. These things are difficult to select, so the selection process requires a distinct approach. Photo masking specialists typically use the transparent object masking feature in Photoshop.
Translucent object masking. This service is similar to transparent masking, with the difference in transparency and visibility of objects. In this case, specialists need to cut out partially visible things. This approach is suitable for image background removal services of frosted glass, tinted windows, etc.
Fur and hair masking. It's worth highlighting the photo background removal service of these objects. Hair and fur have thin edges, so they can be challenging to cut with standard selection methods. For fur and hair masking, specialists use the AI capabilities of Photoshop, alpha channel masking, and other available methods.
Refine masking. This service provides a custom masking path, relying on various available object masking tools. It's usually used for highly textured, detailed, and hard-to-cut-out objects.
Color masking. This product image masking technique focuses on hiding or highlighting a particular color. This service will be helpful if you want to conceal or show some parts of the photo.
Besides these machine learning image masking services, you'll likely require data labeling, e.g., photo or polygon annotation outsourcing. These will significantly facilitate your AI-based picture editing software.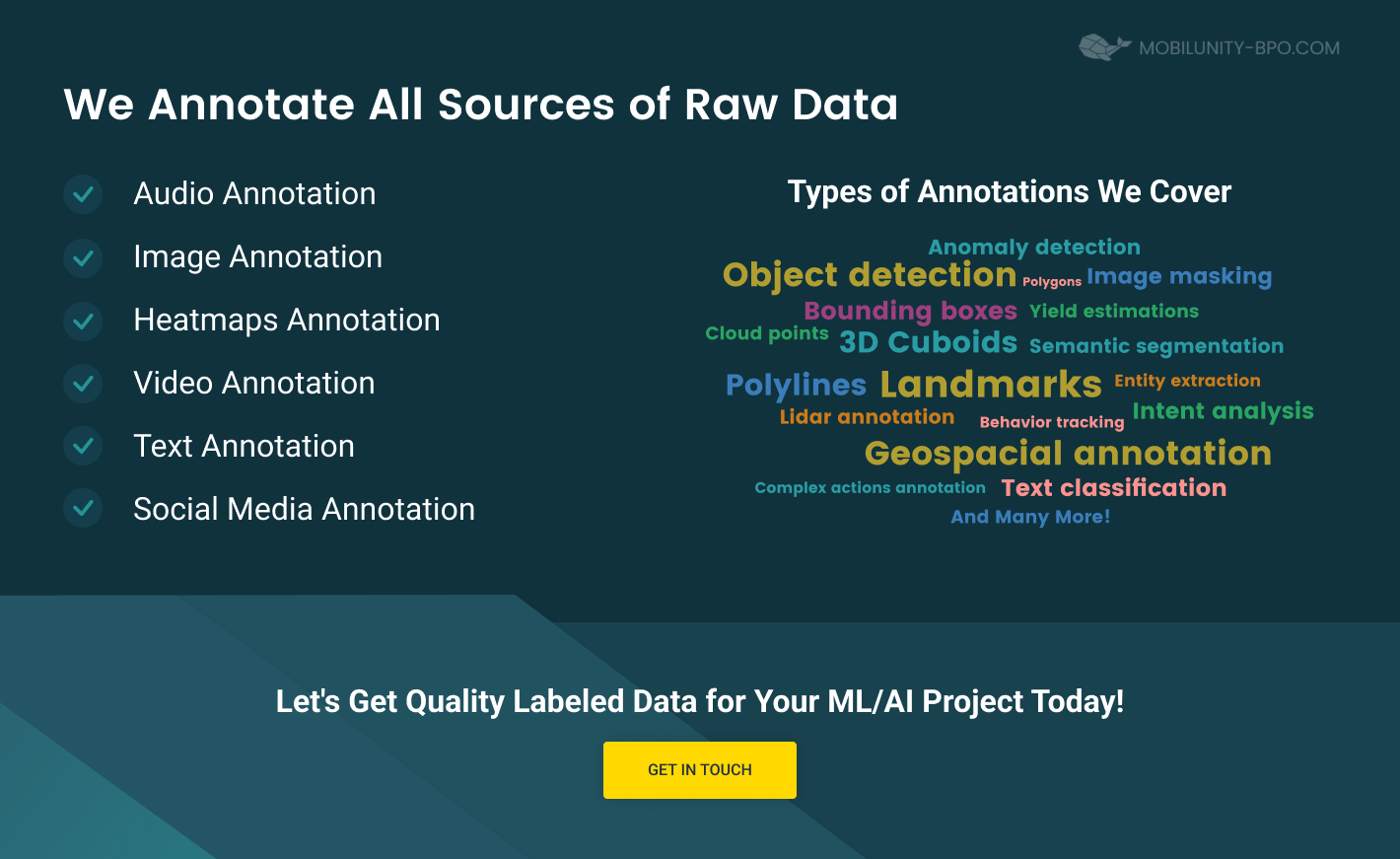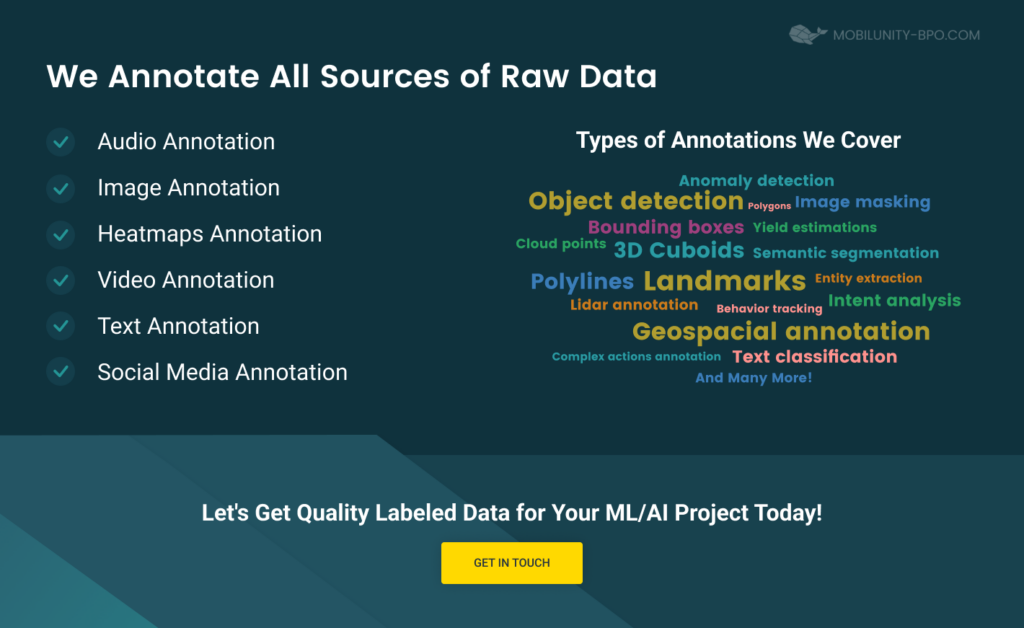 Core Benefits of Outsourcing Background Removal and Image Masking Annotation to Professionals
The primary purpose of masking photos is to cut out the unnecessary and highlight the intended area. In artificial intelligence, this process significantly facilitates the training of neural networks. But why outsource image masking services first?
Let's look at some benefits you can get by seeking professional image masking image processing assistance.
Gather your team quickly. By reaching out to a contractor that specializes in photo masking service, you immediately get the experts you need. With outsourcing, you no longer need to handle the lengthy process of selecting candidates and conducting interviews.
Scale your neural network object masking operations fast. Outsourcing is not only an opportunity to assemble a team swiftly. It also has the potential to expand your business and its capabilities. Grow your staff when you need it the most.
Get top-notch experts. When looking for an outsourcing vendor, you can get acquainted with many companies and reviews about them. As a result, you can choose the best and most experienced photo masking specialists.
Access the extensive talent pool. Outsourcing opens up opportunities for you to find highly qualified specialists worldwide. By choosing this approach, you can get an image background removal service of any complexity.
Optimize your budget. Outsourcing is one of the most profitable approaches to cooperation. You can choose an image masking service provider with the most reasonable prices and significantly reduce your expenses. This strategy is more beneficial than hiring an in-house team.
Leverage the latest tools and trends. Accessing an experienced image masking service provider means this vendor has a profound background in this niche. Therefore, you can be confident that an outsourcing company will use only cutting-edge tools and apply the most relevant photo masking trends.
Focus on your core business tasks. Instead of managing the team in masking in image processing, you may concentrate on more critical responsibilities. While your outsourced workers perform their tasks independently, you can get and check the final results.
Image masking in image processing outsourcing can bring numerous benefits to those interested in AI photo editing software development. Therefore, consider transferring these duties to a reliable vendor that'll perform laborious manual tasks for you.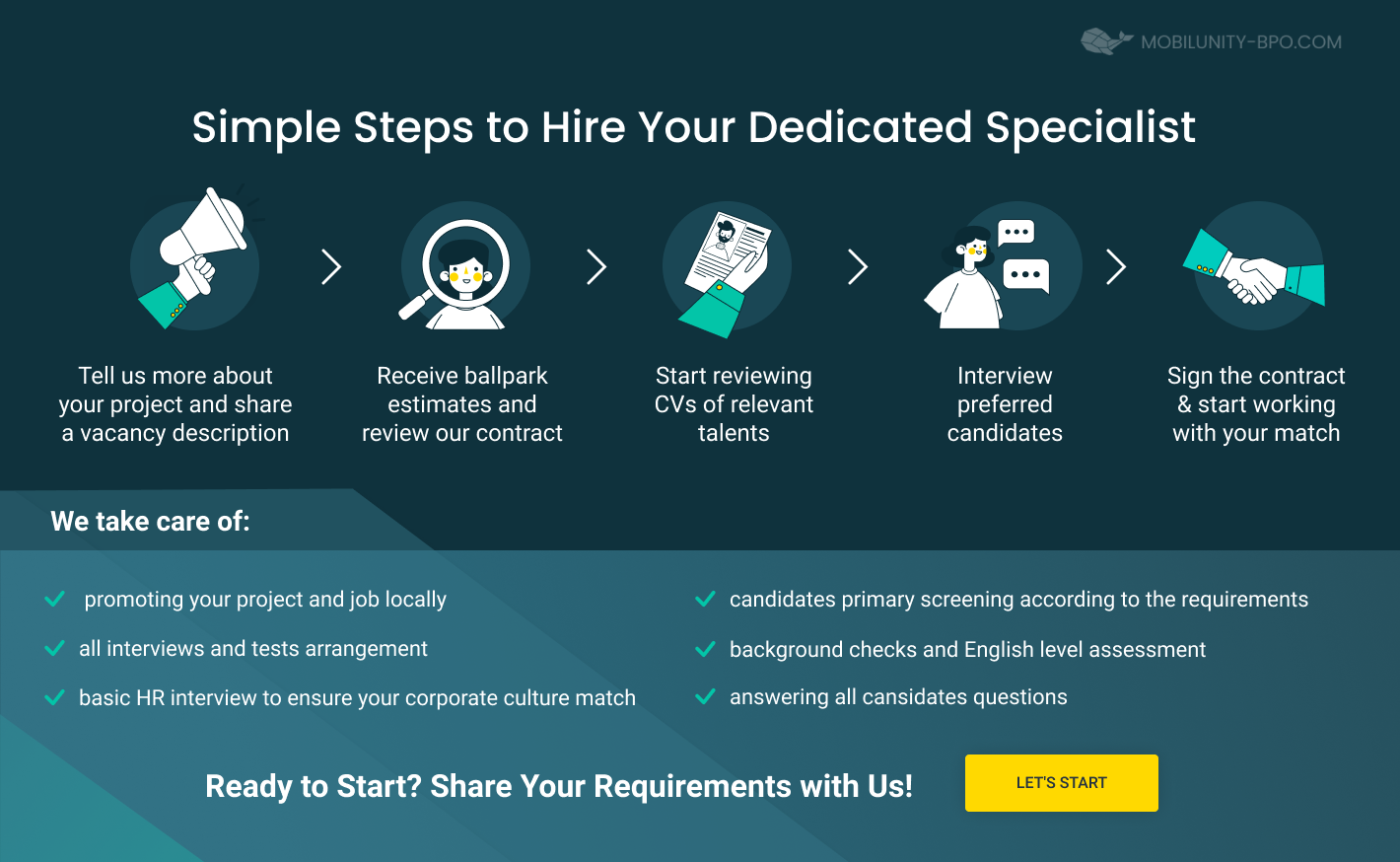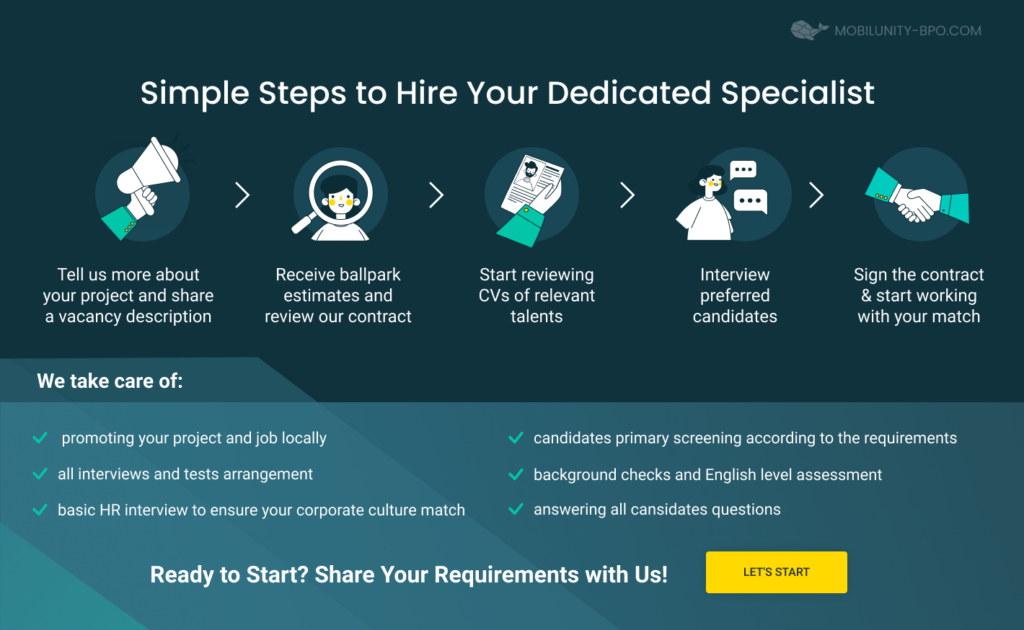 Why Choose Mobilunity-BPO for Image Masking Services?
Mobilunity-BPO is an experienced company that has been providing data annotation, data entry, photo editing, and photo masking services since 2010. Our team has over 1,000 successful projects, and yours could be one of them.
In terms of hiring, we offer two options:
Hiring a dedicated labeler and image masking specialist. This approach suggests that the expert you employ will work solely on your project, thus, becoming a part of your team and learning your AI algorithm better. A dedicated model is suitable for lasting cooperation.
Opting for a managed service. This cooperation model suggests hiring a team of part-time labelers and image masking specialists to work on your project simultaneously. This approach best suits short-term projects where you require labeling and masking a specific dataset, have an unstable need for labeling from month to month or have tight deadlines.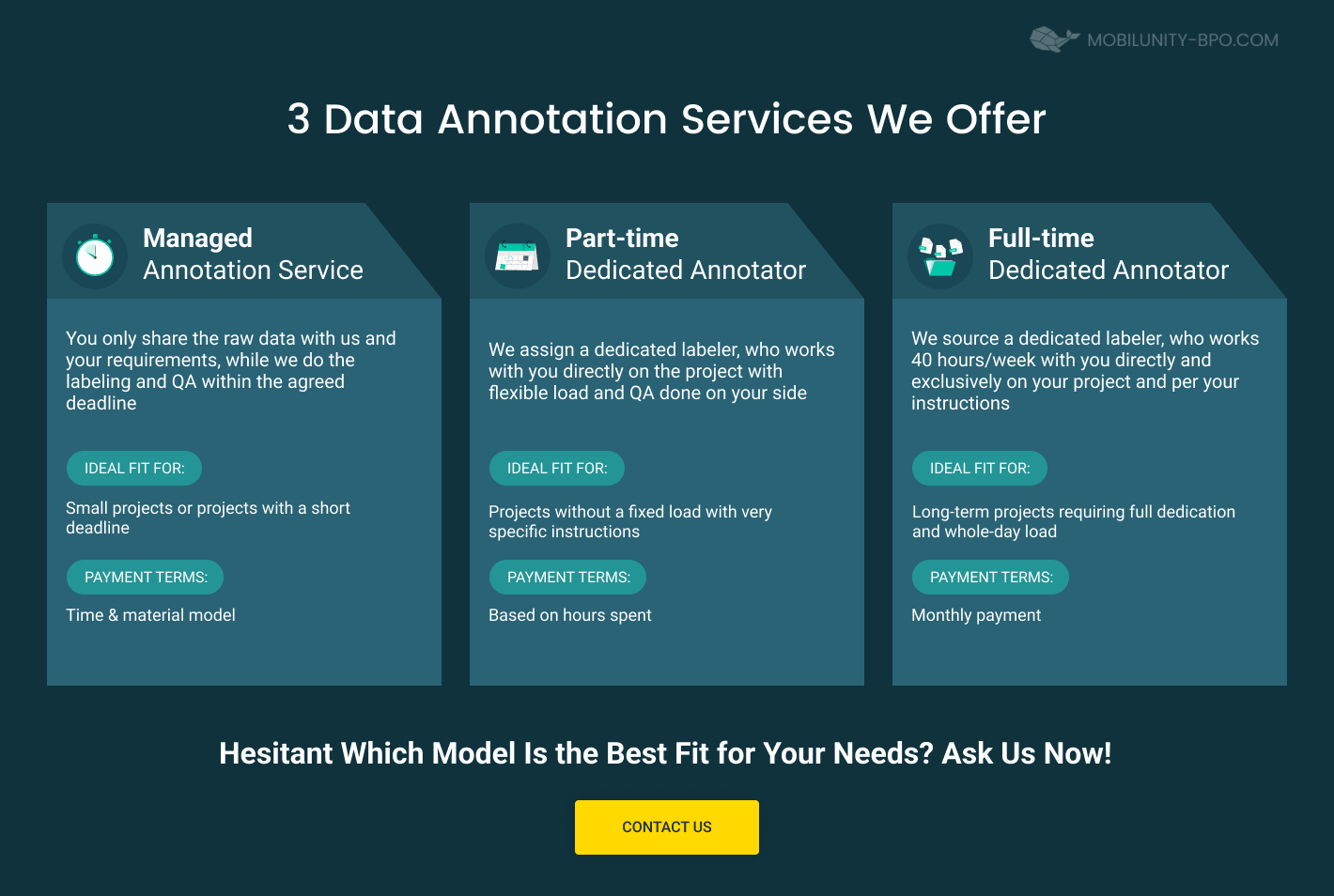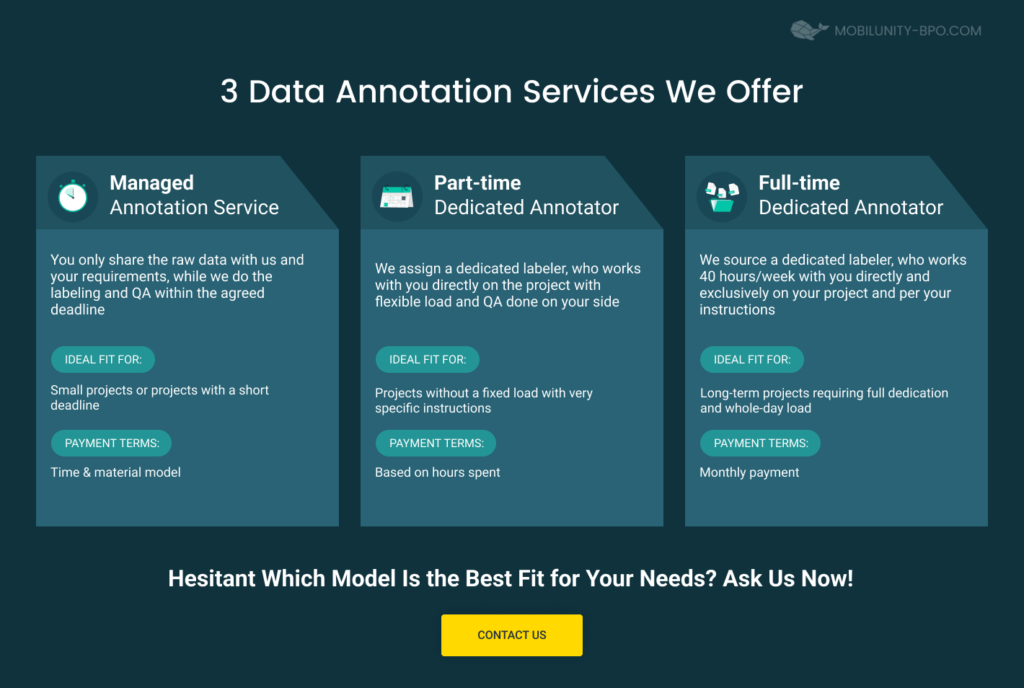 Regardless of the cooperation model you select, Mobilunity-BPO is eager to provide you with high-quality image masking services. If you want to work with us, submit your request outlining all the requirements, and wait for our instant response.
Looking for image background removal services? Consider Mobilunity-BPO as your reliable vendor to handle this job.