How to Reduce Operational Costs with Staff Augmentation Services
In the light of fast market growth and the need to react to changes, companies must seek the latest and flexible staffing solutions. These solutions, in particular, should be able to fulfill business requirements such as cost, time, and labor capacity.
Numerous progressive companies discover ways to outsource personnel duties, and this sort of work organization comes in many forms. Staff augmentation is one such trending option for businesses. It is a kind of collaboration that allows companies to save money and time, streamline operations, discover skilled specialists, and delegate work. Therefore, workforce augmentation enables one to concentrate on essential business tasks.
Staff augmentation is much more than a decision to advance the workforce; it is frequently a necessity. Often a company needs to scale quickly, or the existing staff's capabilities are insufficient to complete all the tasks. As a result, an increasing number of businesses are delegating duties to third-party companies and using augmented workforce techniques.

What Is Staff Augmentation?
Staff augmentation is a form of outsourcing that allows businesses to hire more employees swiftly when they need to expand. Companies can carry out their staff aug for both short and long run, as agreed in the contract.
This sort of cooperation is also very similar to outstaffing. In other words, if there aren't enough in-house employees, this approach allows you to assemble a team for performing particular duties. For example, there may be a shortage of skilled personnel or a necessity to scale up during a busy season.
Staff augmentation services combine outsourcing options with comfortable working conditions for the company's internal crew. In this way, businesses may reduce the costs associated with new personnel recruitment and HR services by hiring a team ready to start working on a specific project right away. Another reason companies choose this approach is the ability to launch and dissolve workforce augmentation operations quickly.
What kind of specialists do staff augmentation companies usually provide? Workers without specific skills, as well as highly qualified specialists, fall into this category.
For example, if a business requires employees for manual labor, which does not demand particular expertise, a staff augmentation company can come in handy with such personnel. Such companies also offer the services of more qualified workers with basic skills in a particular field: content creators, transcribers, translators, data processors, and more.
There is another category of workers, let's call it highly skilled professionals. These are employees who have comprehensive and in-depth knowledge of specialties. Marketers, software developers, and lawyers are examples of such experts. For instance, IT staff augmentation services are now at the peak of their popularity.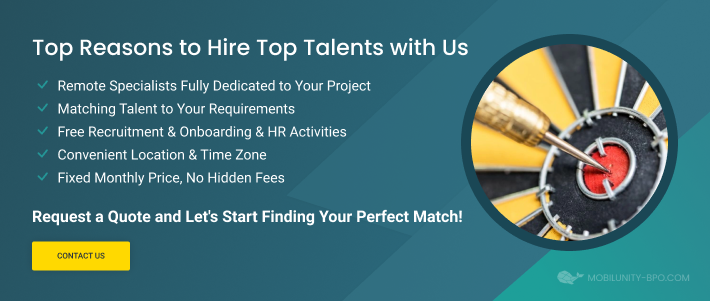 How Does Workforce Augmentation Operate?
Companies frequently seek the assistance of third-party organizations to meet their current business demands. However, before you apply for the services of staff augmentation firms, you need to determine what you expect from such cooperation.
If your company requires a cybersecurity specialist, for example, it's evident that his brilliance and impeccable abilities are more relevant than the intention to reduce expenses on the employee. Alternatively, if you need a large team of QA testers, it is essential to consider cost-cutting measures.
We'll tell you how to get started with resource and staff augmentation services in more detail.
Step 1: determine the length of the project.
Typically, the business augmentation method is used in short-term initiatives. Companies usually hire employees for projects that last from several months to one year.  Although augmentation is a viable option for long-term operations, it might be more costly because of the hourly employee rate. Therefore, if you plan to work in the long run, you should consider the alternative for organizing workflows.
Step 2: determine which staff is lacking in your company.
Analyze the specialists and their abilities you'll require before launching the project. For convenience, you can compile a comprehensive list of the resources you'll need and then move on to recruiting. You can also use the services of staff augmentation consulting to assist you in determining the optimal number of employees and their necessary skills.
Step 3: develop a comprehensive contract.
The contract will serve as the foundation for any future cooperation. You will need to carefully establish the terms and conditions, which include payment, project timeline, and, for example, restaff recruitment issues.
Step 4: involve a new team in the workflow.
At this stage, you need to inform the team of the course of the project, introduce it to internal staff, and outline plans for future cooperation.
Step 5: get involved in managing the work.
You must ensure that all tasks are divided correctly and that all workers are aware of their responsibilities. You'll also have to keep track of the project's development in the future.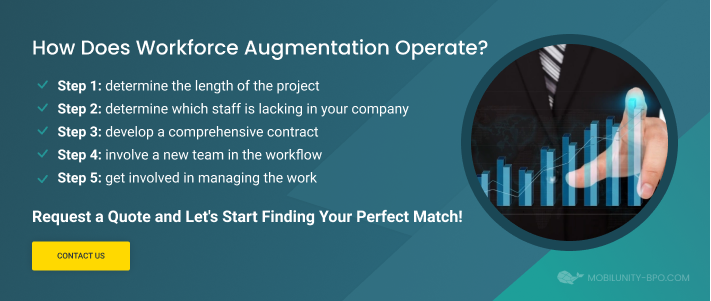 Businesses that Might Benefit from Augmented Workforce
The use of alternative methods of cooperation is gaining popularity in various fields. It can be procurement, sales, marketing, and IT staff augmentation, as well. Let's consider some of them quickly.
Supply chain/procurement. The augmenting of staff extends beyond the boundaries of the IT-sphere. 11% of the procurement industry uses alternative methods of organizing the work of employees.
Sales. As of 2019, 12% of this sector chooses outsourcing.
Finance. This area is ahead of sales by only one percent in terms of accepting alternative labor.
Marketing. This industry is quite active in staff augmentation. 15% of companies work this way permanently, and 36% of marketing organizations use alternative labor from time to time.
IT. This sphere is the undisputed leader in the use of alternative methods of work organization. 33% of IT companies are actively involved in this, 38% sometimes delegate part of the responsibilities to third-party employees, and only 29% of firms do not use the services of IT staff augmentation companies.
Customer service. 17% of companies that provide customer service delegate a lot of duties.
All the statistics mentioned above are from the 2019 Deloitte Global Human Capital Trends study.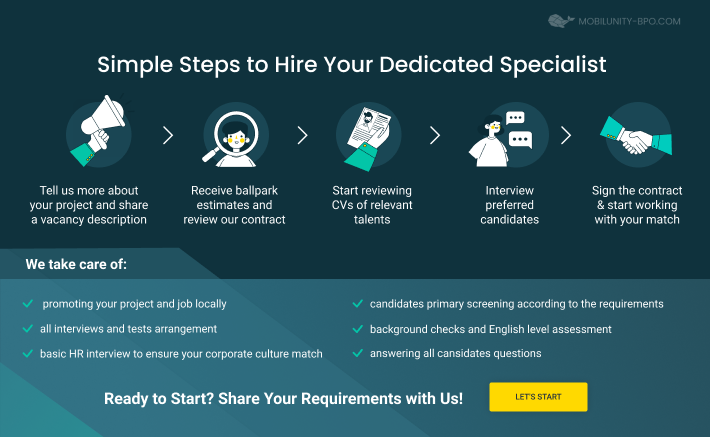 Advantages of Staff Augmentation
We offer you to get acquainted with the main opportunities that workforce augmentation services provide. These are as follows:
Possibility of quick company scalability
It may happen that the company is working on a project and later understands that there are not enough employees. In this case, staff augmentation will save the day. This form of labor organization will be beneficial to fast-growing businesses and organizations that experience seasonal loads regularly.
Cost reduction
Workforce augmentation often requires less financial resources than hiring a local specialist. In addition, this approach allows you to assemble entire teams according to your needs and financial capabilities.
Chance to discover the talents you need
It is common for a company to need an employee with a specific skill set to perform a given job. It might, for example, be an AI developer. Such an employee can be easily found owing to the IT staff augmentation company.
Ability to easily hire workers
The business can contact an experienced workforce augmentation company, which will provide the necessary staff without any problems. Working on a contract basis also makes it much easier to keep track of the employees.
Opportunity to increase the company's operational performance
Your tasks will be completed much faster and efficiently since you hired a high-quality team with qualified experts.
Staff Augmentation: Pros and Cons
Like any other method of streamlining operational processes, workforce augmentation has benefits and drawbacks. We have summarized the main pros and cons of this approach in the table below.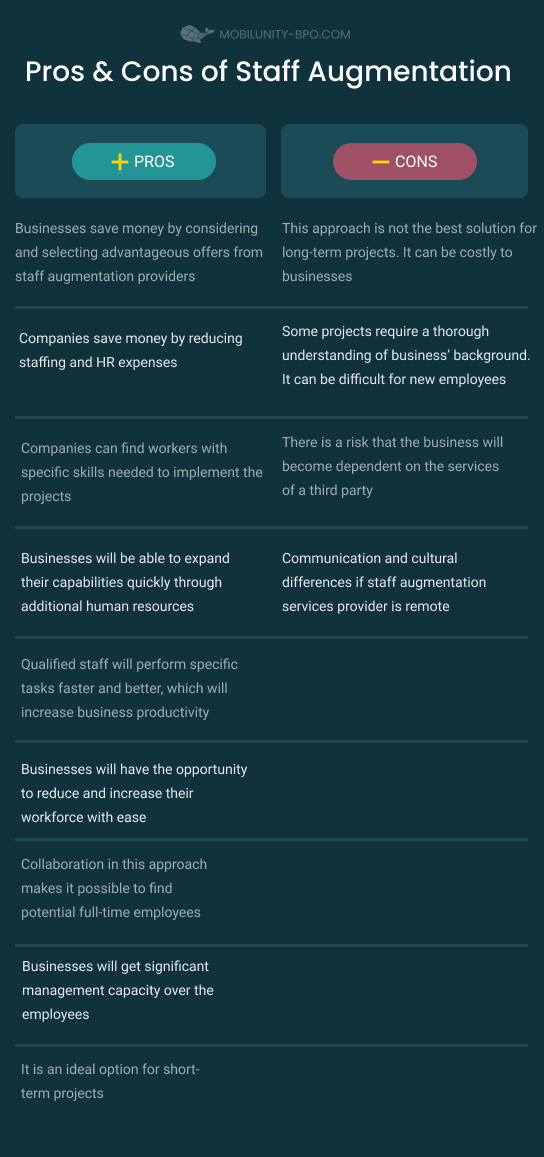 How to Manage Your Staff Augmentation Team Better: 10 Key Points
Staff augmentation can be a great solution for businesses looking for flexibility and scalability without the cost of hiring full-time employees. However, managing a staff augmentation team can be challenging, especially when working with external resources. The benefits of staff augmentation services, such as access to specialized skills and expertise, cost savings, and scalability, make it an attractive option for businesses looking to complete projects more efficiently and effectively. In this article, we will provide you with 10 key points to help you manage your staff augmentation team better.
Understand the Benefits of Staff Augmentation
One of the first steps in managing your staff augmentation team better is to understand the staff augmentation benefits. These include access to specialized skills and expertise, cost savings, scalability, and flexibility.
Choose the Right Staffing Augmentation Company
To effectively manage your staff augmentation team, it's crucial to work with the right staffing augmentation company. Look for staffing augmentation companies that have experience working with businesses in your industry and have a proven track record of success.
Conduct Research and Due Diligence
When working with a staff augmentation services company, it's important to conduct research and due diligence to ensure that they meet your needs and expectations. Evaluate their communication and collaboration skills to ensure that they can work effectively with your team.
Provide Clear Goals and Expectations
To effectively manage your staff augmentation team, it's important to provide clear goals and expectations for the project or assignment. This includes outlining the scope of the work, timelines, deliverables, and other key details.
Establish Communication and Check-Ins
Effective communication is key to managing your staff augmentation team. Establish regular check-ins and communication to ensure that everyone is on the same page.
Collaboration is essential when working with a staff augmentation team. Encourage open communication and collaboration among team members to ensure that the project or assignment is completed successfully.
Encourage Knowledge Sharing
Knowledge sharing is an important aspect of managing a staff augmentation team. Encourage team members to share their expertise and knowledge to improve overall team performance.
Set Clear Roles and Responsibilities
To avoid confusion and ensure that everyone knows their role, it's important to set clear roles and responsibilities for each team member.
Consider Staff Augmentation Services Procurement
Working with a staff augmentation services company can help you manage your staff augmentation needs more efficiently and effectively, providing you with access to a network of qualified professionals and advanced technologies.
Staff augmentation can also provide benefits beyond cost savings and scalability. It can help improve your business processes, streamline operations, and enhance your overall performance.
Staff augmentation solutions provide businesses with access to external resources that can help them meet their staffing needs more efficiently and effectively, providing flexibility and scalability without the cost of hiring a full-time employee.

Managing a staff augmentation team can be challenging, but by understanding the benefits of research and staff augmentation, choosing the right staffing augmentation company, conducting research and due diligence, providing clear goals and expectations, establishing communication and check-ins, emphasizing collaboration and knowledge sharing, setting clear roles and responsibilities, considering staff augmentation services procurement, and leveraging BPO benefits, you can effectively manage your team and achieve your business goals.
10 FAQs About Workforce Augmentation Services Replied
Where to look for augmentation services?
There are many options to find employees. You may begin your search on freelancing platforms, recruiting agencies, or augmentation service provider websites. We at Mobilunity-BPO also offer excellent conditions for cooperation.
What is the best approach to work organization?
There are several types of workflow organization: remote, local, individual, and team gathering. According to the needs of your business, you have to choose the one that best suits your requirements.
How to find a trustworthy company?
It may be accomplished through personal recommendations and research into Google reviews and specialized forums.
What about the payment for staff aug services?
The peculiarity of such companies is that their employees receive an hourly wage.
What are IT staff augmentation services?
Any technical endeavor needs the collaboration of a group of well-trained professionals. For the creation of a high-quality final product, not only developers but also UI/UX designers, QA/QC specialists, project managers, marketers, and other experts are required. Often, companies cannot afford such an extensive team financially. That is why businesses are increasingly turning to IT workforce augmentation companies for help and finding the necessary employees on favorable terms.
What is the difference between staff augmentation and outsourcing?
Staff augmentation is just one of the outsourcing types.
What are the main stages of attracting new employees?
Preparing requirements and locating personnel, recruiting staff, introducing new workers to their projects, and managing employees are all part of workforce augmentation.
How to avoid the risks associated with staff augmentation?
First, you need to find a reliable company that is going to provide services. What you should pay attention to is feedback, justification of prices, the availability of customer support, employee skills, and the level of organization of the company.
What should a standard proposal for augmentation mode cooperation include?
It must contain at least the statement of work, a detailed description of the requirements and tasks, the proposed salary, and the contract terms.
Why do you need such a detailed job offer?
It is one of the core factors on which the further success of your cooperation depends. The better a third-party company understands your terms, the more likely there will be no misunderstandings.

Mobilunity-BPO: Your Guide to the World of Staff Augmentation
Mobilunity has been developing steadily since 2010, and over the past 11 years, we have assisted many customers worldwide. We help our clients with diverse day-to-day tasks, making their lives easier. Mobilunity-BPO is not only a powerful IT provider but an organization that has been looking for and hiring devoted professionals for years, ranging from customer service support to SEO consulting. 
Let's add a few more numbers: our staff consists of more than 200 employees who work with 40 clients from more than 15 countries. On the staff augmentation approach, we've established four main operating areas: customer support, business development and marketing, data annotation, and back-office support.
How do we work? First, we are waiting for your application with detailed personnel requirements. Then we organize interviews with potential candidates. Once all the working conditions are agreed upon, our company also helps to set up the workflow. To clarify any additional questions, you are welcome to send a request on our website.
If you've been looking for a staff augmentation services provider for a long time, Mobilunity-BPO is a fantastic option. Get skilled assistance right away!