How to Find, Interview and Hire a Local SEO Expert
Today, good content is more important to businesses than ever before. Content helps businesses build a strong relationship with their audience, promote their products and services, and enhance trustworthiness. But simply having good content is not enough for businesses to stand out among all the competition today. Content must be promoted in a special way to truly be beneficial for businesses. This is where search engine optimization (SEO) comes in. 
SEO is the process of improving both the quality and quantity of the website traffic to your website or a web page. SEO techniques include creating a content and keyword strategy, doing site audits, improving on- and off-page optimization, developing content, and doing competitor analysis. Because of the specialized techniques involved, many businesses turn to hiring an SEO specialist or a specialist with specific knowledge like technical SEO consultant or local SEO expert.


An SEO specialist has all the right skills and knowledge to ensure on-page optimization produces relevant search results and a favorable user experience, growing website traffic, lead volumes and brand awareness. SEO specialists can be particularly valuable to small local companies looking to grow online but without having the right resources in place. 
A local SEO specialist is ideal for small local companies because they can help businesses be more visible in local search results on Google. Let's now explore some of the advantages of local SEO for small businesses: 
The Benefits of Local SEO for Small Businesses
Local SEO is the practice of optimizing both your business' website and its online presence for a particular location. Investing in an SEO expert for hire can bring many benefits to your business, some of these include: 
Improved visibility in your niche 
Increasingly more people are searching for results "near me" or "close by". In fact, "where to buy" and "near me" have grown by over 200% in just two years. As a result, search engines, such as Google, are favoring websites and web pages that mention locations. In turn, this boosts your visibility in your specific niche in your area, resulting in enhanced brand awareness. 
Increased relevant traffic 
It can be frustrating trying to get the right traffic to your website. Getting visits to a local bakery's website from people on the other side of the world isn't valuable at all. A local SEO specialist can help your business target the right audience by incorporating the best keyword strategy.  
A local SEO consultant can implement a powerful SEO strategy that makes your website pop up every time searchers put in specific keywords. The more your website appears and is seen, the better for your brand's awareness. 
Consumers like to review local businesses. When your business has a strong local following and targets the right area, it has the potential to get increasingly more online reviews. 
More quality and targeted traffic lead to more leads and sales. It is also much easier to retarget potential clients with a strong local SEO strategy.  
While online marketing is currently the most powerful form of advertising, word of mouth is just as valuable. With an effective SEO strategy, you can build a strong community of local followers that motivate each other to support you. 
Tasks That Are Included in Local SEO Services Offered by a Local SEO Expert
Local SEO is the umbrella term for a large range of local business online marketing services that can be implemented together to enhance search engine rankings. Some of these include: 
Your website may not have enough content it requires to make search engines favor your website. Or you may not have content that includes the keywords you are trying to rank for, or it's not focused enough. Investing in the services a reliable local business SEO expert offers can help you create content that shows your expertise, and help you boost the right pages. 
Optimizing for local keywords
A keyword is a word or phrase that describes your site's content. Local SEO services involve adding high-volume keywords in all parts of your content including titles, the URL, headers, metadata and body copy. 
Building a proper backlink profile can be one of the most challenging parts of a local SEO campaign. Backlinks to a website are a good signal to search engines that others vouch for the site's content. In turn, they rank the website higher. Backlinks are simply links that an SEO expert for local listings can add to other websites that connect back to your website. 
Conducting a competitor analysis 
Understanding what local competitors do and how they rank online is essential to the success of your own SEO strategy. Local SEO services include using analyzing tools to see how competitors perform online. 
Creating or improving a Google My Business profile
A Google My Business account is a profile that lets you take charge of how your business is listed on Google Search and Maps. It works to boost your business's online presence almost immediately by letting it appear in listings where it would not otherwise be seen.  
Landing pages are targeted pages focused on a specific action, for example having visitors sign up for a newsletter or make a call to enquire about a service. Local SEO services involve creating a range of strong landing pages that rank for the right keywords and stand out in search engine results. 
Enhancing local citations 
Local directory listings or citations can play a big role in local search optimization. Local SEO services include creating valuable citations on different local listing platforms. 
It is important to understand that local SEO services are not limited to the tasks mentioned above. Experienced local business SEO expert talent can also offer solutions that include many other services such as updating metadata, creating a sitemap, optimizing your site images, managing your online reputation, etc.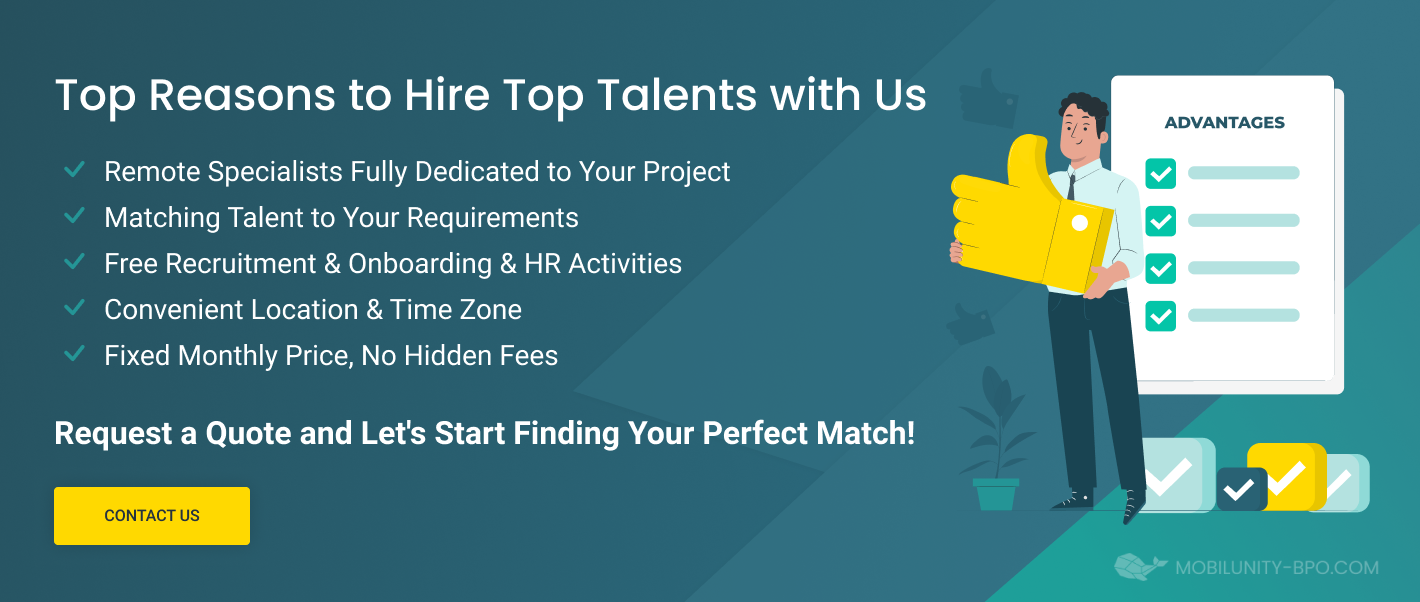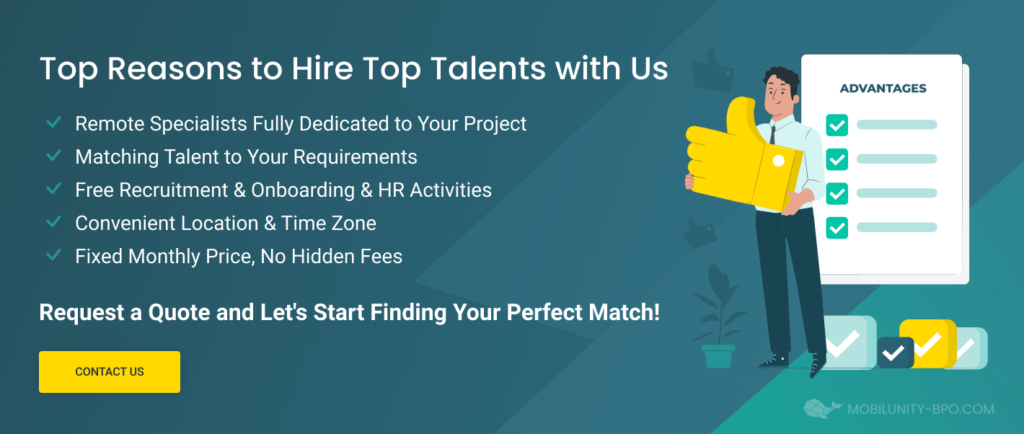 Responsibilities and Skills of a Local SEO Specialist
There is a range of specific responsibilities every local SEO expert must be able to complete. To do this, they require certain skills. Let's first explore the most common responsibilities of these specialists before delving deeper into the type of skills they should ideally have. 
Enhancing overall local search traffic and volumes of marketing campaigns through SEO best practices
Optimizing content by adding and improving headings, titles and image tags, as well as other metadata 
Doing keyword research and continuously monitoring keywords  
Creating powerful landing pages 
Writing powerful Call to Actions and placing them effectively
Performing effective competitor research
Identifying additional opportunities such as recommending extra content or user experience and interlinking suggestions
Measuring performance effectively through Google Analytics
Adding local listings 
Creating simple but powerful text and ad copies
Managing online reputations 
The skills required to successfully complete the above tasks include: 
Having excellent analytical skills 
Being innovative and creative 
Having great critical-thinking skills 
Being able to manage projects and create strategies from start to finish 
Having good research skills 
Ability to use a variety of SEO tools, such as Ahrefs, Google Search Console and SEMRush
Having excellent verbal and written communication skills 
The Average Net Salaries of Local SEO Managers
One of the most important aspects to consider when you decide to hire local SEO expert talent is to consider the cost involved. The average salaries of these professionals may depend on the country where they are based and their level of experience. 
Let's now explore the monthly net salaries of junior, middle and senior SEO managers in five different countries: 
| | | | | | |
| --- | --- | --- | --- | --- | --- |
|   | USA  | UK  | Germany  | Poland  | Ukraine |
| Junior | 7,325 USD | 5,483 USD | 3,047 USD | 1,313 USD | 615 USD |
| Middle | 11,667 USD | 11,205 USD | 5,490 USD | 2,317 USD | 1,162 USD |
| Senior | 13,500 USD | 12,793 USD | 6,485 USD | 2,692 USD | 1,347 USD |
From this, it's clear that it doesn't always matter how experienced a specialist is because the location also plays a role. For example, a highly experienced or senior SEO manager from Eastern Europe may have a salary at the same cost or even lower compared to a junior SEO manager from the United States or the United Kingdom.  
Ways to Hire a Local SEO Specialist to Work Remotely
Considering that SEO drives around 1000% more traffic compared to organic web and social media efforts, having an SEO specialist is essential. There are many different ways to hire a Google local SEO expert. These hiring models are designed to suit the needs of different types and sizes of businesses. The type of model you choose in order to hire local seo services may depend on the size of your project, the time and the budget you have available. Let's now look at the pros and cons of three of the most popular hiring methods: 
Hiring a local SEO specialist locally
This hiring model involves businesses hiring top local SEO expert talent locally, in the same country, city or town. This involves conducting face-to-face interviews and typically implicates that the chosen candidates work in-house with a company. 
Pros
Can meet face-to-face 
Speaks the same language and has fewer cultural differences 
Onboarding processes are quick and easy 
Cons
Recruitment processes may be lengthy
Quality of talent may be limited 
Hosting talent in-house can be expensive with office rent and hardware costs 
Can be difficult to scale 
Finding an SEO freelancer yourself
Today, there are many different online freelancing platforms available for businesses to hire local SEO consultants from. Hiring a freelancer involves sourcing remote talent for one specific project only. With freelance platforms, it's easy to find specialized experts. For example, you can hire a local legal law firm SEO specialist experienced in the legal field. 
Pros
Hiring without major risks 
Talent is available at very affordable rates 
Large talent pool available 
Cons
Can be difficult to verify skills and experience 
Freelancers have limited availability due to working on multiple projects at a time 
Language barriers may be present 
Communication can be challenging 
Hiring through a BPO company
Business process outsourcing (BPO) companies exist to help businesses perform essential functions or tasks. These companies often provide the best local SEO expert talent to businesses. 
Pros
Access to a large talent pool 
Can easily verify skills and experience 
No need to deal with the hiring or onboarding process
Talent is dedicated and available 
Great support available throughout the partnership 
Cons
May be slightly more expensive compared to hiring freelancers 
Communication may be troublesome 
Time zones may be challenging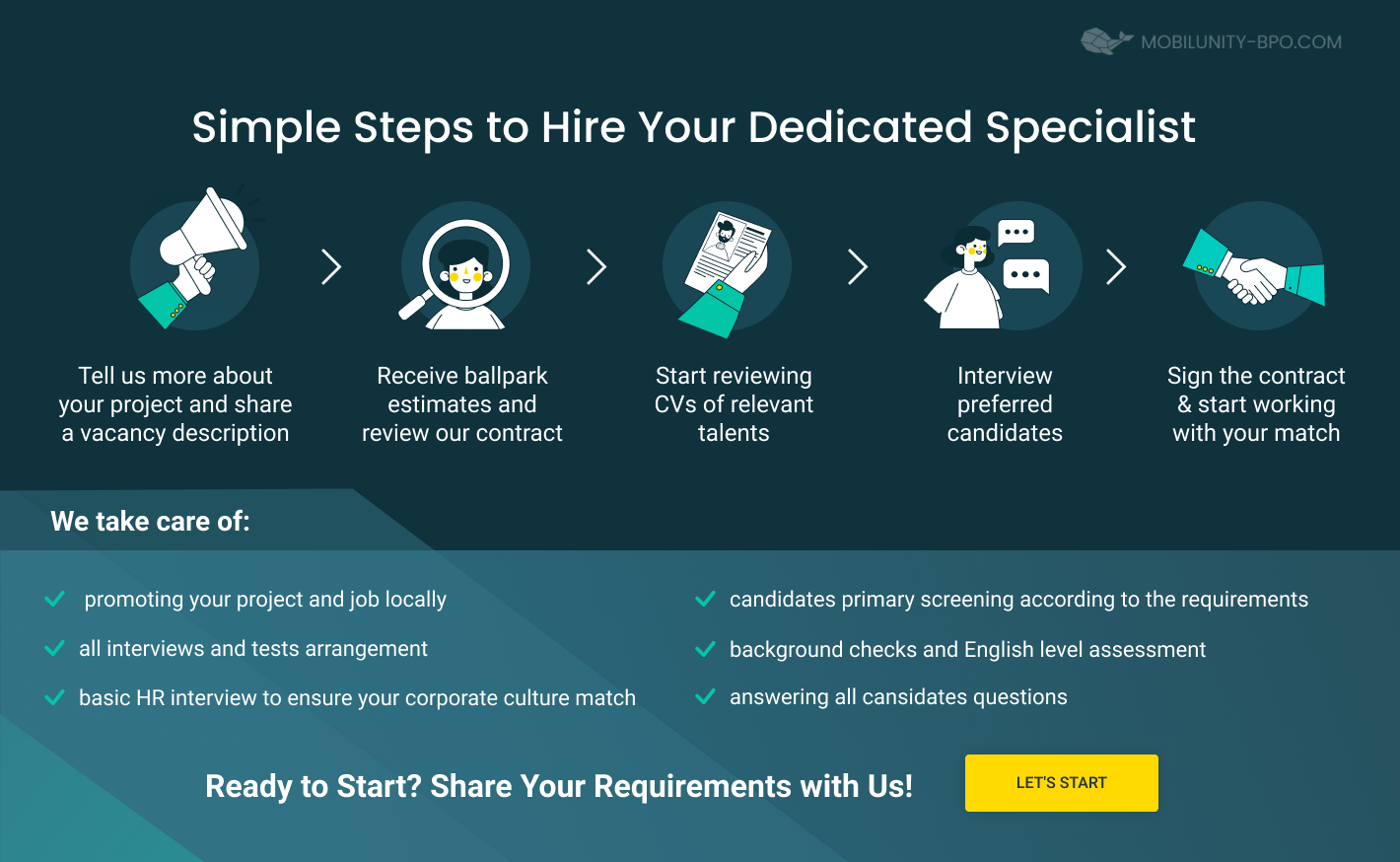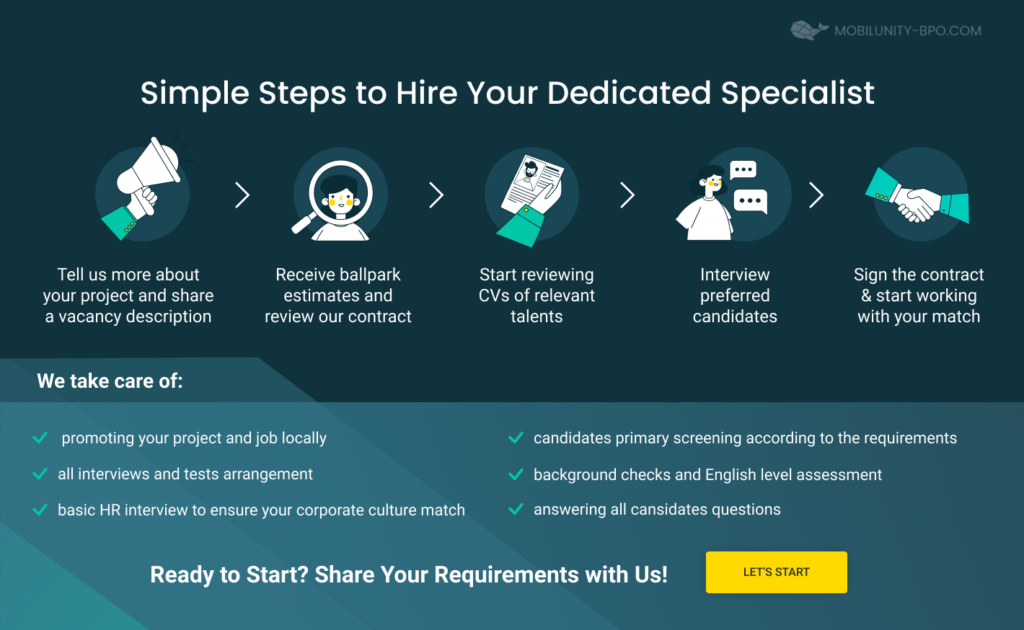 Mobilunity-BPO.com as a Reputable Provider of SEO Experts 
Mobilunity-BPO.com is a Ukrainian-based provider of talented developers and other IT specialists to businesses around the world. With over 10 years of experience, we understand our clients' needs and go out of our way to source only the best talent for their unique requirements. 
For businesses that want to grow online, we specialize in providing dedicated remote local SEO specialists with proven track records. They are skilled and experienced to lead SEO projects successfully. These specialists work hand-in-hand with their clients to ensure content projects are finished on time. 
What sets Mobilunity apart is our versatility and special approach to hiring talent. We are able to work with businesses, big and small, in a variety of industries, including communication, multimedia, social media management, hospitality and more. 
Our approach is simple but effective: 
We listen to our clients to best understand their unique needs. We then source talent that matches their requirements. 
Suitable candidates are interviewed and tested to ensure they have the right skills and experience for specific projects. 
We assist with the onboarding of chosen candidates and work with all parties to ensure a smooth partnership throughout the project duration. 
If you're ready to hire local SEO expert candidates for your next content project, speak to the team at Mobilunity. Get professional assistance effortlessly!