OCR Data Entry and PDF Annotation in Large Volumes
Probably now you are starting your project and creating an AI. You have already started or even catched all necessary data and built the algorithms. Most likely it even works not bad. So why do you need to appeal to data annotation? The answer is that it can help you to make this system working perfectly!
NLP, which means Natural Language Processing, is a great possibility to increase the effectiveness of algorithms and in such a way increase your project's efficiency. You may wonder how? It can distinguish necessary keywords and optimize its work according to received data. So NLP is an optical recognition of characters that can help artificial intelligence to work more precisely. Due to its ability to recognize and then classify or label data to different sets it makes it easier for machine learning algorithms to understand what that data is and work with it correctly. 
So it is something like a training for your algorithm to adapt it and make it work in an appropriate way. It is necessary just because of the reason that machines cannot think and act like human beings. 


To make it more clear the specifics of such a mechanism here are some examples of the results of NLP tagging tools that you may have been familiar with throughout your life experience. So, sets of messages on your email or an ability for google search using your camera are the most common examples. These algorithms have been trained in such a way that they can recognize some keywords or main picture's characteristics and classify it in such a way. So, the annotation process means that a tag is used to determine the dataset characteristics.
In such a way it may be super beneficial for you to have a huge labeled dataset so that your algorithms will work precisely. For example, if you have an online store such trained algorithms may be able to make patterns that are mainly searched by some groups of customers or a set of products that are usually bought in addition to some other products. That is why you need to pay attention to making correctly labeled data.
It may be especially useful when working with text recognition, when you need a good text annotation tool or just use outsourcing text annotation services. It is possible due to Optical Character Recognition (OCR), that is able to recognize any document formats as pdf, doc and as well images in jpg, jpeg, png. PDF files are used more often and more comfortable in work. So probably you may need to annotate on a PDF. 
So text recognition is a process of converting printed or handwritten texts into a format that is readable for machines. Thus it can make some notes to the text highlighting necessary keywords or even phrases and sentences and understand the context it is written in. Then it is possible to build an algorithm based on it. 
Texts Digitization and OCR Annotation
All this process seems to be not so difficult but it is not like that when it comes to document scanning and digitization of old or handwritten tests. It is hard to recognize them and most likely it will be images with a text. It is because you need it to skan and it is difficult to skan it as a text. So how to label scanned documents? You need to appeal to the help of document digitization companies or simply use an object detection labeling tool. Here it may be helpful to use OCR data extraction. As it works with both texts and images it can recognize even such texts. The example you may know is a Google Translator that can find the text on your photo and translate it. It is very helpful and makes life easier! So if you need to annotate old or handwritten texts OCR labeling tool is a solution for you.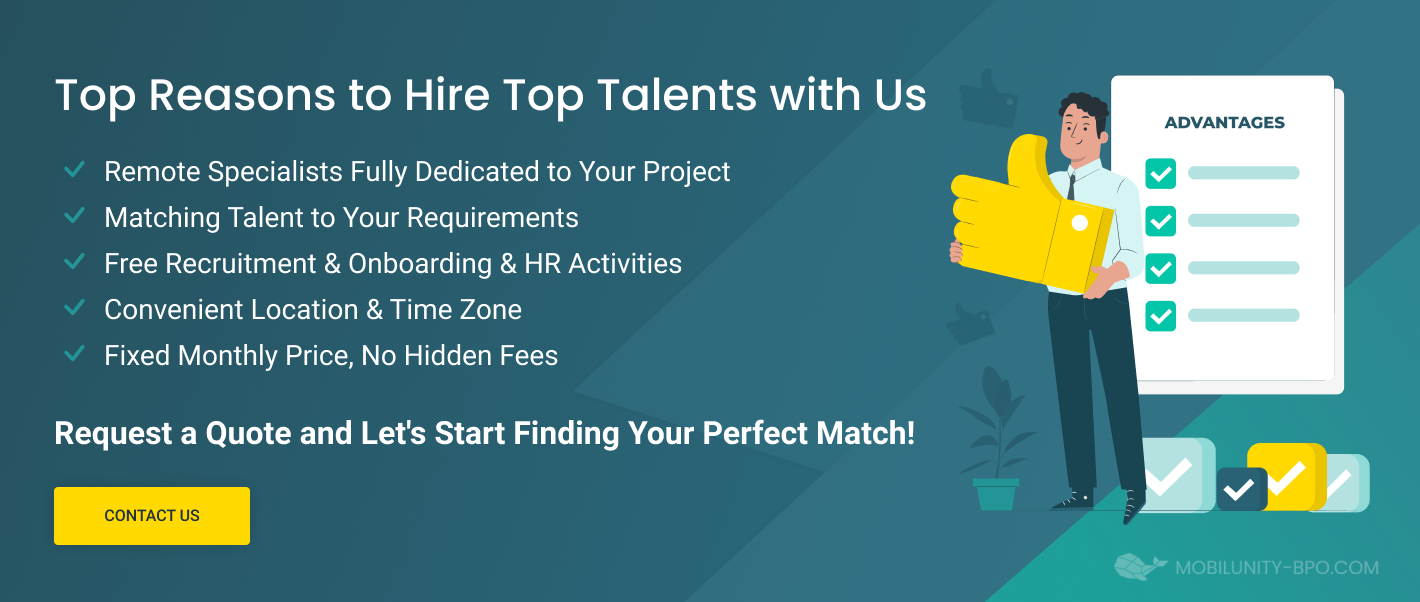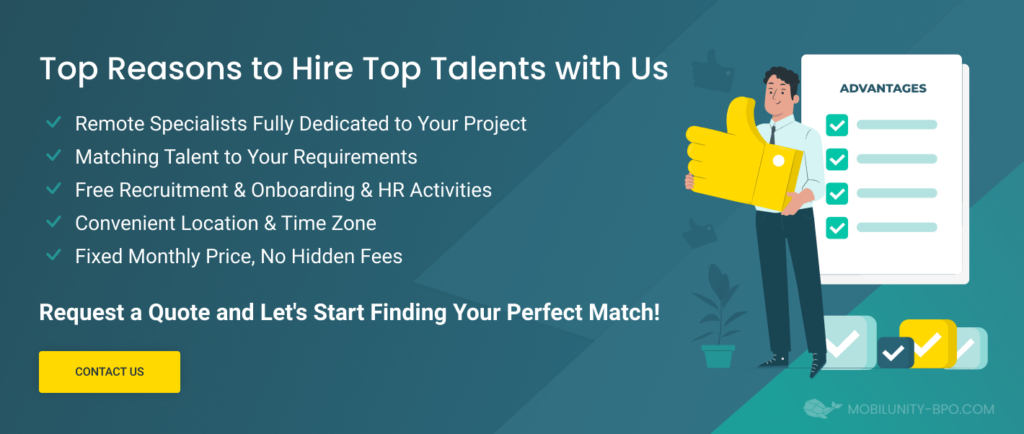 Types of Text Labeling in NLP
So as it has been mentioned above NLP labeling is a widely used and convenient tool. There is also such a tool as computer vision labeling but NLP is relatively better to it as it is a more modern tool. So we will take a precise look at it. And there are different types of the way it works. Here are some of them.
Text classification
The biggest task NLP is dealing with is text classification that is possible due to tags it uses throughout the content. It means that ML has keywords and phrases in as tags that it needs to use for classification. For example, your email messages may be divided into groups according to words they include.
OCR
There is still a lot of information written on paper, but digitalization is coming so it is essential to convert such data into machine-readable text. This tool is able to recognize text on images. The example is an already mentioned ability to translate text using your camera or CV cameras on the roads that are scanning license plates.
NER
This tool is helpful when you need to work with huge amounts of data trying to find necessary words or numbers. It may make it easier as it can work with all symbols. The example is an ability to search throughout the text on your computer.
Intent or sentiment analysis
This tool makes the analysis based on the tone of messages. Thus it can classify them as negative, positive, rude, satisfied or other. It depends on what you program it to do. 
An example of its use is scanning customers' feedback. Are they satisfied or complaining about something? You may be aware of that due to this tool. Moreover, it may help to understand precisely the request intent. If they are seeking help or greeting you. It is also useful in bots work when they need to answer according to the previous message.
Transcription audio into text 
It is exactly as it sounds: the goal of this tool is to convert audio into a text. It is used, for example, when you are interacting with virtual assistants like Siri or Alexa.
Needs to Annotate on PDF in Different Industries
You may think that OCR NLP is not appropriate for you but it can be used in many industries so probably you may explore that it is exactly what you are lacking! To annotate PDF documents is essential in research, entertainment, multimedia, education, e-commerce and many other fields. And here are some examples.
An OCR annotation tool may be useful in healthcare. As there is increasing digitalization nowadays we need to work with AI services even in the medical field. And here it is extra important to do it precisely as it is a huge responsibility to keep data accurate. Here quality of data plays a great role.
Also you may need to address PDF annotator OCR in banking. In this field accuracy of data is also the main goal. Moreover, in the modern world we are using real money less and less so online banking is a large and an important part of our life.
What is more OCR and data extraction helpful when you are working in logistics. It is a one more fastly developing field which engages more and more technologies. All bills and amounts of numbers need control and OCR data entry is a great tool to do it. 
One more field is media and news. And probably here the importance of OCR labeling and data entry services companies is the most evident. As there is a lot of text information it is necessary to classify it somehow for better efficiency. So NLP is a must have.
Top-5 Labeling Tools to Annotate Documents
tagtog
It is a web tool that works in the cloud. So you do not need to install anything! It gives a free function to annotate documents manually. But it also helps you as it recognises and systematizes words labeled by you once. You can work here with documents in formats .csv, .xml, .html or simple text. In addition you can receive extended functions as automatic annotations, native PDF annotations for the pay.
LightTag
One more browser tool. But it has a limit on using it without the payment. You can make only 5000 annotations per month with basic functions for free. The main feature of this platform is that its AI model learns from previous annotations and makes suggestions itself. Also it makes data quality control as it generates reports. 
doccano
This tool is also web with an open-source annotation. But it is comparatively less adaptive. Though it has a great interface so it will be a good decision for the beginning. 
TagEditor
It is a desktop app so to work with it you need to download and recover the TagEditor.7z file from GitHub repo and then open TagEditor.exe. But it is limited for Windows users. Its advantage is that it gives large possibilities for data annotation.
Prodigy
This tool has no free version though you can try its demo version. But it is a super tool for annotation. It is very comfortable to use. You need just to set a few examples and then it may do all by itself. It makes all the process fast and easy. Also it provides data annotation not only for texts, but also for images, audio and video files.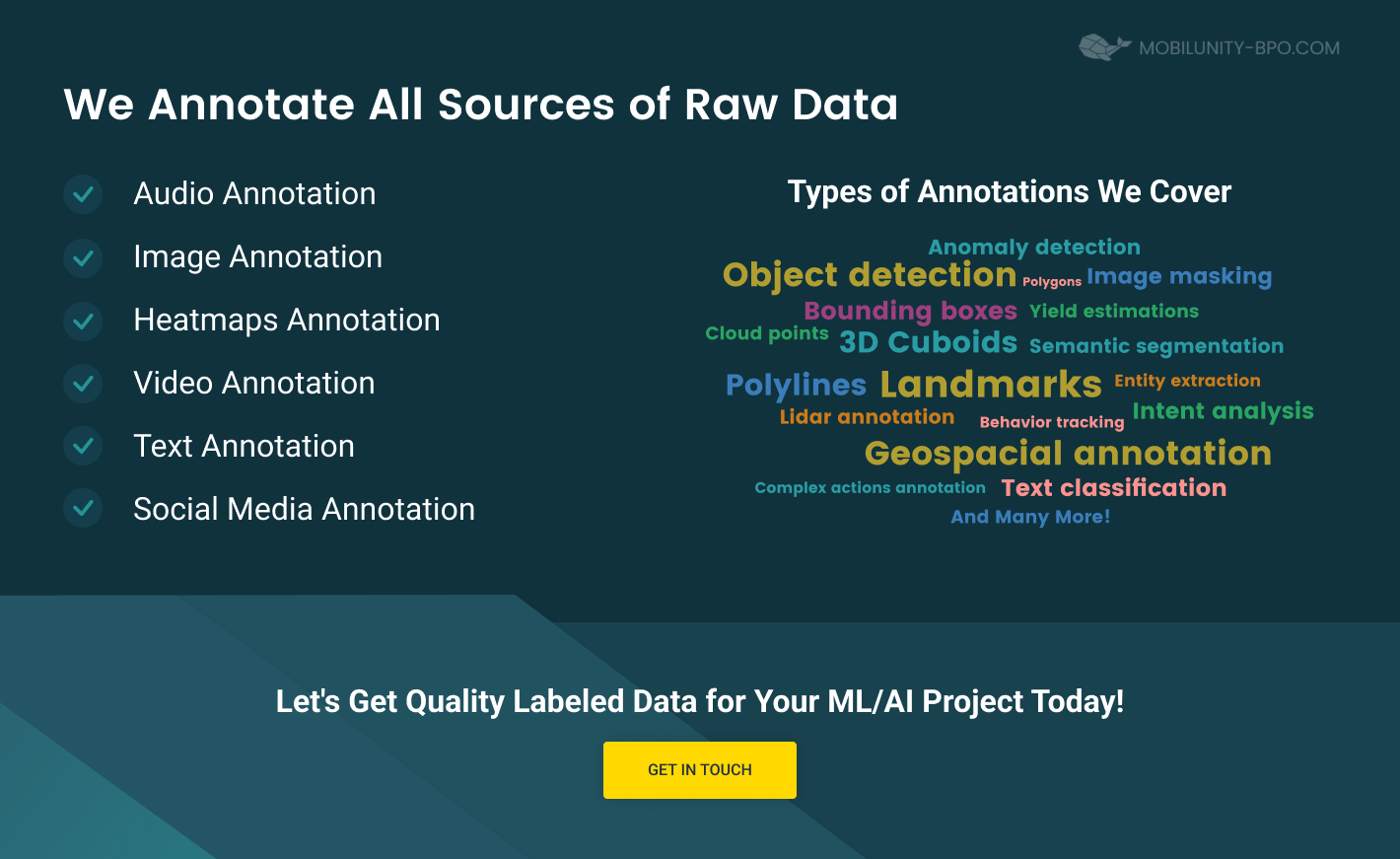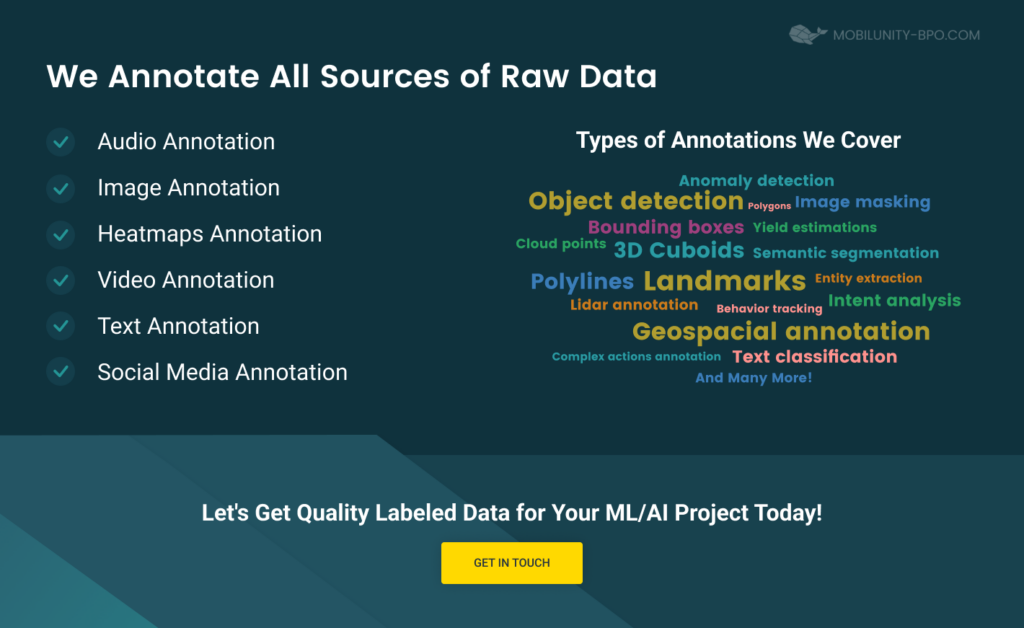 Outsourcing of Document Labeling
Most likely now you have found out that data annotation and OCR tagging in particular is a necessity for your business. But where can you find reliable specialists? Outsourcing is the answer! 
Here are some benefits you may receive if outsourcing document labeling services:
cost-effectiveness
less worries
more time for other important tasks
good done work
great efficiency of your business
maintenance by the specialist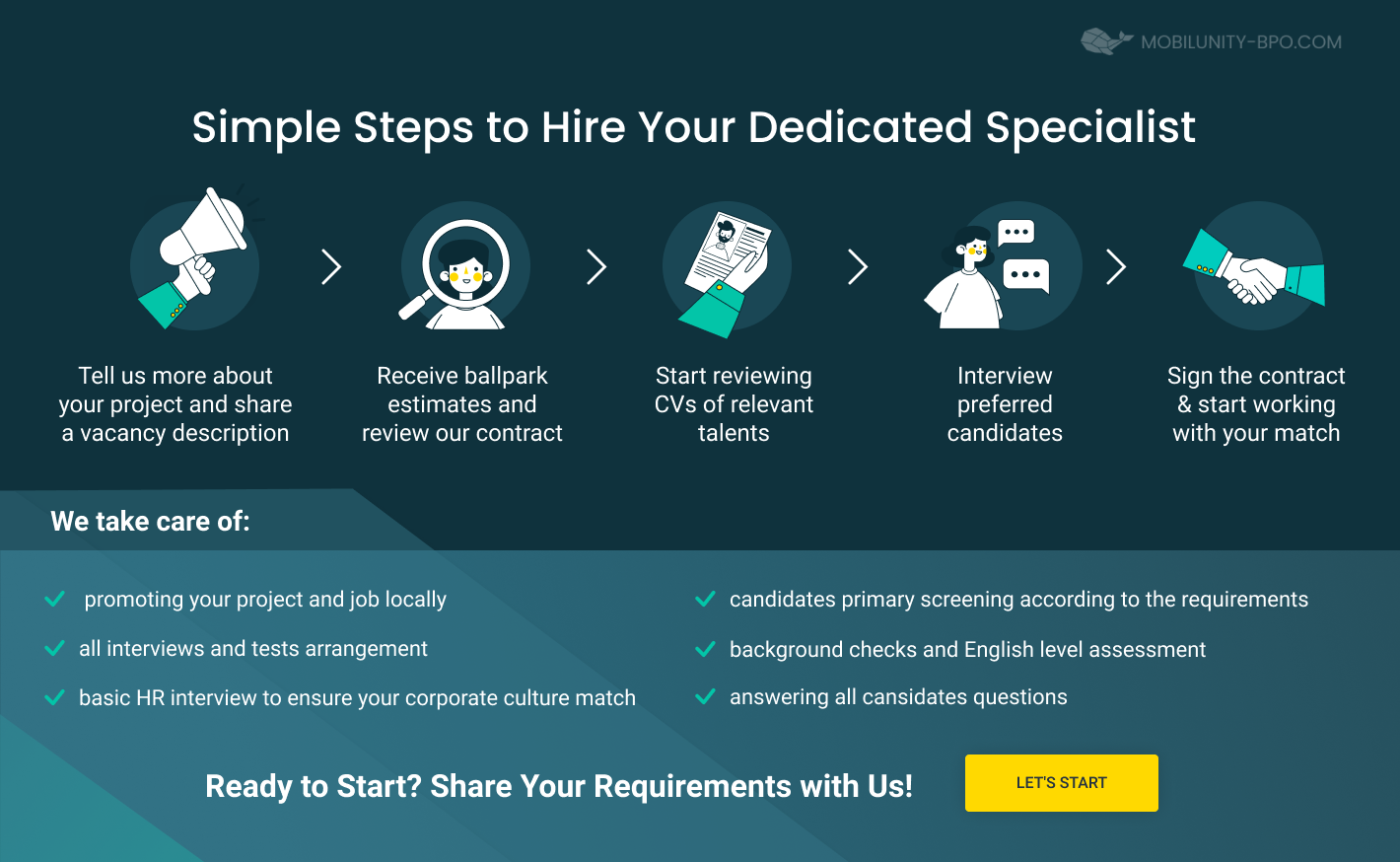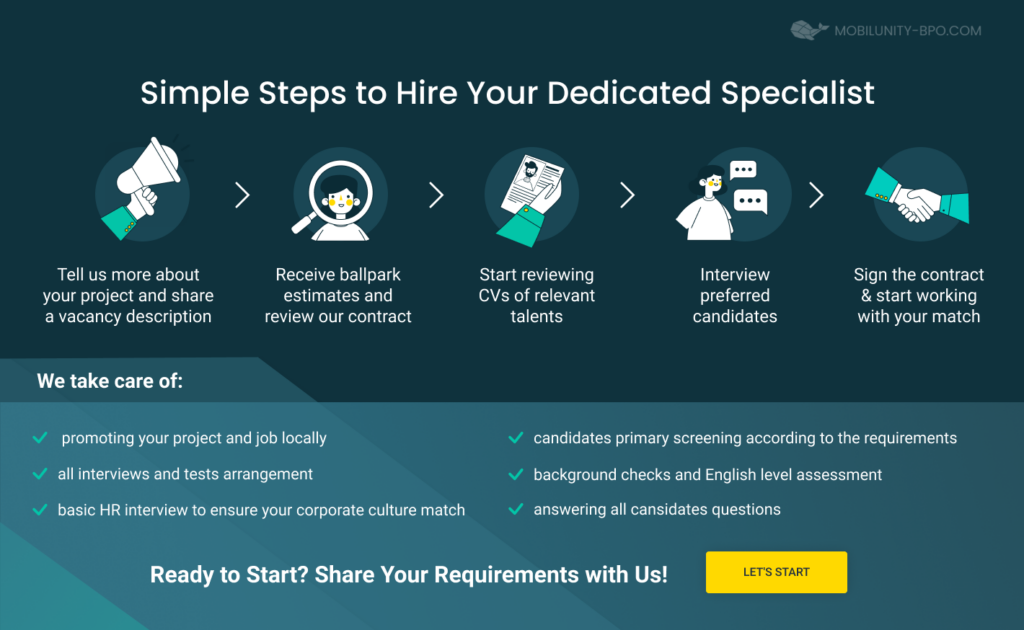 Mobilunity-BPO Is a Company You Can Rely On
We are a 10+ years experienced company working with companies all over the world. There are a wide list of industries we work in, such as help desk support, telemarketing, online research, database management, recruiting and HR and data entry in particular.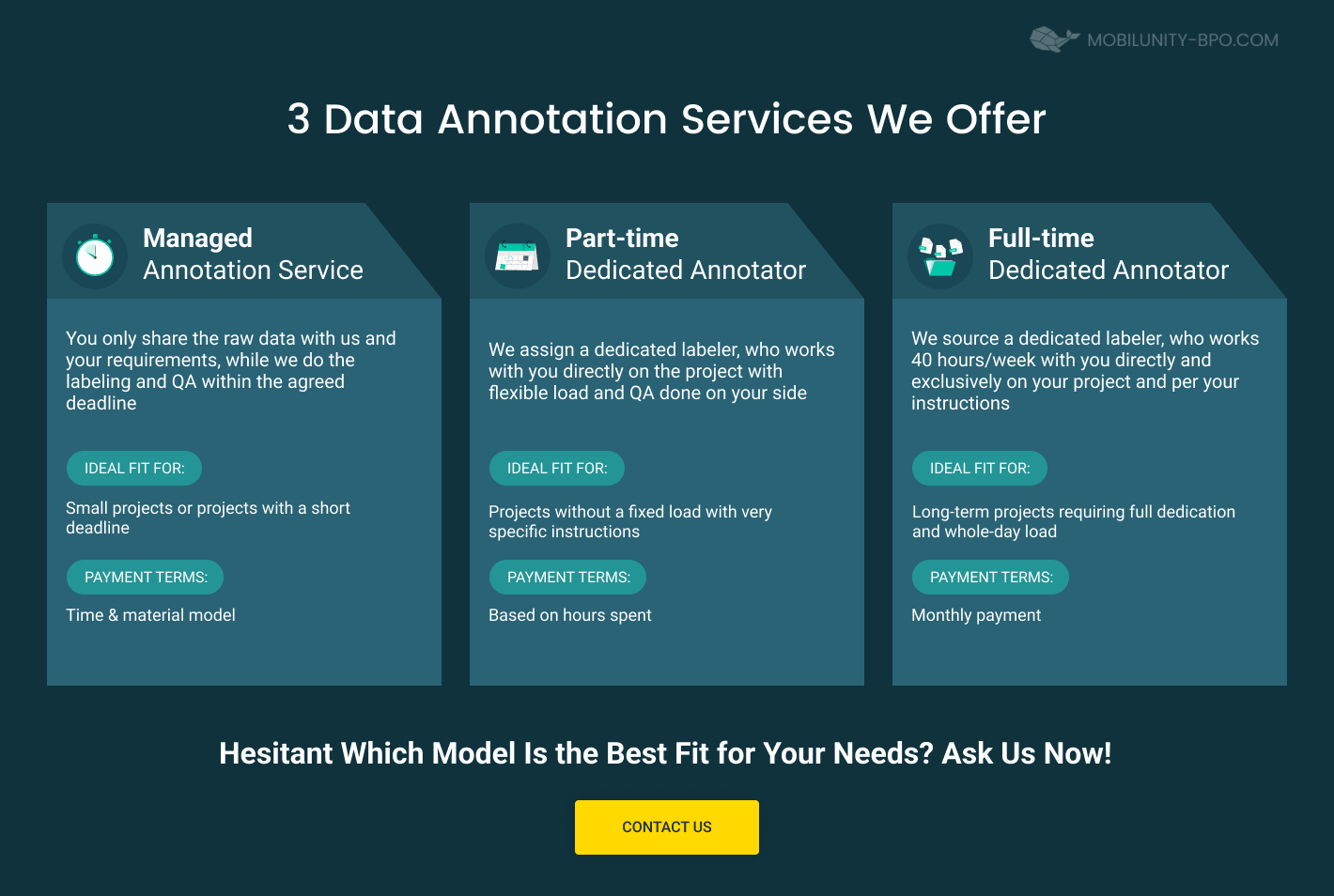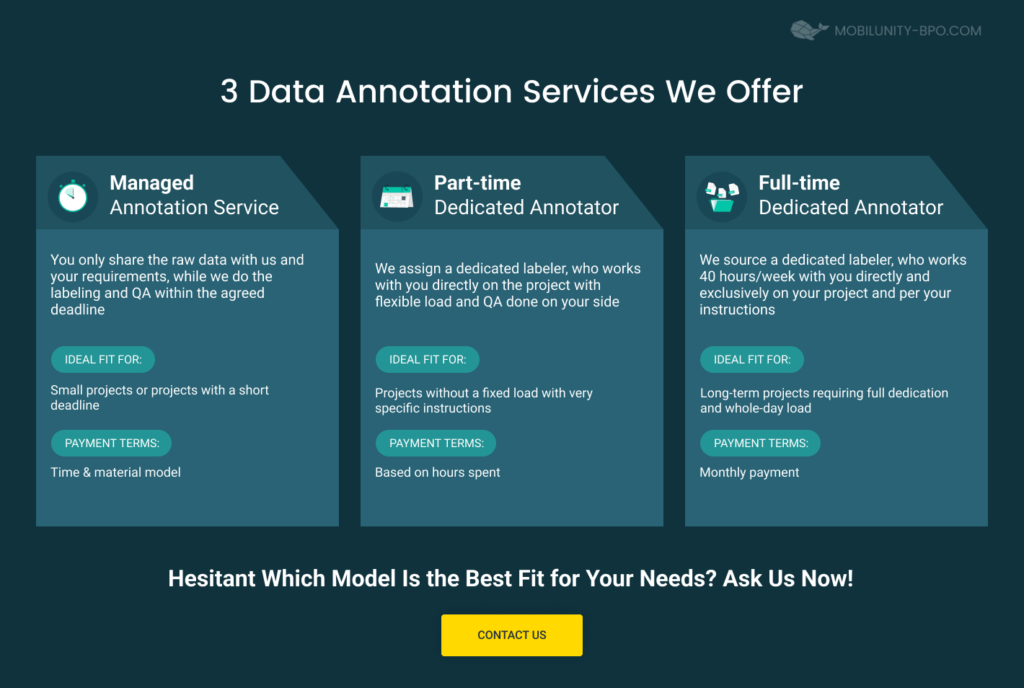 Our experience in texts, PDF annotation and NLP is stunning. So you can hire a dedicated labeler that can learn your AI and become an integral part of your long-lasting project or just make a significant contribution to your project. Or you can hire a part-time team that will work on your project simultaneously. It may be a good idea if you have a short-period project or have not enough work every month. You can find with us anything you can only imagine!
Need a qualitative OCR annotation for your project? Contact us!